HCMC closes karaoke parlors, bars, discotheques over Covid-19 concerns
All 500 karaoke parlors, 180 bars, and discotheques in Ho Chi Minh City must close starting 6 p.m April 30 as part of efforts to stem the Covid-19 spread.
The decision was made by Chairman of Ho Chi Minh People's Committee Nguyen Thanh Phong at a meeting of the city's Steering Committee for Covid-19 Prevention and Control on April 30, Vnexpress reported.
"These services require close contact, posing a high risk of contagion, so, they need to shut down," Phong said.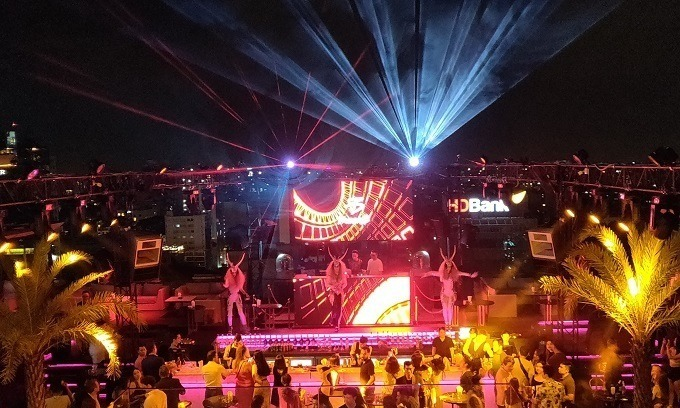 A music performance at a bar in Saigon. Photo by Nafi Wernsing.
This is the fourth time in more than a year that karaoke parlors, bars, and discotheques in the Southern Metropolis have had to close to prevent the epidemic. These services were allowed to resume their operation on March 19 after over a month of closing due to the resurgence of Covid-19 prior to the Tet (Lunar New Year) holiday.
"We need to stay vigilant given the increasingly complex development of the epidemic. The city needs to be placed under the highest alert although it doesn't border pandemic-hit Cambodia," HCMC leader said. He also required to heavily punish people without wearing face masks in public spaces.
To date, Ho Chi Minh has logged 255 Covid-19 cases. 225 of them have recovered. 3,019 people are under centralized quarantine.
The city's 75-day streak days without community transmission was broken after a man in Binh Tan district was confirmed to test positive with SARS-CoV-2.
The man had shared a meal and drink with a migrant worker who returned from Japan and tested positive in the northern province of Ha Nam. On April 27, he boarded Vietjet Air flight VJ133 from Hanoi's Noi Bai International Airport to HCMC's Tan Son Nhat International Airport. From the airport, he took a taxi to his relatives' house in Binh Tan District.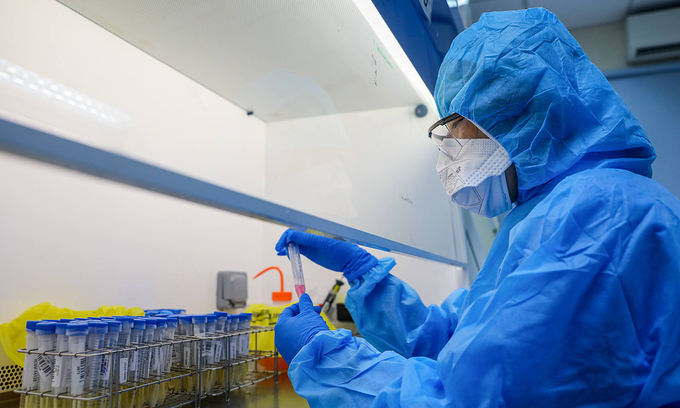 A nurse works on samples taken for the new coronavirus test at HCMC Hospital for Tropical Diseases, September 2020. Photo by VnExpress/Quynh Tran.
After he heard that the Japan returnee had tested positive for the novel coronavirus, he reported to the medical station in Binh Hung Hoa Ward in Binh Tan and made a health declaration.
HCMC is now conducting contact tracing for Patient 2910. It has asked passengers and crew of flight VJ133 on April 27 to report to medical facilities.
The competent authorities have sealed off the alley at 20 Pham Dang Giang Street in Binh Tan District, where the man's tenanted house is located.
As of April 30, seven people having direct contact with the patient have tested negative for the novel coronavirus once.
Hanoi also requested the closure of bars, karaoke parlors, and dance clubs starting 0:00 April 30 after three community transmissions were detected in the city.
Hanoi required residents to wear face masks in public spaces. The relevant authorities were asked to ramp up to monitor and strictly handle those breaching the regulations on Covid-19 prevention and control.
Vice Chairman of the Hanoi People's Committee Chu Xuan Dung also requested to raise the Covid-19 warning to the highest level.
The city on April 27 ordered to suspend all festive activities and the operation of walking street and continue to limit unnecessary events and activities that draw large gatherings.
The total number of Covid-19 cases in Vietnam rose to 2,914, including 1,580 domestically transmitted infections. As many as 2,516 patients have recovered while the death toll remains at 35.