'Infection rate in Ha Nam is very fast,' Health Minister warns
Health Minister Nguyen Thanh Long on Thursday warned of a very fast Covid-19 infection rate in Ha Nam province following the detection of the new local patient.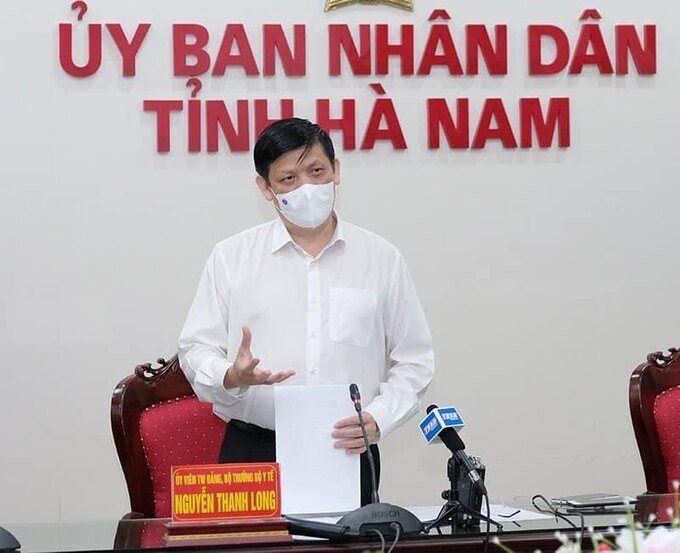 Health Minister Nguyen Thanh Long at the urgent meeting with Ha Nam People's Committee (Photo:VNE)
"The new outbreak in Ha Nam is on its first circle of infection and has been stepping one foot to the second circle. The next circles are about to start soon, maybe tomorrow or the day after," the Health Minister said at the meeting with Ha Nam People's Committee April 29 evening as the province reported one new local infection (Patient 2899). "The entire province must urgently deploy measures to catch up with the epidemic infection rate, or else things would go uncontrollable."
He tasked the locality to immediately sample all 320 households in Quan Nhan village where Patient 2899 lives. As reported by VNE, the village is currently put under lockdown while social distancing order is in place in the entire Dao Ly commune. Those disregarding anti-pandemic regulations, especially masks mandate will face hefty fines.
Long also called for all individuals designated as F1 (having direct contact with Covid-19 patient) to be quarantined at quarantine center while F2 (having direct contact with F1) must self-isolate at home.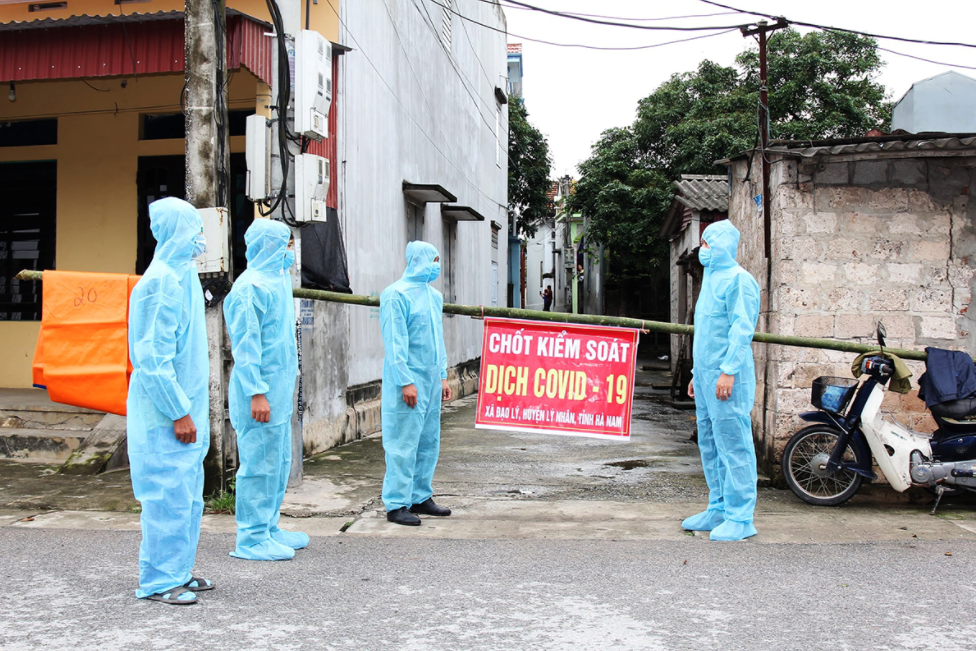 One checking point at Da Ly commune, Ly Nhan district, Ha Nam province (Photo: MOH)
Associate Professor Tran Nhu Duong, Deputy Director of the National Institute of Hygiene and Epidemiology, also stressed that authorities must "be fast to race with the epidemic this time."
The northern province of Ha Nam is having two quarantine centers. The Health Minister asked provincial leaders to thoroughly prepare human resources and logistics for all possible scenarios.
On April 29 evening, a group of medical experts from Bach Mai was dispatched to Ha Nam to help local medical personnel contain the novel outbreak.
Patient 2899 tested positive for the coronavirus after returning home from two weeks of quarantine following his return from Japan.
The Ha Nam Center for Disease Control (CDC) announced the 28-year-old man's test result on Thursday.
The man returned from Japan on April 7 and was quarantined at the Alisia Beach hotel in central Da Nang City. He tested negative for the coronavirus thrice during his stay.
On April 22 he returned home in Ha Nam and self-isolated himself. But on April 24 he began to display symptoms like coughing, fever and throat pain, and was taken to a local medical facility for testing.
Following the positive test result, he has been quarantined at the Ha Nam General Hospital, while his close contacts have been put in centralized quarantine zones. Test results on April 29 afternoon shows his four family members came back positive as well.
They are the mother, father, wife and child of the 27-year-old man who returned to Vietnam from Japan earlier this month, VNE reported.
The Health Ministry is calling for people who traveled on the same flight from Japan with the man (VJ3613) and have left quarantine to report themselves for testing.
Meanwhile, Vice-Chairman of Hanoi People's Committee Chu Xuan Dung required raising the warning against COVID-19 resurgence in the city to the highest level at a meeting of the municipal steering committee for COVID-19 control on April 29 afternoon. Anyone who leaves Hanoi during the holiday is required to make a health declaration when returning, he said.
Since 0 am April 30, Hanoi closes all karaoke, bar, club parlor to ensure pandemic safety. The City People's Committee Chairman directs people to wear masks when going out, requires units to strengthen inspection, and strictly handles cases of illegal entry, and people who not wear masks. Unnecessary gatherings, holiday activities are also banned in the city.
Vietnam recorded 45 cases of COVID-19 from 6 am to 6 pm on April 29, with 39 detected among people being quarantined after arrival, one case who had completed quarantine after arrival, and five connected cases, according to the Health Ministry.