Hanoi shuts down bars, karaoke parlors starting April 30 over Covid-19 fears
Hanoi requested the closure of bars, karaoke parlors, and dance clubs starting 0:00 April 30 after three community transmissions were detected in the city.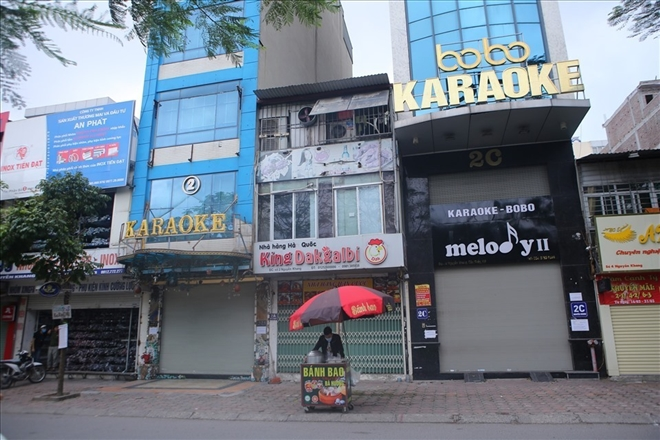 Hanoi requested the closure of bars, karaoke parlors and dance clubs starting 0:00 April 30. Photo: VTC News
Hanoi required residents to wear face masks in public spaces. The relevant authorities were asked to ramp up to monitor and strictly handle those breaching the regulations on Covid-19 prevention and control, Vnexpress reported.
Vice Chairman of the Hanoi People's Committee Chu Xuan Dung also requested to raise the disease prevention alert to the highest level.
The city on April 27 ordered to suspend all festive activities and the operation of walking street and continue to limit unnecessary events and activities that draw large gatherings.
At the meeting of Hanoi Steering Committee for Covid-19 Prevention and Control on April 29 afternoon, the city's leaders said the epidemic situation in the coming days would complicated develop, especially in the context that throngs of people will return to the city after the holiday. "Anyone coming back to Hanoi after the holiday is forced to make health declarations," he said.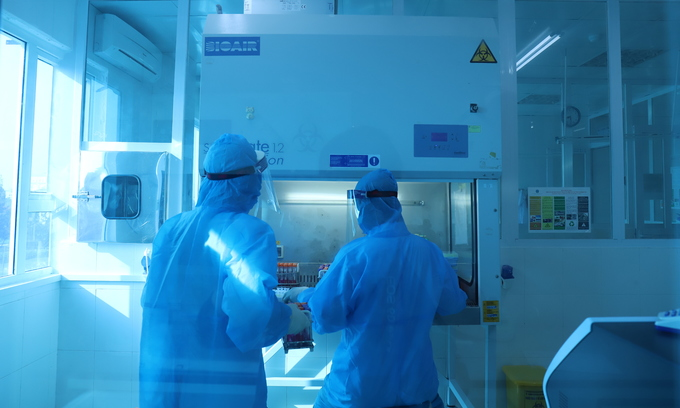 Vietnamese medical workers perform Covid-19 tests in a laboratory, February 24, 2021. Photo by VnExpress/Duc Hung.
The city's streak of 73 days without community transmissions was broken after a man in Dong Anh district contracted with SARS-CoV-2 Friday morning.
The 28-year-old man, patient 2911, met and ate with patient 2899 on April 22, before the latter was confirmed to test positive for the novel coronavirus. Patient 2899 is a male migrant worker who returned from Japan.
He is a truck driver who has been to many places since coming in contact with patient 2899.
He met with patient 2899 from 8-10 p.m. April 22 in an eatery in Ly Nhan District in the northern province of Ha Nam.
The next morning he drove his own car to his home in Dong Anh District, where he came into contact with two family members.
From April 24 to April 28 he had come into contact with at least 10 people, nine in Dong Anh District and one in Me Linh District.
On April 29, after learning that he had come into contact with an infected man, he reported to the local medical center and isolated himself at home. He tested positive the same day.
The building where he lives has been locked down with 21 people inside.
In the last 24 hours, Vietnam has recorded 9 new community cases after over a month of no such cases.
All the new cases are linked to patient 2899, who tested positive with the novel coronavirus in the northern province of Ha Nam after completing his mandated two-week quarantine in Da Nang where he tested negative thrice.
The country has recorded 2,914 Covid-19 cases to date including 2,516 recoveries and 35 deaths.
Vietnam is running a high risk of infection from illegal entrants as Covid-19 is raging in its neighboring countries such as Laos and Cambodia.
Border guards in southwestern border provinces such as Tay Ninh, An Giang, Kien Giang, etc are working day and night to avert illegal entrants.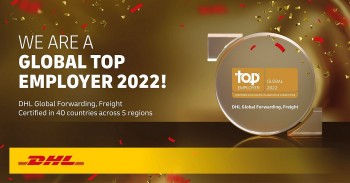 Economy
DHL Global Forwarding, the air, ocean and road freight specialist of Deutsche Post DHL Group, has again been certified as Top Employer 2022 in Asia Pacific.