HCMC scraps Reunification Day fireworks plan over Covid-19 outbreak fear
HCMC authorities on Monday cancel its firework display plan for April 30 Reunification Day celebrations as the city is highly vulnerable to new Covid-19 outbreaks.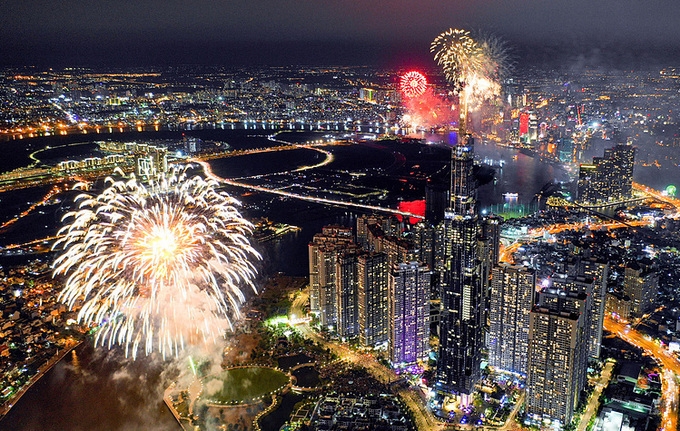 Fireworks displays seen from the Landmark 81, Vietnam's highest building in Binh Thanh District, Ho Chi Minh City, 2019. Photo by VnExpress/Huu Khoa.
The decision was made by Municipal Chairman Nguyen Thanh Phong on the grounds of the complicated pandemic development in neighboring countries, including Cambodia, Thailand and Laos.
"The Prime Minister has asked to cease all unnecessary events with large gatherings. It's very hard to control crowds at fireworks display while the new Covid-19 variants are getting more infectious," Phong was quoted by VNE. "The Covid-19 situation in India is devastating. I would love to have a celebrated Reunification Day, but gatherings are imminent danger. If a new surge happens to arise, there would be no way for us to turn back."
The Chairman further stressed that authorities and all localities must crackdown on anti-pandemic measures, including facemask mandate and social distancing as the novel coronavirus was taking a heavy toll on regional countries. Undetected positive cases will result in dire consequences. He also asked relevant agencies to impose tougher punishments on those failing to wear face masks in public places, entertainment venues and public means of transportation.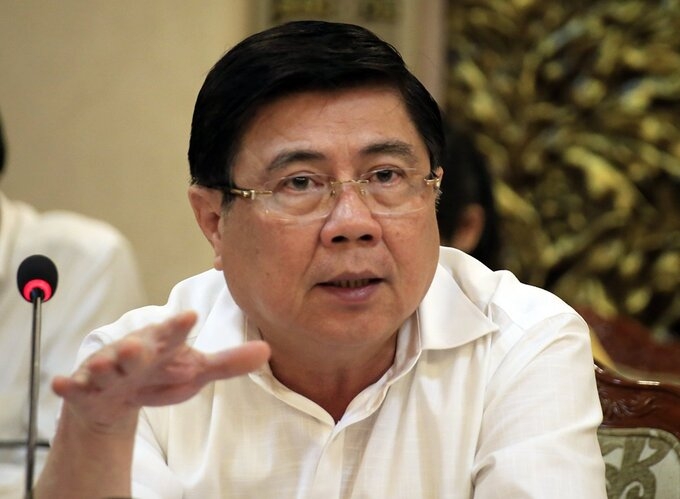 Ho Chi Minh City People's Committee Chairman Nguyen Thanh Phong (Photo: VNE)
According to previous plans, two high-range pyrotechnic shows would take place near the Saigon River Tunnel in Thu Duc City and the Landmark 81 skyscraper in Binh Thanh District at 9:00 pm on Friday to mark Reunification Day.
Three low-range fireworks displays would also be organized at Dam Sen Cultural Park in District 11, Can Thanh Town in Can Gio District, and the Vinhomes Grand Park urban area in Thu Duc City.
This is the second time (after Lunar New Year's Eve) in 2021 Ho Chi Minh city canceled its firework plan to celebrate Vietnam's big holidays.
As reported by VNE, on Sunday, the HCMC Pasteur Institute confirmed that 85.7 percent of infected samples taken from imported Covid-19 cases from Cambodia contain the U.K. variant, and 14.3 percent have the South African variant.
Health Minister Nguyen Thanh Long has warned that Vietnam faces a great risk of imported Covid-19 infections with double mutant variants.
Several Southeast Asian countries including Cambodia, Laos and Thailand have been struggling with a significant surge in community transmissions linked to new variants.
Vietnam has gone over two months without Covid-19 community transmissions and several popular tourist destinations including Quang Ninh, Khanh Hoa and Hai Phong have planned fireworks shows and tourism festivals during the upcoming holiday, April 30-May 3.
Fireworks displays to mark major national celebrations like the Lunar New Year holiday or Tet, Reunification Day on April 30 and Independence Day on September 2 are a long-standing tradition in Vietnam.
Vietnam recorded 10 imported COVID-19 cases, all Vietnamese citizens, in the past 12 hours to 6 pm on April 25, said the Ministry of Health (MoH). The new patients, who were put under quarantine upon their arrival in Hanoi, Khanh Hoa province, and Da Nang city. On the morning of April 26, 3 more imported cases were reported.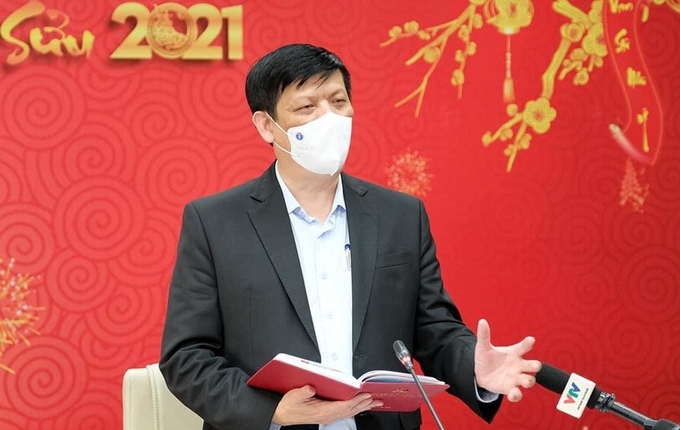 Health Minister Nguyen Thanh Long (Photo: VNE)
Health Minister Nguyen Thanh Long on April 25 morning said Vietnam was highly vulnerable to imported cases and the next wave might be more disastrous than the previous.
"The health sector has prepared for all scenarios, including when the epidemic goes widespread, or it recurs in localities, especially the Southwestern region," the Minister stressed.
Long further stressed that one of the lessons learned from Vietnam's successful Covid-19 containment is the country's unanimous effort and activeness. However, as no community infections reported over the past month, many people are letting their guard off. He is calling for all Vietnamese people to strictly abide by anti-pandemic regulations, especially the mask mandate and hand sanitizing.
The Health Ministry is quickly implementing vaccination, calling for those on the prioritized list to get fully vaccinated. All localities are tasked to strengthen surveillance to early detect new cases.
Meanwhile, the pandemic situation in neighboring countries has become increasingly complicated.
The number of COVID-19 cases in Cambodia has surged to nearly 10,000, with daily spikes recorded in the hundreds, while its fatalities have risen to 74.
Thailand's tally has increased to 55,460, with 140 deaths, whereas Laos has locked down its capital to prevent transmission.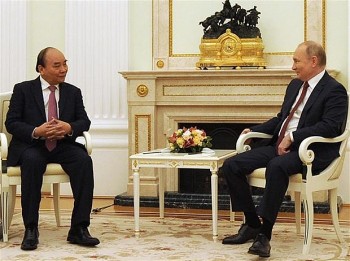 National
An article in Russia's independent newspaper focused on the Vietnam-Russia relationship and the significance of President Nguyen Xuan Phuc's visit to Russia from Nov. 29 to Dec. 2.