Health Minister calls for crackdown on anti-epidemic measures at border areas
Health Minister Nguyen Thanh Long on Sunday calls for more stringent control at boder trails, border gates, and tighter patrols at sea border to minimize imported Covid-19 infection risks.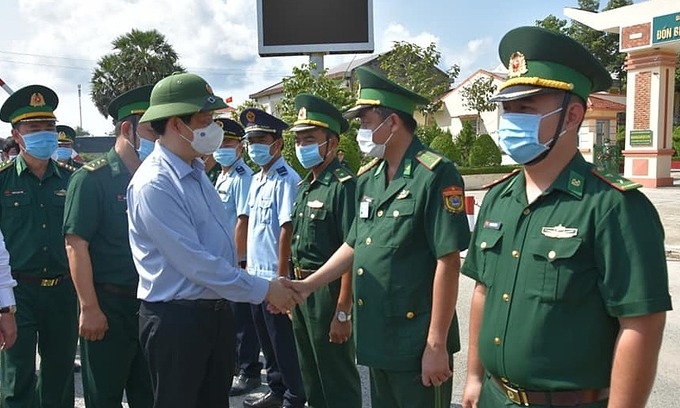 Health Minister (in White shirt) visits and inspects covid-19 prevention at Ha Tien international border station (Photo: Ministry of Health)
"We must strengthen Covid-19 prevention efforts at border areas to prevent illegal entry, get ready for unexpected situations", Long said while checking Covid-19 prevention implementation Ha Tien border gate and Kien Giang quarantine center, on April 18.
According to the spokesperson from Kien Giang anti-epidemic committee, Kien Giang province has over 14km of land border and around 26km sea border. Ha Tien International Border Station has established 44 fixed posts, 4 guard posts, 4 mobile teams, 4 high-speed canoes to perform duties and prevent people from entering and leaving illegally.
Medical officials knock on every door to inform households of local Covid-19 situation. They also call for people to immediately report suspected or illegal entrants to authorities for prompt response.
The border post has so far received 3,373 overseas Vietnamese returnees, and 25 individuals violating regulations on residence and entry from Cambodia authorities. Two illegal trespassing were seized.
In the face of complicated pandemic development of other ASEAN countries, especially border provinces, Long tasked all localities to develop effective quarantine, blockade plan for timely response once imported cases or community infection detected.
"Southwest border provinces are considered hotspots, therefore they are prioritized in the national Covid-19 vaccination plan", the Health Minister was quoted by VNE as saying. In Kien Giang, all local border forces have been given the first dose of AstraZeneca vaccine, and are expecting the second jab in weeks to come.
Deputy Chairman of the Kien Giang People's Committee Nguyen Luu Trung said currently, the biggest difficulty in pandemic prevention and control in the province was the cross-border entry. Kien Giang is still ensuring good control over the pandemic, yet facing the complicated developments of countries in the region, especially Cambodia, Kien Giang is the province with a very high risk of community infection in the country.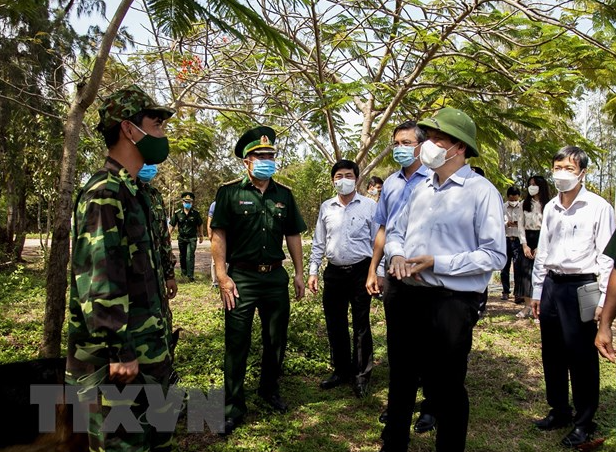 (Photo: VNA)
Kien Giang People's Committee proposed to establish a field hospital in Ha Tien city; give priority to the distribution of COVID-19 vaccine in the following phases; consider and support Kien Giang with two Real-time RT-PCR machines and materials for COVID-19 confirmation tests. In addition, the authorities granted Kien Giang 20,000 quick tests and 10 million pairs of medical gloves.
The Health Ministry on April 17 have established 5 missions led by ministers and vice-ministers to inspect anti-pandemic implementation in 13 provinces, namely Kien Giang city, Can Tho, Vinh Long, Dong Thap, Long An, An Giang, Tien Giang. , Ben Tre, Tra Vinh, Hau Giang, Bac Lieu, Ca Mau, Soc Trang. Inspection time is from April 18 – 30.
The missions were made after Minister Long warned of the high risk of Covid-19 recurrence in Vietnam given the strong outbreak in neighboring countries like Cambodia and Thailand.
Vietnam recorded three new cases of COVID-19, all imported, from 6 am to 6 pm April 18, according to the Health Ministry. From 6 pm April 18 to 6 am April 19, 1 imported case is found. The new patient is a 39-year-old man, enter Vietnam through Da Nang airport and was immediately quarantined and treated in Da Nang.
Vietnam aims to secure around 150 million doses this year to cover 70 percent of its 98 million population.
In the first phase of the vaccination campaign, there were 33% of recipients displaying commonly mild reactions such as swelling at the injection site, fatigue, mild fever, headache, and nausea. These reactions are normal which are also detected in other types of vaccines against measles, whooping cough, or tetanus.
There were 1% of recipients experiencing severe reactions; however, they were timely treated and now are all in stable health conditions.
The post-injection reaction rate in Vietnam was lower than that announced by the producer. The country to date hasn't yet recorded any cases of blood clots after administration.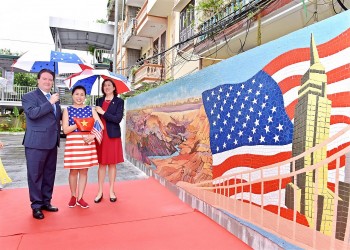 Multimedia
A ceramic mosaic mural named "Vietnam - US friendship" depicting the natural and cultural heritages of the two countries, was just revealed in Hanoi