Vietnam COVID-19 Updates (April 19): Four imported cases logged
The quarantine process has been performed by medical staff and antiseptic units in accordance with current regulations.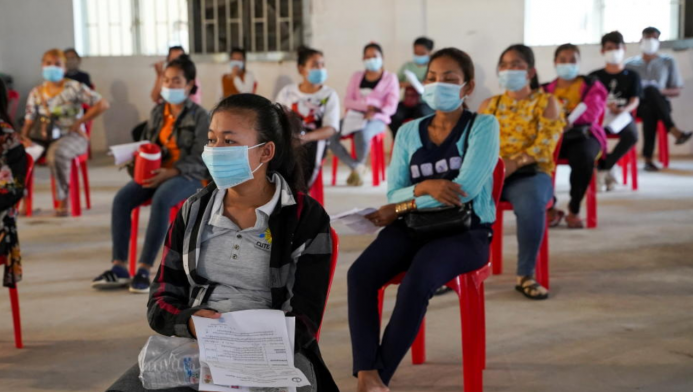 Photo: VN Express
Four imported cases logged
Vietnam recorded three new cases of COVID-19, all imported, from 6 am to 6 pm April 18, according to the Health Ministry. From 6 pm April 18 to 6 am April 19, 1 imported case is found. The new patient is a 39-year-old man, enter Vietnam through Da Nang airport and was immediately quarantined and treated in Da Nang.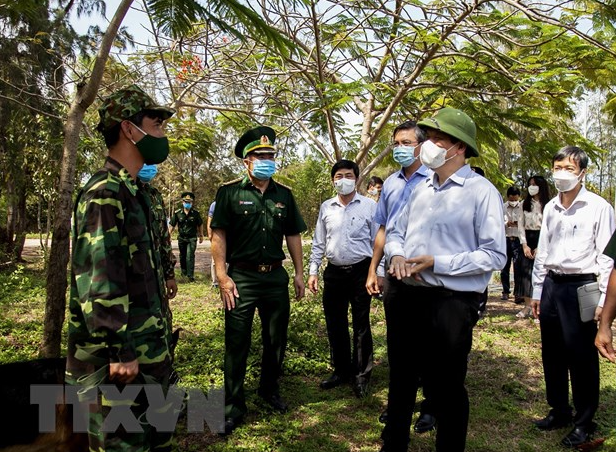 Photo: VNA
Kien Giang actively implement COVID-19 prevention measures
On the afternoon of April 18, in Kien Giang, the delegation led by Minister of Health Nguyen Thanh Long had a meeting with Kien Giang's representatives on COVID-19 pandemic prevention and control in the area. Deputy Chairman of the Kien Giang People's Committee Nguyen Luu Trung said currently, the biggest difficulty in pandemic prevention and control in the province was the cross-border entry. Kien Giang is still ensuring good control over the pandemic, yet facing the complicated developments of countries in the region, especially Cambodia, Kien Giang is the province with a very high risk of community infection in the country.
Kien Giang People's Committee proposed to establish a field hospital in Ha Tien city; give priority to the distribution of COVID-19 vaccine in the following phases; consider and support Kien Giang with two Real-time RT-PCR machines and materials for COVID-19 confirmation tests. In addition, the authorities granted Kien Giang 20,000 quick tests and 10 million pairs of medical gloves.
Speaking at the meeting, Minister of Health Nguyen Thanh Long suggested Kien Giang proactively raise a higher alarm and prepare for all possible worst situations, prepare scenarios for large-scale quarantine, prevent cross-infection in the quarantine area. In addition, the province should consider the prevention and control of land and sea borders as a prerequisite solution in pandemic prevention and control.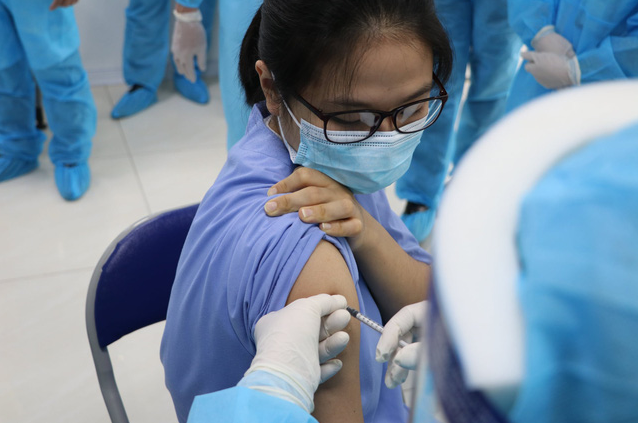 Photo: MOH
MOH adjusted allocation of 110,000 COVID-19 vaccine doses
Accordingly, in the Decision signed by Deputy Minister Truong Quoc Cuong, the Ministry of Health adjusted the allocation of 110,000 doses of AstraZeneca vaccine provided by COVAX in the second phase as follows:
80,000 doses will be granted to the army, which will be given to prioritized groups, including health staff, and people in the army and police force
30,000 will be sent to the police force in all 63 provinces across Vietnam for storing and injecting.
In addition, the National Expanded Immunization Project, and Central Institute of Hygiene and Epidemiology have received and supplied vaccines to localities and units to organize deploy vaccination against COVID-19 according to regulations. Currently, 49 out of 63 provinces and cities have received the second batch of COVID-19 vaccines. The remaining 14 will continue to be allocated in the coming time.
The new patients raised the national count to 2,785. The number of recovered patients now stands at 2,475 and the death toll remains at 35. Among patients still under treatment, 11 have tested negative for the novel coronavirus once, 16 twice and 18 thrice.
A total of 40,150 people who had close contact with COVID-19 patients or arrived from pandemic-hit areas are being quarantined across the country, with 531 at hospitals, 24,361 at concentrated facilities, and 15,258 at home or accommodations.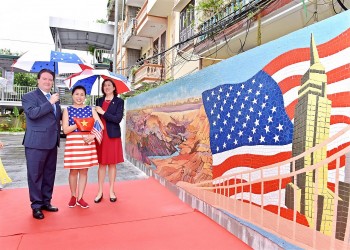 Multimedia
A ceramic mosaic mural named "Vietnam - US friendship" depicting the natural and cultural heritages of the two countries, was just revealed in Hanoi