Healthy Drinks to Make at Home
A number of drinks have health benefits beyond just providing hydration.
There are many more healthy drinks for you to choose from than you might think — so you won't go astray from your health goals. A cup of water when you wake up should do the trick, but for those who want a little variety, check out these options.
Fresh Juices
1. Lemonade
Lemons offer more than pleasant smells and sour flavor. The bright yellow fruit comes with potential uses from cleaning and scenting your house to improving your health. Add flavor to your water, help skin conditions, improve hair or add years to our life by utilizing the benefits of lemons.
Of course, lemons are known for having high amounts of vitamin C, with a single lemon offering you approximately 51 percent to meet your daily vitamin C needs.
2. Cranberry Juice
Most people think of cranberries as a delicious addition to holiday celebrations in the form of cranberry juice, sauces, stuffing and decorations. Cranberries are rich in health-promoting materials that are essential for all-around wellness.
They're known to store constituents that protect against cancer and cardiovascular disease, and that's not even half of what cranberries are capable of. They can improve oxidative stress, inflammation and urinary antibacterial adhesion activity to prevent urinary tract infection.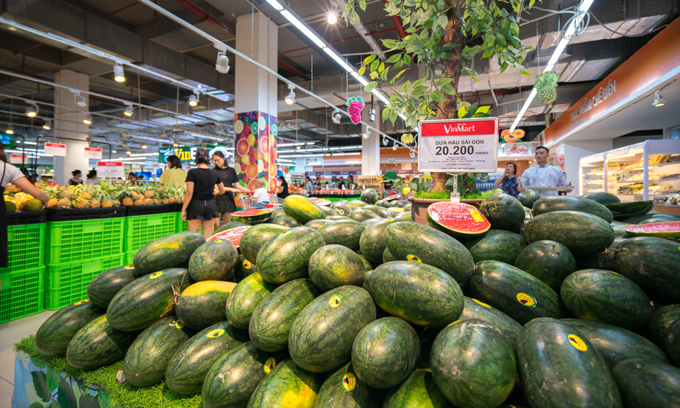 Watermelons are seen in a VinMart supermarket in Hanoi. Photo by Shutterstock
3. Watermelon Juice
Watermelon is a natural source of most powerful antioxidants. Perhaps no other fruit is as crunchy, thirst-quenching and hydrating than watermelon. It provides a good serving of vitamin C and vitamin A, particularly through its concentration of beta-carotene.
The beautiful red color is a source of a potent carotene antioxidant known as lycopene, which may help reduce the risk of prostate cancer. Surprisingly, watermelon contains a higher concentration of lycopene than any other fruit or vegetable known.
4. Parsley Juice
Parsley is a fairly small Mediterranean herb that leaves a nice presentation on your plate. Drinking parsley juice can decrease the risk of cancers, such as breast, prostate and skin cancer. The high amount of flavonoids, known as apigenin, makes it a strong antioxidant and anti-inflammatory herb.
Folate in parsley encourages cardiovascular health by reducing pro-inflammatory homocysteine, and parsley offers protection from an extensive selection of disorders, including asthma, atherosclerosis, diabetes, colon cancer and more.
5. Blueberry Juice
Blueberries are an excellent choice to add to your diet because they not only taste great, but they have the highest antioxidant capacity of all fresh fruit. Blueberry drinks improve glucose control and decrease blood cholesterol, lowering the risk of heart disease and diabetes later in life.
Anthocyanin, an antioxidant found in blueberries, is a very effective immune builder and antibacterial agent to prevent infections.
Blueberries are surprisingly high in iron, and their vitamin C content reportedly improves night vision, helps build collagen and maintains healthy gums. A handful of blueberries consists of the recommended daily fiber intake to help keep your body regular, and the manganese helps the development of bone and converts carbohydrates and fat into energy.
6. Tart Cherry Juice
Tart cherries contain high levels of phytochemicals, including melatonin, a hormone important in regulating sleep cycle. Cherries also are an excellent source of phenolic compounds, known for their anti inflammatory and antioxidant activity.
Phenolic compounds may help yield a protective effect to muscle damage and pain before and during strenuous exercise.
7. Aloe Vera Juice
The gel of aloe vera has been used extensively in beauty products for years. It's also been used internally to alleviate arthritis, constipation, coughs, diabetes, headaches and ulcers.
One of the constituents, aloe-emodin, has been shown to possess potential anticancer properties as well. Add aloe vera to water, with lemon, and your favorite organic sweetener for a refreshing and tasty drink.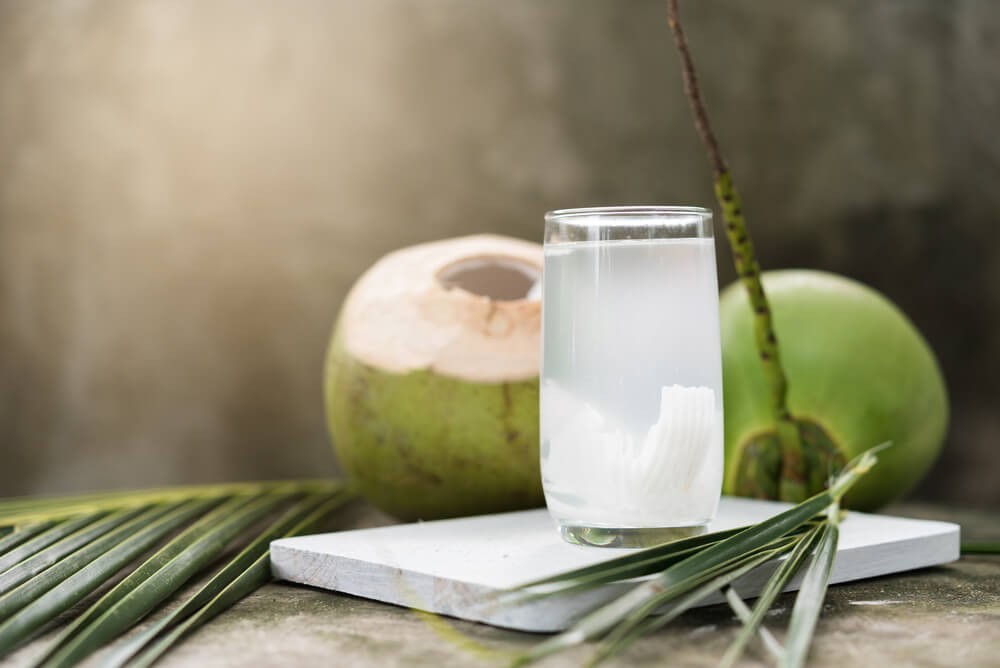 Refreshing coconut water is packed with plenty of nutrients, minerals, and antioxidants. Photo: Shutterstock
8. Coconut Water
Is coconut water good for you? Yes, which is why it's among this list of healthy drinks. It's rich in carbohydrates, chloride, potassium and sodium and viewed as a hydrating drink of choice in various parts of the world.
9. Goji Berry Juice
This small superfood packs a big punch. With vitamins, minerals, antioxidants, and eight essential amino acids, goji berries are one of the most nutritionally dense foods on the planet.
Start your day with a glass of goji berry juice for a dose of vitamins with a side of serious energy.
10. Tomato Juice
If you partied a little too hard the night before, starting your morning with tomato juice might be your answer. Tomatoes not only provide plenty of hydration (they're 95 percent water), but have been scientifically proven to help reverse the effects of alcohol.
Tea
1. Green Tea
Tea is the second most widely enjoyed beverage in the world behind only water. Green tea made from unfermented leaves reportedly contains the highest content of powerful antioxidants called polyphenols, making it one of the top healthy drinks around. Antioxidants are molecules that fight free radicals, which are cell-damaging compounds that damage DNA and even cause cell death.
Research points that free radicals contribute to the aging process, as well as the development of a number of medical conditions, including cancer and cardiovascular disease.
2. Dandelion Tea
Dandelion tea is near the top of the list of healthy drinks due in part to its place among the best detox drinks as well.
Dandelions are everywhere, visibly present throughout most of the year. They make the ground healthy by restoring its mineral health to the depleted soil.
Dandelion leaf is used for arthritis, gout, gastric headaches, edema and skin ailments — plus it's excellent for detoxification due to its action on the liver. T
he whole plant, especially the roots, is roasted and can be used as a coffee substitute. The high inulin content, especially during the fall season, makes dandelion root a good food source for beneficial gut bacteria.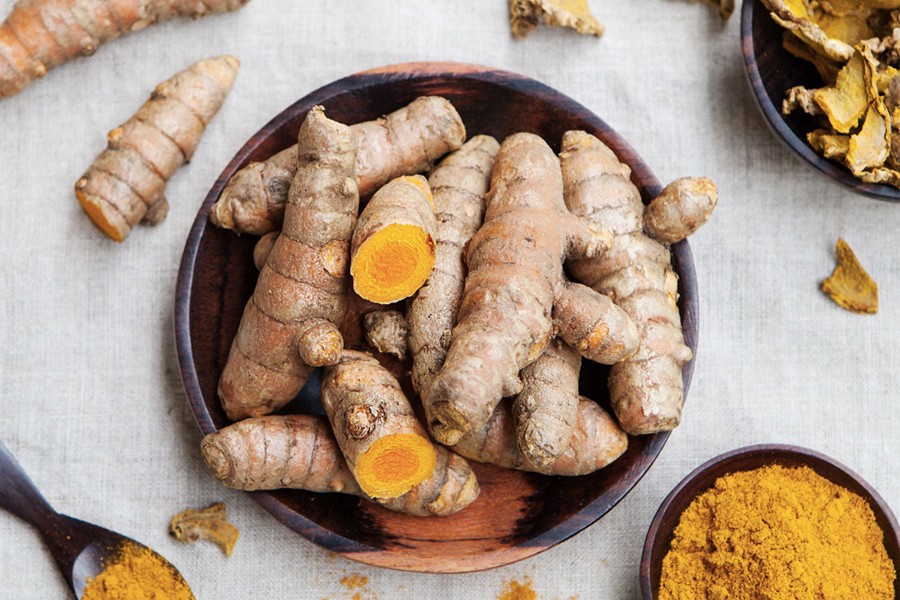 Golden milk, also known as turmeric tea, is a bright sun-colored beverage made with turmeric, warming spices, and a creamy base. Photo: Internet
3. Turmeric Tea
Turmeric has been rising quickly in popularity worldwide, especially the golden milk drink. Curcumin is one of the main active constituents in turmeric that gives it its benefits. It is commonly combined with bromelain or black pepper for increased absorption and anti-inflammatory properties.
Turmeric has been long used in Chinese and Indian medicine as an anticancer agent, protecting against wide variety of conditions, including Alzheimer's disease, toothaches, rheumatoid arthritis, sprains and wounds.
4. Red Raspberry Leaf Tea
Red raspberry leaf tea has a long history in women's health, particularly during pregnancy and labor to help prevent postpartum hemorrhage. Due to its drying effects of tannins, the leaves are used as a mouthwash in tonsillitis, diarrhea, skin conditions, abrasions and urinary tract infections.
Red raspberry leaf is high in nutrients, including B vitamins, calcium and iron, which can help ward off all sorts of conditions.
Thanks to the benefits of raspberry nutrition, red raspberry leaf tea joins the list of healthy drinks.
5. Holy Basil Tea
In Ayurvesda, holy basil, or tulsi, is known as "the queen of herbs" and is recommended for conditions such as fever, cough, arthritis, ringworm, and insect, snake and scorpion bites. It's a potent adaptogen, which are herbs to help your mind and body cope with physical and emotional stress.
Tulsi has been shown to prevent brain, kidney and liver injury by protecting against cellular damage caused by industrial chemicals, pharmaceuticals and pesticides. In additional to protecting against toxic chemicals, holy basil has been shown to protect against the damaging effects of heavy metals as well.
6. Yerba Mate
For a cleaner caffeine buzz without those coffee-associated jitters, consider a cup of yerba mate. This South American tea-like beverage contains an abundance of antioxidants, vitamins, and amino acids.
The unique chemical makeup of mate's active compounds (all 196 of them) provide a boost of sustained energy without the negative side effects.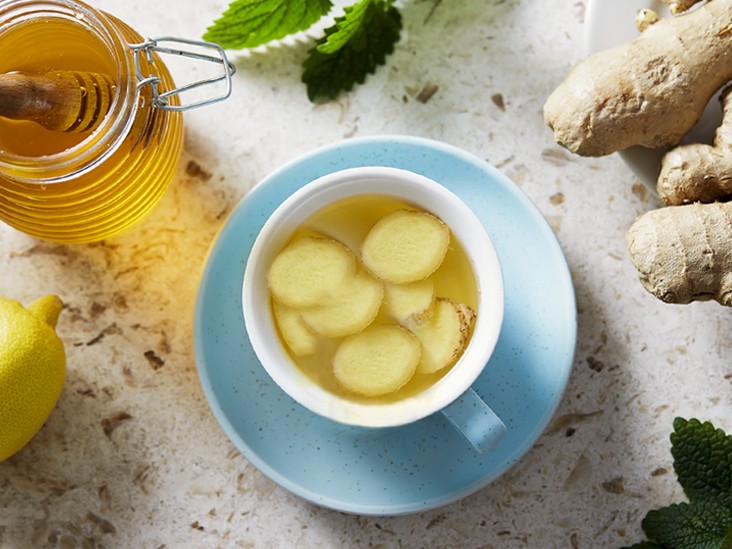 Ginger tea helps relax the digestive tract and ease bloating and post-meal discomfort.
7. Ginger Tea
Ginger is a popular common cure of stomach woes, and for good reason. Sipping on ginger tea first thing in the morning can ease stomach discomfortTrusted Source, nausea, vomiting, and diarrhea.
To make ginger tea, add a few tablespoons of finely grated fresh ginger to a cup of boiling water and steep for five minutes.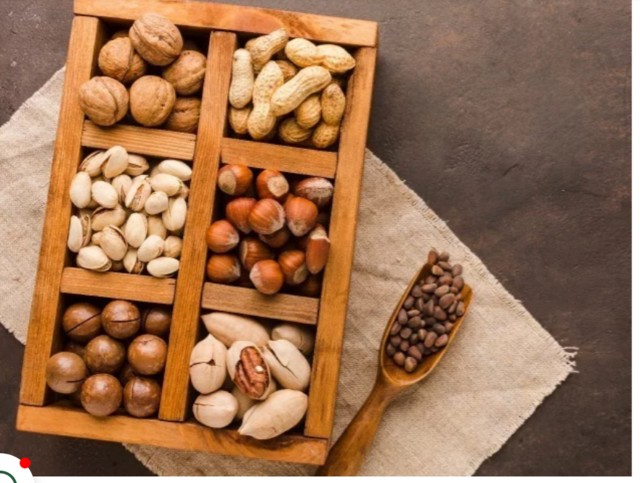 So-called nut 'milk' is a dairy substitute that can be made from all sorts of different types of nuts. Photo: Wikimedia Commons
Plant-Based Milk
Are you allergic to cow's milk and want another non-dairy choice? Plant-based beverages choices, such as almond, coconut, hemp, oat, quinoa and rice milk, may be for you. Almond milk has more vitamin E since it's made from grounded almonds.
Hemp milk made with ground, soaked hemp seeds and water, delivers a significant amount of omega-6 and omega-3 fatty acids and protein.
Coconut milk has monolaurin, a molecule responsible for antimicrobial properties. Oat milk is rich in fiber and iron and, like rice milk, higher in carbohydrates so these two plant-based milk choices are not the best option for those with diabetes.
Choose fortified nondairy milk alternatives with calcium, vitamin D and vitamin B12.
Look for unsweetened and reduced sugar options, and limit those with a significant amount of protein.
Green Vegetable Drinks
Dark green leafy vegetables are nutritious, offering a large amount of vitamins A, C, E and K. The abundant amount of antioxidants called carotenoids protect against cellular damage and help prevent development of many cancers. They also contain a high amount of calcium, fiber, iron, magnesium and potassium. Importantly, dark leafy vegetables have little carbohydrates, cholesterol and sodium.
Dark leafy green drinks supply a significant amount of vitamin K, which helps prevent inflammation and protect bones against osteoporosis. Leafy vegetables may best your best choice when it comes to cancer prevention due to the high amounts of antioxidants.
Studies have shown that eating two to three servings of dark leafy greens per week may help lower the risk of certain cancers, especially breast, skin and stomach. The significant amount of folate can help prevent birth defects and improve cardiovascular health as well. Folate is crucial for proper DNA repair and replication and may help reduce the risk of breast, cervical and lung cancers.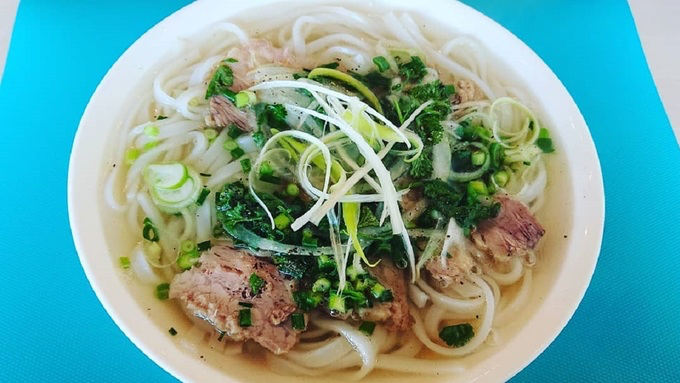 Vietnam's Pho naturally contains anti-inflammatory, nutrient-dense ingredients that promote the detoxification of toxins, fight viral and bacterial infections, aid in digestion and supply the body with beneficial enzymes. Photo: @magenta_yoko/Instargam
Bone Broth
Bone broth can certainly help tame those hangover woes. This nutrient-dense broth is packed with all of the electrolytes, vitamins, and minerals that your post-party body needs. The electrolytes found in bone broth (magnesium, potassium, and calcium) are great at replacing the sodium and potassium that is lost from drinking alcohol.
Kefir
Kefir is a probiotic drink that provides that healthy gut bacteria. It, along with other probiotic drinks, promotes efficient digestion by achieving a healthy gut flora, fighting against pathogens and boosting energy levels. Probiotic drinks are "pre-digested" as the sugars in the beverage have been broken down, making them easier to digest creating less work for the pancreas which secretes digestive juices.
Studies have shown that they can help alleviate symptoms constipation, yeast infection, diarrhea, Crohn's disease, celiac disease, irritable bowel syndrome, candida and ulcers.
Kombucha
Like kefir, kombucha is a fermented, probiotic drink that does wonders for your health. It's been shown to help prevent disease, support a healthy gut, potentially improve mental state, benefit the lungs, fight bacteria, manage diabetes, support heart health and maintain a healthy liver.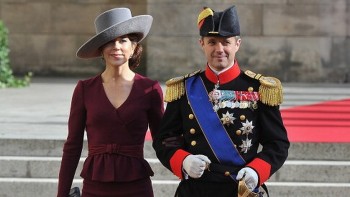 Friendship
Denmark's Crown Prince and Crown Princess will visit Vietnam to celebrate 50 years of diplomatic relations and promote green solutions.