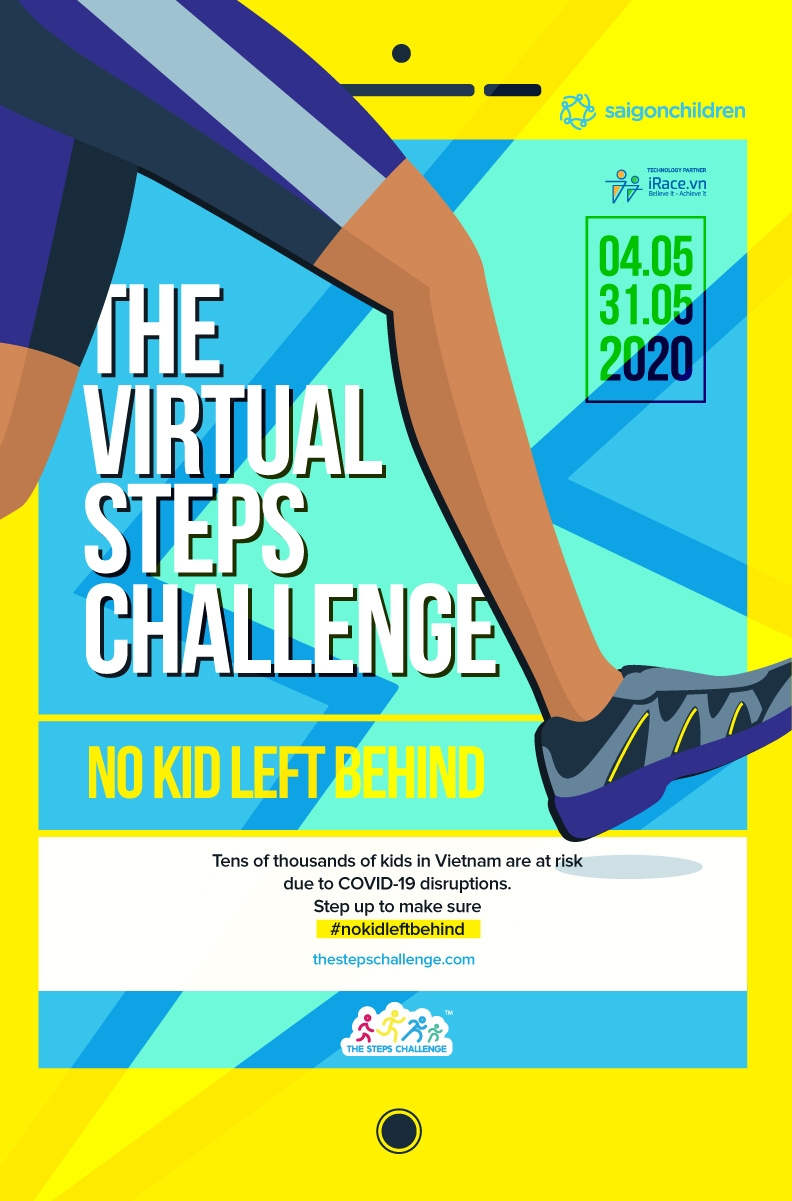 Join The Virtual Steps Challenge of saigonchildren with only 250,000VND (about 10USD) to stay fit and make sure #nokidleftbehind because of COVID-19 pandemic.
Children are the hidden victims of COVID-19. Beside hygiene and healthcare, did you know that tens of thousands of disadvantaged children in Vietnam may be at risk of never going back to school due to loss of family income from COVID-19's impacts? For vulnerable children, the longer they stay away from school, the less likely they are to return. Tens of thousands of disadvantaged kids in Vietnam are at risk of dropping out of school due to loss of family's income caused by COVID-19.
On the other hand, stopping education does not only make them lose their chance to escape the vicious cycle of poverty, but also exposes them as high risk to more serious issues like child abuse, early marriage, and human trafficking.
Join the one-month Virtual Steps Challenge and support Saigon Children's Charity (saigonchildren) to keep these kids in school. A hundred percent of your registration fee and donation will be used to identify the risk and need of each child that saigonchildren helps, and provide the support that needed to get them back to school as soon as possible.
With VND 250,000 (over USD 10), participate in the challenge from anywhere in the world and at any time during May 4 to May 31. Walking, running, doing a yoga session, or even doing chores around the house; add up your steps in the month and if you meet your goal, receive a real medal from saigonchildren sent to you by post.
The Steps Challenge 2019 raised more than VND 700 million (about USD 30,000) for kids and recorded almost 200 million steps from participants all over Vietnam.
Saigon Children's Charity is a UK charity working exclusively in Vietnam since 1992 with the mission of removing barriers to education for Vietnamese disadvantaged children, through four key programmes: school building, scholarships, vocational training, and special needs education. To date, saigonchildren has built 207 schools, provided 41,000 scholarships, supported 12,000 children and young adults with vocational skills, and helped 11,400 children with disability in Vietnam.
Register now: https://irace.vn/races/the-virtual-steps-challenge
Registration period: now until 24 May 2020
Challenge period: 4 - 31 May 2020
Want to contribute more? Donate to saigonchildren's emergency COVID-19 fund at: https://bit.ly/3ee78UV
Hannah Nguyen