Heritage Space of Vietnamese Cultural Specialties in Hanoi's Old Quarter
Established in 2015, Hanoi Old Quarter Cultural Exchange Center has been a gathering spot for those who love to learn about Vietnamese traditional culture and architecture.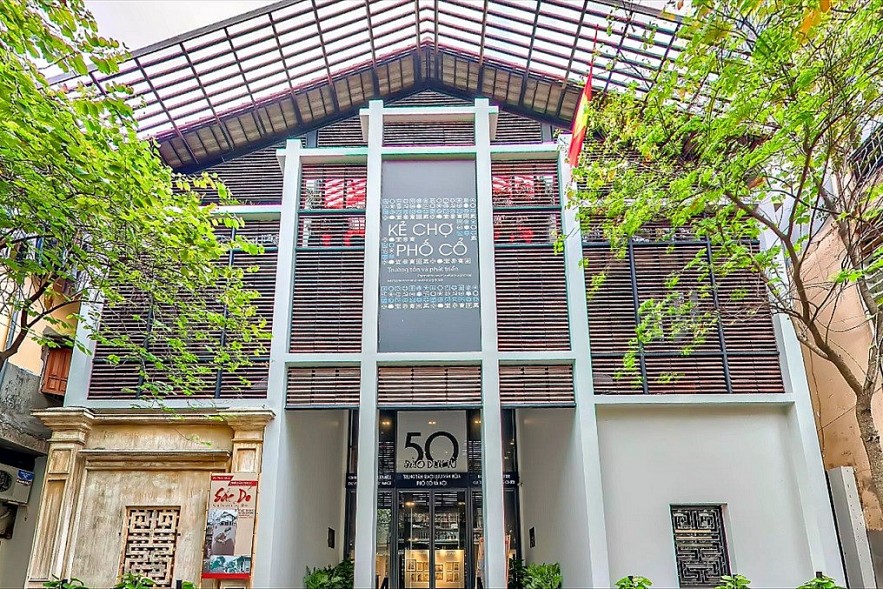 Hanoi Old Quarter Cultural Exchange Center at 50 Dao Duy Tu street. (Photo: MyHanoi)
Lying in the most hustle beer and pub hub of Hanoi, Hanoi Old Quarter Cultural Exchange Center (50 Dao Duy Tu street, Hoan Kiem district) differs itself from the busy surroundings by offering exhibitions of Vietnamese traditions that even locals know little about.
Behind the tall glass door, meticulous works from craft villages, photos and models showing the development of Hanoi over centuries are displayed under the dim light, bringing visitors into a nostalgic mood.
Reborn from a damaged theater
A painting of Lac Viet theater by Trieu Minh Hai. (Photo: Nhan Dan)
As the French re-constructed Hanoi into a Western-style metropolitan in the early 20th century, a number of theaters were established to replace conventional stages for folk music. San Nhan Dai was built around the time to perform cheo, a Nothern style of musical drama. In its heyday, the house went from a new stage to one of the two biggest cheo theaters in Hanoi. After Vietnam's revolution, the place became home to several households. San Nhan Dai, which was renamed Lac Viet, then Hiep Thanh was completely damaged in a fire in 1989.
30 years after the accident, Hanoi's authority cooperated with Toulouse (France) to invest more than VND 60 billion (more than US$ 2,6 million) to build the burnt house into today's Hanoi Old Quarter Cultural Exchange Center. The reconstruction project was completed in 2014, while the center first opened for customers in 2015, according to Hanoimoi.
Hanoi Old Quarter Cultural Exchange Center covers an area of 458 m2. The newly-built house resembles Hanoi's typical "tube house" architecture with yards and skylights inside the house.
Exhibitions at Hanoi Old Quarter Cultural Exchange Center
Hanoi Old Quarter Cultural Exchange Center includes four stories, three for exhibitions and one for events, meetings, and art performances. Since its establishment, the house has introduced presentations of diverse themes, from folk music, ancient houses in Hanoi, daily life of Hanoians in the past centuries.
The house is currently running two exhibits. The first one, placed on the first floor and running from Nov. 19 to Dec. 15, shows craft wood furniture from Ang Phao village. The other, a permanent exhibition, includes documents, photos, paintings, and miniatures about the development of Hanoi's urban architecture.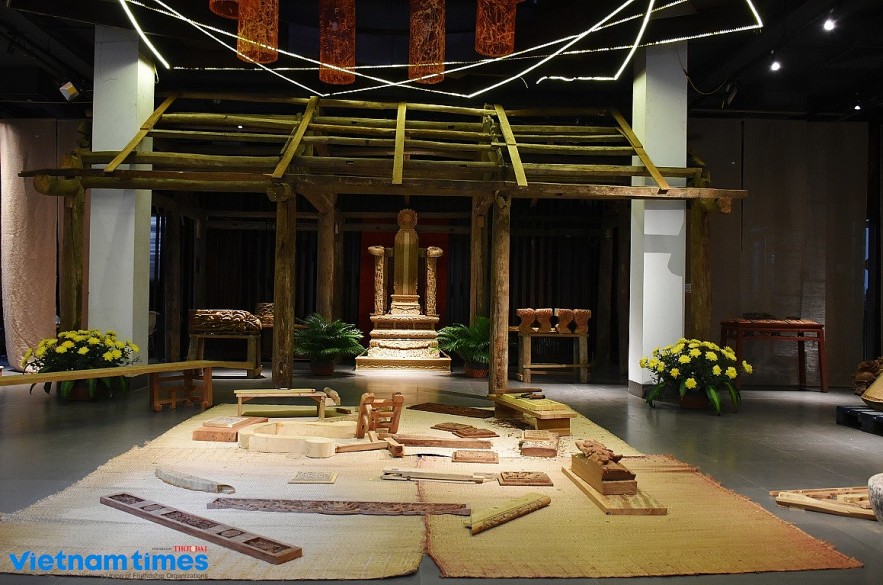 Demonstration of a carpentry workshop. (Photo: VNT/Valerie Mai)
Ang Phao traditional carpentry village
The exhibition of Ang Phao traditional carpentry village features a series of cultural activities to celebrate Vietnam's Cultural Heritage Day (Nov. 23). For generations, people in Ang Phao village (Cao Duong commune, Thanh Oai district, Hanoi) strive to reserve their ancestors' legacy: handcraft carpentry. The village currently has dozens of "main workers" - the highest title for skilled carpenters.
Ang Phao village was honored as Hanoi Traditional Craft Village in 2005. Ang Phao's carpenters these days often sell for their detailedly carved furniture, from tables to wardrobes. However, their most famous product is wooden houses.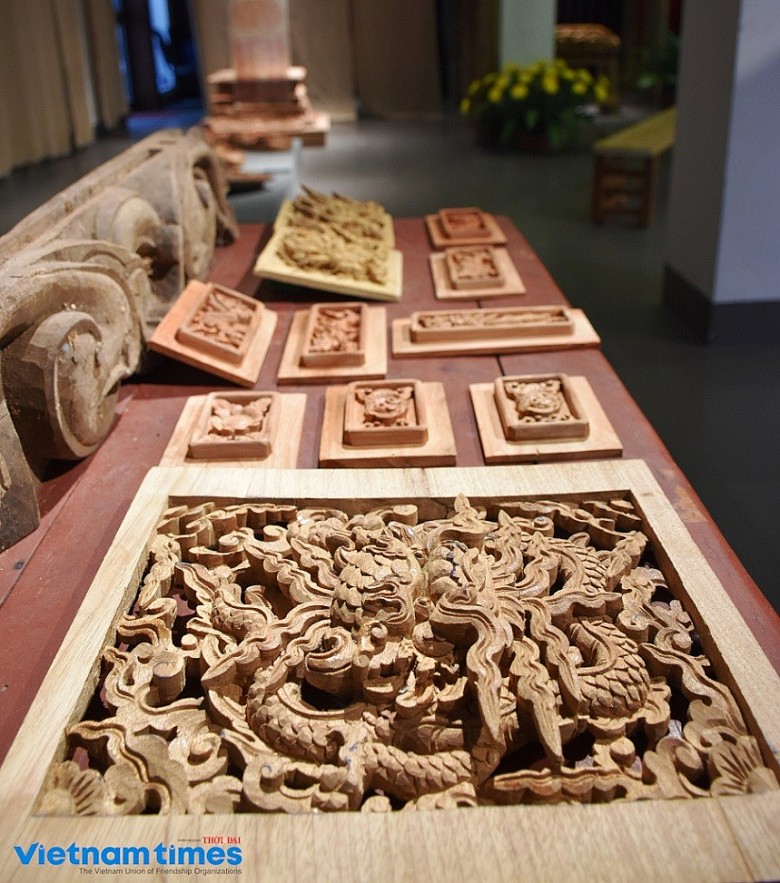 Sculptures by Ang Phao's carpenters. (Photo: VNT/Valerie Mai)
There are hardly any men in Ang Phao village who do not know how to do carve wood. These days, realizing that carpentry can ensure them a stable income while contributing to preserving their hometown's unique trait, men who used to work far from home come back to Ang Phao to run their families' workshops.
Thanks to the help of modern machines, wood carving has become much less time-consuming. However, the sophisticated lines and shapes of each product are ensured by the skill and enthusiasm of Ang Phao's craftsmen.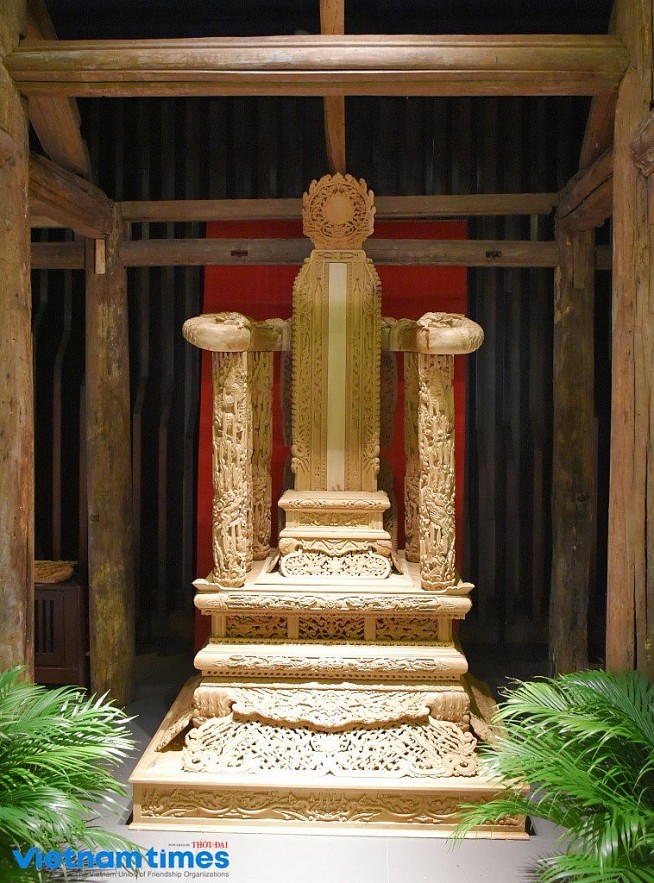 Sculptures by Ang Phao's carpenters. (Photo: VNT/Valerie Mai)
Development of Hanoi's urban architecture
Included in a cooperation project between Hanoi and Toulouse, "Ke Cho Pho Co" (The market people in the Old Quarter) brings together hundreds of books, photos, documents, sketches, cardboard models of houses in Hanoi, demonstrating the formation and development of the Old Quarter.
"Over the past 1,000 years, the quarter has been the embodiment of Vietnam's urban and commercial culture as well as a testament to Vietnam's urban development process. It can be considered as a model for the country's human development and urban expansion while the city's traditional structure still keeps most rural characteristics," say the organizers.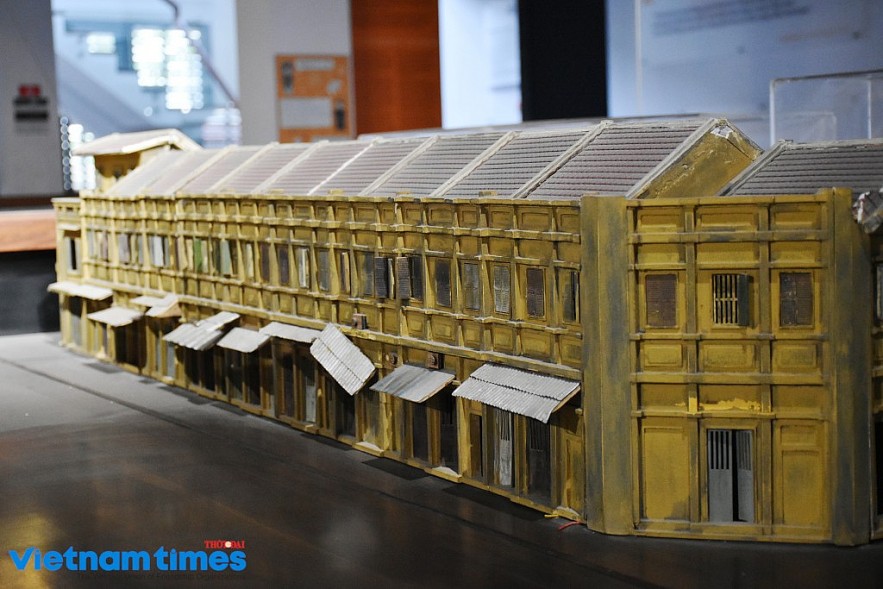 Cardboard model of houses in the Old Quarter. (Photo: VNT/Valerie Mai)
Hanoi's Old Quarter attracts locals and expats for its crowded neighborhoods, old adjacent roofs, narrow alleys, golden colonial buildings lying next to white and grey oriental architecture. The downtown area, which focuses on small-scale commercial activities, was formed around the Ly-Tran dynasty and located from the east of Thang Long Royal Citadel to the Red River.
Throughout history, the old town still remains one of Hanoi's most populous and busiest places. As society develops, the town gradually transforms. Most streets no longer sell their specialties. Hang Dao, for example, switches from trading red-dyed fabric to selling souvenirs for foreign tourists. Instead of selling coal as its name suggests, Hang Than is now known for sweet snacks and traditional cakes.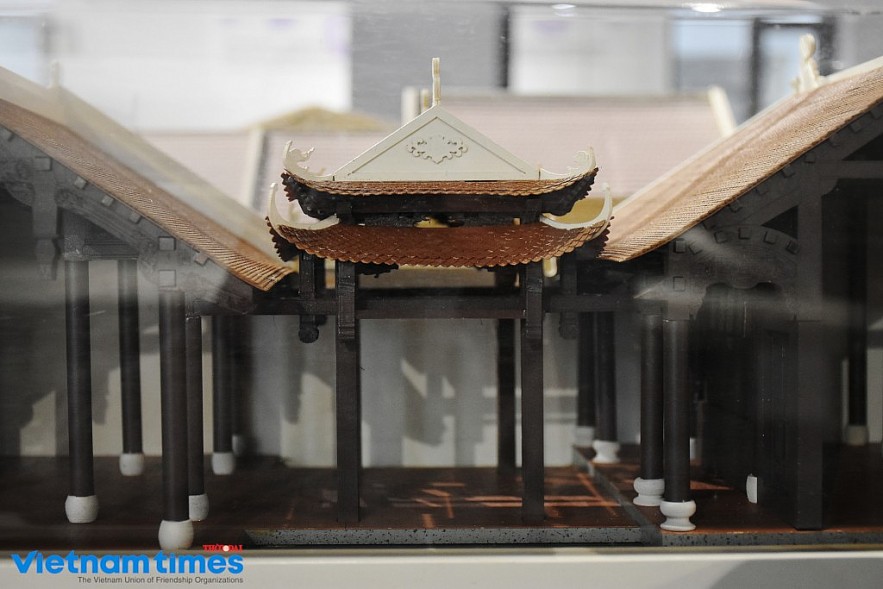 Model of traditional architecture in Hanoi. (Photo: VNT/Valerie Mai)
Preparation for the exhibit took place in 2010, five years before the space opened for visit. The story of how the old town went from a rural area to one of Vietnam's busiest commercial hubs is told in Vietnamese, English, and French, which, according to the organizers, "aims to call for pride and responsibility to preserve the town's heritage."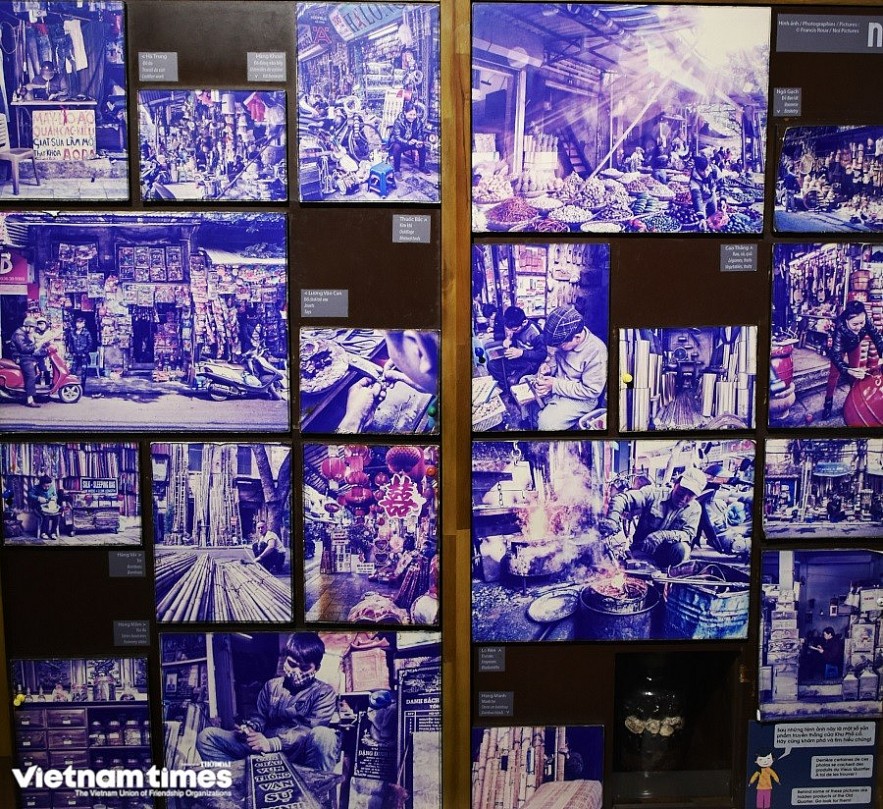 Photos of craft and commercial activities in 36 old streets of Hanoi. (Photo: VNT/Valerie Mai)
Effort to reach foreign visitors
Located in the Old Quater, a gathering spot for expats in Hanoi, the cultural exchange center attempts to advertise itself to foreign visitors. To achieve the goal, all scripts for the center's exhibitions are written in both Vietnamese and English. The center's receptionists are equipped with deep knowledge about Vietnamese culture and good English skills.
Before the pandemic, the house's basement served as a coffee and meeting space for foreign businessmen, ambassadors, and tourists. In the current context, though cultural activities are limited to ensure safety, the house still manages to provide visitors with impressive exhibitions.
Over the past few decades, Vietnam has been quickly developing, striving to gain breakthrough achievements in economy and international position, building itself into a modern country. As the country is moving towards the future, cultural values need to be embraced, preserved, and promoted. Hanoi Old Quarter Cultural Exchange Center at 50 Dao Duy Tu represents a typical example of the effort to honor and introduce traditional values to young generations and expats. Against the backdrop of Hanoi's fast pace of life, the house offers a tranquil spot for those who want to slow down, travel back in time to learn authentic Vietnamese heritages.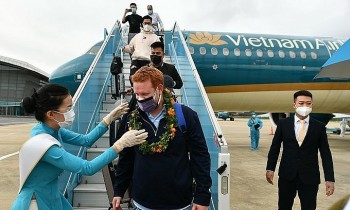 National
Vietnam News Today (Jan. 29): Vietnam records 14,892 new local Covid-19 cases; PM orders prioritizing pandemic control for safe and warm Tet; Vietnam scraps rapid Covid test requirements for int'l passengers; Vietnam-Australia trade hits all time high in 2021.