Viet Printmaker Brings Together American & Vietnamese Cultures
"Hallucination" exhibition reflects the talented artist's experience as a Vietnamese living in the US.
A young Vietnamese artist recently held her first US solo exhibition called Hallucination where Vietnamese legends and customs are employed in the American landscape and infrastructure.
Saigonese artist based in Minnesota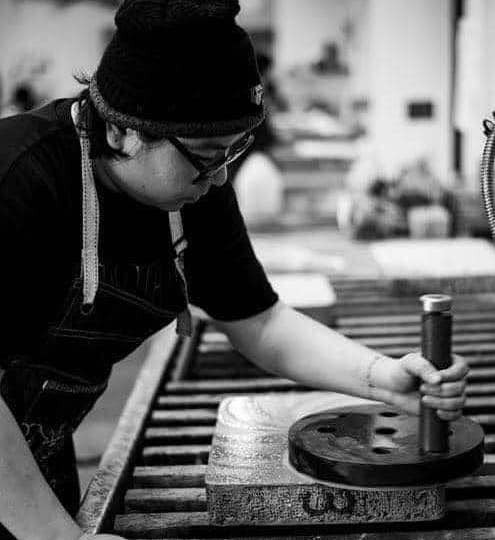 Mai working on the woodblock. Photo: Mai Tran Facebook Page
Born and raised in Vietnam, Mai Tran is a printmaker who currently lives and works in Mankato, Minnesota, USA. Mai earned a Bachelor of Fine Arts in Printmaking with a second concentration in Photography from Minnesota State University (MSU) Mankato in the Spring of 2021.
Mai specializes in Relief Printmaking, implementing Vietnamese culture in woodcuts mythology and history. Though her art, she hopes to make Vietnamese traditional printmaking accessible to contemporary society.
Mai has been working as printmaker since 2015. Her plan was to study interior design in the States but she immediately fell in love with Printmaking.
She is interested in the relationship between humans and nature and how human hands have negatively impacted the environment over the years.
Past and Present, East and West combined
For years, Mai searched for her own styles in her surroundings and started creating prints about daily lifelike animals, flowers, or landscapes. She found MSU Mankato to be the ideal nurturing environment to develop her talent. This is where Mai learned to combine the Vietnamese mythology and history she knows and loves with the American culture in the town she currently lives.
Mai's art pieces keep getting better and bigger, figuratively and literally. In October - November 2020, her very first exhibition, The Art of Contemporary Printmaking by Mai Tran, was held in her hometown.
Before graduating, Mai joined her colleagues in the "War and Peace" MSU Mankato Printmaking Spring 2020 Exhibition, which took place in February 2020.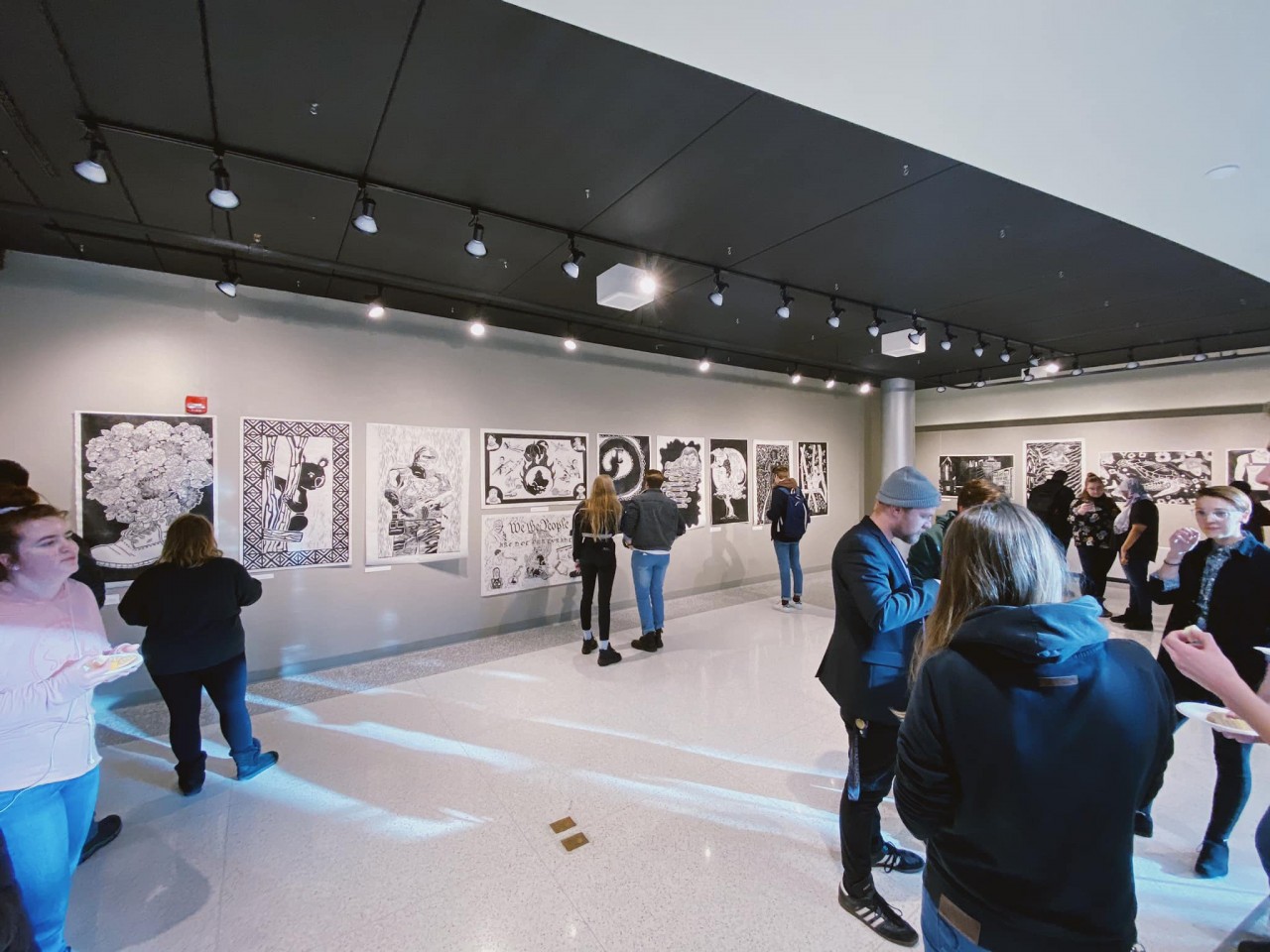 Mai's exhibition at "War and Peace" MSU Mankato Printmaking Spring 2020 Exhibition. Photo: Mai Tran Facebook Page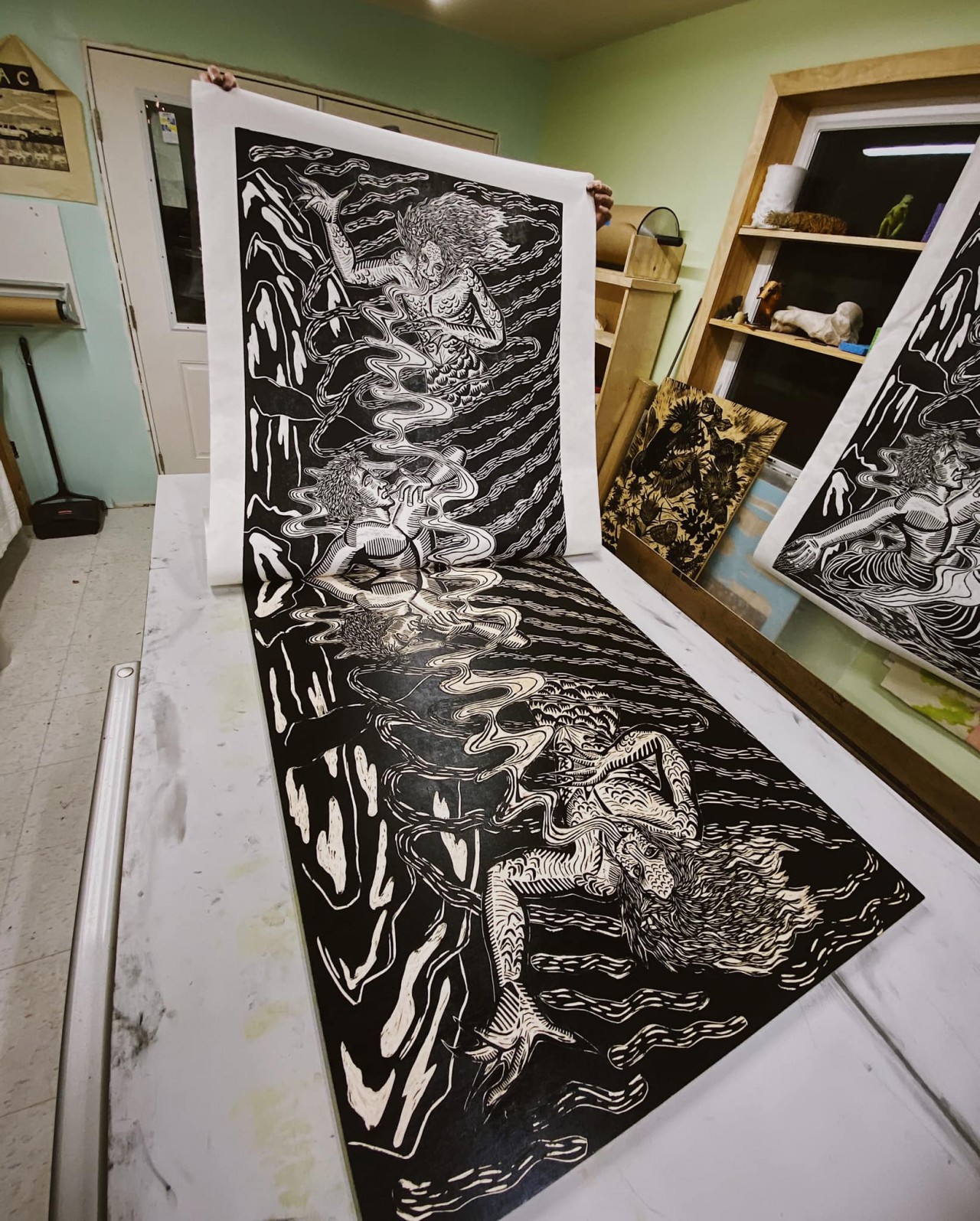 The Mountain Orge and the Sea Orge in Vietnamese folktales inspired Mai Tran. Photo: Mai Tran Facebook Page
As someone who excelled in woodcuts, Mai and her works received a lot of love at this joint exhibition. This is also the first time Mai can show her large-scale projects to the public.
One of the centerpieces featured the Mountain Orge and the Sea Orge - a famous Vietnamese folktale - grabbed the close attention of art fans. Mai's works show her thought in past and present life experiences.
Mai's talents shined through these large-scale pieces as they require much time, effort, ideas, and skills. Temptation is Mai's latest large woodblock print to date. Its dimensions are 76.2 x 121.92 centimeters.
A kylin or Ky Lan in Vietnamese is known to be a vegetarian mascot. It is one of the noble spirits animals according to Asian culture with origins associated with Buddhism.The work, however, depicts this noble being getting excited over cheese burgers and somehow lost his way and stepped on a sacred lotus leaf, hence the name Temptation.
Mai shared that Temptation's mesage is: There are many temptations in life that even heavenly mascots cannot resist, but choose to pursue it or let go, it is all up to you.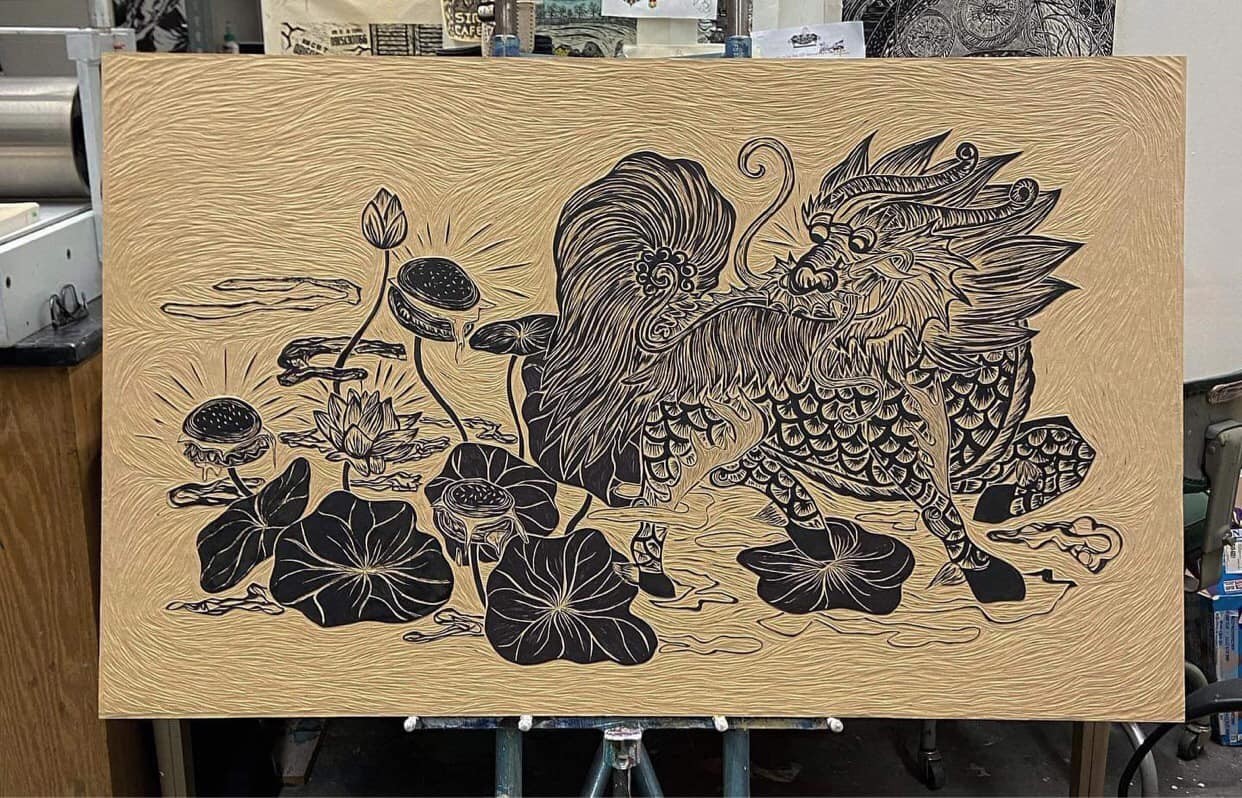 The original wood block of Temptation. Photo: Mai Tran Facebook Page
Mai currently attends graduate school in advanced Printmaking as well as teaching intro-level class of MSU Mankato.
Mai's first solo exhibition in America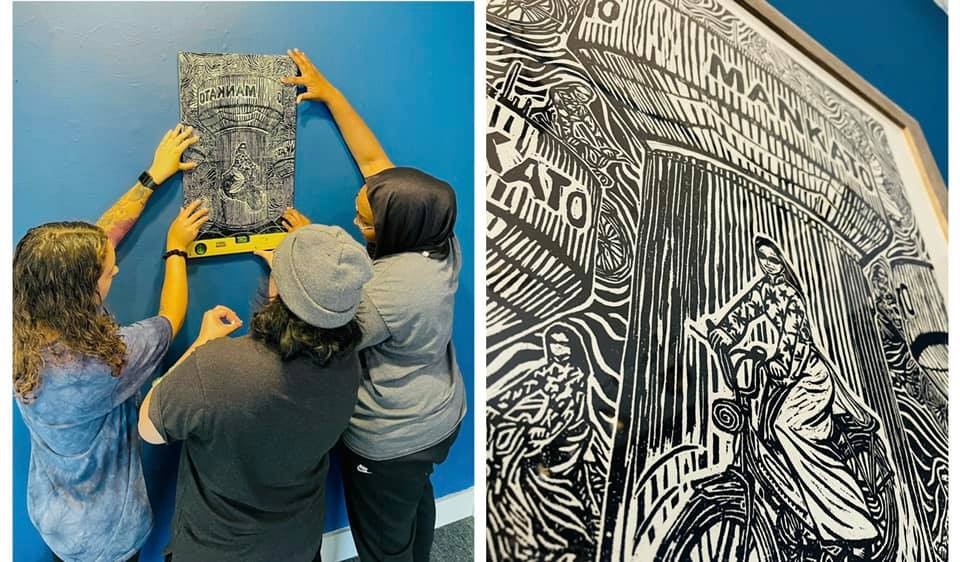 One of the prints displayed in the Hallucination series. Photo: The 410 Project
Hallucination, hold in October this year, is a series of Relief Prints created from 2018 to 2021. This body of work reflects the artist's experience as a Vietnamese living in the US, specifically Mankato, Minnesota.
Despite having many exhibitions since 2018, this is Mai's first American solo exhibition in her career. It is also her first exhibition as an independent artist. She was excited to hold it in The 410 Project gallery - one of Minnesota's most supportive community art spaces.
This series is a surreal print collection in which the Vietnamese legends and customs are employed in the Mankato landscape and infrastructure.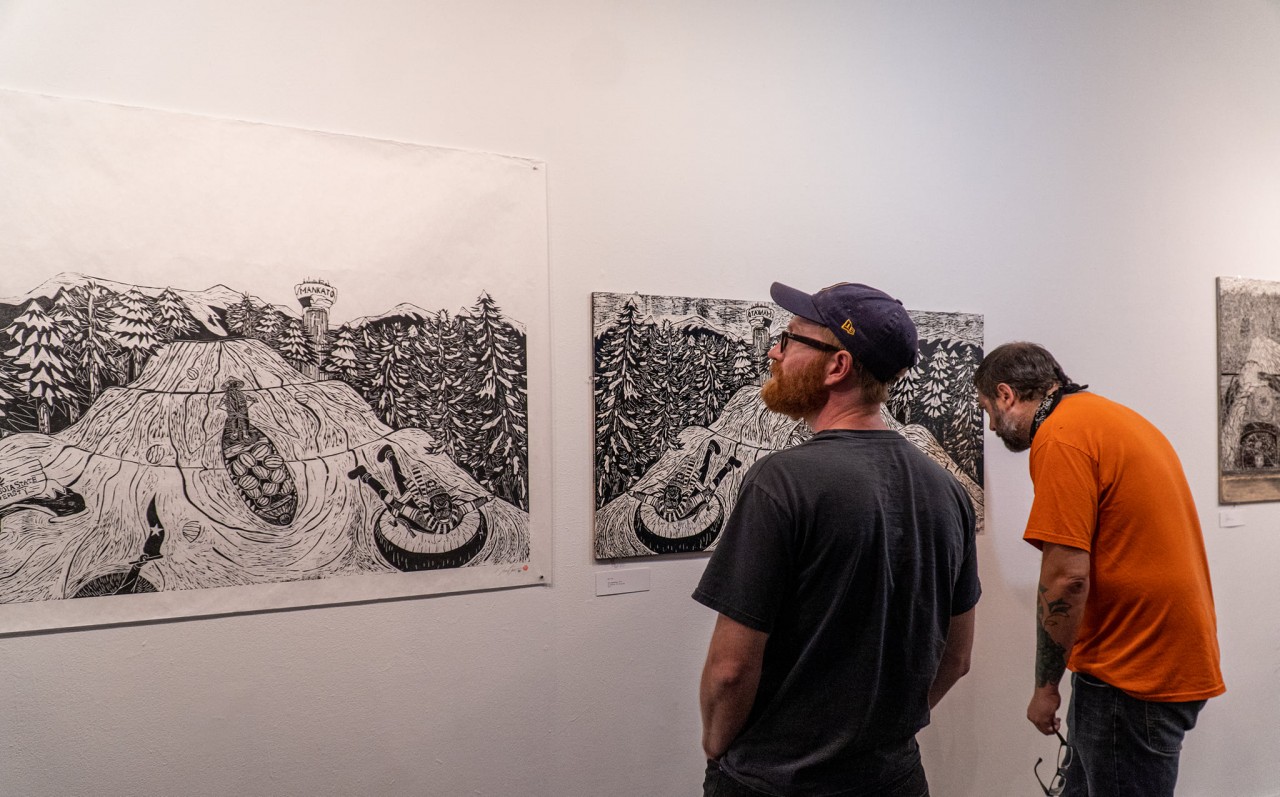 Mankato residents at the exhibition. Photo: The 410 Project
Along with showing appreciation for Mankato, where Mai has made her home for the past six years, she also wants to introduce to its residents the different aspects of Vietnamese culture.
Halluciation has eight original prints and matrices that scale from small to giant depending on the context. The materials vary from wood to linoleum to copper. To create the art works, the block of selected material is meticulously carved and then printed directly onto Eastern paper.
The main concept of this print series is a parallel world where borders and crossing culture are not problems, but advantages, Mai shared. She created an environment that nature, people, time and space have no limitation.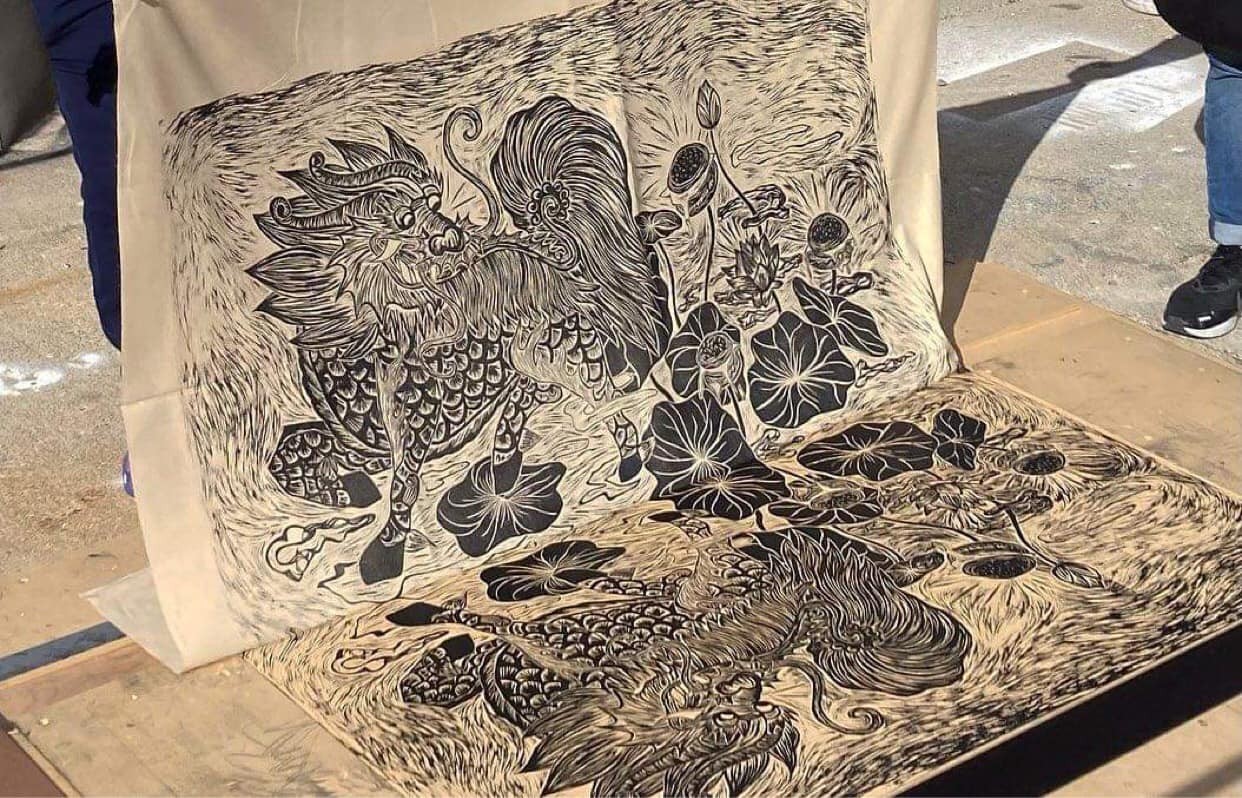 Mai's style is different from Japanese woodblock prints or Vietnamese folk painting. Photo: Mai Tran Facebook Page
The Art of Vietnamese Contemporary Printmaking
"Wood carving has many different types and techniques. Each technique will have its own advantages and disadvantages, and will create different visual effects.
Mai Tran's process is called wood destruction as she crave on one sold wood block and and the process will "destroy" or change the craving on the block completely as she goes. It is different from Japanese woodblock prints or Vietnamese folk painting in the layering process.
The layers will be printed on top of each other many times using the same wood block After each layer, some parts of the block will be engraved to print over the previous layer.
So if fail at any point, Mai will have to start over. The used wood block would also be damaged and could not be reused.
As for coloring, Mai uses offset printing ink. Offset printing is commonly practiced in the Western arts. It has also been taught in art schools in Vietnam for the last 10 or 15 years.
Because there are many technical requirements as well as tools to perform the work, perhaps few people pursue this genre after graduation. It also takes a lot of time and effort. Pictured is the process of making my latest work.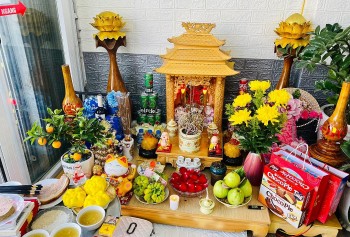 Handbook
Learn more about an ancient Vietnamese tradition that may bring you good fortune!