Ho Chi Minh City to Be The First Making Plans for Electric Transportation
Ho Chi Minh City Department of Transport and consulting units had a meeting on Jan. 18th to develop electric transport in the southern metropolis.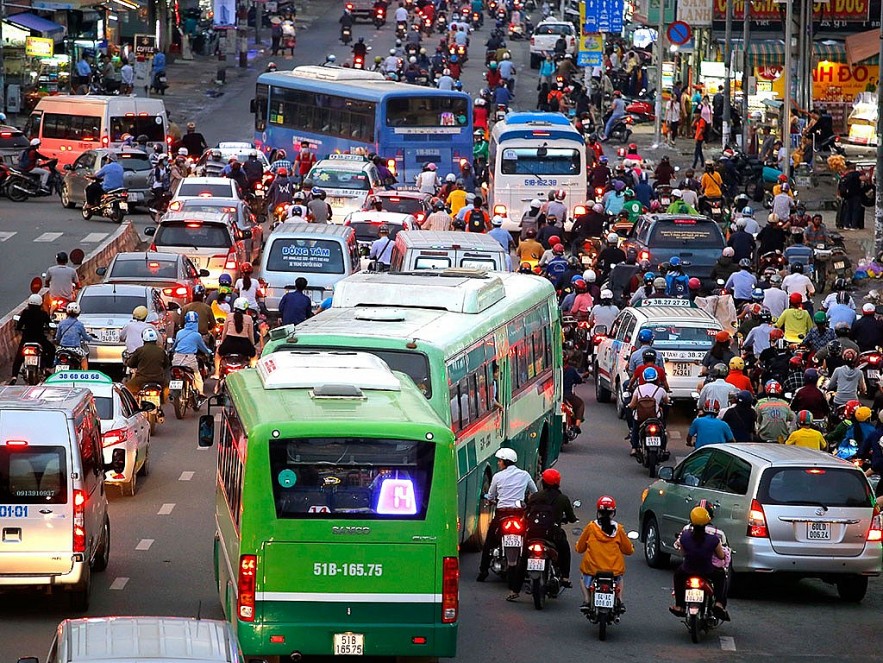 Ho Chi Minh City is trying to control emissions from transportation. Photo: Thanh Nien
The NDC TIA (NDC - Nationally Determined Contributions) project, funded by the German Government in Vietnam, aims to support capacity building and a legal framework to develop transport, in the direction of low carbon, reducing greenhouse gas emissions.
Ho Chi Minh City has potential
In the project's preliminary report, Prof. Dr. Le Anh Tuan, chairman of the Council of Hanoi University of Science and Technology, head of the consulting team, said: Most of Vietnam's major cities are facing serious air pollution. In which, transportation activities are one of the main reasons.
On the other hand, Vietnam has committed to reduce greenhouse gas emissions when joining the Paris Agreement on climate change. Recently, the Government has committed to net zero emissions by 2050.
Using biofuels, natural gas and electricity to replace traditional fuels was identified as one of five groups of solutions to reduce greenhouse gas emissions in the transportation. Vietnam has also started producing electric vehicles, which are well received by both the international and domestic markets.
These are the driving forces to change the perspective of users, adjust the demand for a new type of transport, developing electric vehicles in Vietnam.
According to Tuan, after surveying the current situation in 8 major cities, based on opportunities and challenges, the consulting team chose Ho Chi Minh City as the starting point to conduct research and develop electric vehicles, then expand to other localities.
The reason for choosing Ho Chi Minh City is because this city has a lot of potential to implement a vehicle conversion project. Specifically, the rate of land for traffic is currently low, only 12.2%, the speed of infrastructure development is quite slow and limited. Meanwhile, the number of vehicles tends to increase, causing serious environmental pollution, requiring a change.
Not only converting gasoline-powered vehicles to electric vehicles, a representative of the GIZ suggested that Ho Chi Minh City can start from shifting freight transport from roads (trucks) to lower-carbon modes such as waterways and railways.
"Ho Chi Minh City has a high density of inland waterway network, favorable for the development of inland ports and waterway bus routes. Electrification of handling equipment, vehicles, ships, and ferries is a potential solution towards emission reduction and carbon neutrality in major ports. Electrification of ports and waterways not only contributes to the goal of reducing emissions, but also helps the city government determine specific policies and roadmaps, towards the goal of zero emissions in the near future," GIZ representative said.
There are still difficulties
The potential is great, however, Prof. Dr. Le Anh Tuan said there are still problems that Ho Chi Minh City needs to find solutions to, if it wants to implement the plan to develop electric transport.
The first and most important issue is the power grid infrastructure. Only considering the conversion from gasoline cars to electric cars, if using the existing power network, it will certainly collapse the power grid.
Photo: Thanh Nien
"Ho Chi Minh City is the first construction unit, the power planning system need to focus on the city. In the national electricity allocation, there should be a priority policy for the city that having a strategy to convert electric vehicles.
The strategy of converting to electric vehicles depends greatly on regional and national strategies on infrastructure planning. At this time, the city have to quickly determine goals, tasks, solutions, the financial mechanism and roadmap," said Dr. Le Anh Tuan.
Deputy Director of Ho Chi Minh City Department of Transport Bui Hoa An said that the goal of reducing emissions from traffic and developing green traffic is the general policy of Ho Chi Minh City. It is expected that by the end of this first quarter, the city will put into operation the first electric bus route.
The opening of a new bus route using electric energy aims to reduce environmental pollution and diversify bus vehicles using clean energy. This improves the quality of service for people in transportation and gradually transforms the mobility needs of the people of the city.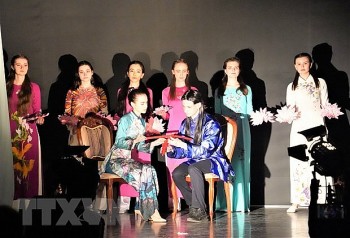 Overseas Vietnamese
Two exchange programmes were held in Russia, attracting manyemany and students of Vietnamese studies from leading universities in Russia.