Vietnamese Researchers Advocate for Better Transportation, Welfare During Covid-19 Crisis
Facing the Covid-19 pandemic, Vietnam aims to ensure socio-economic development while implementing effective Covid prevention measures. However, disrupted supply chains and flawed welfare policies might obstruct this double goal from being realized.
Researchers from the National Economics University of Vietnam identified disrupted supply chain and flawed welfare policies as two major challenges preventing Vietnam from realizing its double goal of ensuring socio-economic development while fighting against Covid.
The researchers believed that the model "3 in one spot" (working, resting and sleeping at the workplace), amongst other measures, was creating challenges to businesses in terms of financial costs and epidemiolocal risks as the facilities necessary for implementing the model were not designed from the beginning.
In addition, highly skilled workers in major metropolitans under lockdowns such as Hanoi or Ho Chi Minh City cannot come to their workplace, causing disorders in the human resources. Inconsistent transportation control policies and perception of "necessary goods and services" across provinces have been leading to continuous disruption in the supply chains.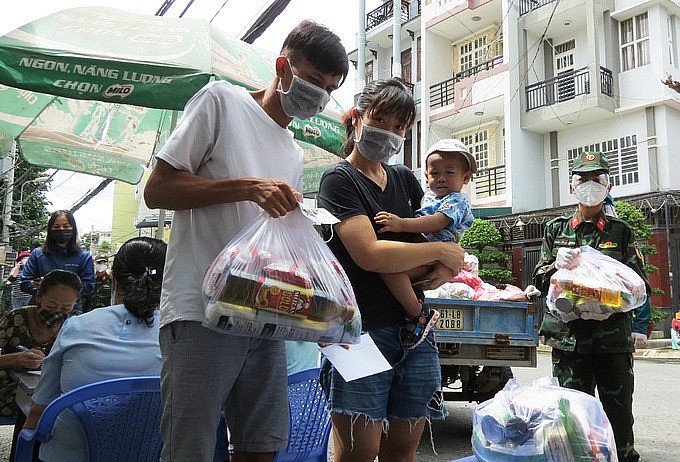 People in the Go Vap district of Ho Chi Minh City receiving Covid relief packages from local authorities. Photo:

VnExpress
While the chain is affected, social welfare is not sufficiently ensured due to limitations in the current policies.
For instance, many employees laid off from work have not received financial support in time as administration procedures cannot be carried out due to social distancing. Particularly, many workers in the informal sector have lost their livelihoods and are not eligible for receiving assistance from local authorities in areas under the social lockdown Order 16.
The researchers proposed some solutions to address these two constraints.
Regarding disruption in the supply chains, the researchers recommended the government instruct authorities at different levels to ensure smooth transportation of goods and production materials. Regulations on necessary goods and services defined under the Order 16 should be replaced by regulations on goods or services prohibited from circulation.
In addition, vehicles should be allowed to move freely along national roads, provincial roads and other main routes. However, drivers must be fully vaccinated or tested negative within 72 hours and are not allowed to stop and load goods freely. To ensure smooth transportation flow, the researchers recommended applying automatic recognition technologies to recognize qualified vehicles without having to stop vehicles at the Covid prevention stations.
In each locality, a buffer zone serving as a logistics center should be established to load and circulate goods to meet the needs of local businesses and the community. Rapid Covid test and quarantine areas should be established in gas stations, with clear transportation route regulations.
The researchers also recommended accelerating vaccination and allowing businesses to use employees who have met safety requirements to resume working, especially workers in industrial zones or supply chain businesses separated from residential areas.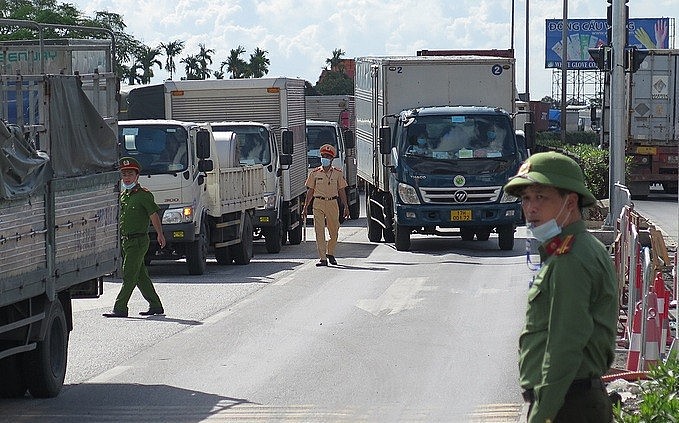 A Covid control station on the National Road 5 leading to Hai Phong City in July. Photo:

VnExpress
In terms of welfare policies, the group recommended the government to use the welfare fund with surplus such as the unemployment insurance fund to support those in need, continue to reduce utility costs and consider extending the deadline for paying trade union fees for struggling businesses until after December 31, 2021.
In addition, the National Economics University researchers believed the government should increase financial assistance for laborers who lost jobs due to extended social distancing. A report by the World Bank showed that while the average allowances given to each group under the government's support program were higher than in other countries in the region (except for Mongolia and Thailand), Vietnam's social assistance for unemployed people and salary allowances were subpar compared to the employees' incomes.
The group also recommended localities to double-check the data on laborers in their areas, especially those working in the informal sectors or migrants without proper accommodation and replicate the "free supermarket" initiative in quarantined and lockdown areas to meet the community's basic needs.