Honeycomb-shaped pudding, heart-warming choice for cold days
Locals in Phu Tho province – the birthplace of Vietnam – have a fine habit of cooking the ginger-rich honeycomb-shaped pudding (chè con ong in Vietnamese) on fairy cold days. This dish is a famous rustic food of the Northern midland mountains.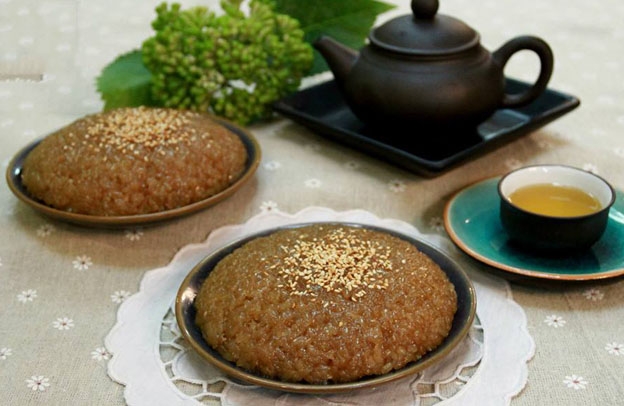 Honeycomb-shaped pudding is a favorite choice of many peole across Vietnam (Photo: VATC)
The dish earns the special name "honeycomb-shaped pudding" thanks to its eye-catching color and the sweet taste, as well as the way it's presented. Honeycomb-shaped pudding is a must-have offering on every first day and full moon day of a lunar month in Phu Tho.
It's quite complicated to make a stunning honeycomb-shaped pudding, and the recipe has been passed down on for generations. The rice to make honeycomb-shaped pudding must be carefully chosen, which is usually "nếp cái hoa vàng" – a type of glutinous rice whose seeds are full and round. In the old days, on harvesting seasons, middle-class mothers often put aside the most delicious glutinous rice grains to make honeycomb-shaped pudding.
The rice is soaked into water for five to six hours before steamed for half an hour. Traditionally, the glutinous rice must be steamed well before cooked into pudding.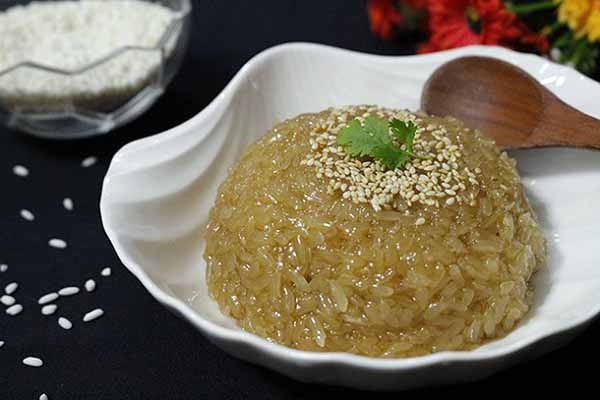 You can sprinkle some sesame on top to enhance the flavor (Photo: Cet.edu)
The secret to cook a tasty honeycomb-shaped pudding is molasses. One must cut the rectangular molasses block into pieces first, then stir it well under the fire. Once the molasses melts, add the steamed glutinous rice in and mix them well. The cook must have skifful hand-stirring skill to make sure the steamed rice and the molasses blend together until the rice turns into a light brown colour.
To enhance the flavor, it's advisable to add some grounded gingers into the pot and stir well in some last minutes before the cooking is done. The warm, spiciness from ginger combined with the attractive fragrance of glutinous rice will make honeycomb-shaped pudding an irresistible choice for anyone each time winter approaches.
Honeycomb-shaped pudding is presented on small bowls or plates. Some might sprinkle some grounded peanuts or sesame on top to their likings. The cooked glutinous rice grain is slender and slim, just like the bee's body, plus the color of the dish also resembles bee's color. That's why people name it honeycomb-shaped pudding.
VNT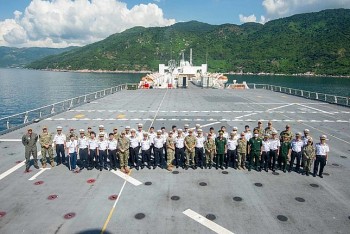 Friendship
The Pacific Partnership 2022 (PP22) concluded on July 3 on USNS Mercy, a hospital ship of the US Military Sealift Command anchored at Vung Ro Port in Dong Hoa town, the central province of Phu Yen.