How H&M does business in Vietnamese market?
Entering the Vietnamese market in 2017, H&M has initially reaped successes. In 2019, the clothing-retail company earned VND 1,116 billion ($48.5 million), with a profit of VND 57 billion ($2.4 million).
On September 9, 2017, H&M marked its presence in Vietnam by opening its first store in Vincom Dong Khoi (District 1, Ho Chi Minh City). Before the opening time, thousands of people lined up outside the store. The Swedish clothing company reported 12,000 shoppers to the store on that day, Zing News reported.
Vietnam became H&M's 68th market globally and the 4th in Southeast Asia. Just two months later, H&M opened its second store in Vietnam which is located in Hanoi.
Once again, a long queue of people, including youngsters waited from a night before. H&M store in Royal City recorded 14,000 shoppers on November 11, 2017.
At the end of that year, the H&M representative said Vietnam and many of its newly-opened markets showed positive signs. According to the financial report, H&M raked in VND 227 billion ($9.8 million) in just the last 3 months of 2017 in Vietnam, gross profit and profit after tax were VND152 billion ($6.8 million) and VND10 billion ($434,838), respectively.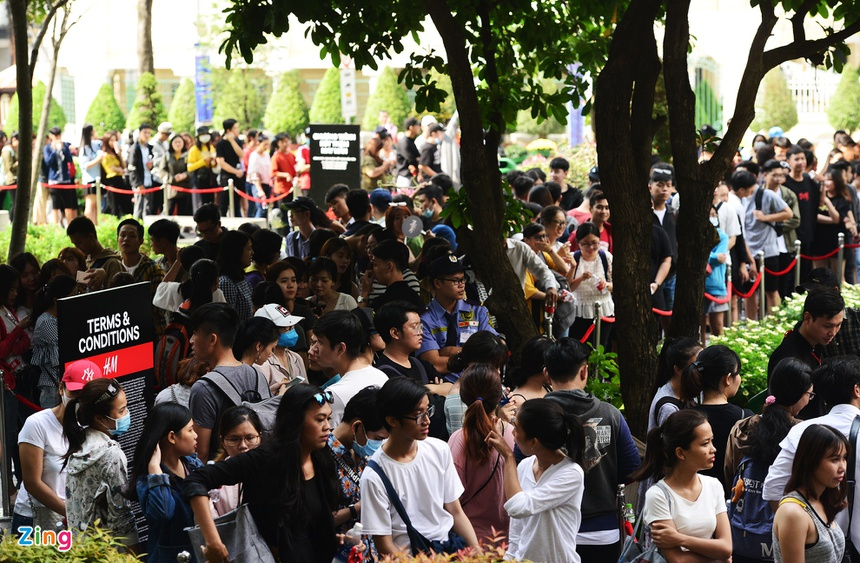 A long queue of people in front of an H&M store in HCMC. Photo: Zing News
By 2018, H&M launched 4 more stores, raising the total number of its stores in Vietnam to 6. It has the ambition of becoming the number 1 fashion brand in Vietnam in the coming years.
Mr. Fredrik Famm, H&M CEO in Southeast Asia, at that time said: "As a young and growing market, Vietnam has made significant contributions to the overall growth of H&M in Southeast Asia".
In fact, H&M's revenue in 2018 tripled compared to the previous year, reaching VND 763 billion ($33 million). In which, the first quarter of 2018 earned VND 176 billion ($7.6) and the second earned VND 148 billion ($6.4 million).
However, the company only reported a profit of VND 1 billion ($43,336), to VND 11 billion ($476,706), while the gross profit margin remained at over 60%.
In 2019, H&M's revenue peaked in the 2017-2019 period, standing at VND 1,116 billion ($48.5 million), earning more than VND 3 billion ($130,434) per day on average. Therefore, profit after tax also increased by VND 46 billion ($1.9 million), to VND 57 billion ($2.4 million).
Currently, H&M has 12 stores in Vietnam, including 5 stores in Hanoi, 4 in Ho Chi Minh City and 3 in Can Tho, Da Nang and Ha Long.
Despite the first smooth and favorable steps in Vietnam, H&M struggled in the international markets.
In early 2018, H&M used a black child to model a sweatshirt sporting the phrase "coolest monkey in the jungle". This action made it widely criticized as monkey is an animal that has long featured in racial and ethnic slurs.
The company then removed the image and raised its apology.
The clothing giant also revealed the value of inventories globally in the second quarter of 2018 mounted $4 billion, up 13% compared to 2017. The large amount of unsold clothes, mainly due to the purchasing power in 2018 was weaker than H&M's prediction, resulting in its profit down by 28% in the first half of the year.
Besides, the company is said to slowly transform to e-commerce and lagging behind.
H&M facing a backlash in Vietnam when posting China's illegal nine-dash line
Vietnamese users on Facebook called for a boycott of H&M for kowtowing to China.
H&M is facing strong opposition and called for a boycott of Vietnamese consumers as soon as it published an image of China with the illegal nine-dash line.
On April 2, under pressure from Chinese consumers and authorities, H&M was said by many netizens that the company in China reportedly agreed to edit the map of China with a nine-dash line on its website. However, it can be seen that the information about the request for map editing has only come from China. According to Reuters and the Wall Street Journal, H&M has not yet commented and their websites haven't showed any edited map as per the request.
Vietnamese press and media also reported Vietnamese netizens' feedback against H&M announcing that the map was "fixed" on its social network accounts.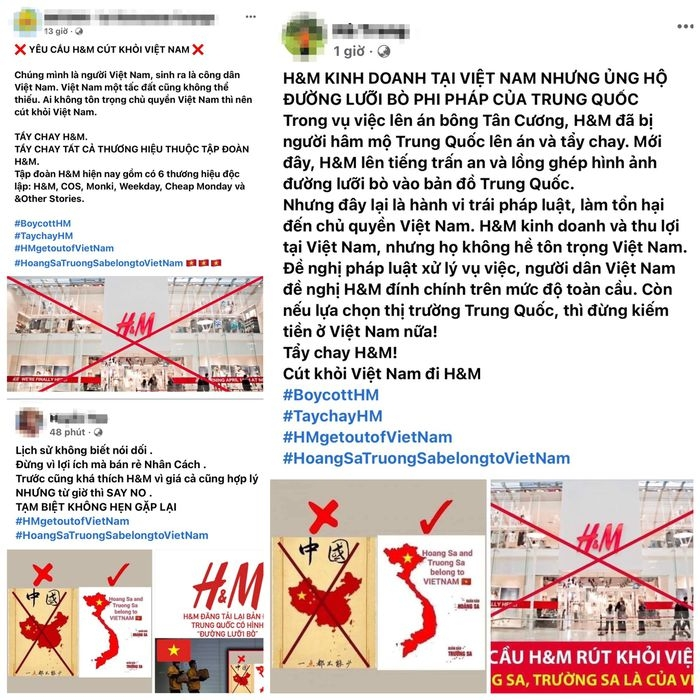 Vietnamese users on Facebook called for a boycott of H&M for kowtowing to China.
The company has faced a backlash in China in recent days after it voiced concerns last year about alleged human rights abuses in Xinjiang province.
Other global brands, including Nike and Burberry, also became embroiled in the dispute.
Foreign governments and other groups have accused Beijing of using forced labour in Xinjiang, as well as operating internment camps to hold than one million people from predominantly Muslim ethnic minority groups. Chinese officials have repeatedly denied the claims and said the camps were established to provide job training and combat extremism.
H&M said last week it wanted to regain the trust of its customers in China. "China is a very important market to us and our long-term commitment to the country remains strong. We are working together with our colleagues in China to do everything we can to manage the current challenges and find a way forward," it said.
"We are dedicated to regaining the trust and confidence of our customers, colleagues, and business partners in China," it added.
Vietnam has repeatedly stated that it does not accept China's use of the cow's tongue line to encroach on Vietnam's waters.The "cow's tongue line" or "nine-dash line" is a concept that China relies on to claim historical rights over almost of the Bien Dong Sea (internationally known as the South China Sea), which is contrary to international law. In 2016, the Permanent Court of Arbitration (PCA) issued a ruling confirming that China's declaration has no legal basis.
Vietnamese users on social media plaforms is calling for a boycott of H&M for kowtowing to China with several hashtags #BoycottHM, #TaychayHM, #HMgetoutofVietNam, #HoangsaTruongSabelongtoVietNam.
"Paracel and Spratly Islands are belong to VietNam due to international law. H&M brand now is fighting against the law in all the Asian. We fight because we must fight," Huong L. Tran said on Twitter on April 3.
"Stupid HM, how dare you! HOANG SA TRUONG SA BELONG TO VIET NAM!!! Get out of our country HM!!" wrote another.
Make in Vietnam
Vietnam introduced potential for trade and investment to Algeria's localities