H&M facing a backlash in Vietnam when posting China's illegal nine-dash line
Swedish fashion retailer H&M is facing strong opposition and called for a boycott of Vietnamese consumers as soon as it published an image of China with the illegal nine-dash line.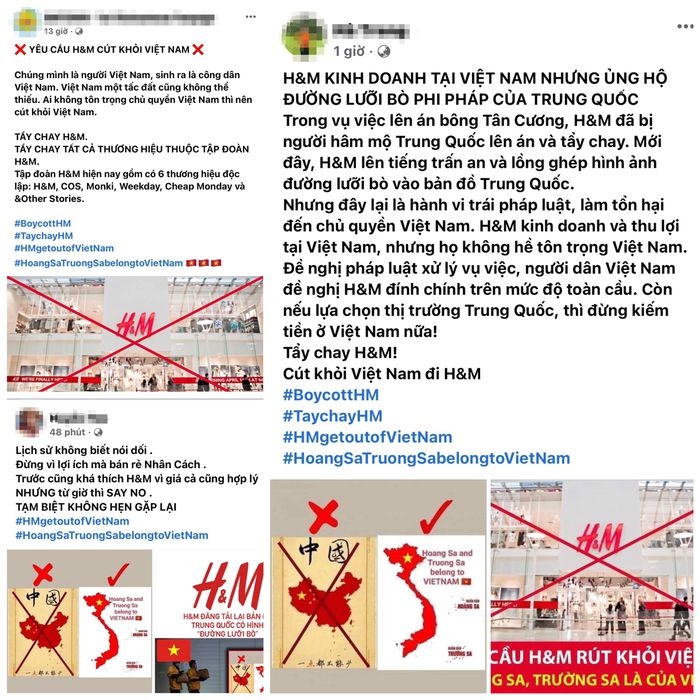 Vietnamese users on Facebook called for a boycott of H&M for kowtowing to China.
On April 2, under pressure from Chinese consumers and authorities, H&M was said by many netizens that the company in China reportedly agreed to edit the map of China with a nine-dash line on its website. However, it can be seen that the information about the request for map editing has only come from China. According to Reuters and the Wall Street Journal, H&M has not yet commented and their websites haven't showed any edited map as per the request.
Vietnamese press and media also reported Vietnamese netizens' feedback against H&M announcing that the map was "fixed" on its social network accounts.
The company has faced a backlash in China in recent days after it voiced concerns last year about alleged human rights abuses in Xinjiang province.
Other global brands, including Nike and Burberry, also became embroiled in the dispute.
Foreign governments and other groups have accused Beijing of using forced labour in Xinjiang, as well as operating internment camps to hold than one million people from predominantly Muslim ethnic minority groups. Chinese officials have repeatedly denied the claims and said the camps were established to provide job training and combat extremism.
H&M said last week it wanted to regain the trust of its customers in China. "China is a very important market to us and our long-term commitment to the country remains strong. We are working together with our colleagues in China to do everything we can to manage the current challenges and find a way forward," it said.
"We are dedicated to regaining the trust and confidence of our customers, colleagues, and business partners in China," it added.
Mainland China was one of the four largest markets by sales for H&M in 2020, during which the fashion giant operated 445 brick-and-mortar stores across 146 cities in the country.
H&M makes around 6 per cent of its revenue in China, which is home to nearly 10 per cent of its stores.
China had become H&M's third-biggest market before the boycott.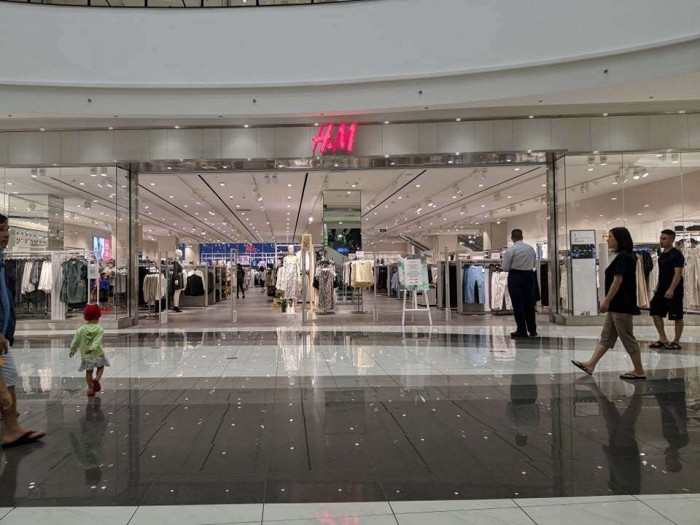 H&M operates about 11 bricks-and-mortar stores in Vietnam
Vietnam has repeatedly stated that it does not accept China's use of the cow's tongue line to encroach on Vietnam's waters.The "cow's tongue line" or "nine-dash line" is a concept that China relies on to claim historical rights over almost of the Bien Dong Sea (internationally known as the South China Sea), which is contrary to international law. In 2016, the Permanent Court of Arbitration (PCA) issued a ruling confirming that China's declaration has no legal basis.
Vietnamese users on social media plaforms is calling for a boycott of H&M for kowtowing to China with several hashtags #BoycottHM, #TaychayHM, #HMgetoutofVietNam, #HoangsaTruongSabelongtoVietNam.
"Paracel and Spratly Islands are belong to VietNam due to international law. H&M brand now is fighting against the law in all the Asian. We fight because we must fight," Huong L. Tran said on Twitter on April 3.
"Stupid HM, how dare you! HOANG SA TRUONG SA BELONG TO VIET NAM!!! Get out of our country HM!!" wrote another.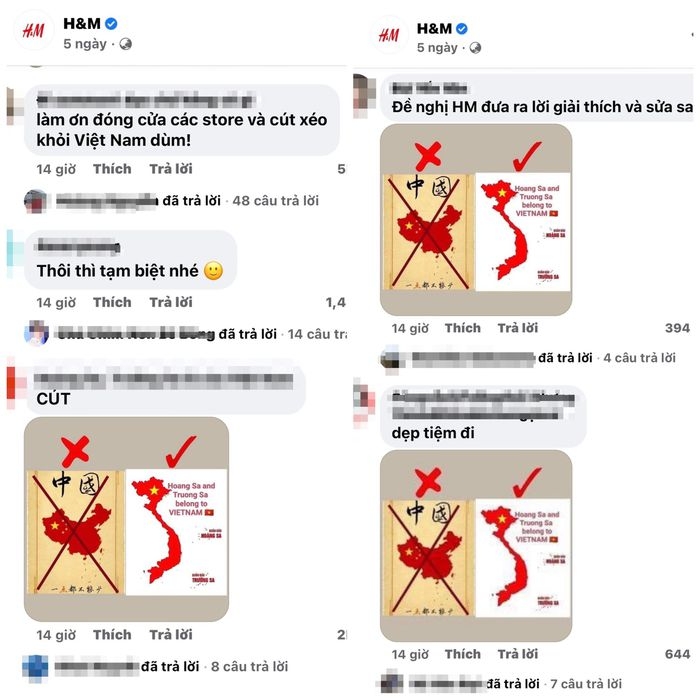 Vietnamese netizens harshly reject H&M.
In Vietnam, many cultural products from China with the nine-dash line on them have been detected.
In March 2018, the film "Operation Red Sea" made the public angry because a scene featured Chinese warships surrounding a foreign ship and forcing the ship leave the water they called the "South China Sea".
In October 2019, four cultural publications containing the "cow's tongue line" were detected: the movie 'Abominable' licensed by the Vietnam Cinema Department; a travel booklet produced by Saigontourist, a five-seater Volkswagen displayed at the Vietnam International Motor Show 2019, video games, and most recently, a Chinese language textbook adopted by the Hanoi University of Business and Technology. This textbook has been used as learning and teaching material for several years.
The products have been confiscated as they have seriously violated Vietnam's law and its national sovereignty.
Hennes & Mauritz AB (H&M) first store was officially launched in Ho Chi Minh city in September 2017. Just 2 months later, it continued to open the next store in Hanoi, which was enthusiastically received by many young customers./.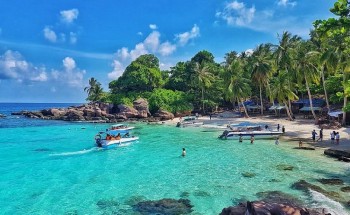 National
Vietnam News Today (Jan. 18): Vietnam confirms 21,691 new local Covid-19 cases; Logo marking 30 years of Vietnam-RoK diplomatic ties unveiled; Phu Quoc represents golden hope for Vietnamese tourism rebound; Int'l searches on Vietnam tourism reopening on the rise.