How to Enjoy Thrilling Boat Ride in Trang An Landscape Complex
Floating on an idyllic joy ride brings on to a peaceful state of mind at Trang An complex (Ninh Binh province).
Trang An scenic complex, recognized by UNESCO as a World Cultural and Natural Heritage site located in Ninh Binh province. Sitting on a boat to admire the scenery on both sides of the river is really an interesting experience in the journey.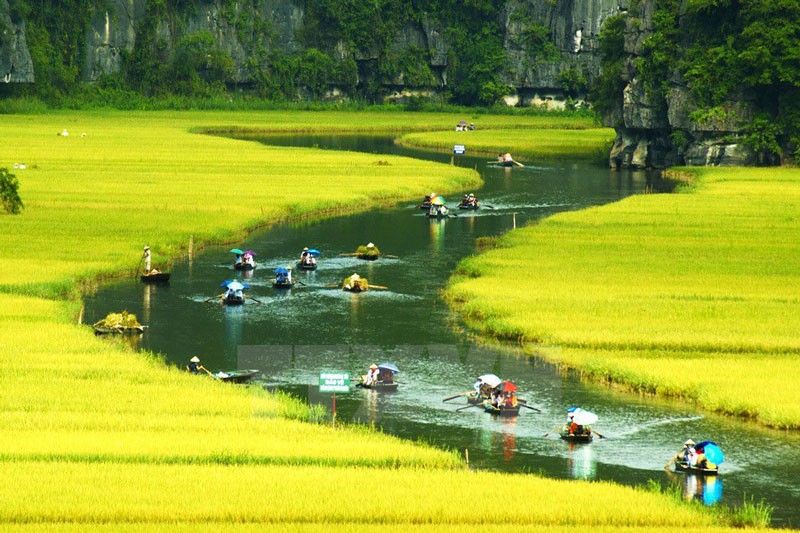 On both sides of the river in Trang An, there are lush trees growing. Most of the trees grow naturally, with a variety of plants from ancient trees to vines… creating a green strip on both sides, showing you the beauty of nature with mountains and trees. Photo: So Du Lich Ninh Binh
You can book the tickets with travel agents or buy tickets at the ticket counters. We recommend the latter one, mainly because there is never a lack of boat and there will be queuing to wait for your turn to ride the boat.
Ticket price is VND 250,000/person (US$11).
The space is embellished with a gentle and poetic part with lanterns hanging on the branches, on the trees. corridors to the paths leading to the marina.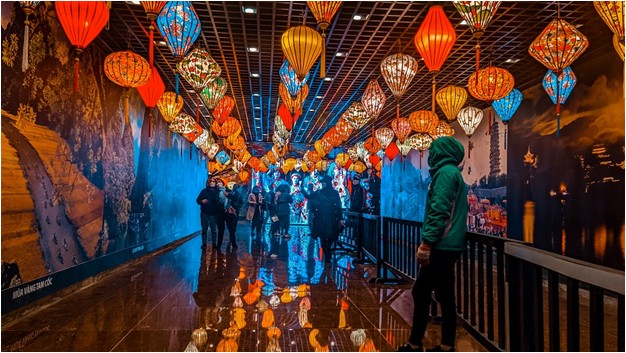 From the ticket counter to the marina, we need to walk for 5 minutes. Photo: Petrotimes
The path leading to the basement is decorated with many beautiful colorful lanterns. You can keep beautiful photos with the lantern on your way down or up.
At the entrance, you will receive safety instructions from dedicated guides and finally a ticket officer before you get off the boat.
Each batch of boats docked, there are dozens of boats, crowded and undulating around the shore to welcome tourists.
One of the exciting experiences is that you can choose any boat you like. If traveling in a group, you should choose one together for a more fun experience. The boat drivers are all locals who are friendly and enthusiastic to help you get on the boat. Each boat can seat up to 5 people,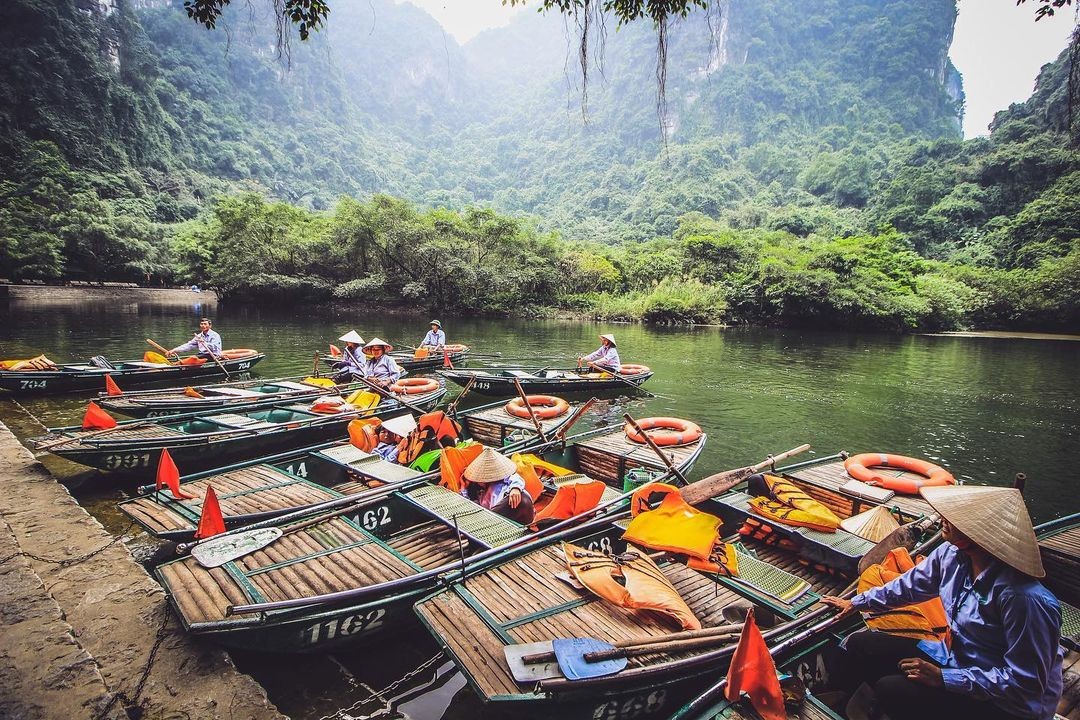 The ride is usually for 4-5 people. Everyone must wear a life jacket for safety. Photo: Halo Travel
Boat ride to visit Trang An scenic spot will have routes, respectively, each route is a different route in the first turn and some routes go with the return route.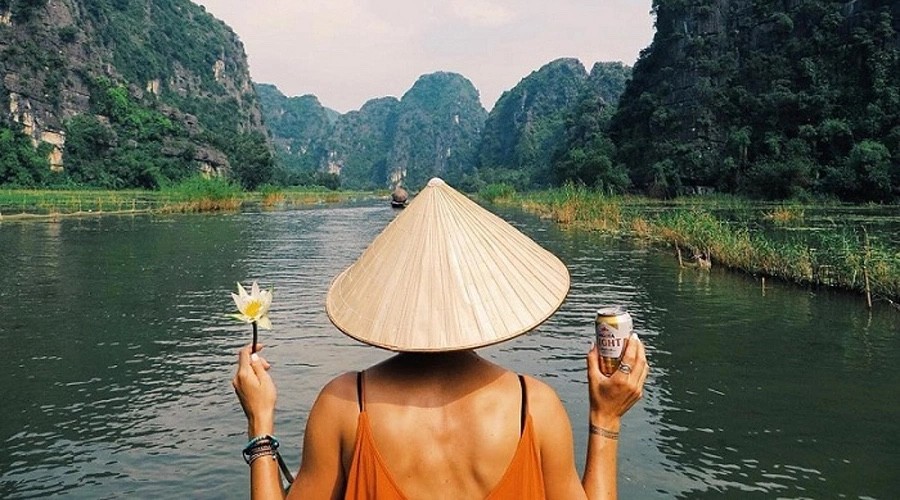 Photo: Hoa Tra Tour
yes, the destination and time for that journey will not be the same.
Natural Healing Incantation
When taking a boat, you will be passing through mysterious caves with different lengths and heights. Some caves are known as Dark Cave, Bright Cave, Nau Ruou Cave, Tran Cave...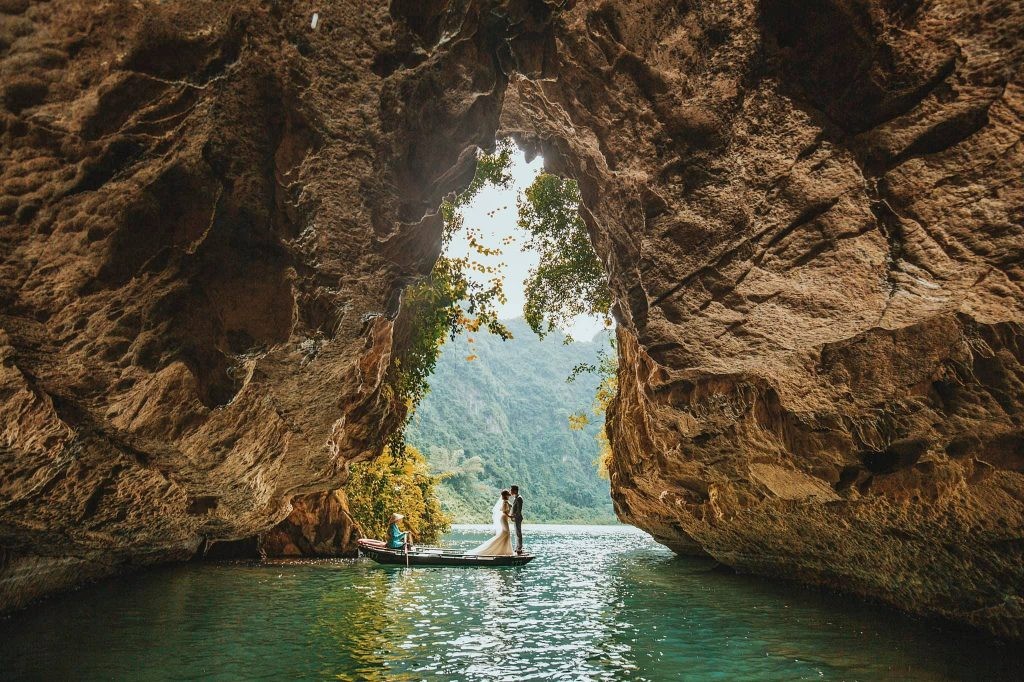 Photo: Di San Viet Nam
Threaded through the caves on a small boat, you can clearly hear the sound of oars, the sound of water splashing down the cliff or into the water surface. It's a very engaging experience.
At the end of a cave, just seeing the sky around you will seem as if you had discovered a brand new world.
More than 1 hour on a bamboo boat in Trang An, visitors are to see and enjoy the surrounding scenery. Photo: Lu Hanh Vietnam
The wild beauty of rocky mountains, geological blocks floating on the water, stacked on top of each other, shows you all the majesty and magnificence. If you go on a rainy day, you will see clouds hovering around the top of the mountain, looking very poetic.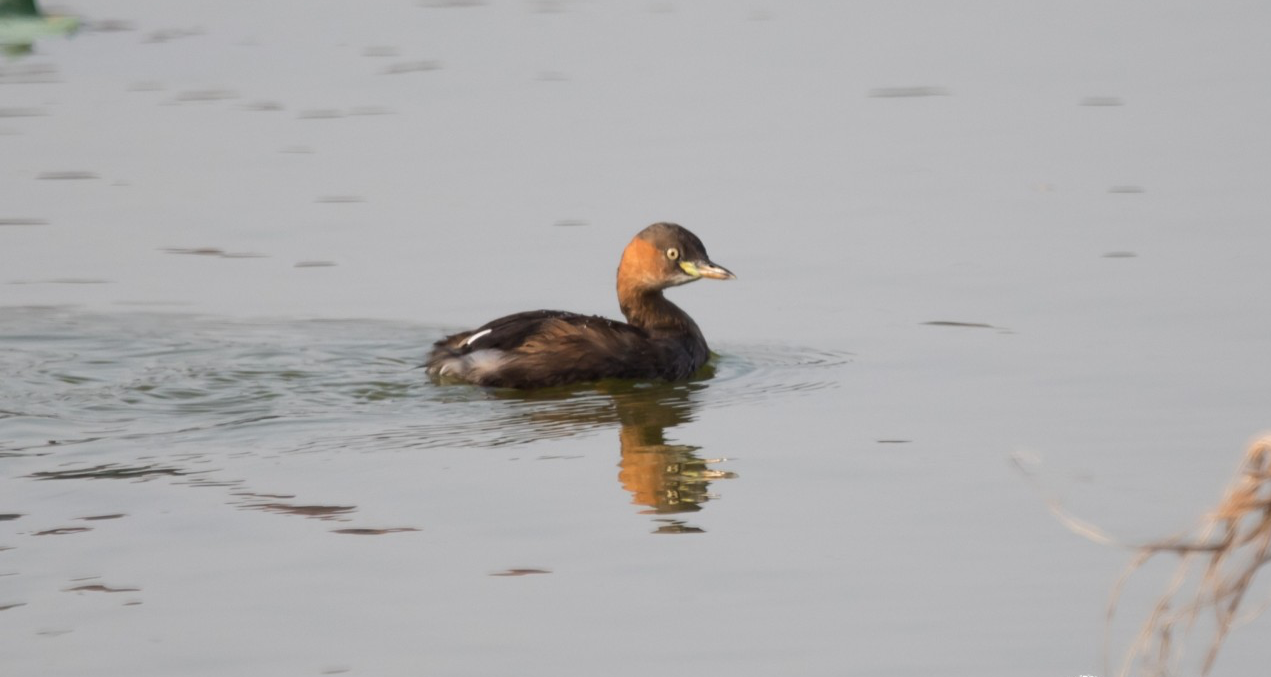 Le le is a species of bird quite special when living in fresh water. Photo: Vietnam Wildlife
Wildlife is plentiful at Trang An, particularly the Le le bird. Spotting Le le is difficult for tourists, Le le are afraid of humans, from time to time they dive underwater and come up or even fly above the water like the kind of dagger in martial arts movies.
The journey to discover Trang An Scenic Landscape Complex on the river ends with the boat docking at the starting point, ending the exciting exploration at this famous scenic area.
Each trip will have an end point, but the echoes it leaves behind, the emotions are everlasting.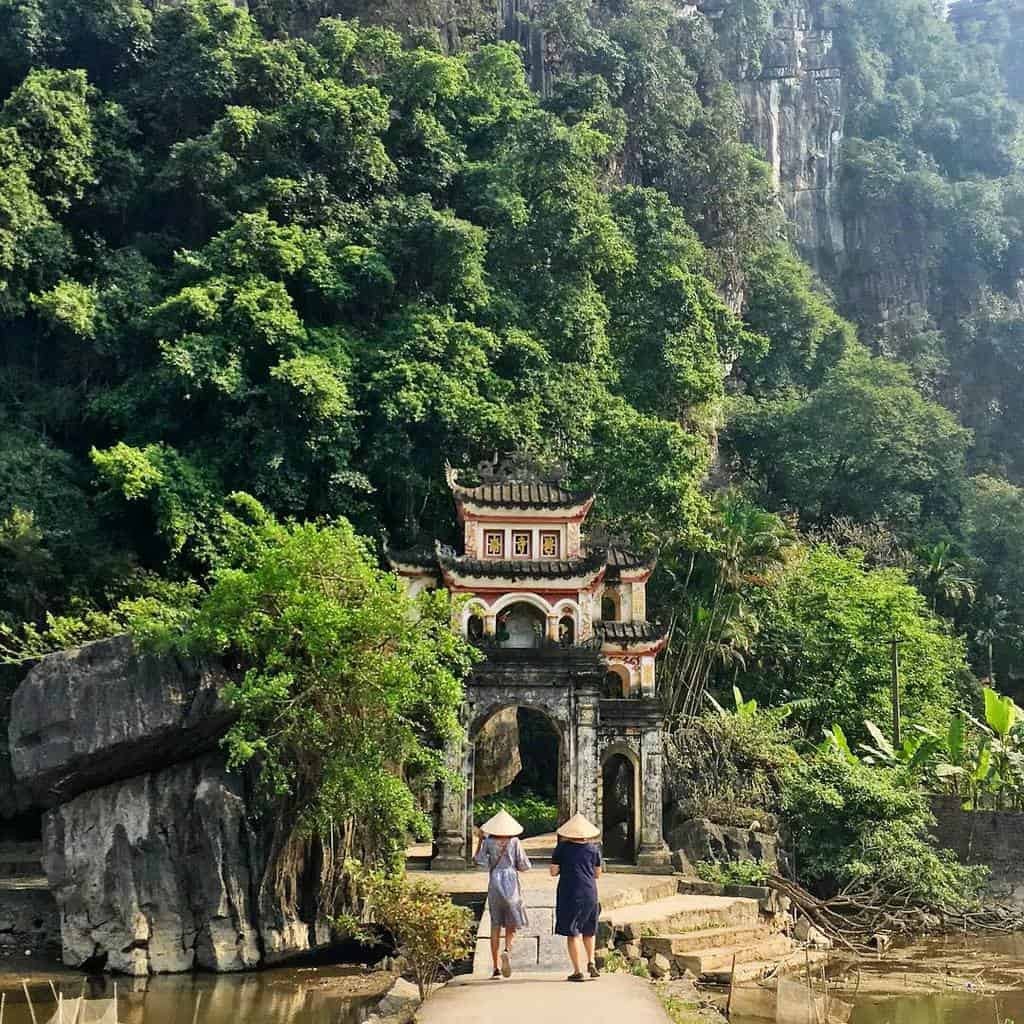 Photo: Hoa Binh Tourist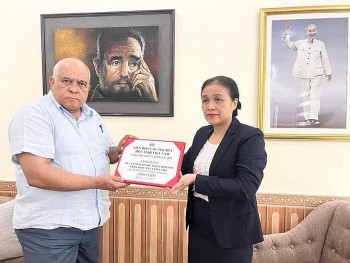 Focus
According to Cuba's News Agency Prensa Latina, on August 16, President of Vietnam Union of Friendship Organizations Nguyen Phuong Nga said that Vietnamese people will always stand by and support Cuba no matter what difficulties our friend is facing.