Kyrgyzstan - The Hidden Gem Of Central Asia
The Kyrgyzstan landscape has countless mountains, majestic lakes, which bring a breathtaking and poetic natural beauty.
For Dros, Kyrgyzstan was paradise. "As a photographer and nature lover, you know that feeling when you see that untouched beauty? Crazy mountains with open valleys? It triggers you somehow. That's what Kyrgyzstan did to me," Dros writes. The unspoiled landscape makes for sweeping views, with the occasional yurt or group of wild horses entering the frame. Though the mountains are already visible when in the capital city of Bishkek, the real adventure begins when Dros explores regions inhabited by nomadic shepherds.
"With some effort (driving 'bad' roads and hiking steep paths) you'll be able to see some of the most beautiful untouched nature you've ever seen. Endless valleys with huge mountains around you, crystal clear turquoise lakes, wild eagles, canyons, you name it. This country has it all. I was surprised by its variety of landscapes in a rather small area. Just a few hours driving would bring me from snowcapped mountains to landscapes that looked like the moon with red canyons and unearthly textures."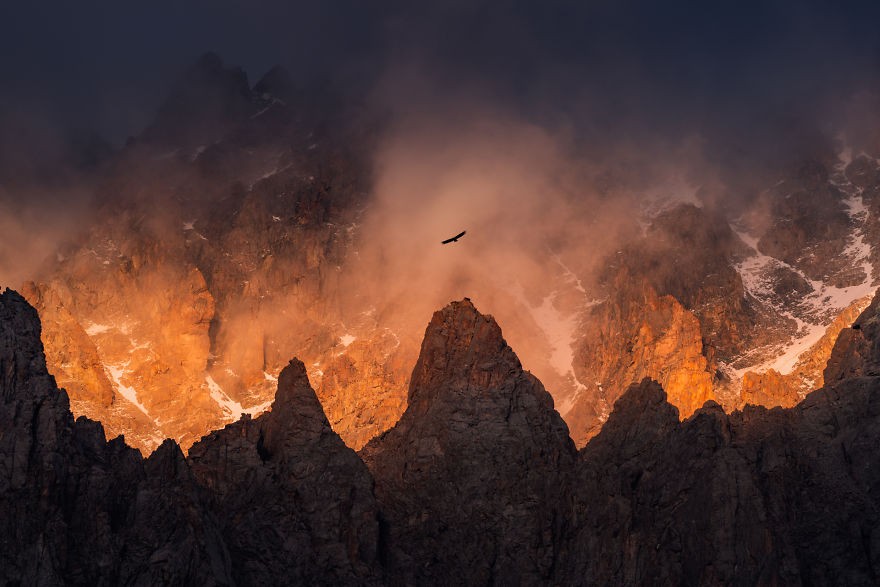 An Eagle Flying Over The Tops Of The Ala-Archa Mountains. Photo: Albert Dros
"Kyrgyzstan doesn't require a visa to access. It's fairly easy to travel to if you're willing to transfer somewhere. It doesn't really offer direct flights from most places. You'll be flying into the capital Bishkek which is already surrounded by crazy mountains. It starts right there. Upon entering the city you already see high snowcapped peaks around you. Basically, this whole country has immense heights and mountains. It's on another level than what we're used to in Europe, especially for me living in the Netherlands below sea level. Being on an altitude around 3000m is fairly common here with peaks over 7000m and occasional hikes to 4000m+. I had a bit of trouble with the altitudes in the beginning of my visit but this disappeared after a while.", Albert Dros wrote.
Where is Kyrgyzstan?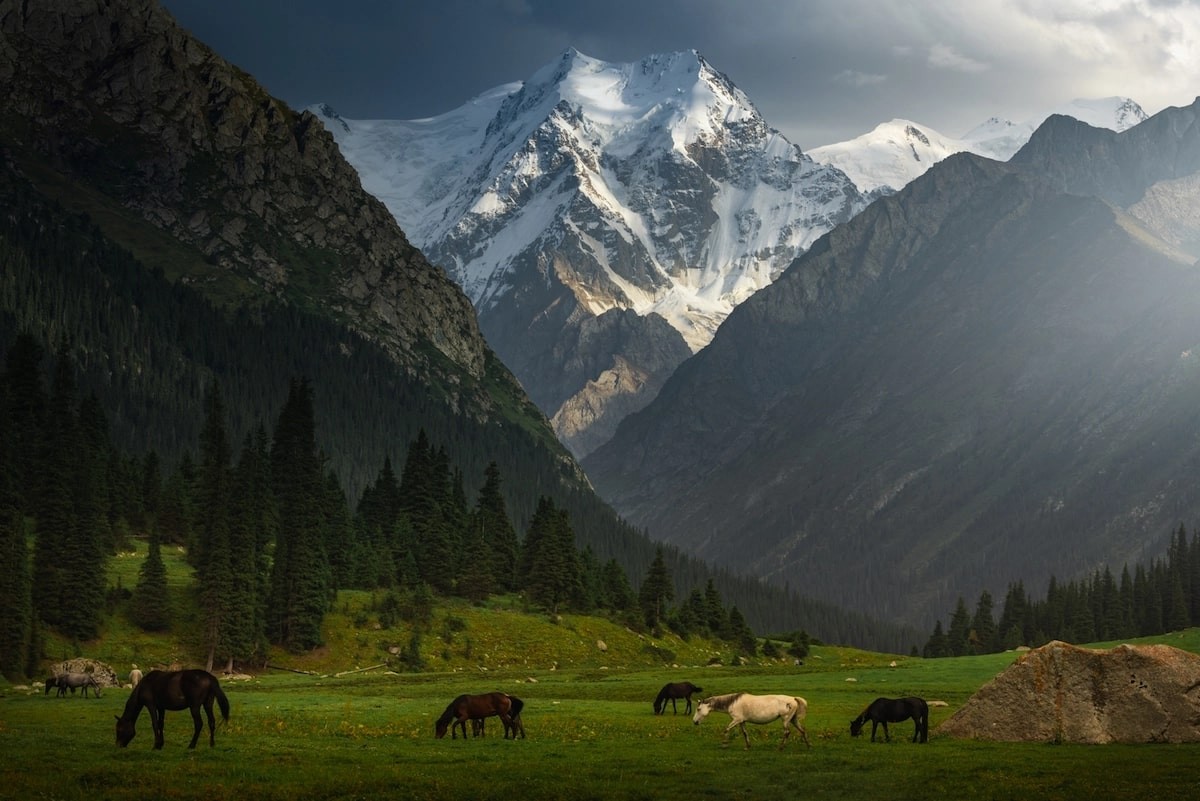 Landscape photographer Albert Dros spent three weeks photographing the unspoiled beauty of Kyrgyzstan. Photo: Albert Dros
Kyrgyzstan is a mountainous landlocked country in Central Asia. Kyrgyzstan is bordered by Kazakhstan to the north, Uzbekistan to the west, Tajikistan to the south, and China to the east. Its capital and largest city is Bishkek. Ethnic Kyrgyz make up the majority of the country's six million people, followed by significant minorities of Uzbeks and Russians. The Kyrgyz language is closely related to other Turkic languages, although Russian remains spoken and is a co-official language. Ninety percent of Kyrgyzstan's population are Muslim, with the majority of its population following Sunni Islam. In addition to its Turkic origins, Kyrgyz culture bears elements of Iranic, Mongolian, and Russian influence.
Kyrgyzstan is a member of the Commonwealth of the Independent States, the Eurasian Economic Union, the Collective Security Treaty Organization, the Shanghai Cooperation Organisation, the Organisation of Islamic Cooperation, the Turkic Council, the Türksoy community, and the United Nations. It is a developing country ranked 120th in the Human Development Index, and the second poorest country in Central Asia. The country's transition economy is heavily dependent on deposits of gold, coal, and uranium.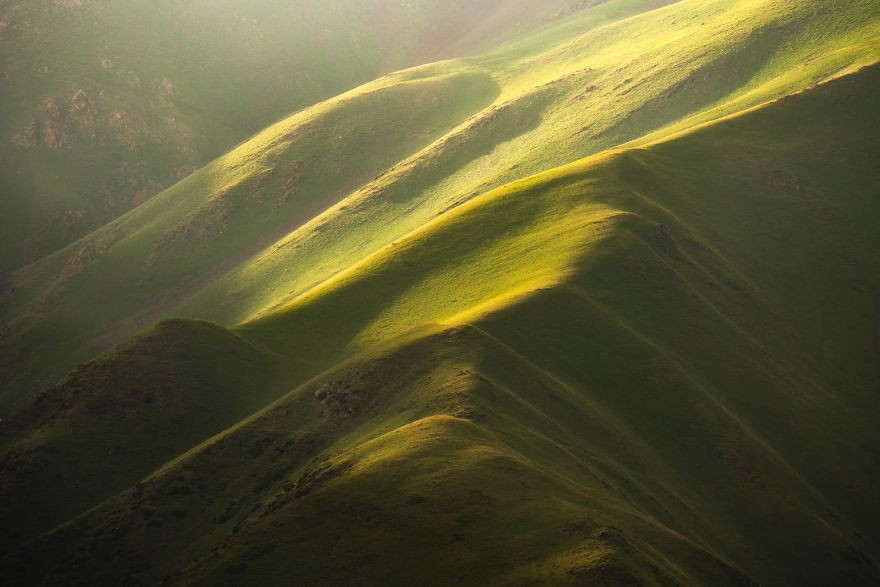 Kyrgyzstan has many opportunities for intimate shots as it has beautiful rocks and hills everywhere around. Photo: Albert Dros
The Untouched Beauty of Kyrgyzstan
Kyrgyzstan (Кыргызстан) is a nation defined by its natural beauty. Joyously unspoilt mountainscapes, stark craggy ridges, and rolling jailoos (summer pastures) are brought to life by semi-nomadic, yurt-dwelling shepherds. Add to this a well-developed network of homestays and visa-free travel, and it's easy to see why Kyrgyzstan (officially the Kyrgyz Republic), is the gateway of choice for many travelers in Central Asia.
As can be expected in a country where the vast majority of attractions are rural and high altitude, the timing of your visit is crucial. Summer is ideal with hikes and roads generally accessible. Midsummer also sees Kazakh and Russian tourists converge on the beaches of never-freezing Lake Issyk-Köl. From October to May, much rural accommodation closes down and the yurts that add such character to the Alpine vistas are stashed away – think twice about a winter visit unless you've come to ski or snowboard.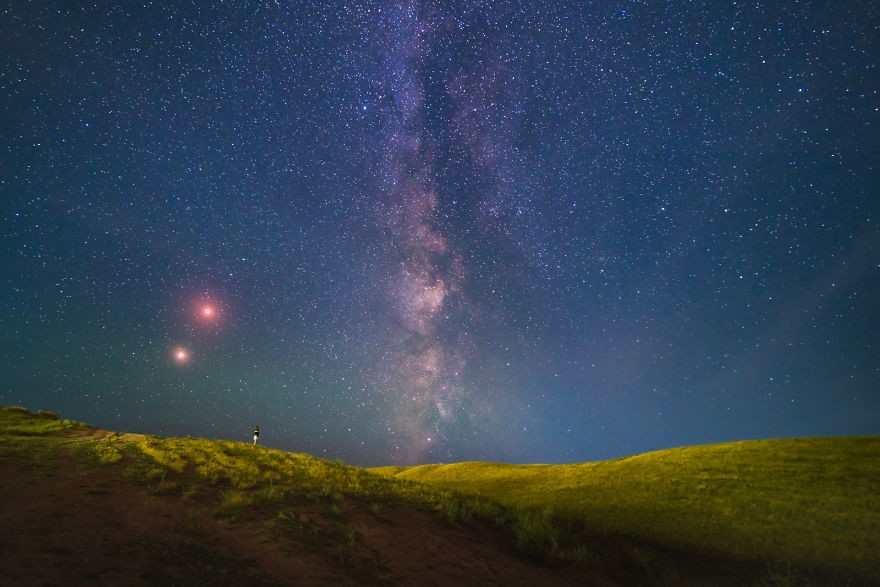 A Photo Of The Lunar Eclipse In 2018 With Mars Right Under It And The Visible Milky Way. Photo: Albert Dros
Although mountains dominate, Kyrgyzstan's landscapes are surprisingly varied: snow-capped peaks eventually give way to open plains and shimmering lakes. It really does look like Switzerland in places, but elsewhere the countryside can conjure up images of Scotland, Kashmir, and even the Middle East. The mountain vistas alone are reason enough to visit and no trip to Kyrgyzstan would be complete without trekking up at least one of its impressive summits.
For less active visitors there are a handful of beaches to speak of and, in the small window that passes as summer, holidaymakers can be found bathing on the shores of lakes such as Issyk Kul. Located in the Tian Shan mountains, this is a summer resort for the brave – the water here is bracing, to say the least.
It's not all about the landscapes, though. In fact, a big draw for tourists is the prospect of staying with the country's semi-nomadic shepherds, who live in yurts and eke out traditional lives in this harsh, unforgiving, and unremittingly beautiful country.
Mars-Like Landscapes In A Canyon Called Skazka Canyon. Photo: Albert Dros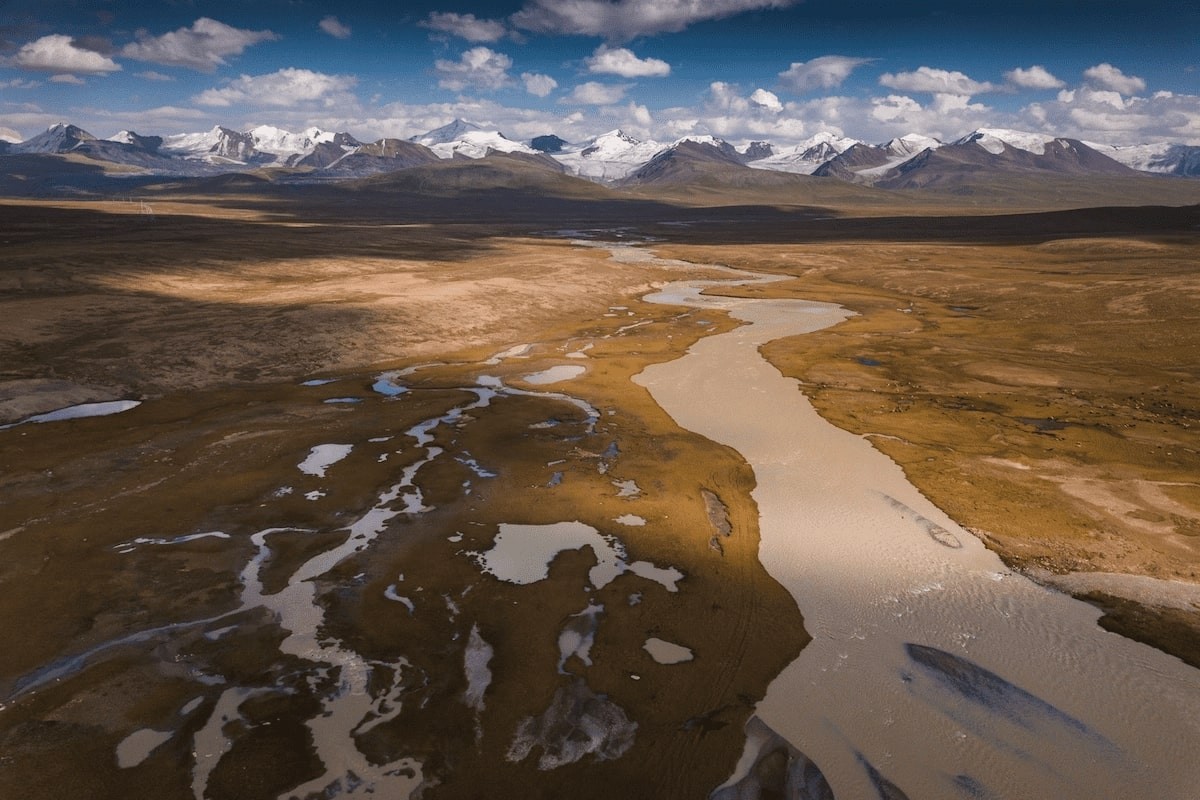 A wide open valley with glacial rivers coming from the mountains protecting the valley. These mountains are often 5000m+ (16400ft+). This is a shot of the Barskoon Valley. It took a 4000m (13000ft) road pass to get here. Photo: Albert Dros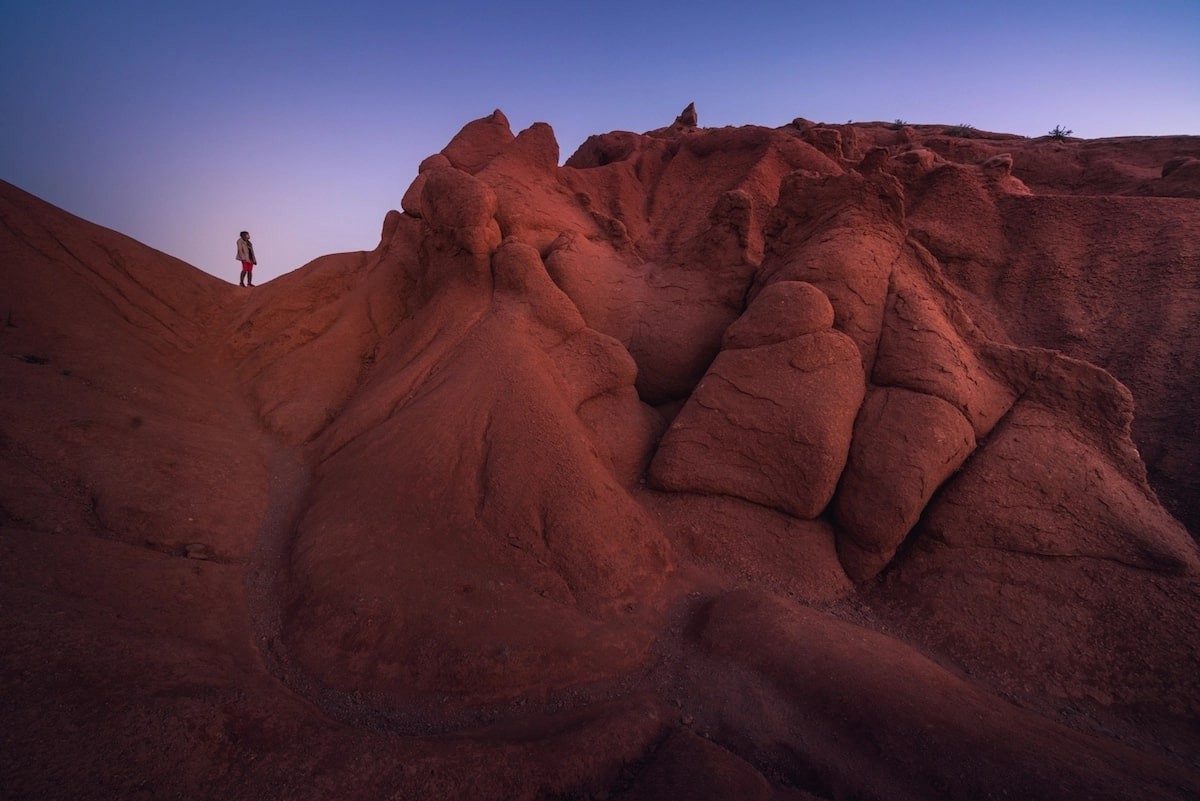 Twilight before the sun comes up. Standing at one of the crazy canyons in Kyrgyzstan that look like they're coming straight from the moon. Photo: Albert Dros
Camping at the Sary-Jaz valley on the border of Kyrgyzstan and China. Zero light pollution makes the skies so bright. Photo: Albert Dros
Standing in front just another Glacier at the Sary Jaz Valley which is located on the border of Kyrgyzstan and China. This area requires a permit. It's an amazing valley surrounded by snowcapped mountains of the Tian Shan range which has peaks over 7000m (23000ft). Photo: Albert Dros