How to Watch Premier League 2021/22 in Vietnam: Live Online and Live Stream
Premier League 2021/22 will happen on August 14, and it is one of the biggest football events in the world. Here is how to watch, live online and stream all the matches in Vietnam.
Premier League fixtures are gearing up to return to our TV screens this August. The full list of Premier League TV schedules, link online for the 2021/22 season featuring dates, times, TV channel details for every matches.
Brentford and Arsenal kick off the campaign on Friday 13th hoping to avoid a horror start before the rest of the teams get to work on Saturday.
Opening Day: Manchester City will be determined to cling onto their title but face a hefty challenge from Liverpool and Manchester United, both of whom have strengthened this summer.
Premier League fixtures on TV are shown on Sky Sports, BT Sport and Amazon Prime Video with 200 games shown live each season. Sky Sports broadcast 128 Premier League TV fixtures exclusively live, BT Sport show 52 matches and Amazon Prime show 20 live games.
Premier League TV Schedule: Not every game will be shown live on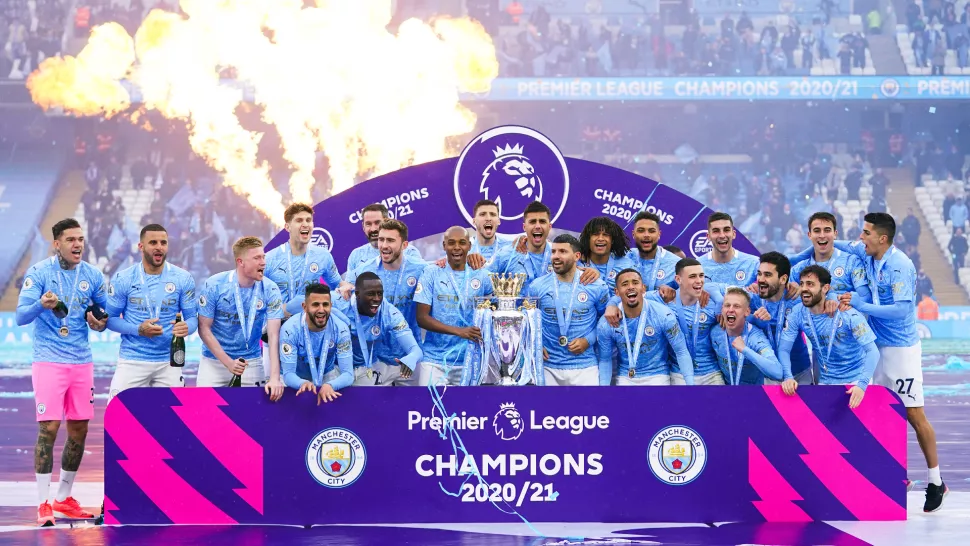 Manchester City (Image credit: Matt McNulty - Manchester City/Manchester City FC via Getty)
Unfortunately for football fans, not every game will be shown live on TV in 2021/22, unlike the previous season.
When the COVID-19 pandemic struck and fans were unable to attend matches, broadcasters were handed the rights to show every match live on TV – in some cases for free – for the remainder of the 2019/20 campaign.
In 2020/21, matches were staggered at different times to ensure every person could watch every game live on TV.
However, now that fans are allowed back into stadiums across the land, 3pm kick-offs are back, traditional times have returned and fewer games will be shown.
K+ secures Premier League rights in Vietnam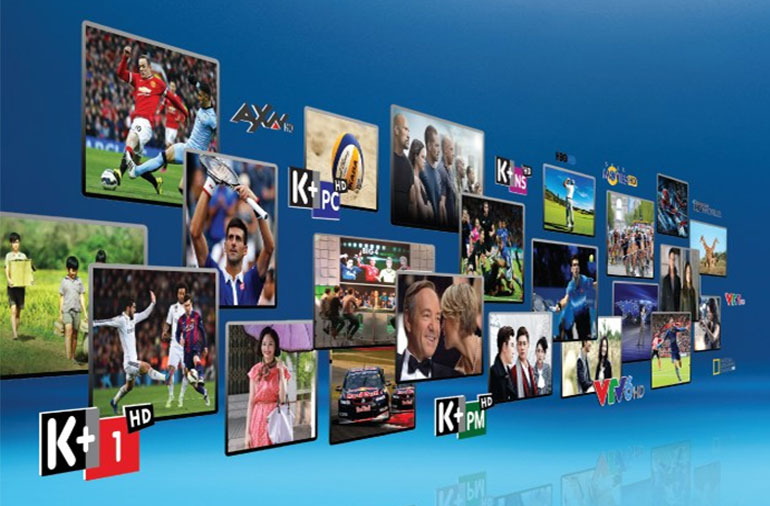 Photo: K+
Vietnam's digital satellite television K+ (K plus) on Friday announced that it had sealed an agreement for exclusive broadcast of the English Premier League (EPL) in the Southeast Asian country for three straight seasons starting 2019.
According to the three-season deal, K+ will exclusively provide coverage of all 380 matches per season across its channels from the 2019-20 to 2021-22 campaigns.
The English Premier League is the most-watched sports league in the world, broadcast in 212 countries and territories to 643 million homes and a TV audience of 4.7 billion.
Digital piracy is a big threat to the league, which relies heavily on income from live TV deals.
To watch matches in Vietnam, viewers have to buy K+, a pay TV channel which costs VND1.225 million ($52.7) for installation and a monthly fee of VND125,000 ($5.4), which is considered high by many people in a country where the average income is $215 a month.
K+, which has the Vietnam broadcast rights to many major sports events, has been upgrading its systems and training employees to monitor, detect, prevent, and handle piracy.
In football-crazy Vietnam, digital piracy has been an issue, especially when major global events like the World Cup come around, with hundreds of illegal sites and Facebook pages showing games without permission. Many of the sites are registered overseas, making it difficult for Vietnamese authorities to crack down on them, officials said.
How to watch Premier League 2021 on FPT Play
Step 1. First, of course, your TV needs to have the FPT Play application (most Internet TVs and Smart TVs now have it) and be connected to the network.
Step 2. Open an FPT Play account and log in on the TV.
Note: To watch English Premier League football live, you need a VIP account, and a free account can only watch replay videos.
Step 3. Watch English Premier League football on TV using FPT Play application.
+ If you are using a VIP account, there will be a LIVE PREMIUM EVENTS section on the home page of the application. There will be a list of Premier League football matches that will be broadcast live, you can choose to watch. If the match has not happened yet, there will be a specific date and time notice here for you to watch.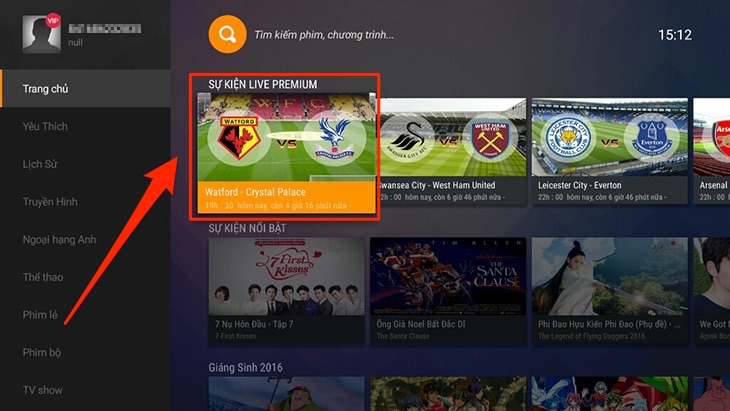 Photo: DienmayXANH
+In the homepage, you scroll down to the Premier League section, there will be videos and you just need to select VIEW to play on TV.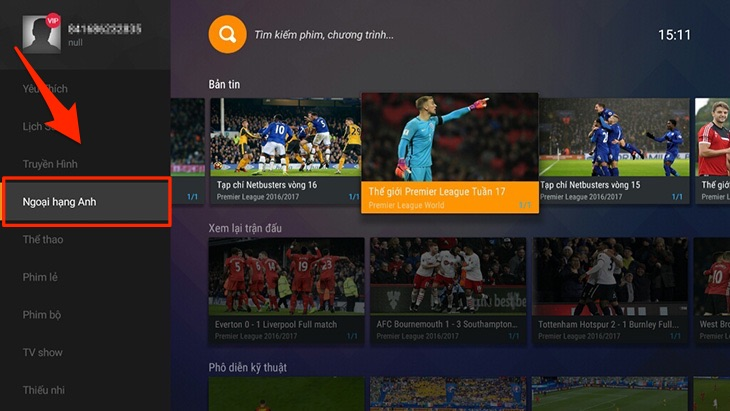 Photo: DienmayXANH
- News Feed: The section to summarize short videos providing information about the ongoing activities of the English Premier League.
- Match Replay: Replay the latest matches you missed.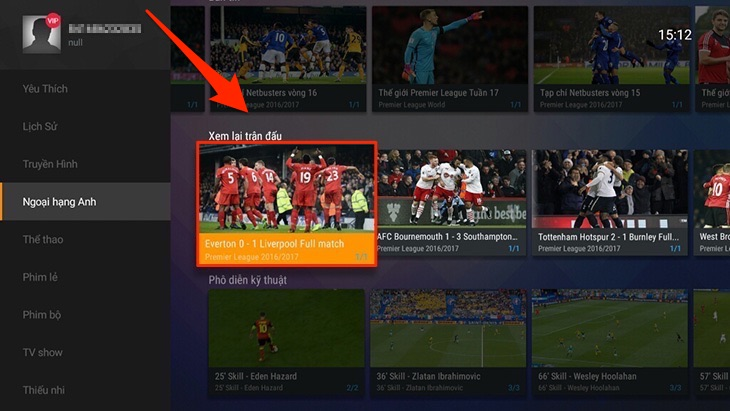 Photo: DienmayXANH
Watch Premier League 2021/22 in Vietnam using VPN service
Vietnam might be a tourist hot spot, but the country's cyberspace is heavily regulated and censored. It is rated as an "Enemy of the Internet" by Reporters without Borders. By implementing their so-called Bamboo Firewall that works similarly to China's GFW, the Vietnamese government heavily monitors the internet and blocks foreign websites and social networking sites like Facebook.
Considering the deteriorating condition of Vietnamese cyberspace, We have come up with a list of some of the best VPN for Vietnam you can use in 2021 to bypass internet censorship and restrictions.
If you're in Vietnam, you might face issues accessing streaming sites, social media platforms, blogs, journalist sites, torrent sites, and more. With a VPN, you can mask your real IP address and have unrestricted access to the internet.
Here is a brief overview of the 6 best VPNs for Vietnam in 2021:
ExpressVPN– The Best VPN for Vietnam. 3000+ servers in 94 countries, 1 in Vietnam. Offers fast speed of 88 Mbps on 100 Mbps connection, 256-bit strong encryption, and an excellent unblocking ability for bypassing geo-blocks in just $6.67/mo . Offers a 30-day money-back guarantee to try out the service risk-free.
Surfshark– Budget-friendly VPN for Vietnam. Best value VPN costing only $2.49/mo . Offers 75.12 Mbps speed on a 100 Mbps connection. Offers advanced security features, with 256-bit encryption, CleanWeb, OpenVPN, and NoBorders with 3200+ servers in 65 countries, 1 in Vietnam. Unblocks Netflix, Hotstar & more in Vietnam. Supports unlimited connections and offers a 30-day money-back guarantee.
NordVPN – Secure VPN for Vietnam. Offers advanced security features like Nordlynx, CyberSec, Double VPN, and 256-bit encryption at the cost of just $3.67/mo . Offers 5200+ servers in 60 locations, 10 in Vietnam. Works with Netflix, BBC, Amazon Prime, and more with a fast speed of 82 Mbps. Also offers 30-day money-back guarantee.
IPVanish – Fastest VPN for Vietnam with 1900+ servers in 75+ countries. The fastest VPN for streaming, torrenting, and online gaming. Offers a connection speed of 90 Mbps on a 100 Mbps connection for only $3.75/mo with a 30-day refund policy.
CyberGhost – User-Friendly VPN for Vietnam. Easy-to-use apps for all OS. 7000+ fast-speed servers (71 Mbps) optimized for streaming, gaming, and more for only $1.99/mo . 12 servers in Hanoi, Vietnam. Offers a 45-day money-back guarantee.
Private Internet Access – Best VPN for Torrenting in Vietnam. 35500+ P2P optimized servers in 78 countries including 24 in Vietnam with a fast speed of 64 Mbps. Offers a kill switch, and SOCKS5 proxy for ultimate security at the cost of $2.08/mo . Offers a 30-day money-back guarantee.
myK+ is the online television application provided by K+.
Subscribers of Premium+ package (installing K+ satellite parabola dish and set-top-box) are eligible to register and enjoy FREE myK+ service to watch TV channels on their devices via internet connection including PC, laptops, tablets and smartphones (Android and iOS).
Those who do not install satellite dish and set-top-box can also subscribe to use myK+ app by registering for myK+ NOW online TV package on website www.kplus.vn
Subscribers using myK+ would be able to enjoy premium contents on K+ channels including: all matches of The Premier League exclusive for 3 seasons from 2019-2022, The UEFA Champions League and Europa League exclusive on K+ until 2021, all ATP Tour, PGA Tour, IndyCar racing, latest Vietnamese movies, latest international TV series as well as other exciting programs exclusive on K+ channels. Hundreds of local and international channels are also available on the app.
Which devices can I use myK+ service?
myK+ can be accessed directly by logging on to website www.kplus.vn from a a PC or laptop. Note: Internet Explorer browser is not compatible with myK+ and may cause some viewing issues. Please switch to other ones such as Chrome, Firefox, Edge…
For tablets and smartphones, myK+ apps is available now for Android (ver 5.0 upwards) and iOS (ver 9.0 upwards) for FREE download from Google Play store and App store. The application will not work on jail-broken or rooted devices. The new feature "Connect to TV screen" help connect the devices to TV screen or projector to enjoy the programs on big screens.