Hundreds of elephants found dead in Botswana, how to save wildlife
Over 350 elephant carcasses are spotted in the Okavango Delta since the start of May. The reasons for the incident remains unknown, despite lab experiments were taken weeks away.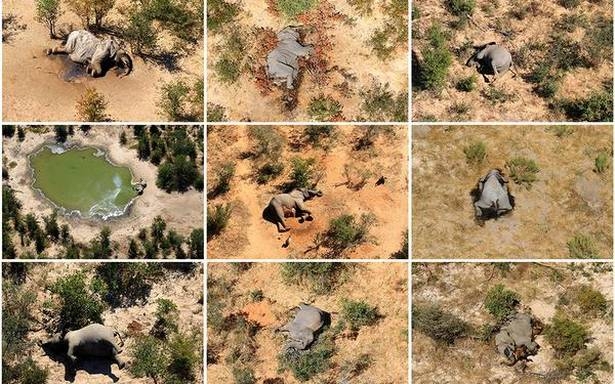 At least 359 elephants carcasses found in Botswana (Photo: Time Thrust)
The first batch of 169 carcasses was seen in a three-hour flight, which is considered "an extraordinary number". A further investigation carried out in June identified many more carcasses, bringing the total to over 350. The true number of deaths until now, however, is likely to even higher as carcasses can be difficult to spot, according to local conservationists.
"This is totally unprecedented in terms of numbers of elephants dying in a single event unrelated to drought," Dr McCann, of the UK-based charity National Park Rescue told BBC.
Local reports found the dead elephants are of all ages and sexes. Several live elephants are showing signs of weakness and emaciation, suggesting more animals might possibly die in the coming time.
McCann ruled out the possibility of poaching, natural anthrax poisoning - which killed at least 100 elephants in Bostwana last year.
But they have been unable to rule out either poisoning or disease. The way the animals appear to be dying - many dropping on their faces - and sightings of other elephants walking in circles points to something potentially attacking their neurological systems, Dr McCann said.
Either way, without knowing the source, it is impossible to rule out the possibility of a disease crossing into the human population - especially if the cause is in either the water sources or the soil.
The tusks of dead elephants are being guarded over so that no poachers could take them. Samples were sent off for further testing over the cause of deaths, results are expected to come back the next couple of weeks.
No reports of elephant deaths in neighboring countries, The Guardian reported.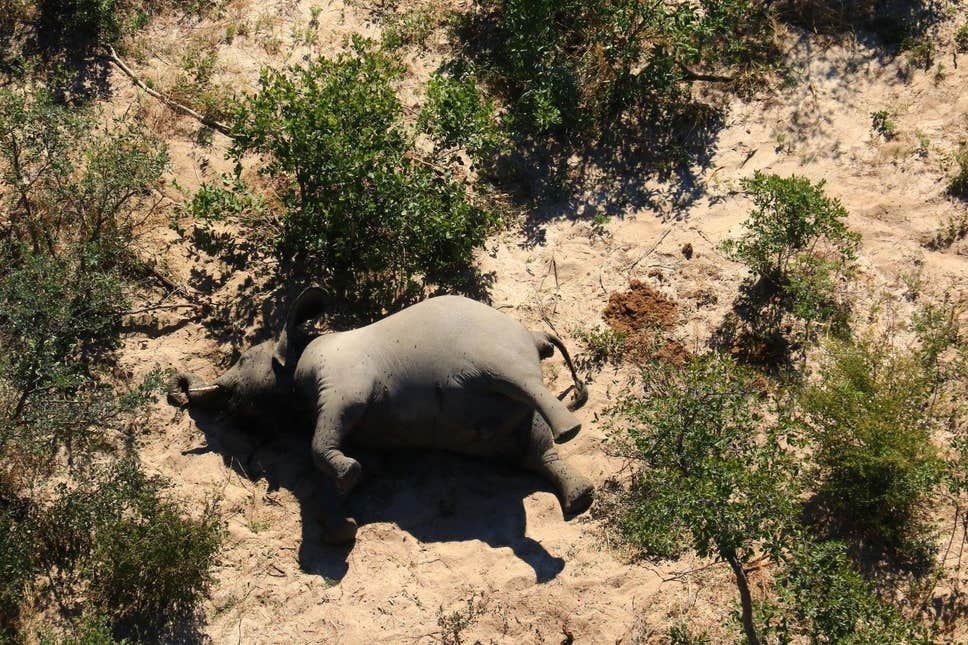 An elephant lies dying in the middle of the forest (Photo: Evening Standard)
The protection of wild animals, especially the endangered ones, has always been an urgent and crucial thing to considered worldwide. Whether farmed for meat or by-products or caught up in the illegal wildlife trade, many wild animals face the threat of extinction. Other wild animals are exploited for entertainment in blood sports like bear baiting and bullfighting.
Animal products have always been a sought after commodity......but this time it is leading to the extinction of 3 of the Big Five
- Rhino horn in China, Vietnam and Thailand, is supposed to be a cure for many ailments as well as having virility increasing capacities.
- Elephant tusks are carved into unbelievably beautiful ornaments sought after by the upper and middle class in the Orient as status symbol.
- Lion (and tiger) bones will provide relief for all sorts of pains and diseases as is the belief in many countries.
All species are hunted by trophy hunters for the thrill of the kill and the pleasure of looking at the dead heads in private homes.
The immense monetary value of horn and ivory is causing an upsurge of poaching and the profits find their way to extermist groups like Al Shabab, Boko Haram etc.
Corruption is exploding in all African countries due to easy access to these animals and almost no repercussions as far as the judicial system is concerned.
This is no longer a situation where a poor man in Africa poaches for some meat....the poachers these days use very often very sophisticated weaponry, are combat trained and are part of major crime syndicates, informed the Wildlife At Risk International (W.A.R)
In Vietnam, Prime Minister Nguyen Xuan Phuc requested the Ministry of Agriculture and Rural Development to draft a Directive on April 1 and put a ban on wildlife trade and consumption upon receiving a letter from Pan Nature, a non-profit wildlife organization, with a list of steps to stop illegal wildlife trade.
The Education for Nature Vietnam on June 4 had also appealed for an end to commercial farming of endangered wildlife in an attempt to conserve biodiversity.
Lately, in early July, many rare species of animals at risk of extinction found still living in the National Park gives hope for the conservation of the unique biodiversity of Bidoup - Nui Ba.
Since October 2019, the National Park, in cooperation with the Southern Institute of Ecology (SIE) and the Leibniz Wildlife Research Institute (Leibniz-IZW), has conducted a camera trap survey in the Park, finding at least 21 species, among that 7 ones are globally threatened.
The most important finding is a recording series of the giant muntjac (Muntiacus vuquangensis) which can only be found in the Truong Son range classified as critically endangered (CR) in IUCN red book.
Besides, the camera traps captured another endemic species of Truong Son range, called Cay Van (Chrotogale owstoni), a small predator with remarkable fur, are nearly under extinction, due to outspreading hunting.
Many images of sun bear (Helarctos malayanus) were recorded, despite being quite common in bear raising farms in Vietnam, found rare in our country's forests.
Another surprise is the image of albino porcupines, even though porcupines are relatively popular in most protected areas of Vietnam, the white porcupine found is a very rare phenomenon.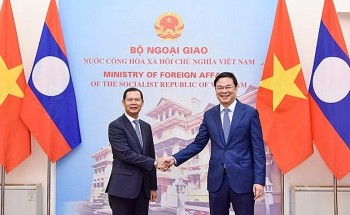 National
Vietnam News Today (Nov. 27): Additional 427 Covid-19 cases confirmed on November 26; Vietnam records boom in number of Japanese restaurants nationwide; Seventh Vietnam-Laos political consultation held in Hanoi; Conditions in place for Vietnam to boost wellness tourism.