Hung King's death anniversary binds Vietnamese people together
The Hung King's death anniversary was held in cherry blossom season in Japan, attracted 1000 people to attend.
At the event. Ảnh: Cội nguồn Việt Nam global.
Vietnamese Association in Higashi Osaka, Kansai club and the Project Board of the Vietnam Ancestral Global Day celebrated the Ancestral Death Anniversary.
The major of Higashi Osaka city, Vietnam Consulate in Osaka, Ambassador Nguyen Phu Binh and the representative of the Project Board of the Vietnam Ancestral Global Day (VAGD), overseas Vietnamese in Osaka took part in the anniversary.
The Ancestral Death Anniversary was arranged in March 10 as in lunar calendar (or April 4 as Gregorian calendar) in Sannose Park, Higashi Osaka, with two main parts: Rituals and Celebration.
The Rituals as in Vietnamese tradition, contained the funeral oration, presenting incenses and offerings in the solemn atmosphere
The Celebration was music performances, Ao Dai show and folk games. Furthermore, kiosks were set around the main stage to promote the Vietnamese productions, especially traditional food, to the international friends.
According to the Organization Board, this event drew attention of 1000 people, included overseas Vietnamese and the natives.
Vice President of Vietnamese Association in Higashi Osaka, Le Thi Huong said: "It is an occasion of Vietnamese to gather and unite together. Through the Ancestral Day and the other community activities, I hope Vietnamese people in Osaka spend time to meet and connect more steadfastly."
Translated by Thanh Van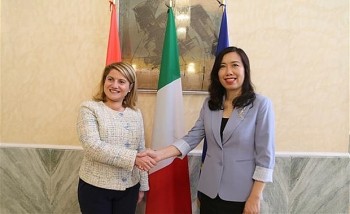 Friendship
The Vietnam - Italy political consultation is part of the occasion of the 50th anniversary of diplomatic ties and the 10th anniversary of the framework of the strategic partnership.