Ideal Golf Tourism Destinations in Vietnam
Golf Tourism is a trendy sport-tourism model, that combines golfing and exploring. Tourists can visit the golf course, or relax around the golf course area. In Vietnam, this backpacking trend has been increasingly reformed and developed and has become one of the fastest-growing sports-tourism models.
Along with the constant change and development of society, the demand for golf is increasing and becoming the favorite form of entertainment of many people. Many large and beautiful golf courses were also built because of that. People come to golf not only to play golf but also to relax, visit and explore.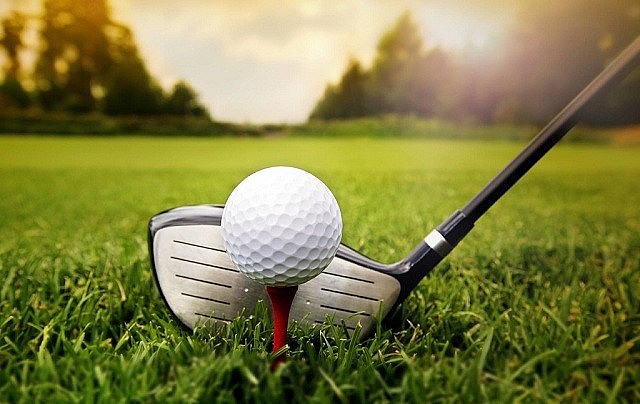 Golf tourism has become a hobby of many people. Photo: hcmcpianfestival
The highlights of golf tourism are as followed:
- Golf tourism is composed of many factors, among which are the golf course and the natural resources of the destination, and the traditional culture of the destination.
Participants are usually golf enthusiasts, often highly invested people, between the ages of 40 and 55. Characteristically, there is a trend of rejuvenation, many people over 30 years old, even over 20 years old, are also increasingly interested in golf. According to statistics, the number of men playing golf is often higher than that of women.
- This sport-tourism model can also last for several days or weeks. Travel between golf courses can take anywhere from three to four days. Long-term golf excursions can very well be up to 1 to 2 weeks. Therefore, golf tourists are also those who have the ability to go out for a long stay.
- Golfing not only helps players relax, reduce stress, and exercise, but also brings many interesting and eye-opening experiences.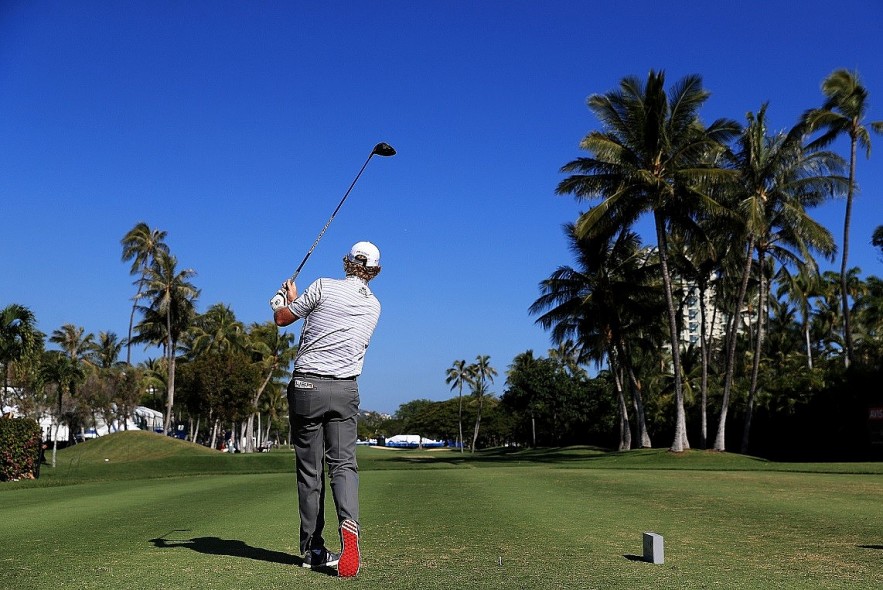 Photo: liveabout
After many years since its first appearance in Vietnam, golf tourism has been through drastic reformation and development to satisfy the demanding needs of golf tourists.
According to the Institute for Research and Analysis of Tourism Reformation and Development, the Vietnam National Administration of Tourism shows that 2019 is one of the great milestones for Vietnamese golf. It was the third year that Vietnam continued to hold the "Global Golf Award" - an award honoring the world's leading quality, class and luxury golf courses. And the honor didn't stop there when Vietnam became "Asia's best golf destination".
If tourists have a passion for golf and love to travel, the combination of tourism and golf is amazing. They can sign up for golf tours and choose to use services through travel agencies.
Depending on their requirements, golf tourists can choose from golf tours in the North, Central or South. In addition, there are also many inter-regional golf tours that bring exciting experiences to foreign guests. Below are some of the tours that golf tourists can choose from:
- Hanoi – Da Nang City – Nha Trang – Hanoi
- Ho Chi Minh City – Long Thanh Golf Resort – Vung Tau Paradise golf resort
- Golf Danang City: Montgomerie and The Dunes Golf
- Golf Hanoi - Ha Long
- Ho Chi Minh Golf - Dong Nai
- Mong Cai International Golf Club
- Laguna Lang Co golf club
Traveling at famous resorts such as FLC, and Vinpearl, which have professional golf courses and trendy entertainment services, is also a popular choice. In addition, golf tourists can also organize their own golf tours with like-minded people.
Some outstanding golf course resorts in Vietnam
Bestowed by nature with countless beautiful places and an ideal climate, Vietnam is becoming a golf paradise for all golf enthusiasts. From North to South, there are countless beautiful golf courses. The combination of golf eco-tourism sites, golf resorts, and golf courses is a breakthrough in meeting the needs of golfers.
Popular golf courses in the North
1. Sky Lake Resort & Golf Club
Address: Van Son lake area, Chuong My, Hanoi
Sky Lake Resort & Golf Club is one of the best 36-hole golf courses near Hanoi. About 40km from the central area of ​​Hanoi, built around Van Son Lake in Chuong My district. Sky Lake Resort & Golf Club offers a great environment for foreigners to play golf, helping players feel comfortable and relax after the hustle and bustle of urban life. Sky Lake promises to be an ideal destination for all foreigners.
The biggest advantage of the Sky course is that it is the 15th Dien Bien Phu golf hole. The difficulty and terrain obstacles of this golf hole are a challenge well worth the experience for golfers. In addition, the services at the golf course are also extremely diverse. Between the two courses, there is a clubhouse which includes a Spa area, meeting rooms, a showroom for golf equipment, a bar, and a practice field. With a 5-star hotel system and individual villas with swimming pools, it is guaranteed to bring the most trendy service quality.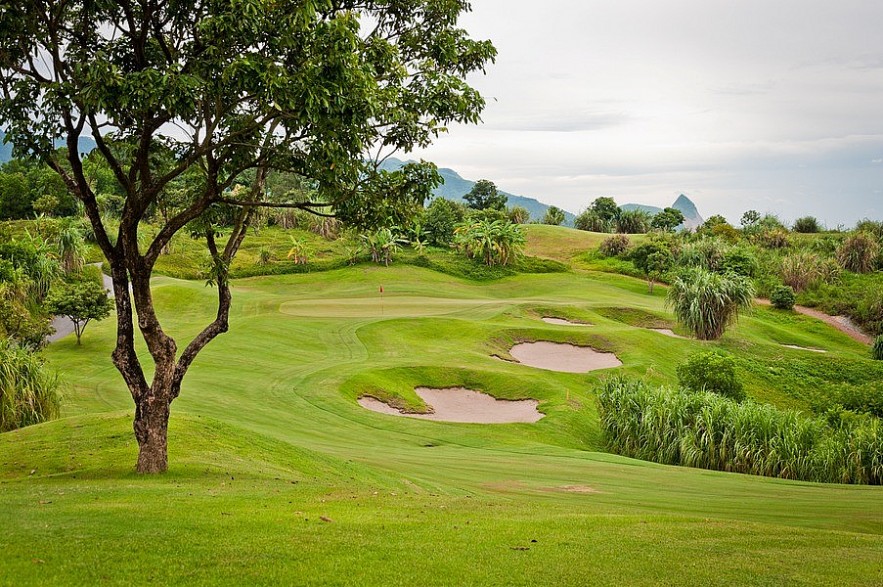 Photo: 1golfeu
2. BRG Legend Hill Golf Resort
Address: Cong Hoa, Soc Son
The BRG Legend Hill Golf Resort golf course is designed by the original American designer Nicklaus Design - currently owned by one of the leading golf course design corporations in the world. Coming to Legend Hill, golf tourists will be able to play 18 holes with 36 greens, along with many other exciting experiences.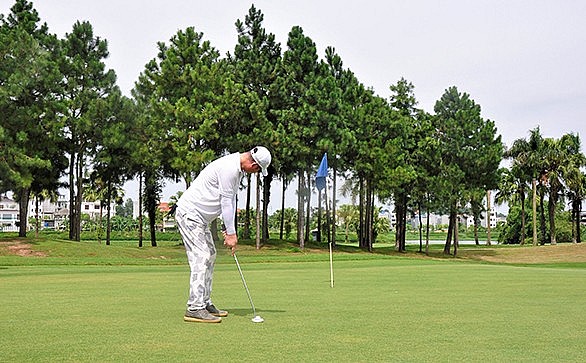 Photo: vietnamhappygolf
3. Chi Linh Golf Course (Chi Linh Star Golf & Country Club)
Address: 445 Nguyen Thai Hoc, Thai Hoc 3 residential area, Chi Linh, Hai Duong
With an area of ​​325ha, Chi Linh golf course is designed with a beautiful valley style. The 36-hole golf course ensures some of the best international tuning standards and is among the top golf courses in Vietnam.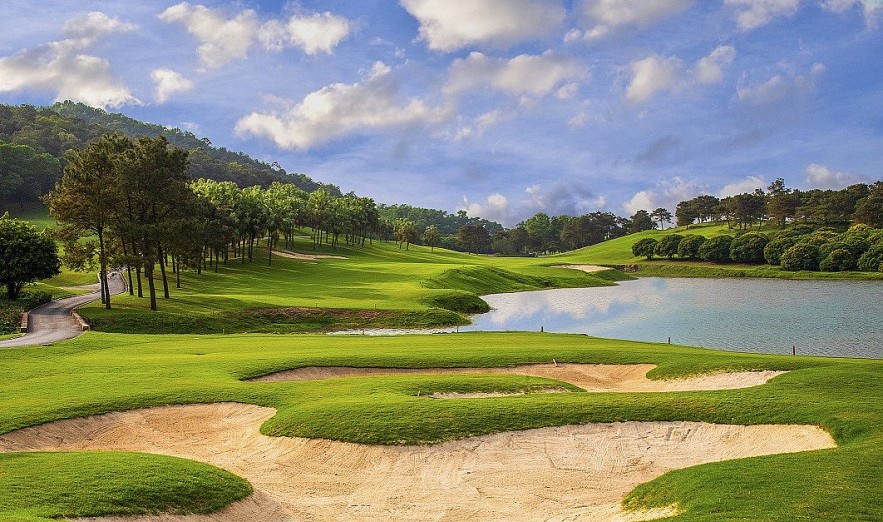 Photo: thegolfasia
4. Trang An golf course - ecological resort
Address: Phu Long, Nho Quan, Ninh Binh
Considered the second Da Lat of Vietnam, Trang An golf course eco-tourism site is located in Ky Phu commune, Nho Quan district, Ninh Binh province. The golf course is located on Dong Chuong lake, winding around pine forests, creating a wild, mysterious and quiet scene.
Popular golf courses in the South
1. Harmonie Golf Park
Address: 469 Tran Ngoc Len, Dinh Hoa, Thu Dau Mot, Binh Duong
Harmonie golf course brings positive energy to anyone who comes here because of the extremely fresh air and mild climate. Coming to Harmonie golf tourists will have extremely interesting experiences. They will be able to test their skills on the beautiful course and fairways winding around bunkers. The two most outstanding points about the Harmonie golf course that cannot be ignored are:
- This is the only golf course that allows golfers to move by buggy on the grass.
- This is the only golf course that uses an automatic golf ball distribution system.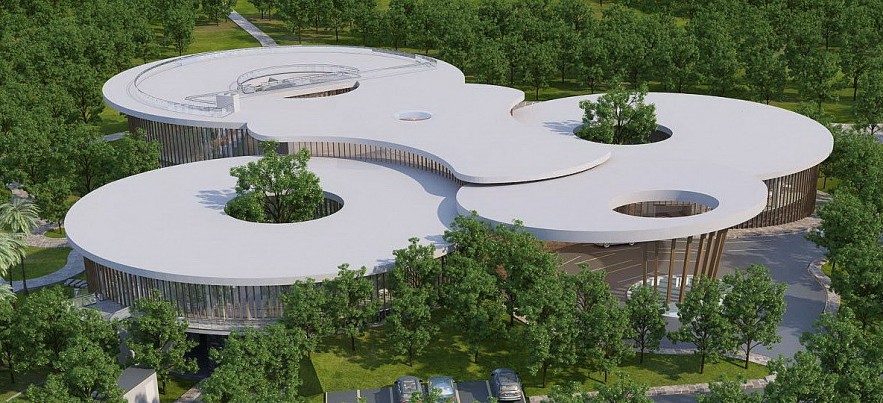 Photo: golfasia
2. Thu Duc Golf Course (Vietnam Country Golf & Club)
Address: Hoang Huu Nam Street, Long Thanh My Ward, District 9, Ho Chi Minh City
This place is not only an interesting place to play golf, Thu Duc golf course is also a place for golfers as well as other foreigners to relax on weekends or holidays. This is also the place to launch many golf tournaments.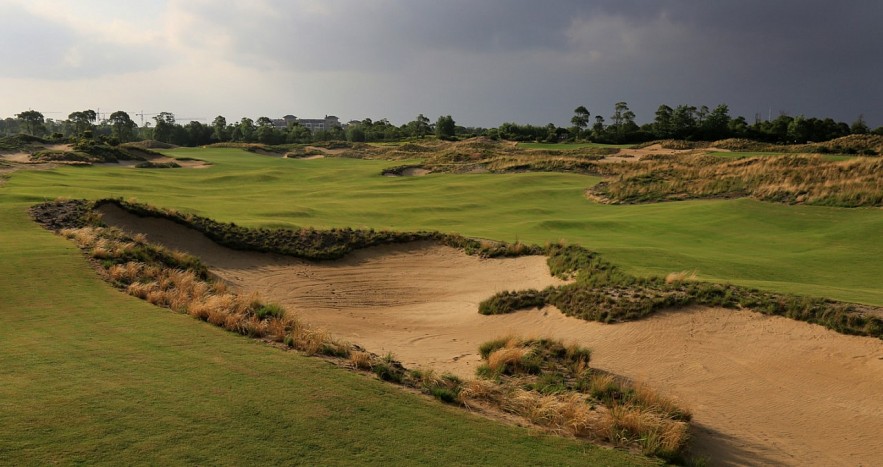 Photo: Golf Property
3. The Bluffs Ho Tram Strip
Address: Coastal, Phuoc Thuan, Xuyen Moc, Ba Ria - Vung Tau
The Bluffs Ho Tram golf course is designed around the sand dunes along the coast. This golf course not only brings challenges for golf tourists but also is a great place for foreigners to visit and relax. There are many convenient services of 5-star standards such as resorts, restaurant services, and a professional spa.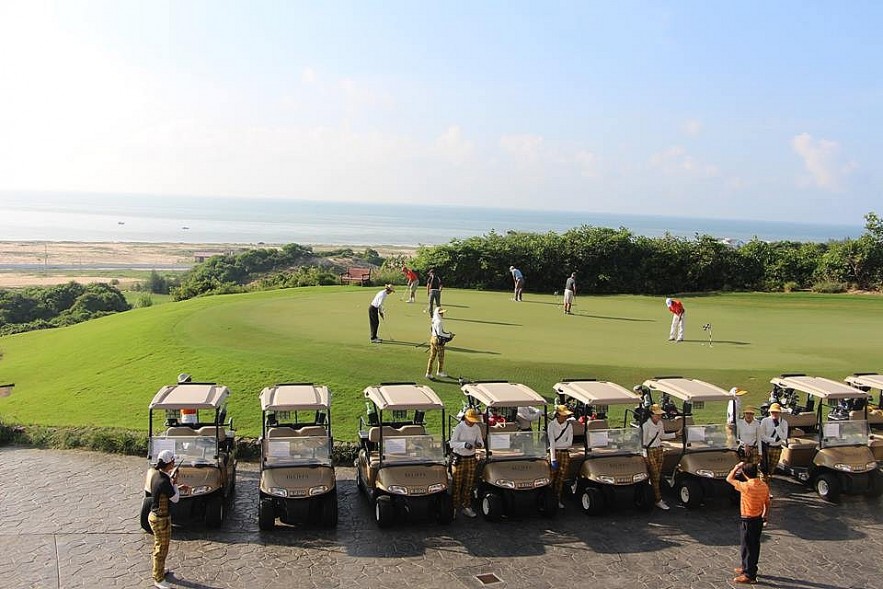 Photo: justgola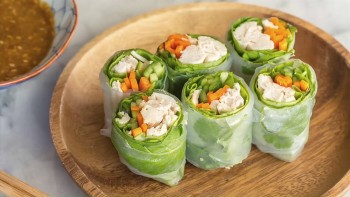 Travel
Rolls are a easy-to-make dish that is loved by many Vietnamese diners as well as Korean stars.