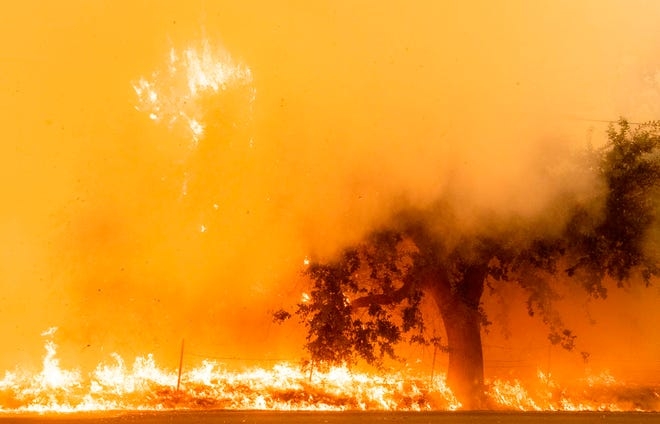 Flames and smoke overtake a tree as the LNU Lightning Complex fire continues to spread in Fairfield, California on Aug. 19, 2020. (Photo: AFP)
California's atrocious year for wildfires just became the worst in state history as far as the amount of land scorched, according to CNN.
More than 2,094,955 acres have burned across the state this year, CAL FIRE Capt. Richard Cordova said Sunday. That's the size of more than 10 New York Cities.
"This is crazy. We haven't even got into the October and November fire season, and we've broken the all-time record," Cordova said.
Firefighters will get no respite from the searing heat as they battle the fast-moving Creek Fire, which is tearing through the Sierra National Forest in California's Central Valley.
(Video: Ruptly)
At least 224 people were rescued from the Mammoth Pool Reservoir area after the Creek Fire blocked the only road out of the popular recreation site, Madera County Sheriff Tyson Pogue said.

About 20 evacuees had injuries ranging from broken bones to burns. Two people had to be carried on a stretcher, Pogue said.

"The situation only can be described as just hellish conditions out there for those poor people," Pogue said.

But the danger is far from over, as the Creek Fire is 0% contained as of Sunday.

The Fresno County Sheriff's Office ordered everyone in the community of Shaver Lake to leave immediately Sunday.

"There is an imminent threat to life and property due to the fast moving Creek Fire," the sheriff's office said.
National Guard leader Gen. Daniel Hokanson tweeted a photo of dozens of people crammed into a helicopter, as reported by USA Today.
"Simply extraordinary, lifesaving work by the @CalGuard airlifting more than 200 people to safety overnight from the imminent danger of the #CreekFire," Hokanson tweeted. "The National Guard stands Always Ready, Always There to support our communities and nation in times of need."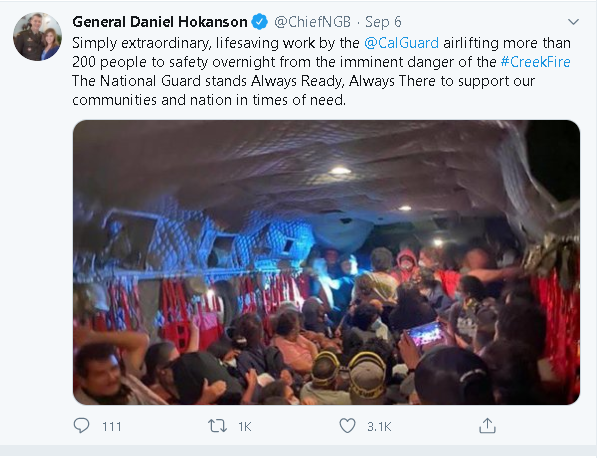 (Photo: Captured)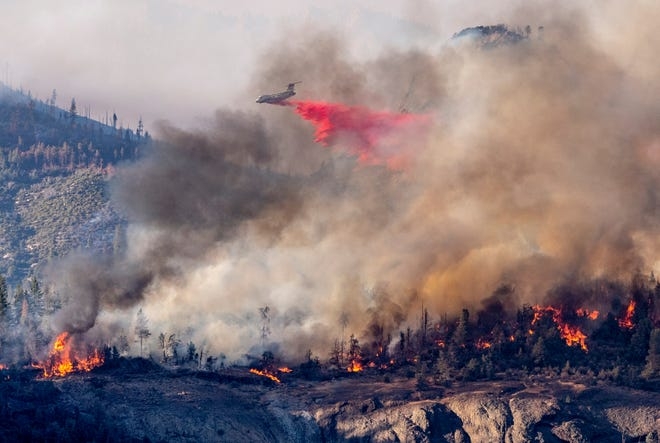 Aerial fire crews attack the Sequoia Fire behind a backfire on Thursday, August 27, 2020. The unconfined Sequoia Fire has burned more than 20,000 acres in the Golden Trout Wilderness area (Photo: Ron Holman, Visalia Times-Delta)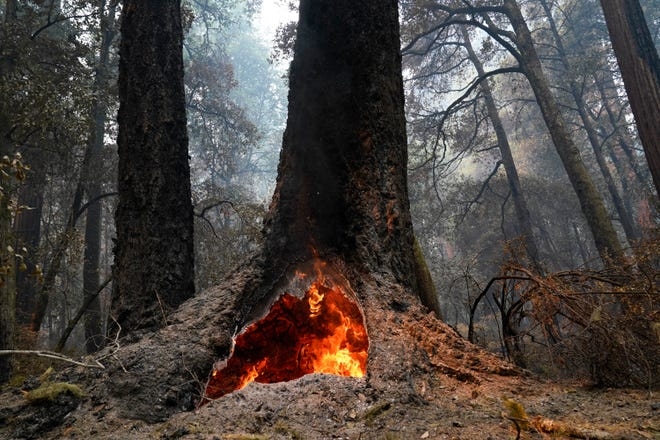 Fire burns in the hollow of an old-growth redwood tree after the CZU August Lightning Complex Fire passed through Monday, Aug. 24, 2020, in Big Basin Redwoods State Park, Calif. (Photo: AP)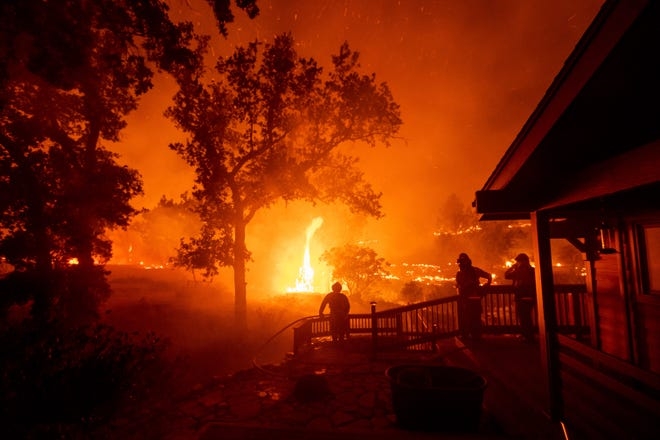 Firefighters watch flames from the LNU Lightning Complex fires approach a home in the Berryessa Estates neighborhood of unincorporated Napa County, Calif., on Friday, Aug. 21, 2020. The blaze forced thousands to flee and destroyed hundreds of homes and other structures. (Photo: AP)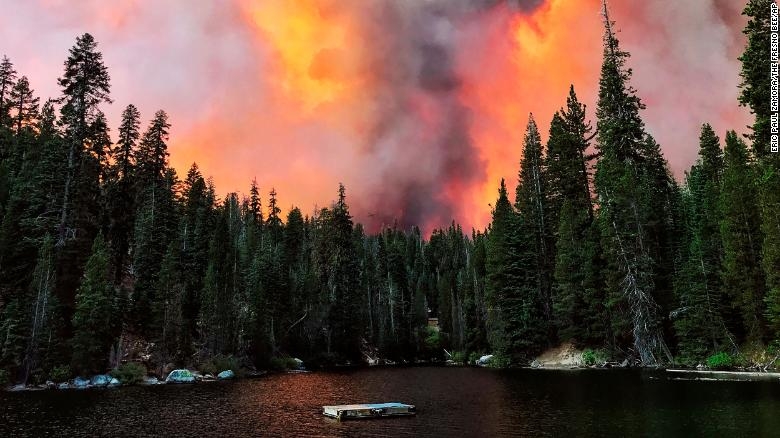 The Creek Fire has devoured more than 45,000 acres near Fresno and Madera counties (Photo: CNN)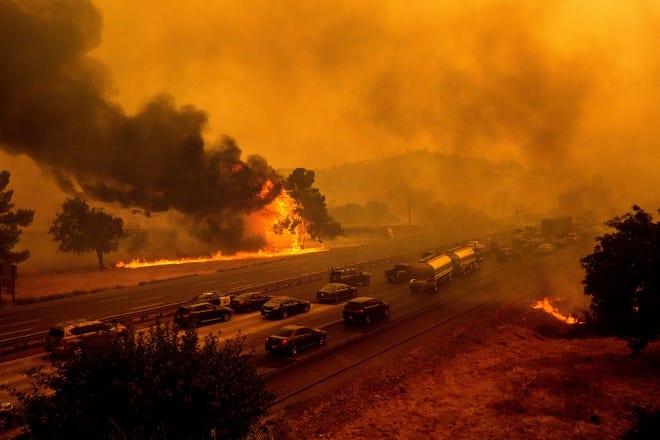 Flames from the LNU Lightning Complex fires jump Interstate 80 in Vacaville, Calif., Aug. 19, 2020. The highway was closed in both directions shortly afterward (Photo: AP)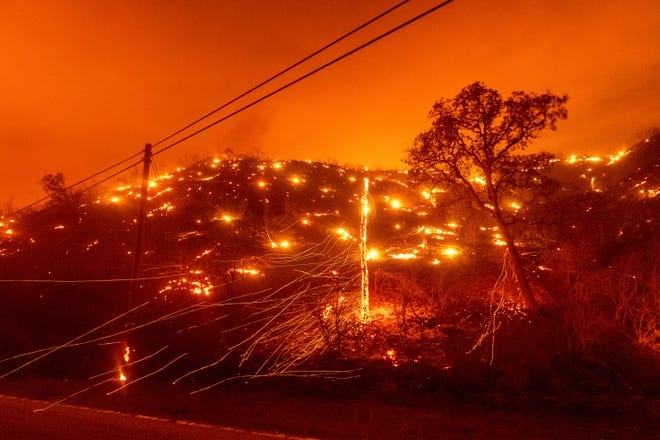 (Photo: AP)
The inferno quickly exploded in size since it started Friday evening in the Sierra National Forest, US Forest Service spokesman Dan Tune said.
It started in the forest south of Yosemite National Park and grew to 36,000 acres in just one day. By Sunday morning, the wildfire had engulfed 45,000 acres. The cause of the blaze is under investigation.
Mammoth Pool Reservoir is popular for camping, fishing, boating, hiking and wildlife viewing.
By Sunday morning, Pogue said he believed everyone had been rescued from the Mammoth Pool area. But officials plan to keep looking Sunday for others who might be stranded in the remote wilderness.
About 450 firefighters are battling the blaze, along with three helicopters and three air tankers, according to the Forest Service.
The conditions have made firefighting exceptionally challenging. There have been a few instances of limited visibility due to the smoke, but firefighters have been able to battle the blaze from the air, Tune said.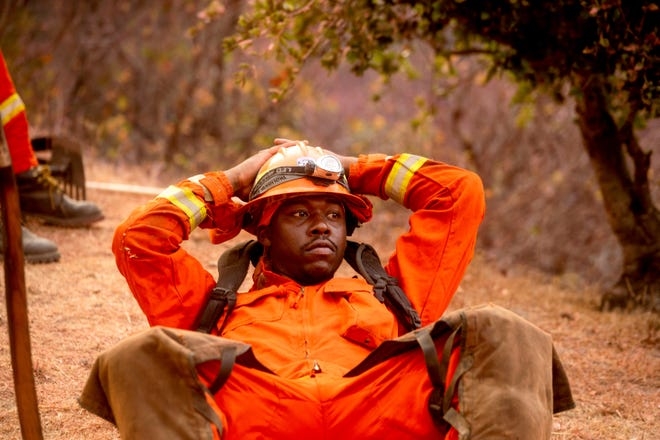 An inmate firefighter rests during a break from battling the River Fire in Salinas, Calif., Monday, Aug. 17, 2020. Fire crews across the region scrambled to contain dozens of blazes sparked by lightning strikes as a statewide heatwave continues. (Photo: AP).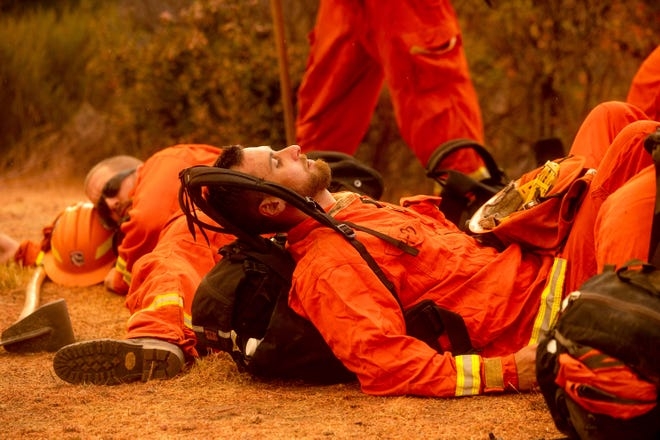 (Photo: AP)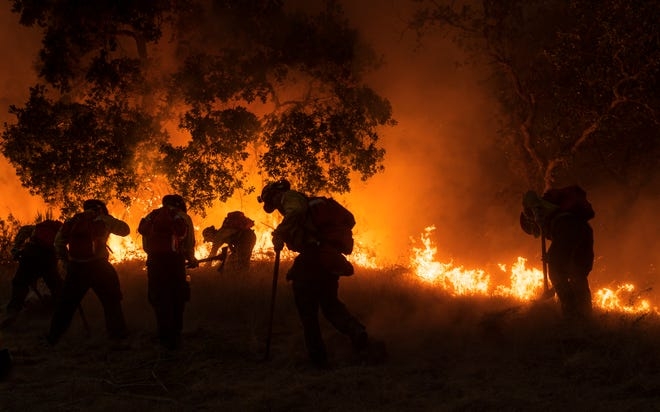 Members of the Grizzly Firefighters work against the Carmel Fire near Carmel Valley, Calif., Tuesday, Aug. 18, 2020 (Photo: AP)
California is grappling with a relentless series of wildfires this summer, including many sparked by lightning.
Meanwhile, some San Bernardino communities are being told to evacuate because of the El Dorado Fire, which has burned through 3,010 acres since it began Saturday morning.
An evacuation order has been issued for the Oak Glen, Mountain Home Village, Forest Falls and North Bench Yucaipa communities. The human-caused fire is under investigation, according to the San Bernardino National Forest.
Jasmine Le