In Vietnam, efforts to help students could be interpreted as rule-breaking
Advice for Vietnamese teachers: do not waste time finding interesting and good materials outside the textbook to intrigue students, as doing so may lead to punishment.
Advice for Vietnamese teachers: do not waste time finding interesting and good materials outside the textbook to intrigue students, as doing so may lead to punishment.
Teachers will not want to be in the shoes of Nguyen Thi Kim Quyen, a seasoned teacher based in the Central Highlands province of Lam Dong, who now faces a penalty after challenging her third-grade students with a brain-teasing math puzzle last week.
When Quyen, who has 22 years of teaching experience, decided to give her students the extra exercise, she did not know that the math problem would go viral on the Internet and that she would 'pay a price' for the decision.
The puzzle requires third graders to fill in a snake-shaped series of boxes consisting of several operations with the digits 1 to 9.
Students are allowed to use each digit only once, and the math problem is meant to test their knowledge of order of operations, in which multiplication/pision comes before addition/subtraction.
The Lam Dong education department on Wednesday approved a proposal for "reprimanding" Quyen for using materials other than those approved by the Ministry of Education and Training to teach students.
The proposition was made by the education office of Bao Loc City, where Quyen's Thang Long Elementary School is located.
The 'outside material' in which Quyen found the puzzle, which grabbed the attention of such famous media outlets as The Guardian and The Huffington Post, is an exercise book published by the Hanoi University of Education Publishing House.
"Our view is that teachers are not encouraged to use materials outside the curriculum approved by the [education] ministry," Nguyen Kim Long, head of the Bao Loc education office, told Tuoi Tre (Youth) newspaper on Wednesday.
Quyen thus went against the regulations to give her students such a tough question, he said.
"She should have faced a heavier penalty for the violation but as the question was only given to a group of selected students, reprimanding her is an appropriate way to handle this case," Long added.
Only 20 out of the 35 students in the class were asked to do the extra exercise during a review session on Tuesday last week, according to Quyen.
These students were asked to do four extra questions, among which the puzzle was the last problem.
"I wanted to help these students improve their skills and knowledge with this thought-provoking question," she told Tuoi Tre earlier this week.
"I knew it was too complicated and tough for a third grader so I told the students they did not necessarily have to do it."
Even so, the Bao Loc education office insisted that the case be handled as it caused "misleading information on the side of parents and the public."
Long, the office head, said reprimanding is the "lightest possible penalty," which was meant to "remind Quyen that she should be more careful in finding materials for students."
"We did not mean to scold her as the public has viewed it," he added.
Quyen has told Tuoi Tre it is her habit to collect "great math problems" to help advanced students improve their skills and knowledge.
"It's simple to only teach what's in the textbook," Quyen said.
"But as a teacher I think it's a waste not to give advanced exercises to help good students improve their knowledge."
Many people have thus supported the teacher and criticized the penalty decision by the Bao Loc education office, saying this will destroy creativity.
"I'm speechless. Will there be any other teachers who dare to teach with extra materials?" a reader named Tran Thanh Vu wrote to Tuoi Tre.
Another reader suggested teachers just stick to materials approved by the education ministry and "forget creativity."
VNF/tuoitrenews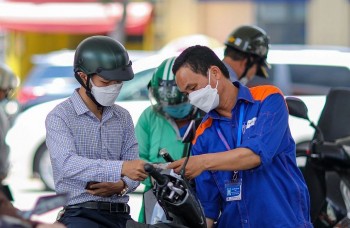 Economy
Vietnam Business & Weather Briefing (Oct 2): Binh Duong lures foreign investors with special care, the North and Central regions continue to have heavy rains, leading to the risk of flooding, flash floods, and landslides.