According to Skymet Weather, a western disturbance is over Jammu and Kashmir. An induced cyclonic circulation is over central Pakistan and adjoining parts of West Rajasthan.
An anti-cyclone is now over the Northern parts of Gujarat. An anti-cyclone is over the North Bay of Bengal. A cyclone circulation is over north interior Karnataka and adjoining parts of South Madhya Maharashtra. A trough is extending from Kerala to a cyclonic circulation over south Madhya Maharashtra.
During the last 24 hours, heatwave conditions occurred over parts of Gujarat, Konkan and Goa.
Light rain occurred over Jammu and Kashmir, Gilgit Baltistan, Muzaffarabad, parts of coastal Karnataka and coastal Andhra Pradesh. Light to moderate rain occurred over coastal Odisha, Kerala and southern parts of Andaman and Nicobar Island.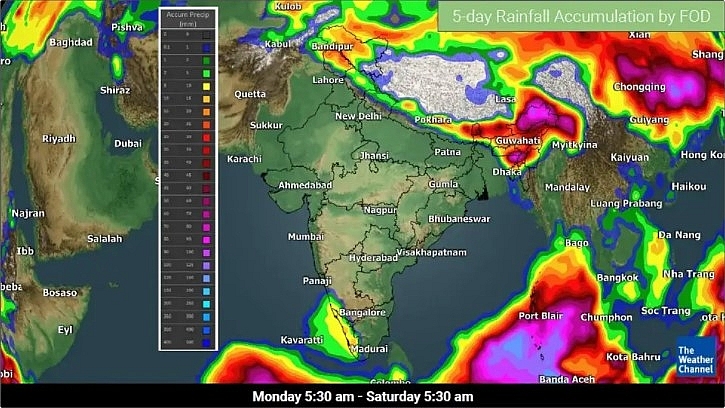 Rainfall accumulation forecast for the next five days (TWC Met Team)
Day and night temperature increased by 2 to 3 degrees over Uttarakhand, Punjab, Haryana, Delhi, West Uttar Pradesh, Rajasthan and Madhya Pradesh.
During the next 24 hours, light to moderate rain and snow with one or two heavy intense spells are expected over Jammu and Kashmir, Gilgit Baltistan, Muzaffarabad, Ladakh and parts of Himachal Pradesh. Uttarakhand may receive light rain with few moderate spells.
Interior Tamil Nadu, southern districts parts of Andaman and Nicobar Island may receive one or two heavy spells. Rain activities will be light over the Northern Islands of Andaman and Nicobar.
Heatwave conditions are expected over parts of Saurashtra and Kutch and isolated pockets of Konkan and Goa.
Parts of Northeast India are set to end the month of March on a high as far as rainfall is concerned, with heavy showers forecast over the region starting Monday, March 29. In view of these predictions, an orange alert has been issued across six states on Tuesday and Wednesday, March 30-31.
As per the India Meteorological Department (IMD), strong lower-level southwesterly winds blowing in from the Bay of Bengal are set to affect the weather all over the Northeast.
Under the influence of these meteorological conditions, fairly widespread to widespread rainfall, along with thunderstorms, thundersquall, lightning and gusty winds blowing between the speeds of 30-50 kmph are all very likely at isolated places of Northeast India from Monday to Friday, March 29 to April 2.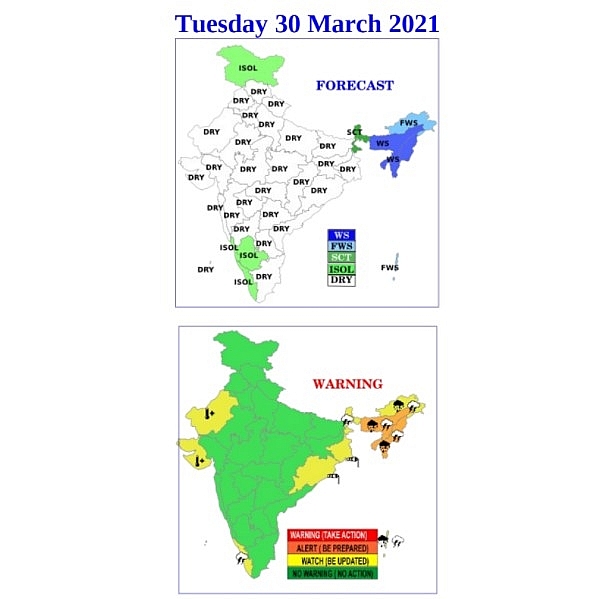 Photo: IMD
The rainfall activity will peak around midweek, between March 30-31, with heavy showers particularly possible on March 29 and 31, and heavy to very heavy rains on March 30 at isolated locations in South Assam, Meghalaya, Tripura and Mizoram.
5-Day Nationwide Forecast
According to Weather.com, the ongoing western disturbance is affecting Western Himalayan Region and will continue to bring snow/rain over Ladakh, Jammu & Kashmir, and Himachal Pradesh till Monday evening. Isolated snow will prevail over Ladakh and adjoining Jammu & Kashmir on Tuesday.
Northeast India could witness increasing rain from early on Tuesday with intensifying southwesterly winds from the Bay of Bengal. Widespread rain, along with thunderstorms, will peak between Tuesday to Thursday with localized rainfall of over 100 mm forecasrt in three days. The rainfall activity will start abating from Friday, but some spells of rainfall will persist until weekend.
Kerala and the adjoining areas will receive intermittent showers and thunderstorms due to a trough over the region on Monday.
A cyclonic circulation in the southeast Bay of Bengal brings moderate to heavy rain over the region. Much of the rain will be over the open waters, but Andaman & Nicobar Islands will be affected from Tuesday to Thursday.
Above average maximum temperatures will be seen across northern, central, and western India until Tuesday. Cooler trend is expected along northern plains Wednesday onwards. Above 40°C temperatures are likely in some places of the peninsular India during this week.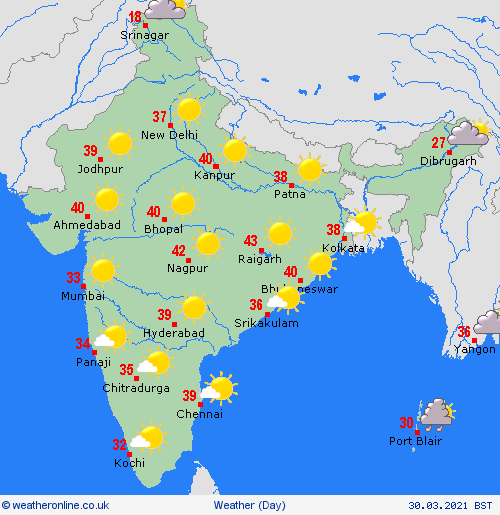 Photo: Weather Online
Regional Forecast
Widespread rain and thunderstorms are likely over Assam and Meghalaya. Fairly widespread rain/snow and thunderstorms are possible over Arunachal Pradesh.
Fairly widespread rain and thunderstorms are likely over Sub-Himalayan West Bengal, Nagaland, Manipur, Mizoram, Tripura, and Andaman & Nicobar Islands.
Scattered rain/snow and thunderstorms are forecast over Sikkim. Isolated snow/rain and thunderstorms are likely over Ladakh, Jammu & Kashmir, Himachal Pradesh, and Uttarakhand.
Isolated rain and thunderstorms are expected over Tamil Nadu, Kerala, Karnataka, and Lakshadweep. Maximum temperatures are likely to be over 40°C in some places of northern, central, western, and eastern India.
India daily weather forecast latest, March 24: Rains, thunderstorms to continue over Delhi, Punjab, Jammu & Kashmir

Fairly widespread to widespread rainfall or snowfall and thunderstorms with lightning are expected over Western Himalayan Region, which includes Jammu, Kashmir, Ladakh, Gilgit, Baltistan, Muzaffarabad, ...
Ruby Lee