India daily weather forecast latest, April 3: Areas with above maximum temperatures of 40°C to widen northward
Areas with above maximum temperatures of 40°C are expected to widen northward, engulfing southern Haryana and southern Uttar Pradesh in the process.
According to Skymet Weather, low pressure area is persisting over South Andaman sea and adjoining parts of the south-west Bay of Bengal. It is expected to intensify further into a well-marked low pressure area by today evening.
A feeble western disturbance is over North Pakistan and the adjoining area. An induced cyclonic circulation is over central Pakistan. A trough is extending from Jharkhand to Tamil Nadu across Orissa, coastal Andhra Pradesh and Rayalaseema. An east-west trough is extending from east Uttar Pradesh to Assam.
During the last 24 hours, heatwave to severe heatwave conditions occurred over parts of Gangetic West Bengal, Odisha, Andhra Pradesh and Tamil Nadu.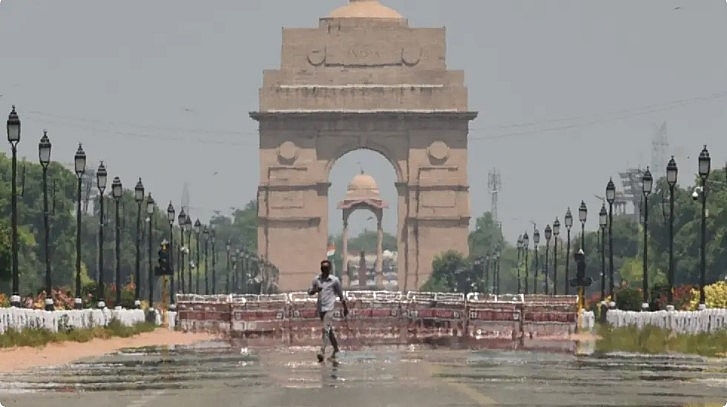 File photo: A mirage appears on the Rajpath as the mercury soars in New Delhi (Sanjeev Rastogi/TOI, Delhi, BCCL)
Temperatures dropped over North-West India, parts of Central India and parts of East India, leading to abatement of heatwave from Rajasthan, Gujarat, Madhya Pradesh and South Uttar Pradesh.
Moderate to strong winds continued over Haryana, Rajasthan, Delhi and Uttar Pradesh. Light to moderate rain and thundershower with few heavy spells occurred over Sikkim, Northeast India and parts of Andaman and Nicobar Islands. Light to moderate rain occurred over Kerala.
During the next 24 hours, moderate to strong surface winds with speed of 30-40 Kmph expected to continue over parts of Punjab, Haryana, Rajasthan, Delhi, Uttar Pradesh and North Madhya Pradesh.
Light to moderate rain and thundershowers with few heavy spells are expected to continue over North East India and Andaman & Nicobar Islands. Light rain is possible over Kerala and parts of Jammu and Kashmir, Gilgit Baltistan, Muzaffarabad and Ladakh. Heatwave may continue over parts of Odisha, Gangetic West Bengal, Telangana, Andhra Pradesh and Tamil Nadu.
Many parts in north India have been reeling under a heatwave with the mercury touching 40 degrees Celsius-mark, especially in Rajasthan. The India Meteorological Department (IMD) has predicted another heatwave over the plains by April 3.
"April has just begun but considering the heat, it feels like May-June have arrived," news agency ANI quoted a local as saying in Rajasthan's Jodhpur.
"As per doctors' advice, we are consuming a lot of cool drinks like buttermilk to get through this weather," another local told .
The IMD has already warned that maximum temperatures in most parts of the country will be above normal between April and June. On Tuesday, it sounded a heatwave alert for parts of Telangana for the next three days.
As forecast, summer arrived early across many parts of India this year, as countrywide daytime mercury levels began their annual rise since the very beginning of March 2021. As per the latest outlook, several states—particularly those located in Northwest, West and Central India—will continue to endure warmer-than-normal daytime temperatures in the upcoming three-month period between April and June 2021. The sweltering forecast comes from the India Meteorological Department's (IMD) seasonal outlook for the upcoming summer season.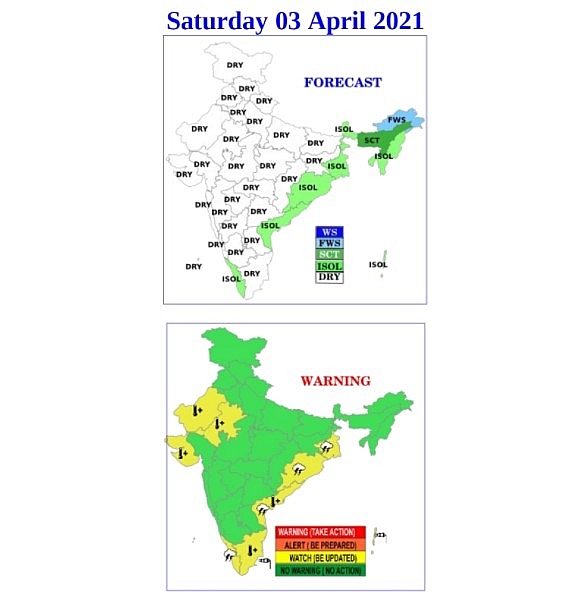 Photo: IMD
5-Day Nationwide Forecast
According to Weather.com, a fresh Western Disturbance (WD) is set to follow the ongoing WD and will affect the Western Himalayan Region on Sunday. It will persist till Thursday and bring rain/snow over northern Jammu & Kashmir and northern Himachal Pradesh. Southern parts of Punjab and Haryana may also be affected at times.
Meanwhile, a cyclonic circulation in Northeastern India is likely to bring moist southerly winds from the Bay of Bengal resulting in widespread rain over Arunachal Pradesh and its adjoining area. It may be accompanied by heavy local downpours, thunderstorms, and gusty winds until Sunday.
Further, due to the presence of a trough, Kerala and its adjoining areas will receive intermittent showers and thunderstorms this weekend and into the next week. Similarly, due to the presence of onshore winds, a spell of showers is likely over coastal Odisha and its adjoining areas this weekend.
Meanwhile, another cyclonic circulation over the Andaman Sea is set to bring heavy rainfall with intense thunderstorms. The system is forecast to proceed in the north-northeastward direction.
As for mercury levels, the maximum temperatures are likely to be below normal along the northern plains until Saturday. Areas with above maximum temperatures of 40°C are expected to widen northward, engulfing southern Haryana and southern Uttar Pradesh in the process.
On the other hand, overnight minimum temperatures will be 4°-8°C warmer than normal across Northern India from Sunday to Tuesday.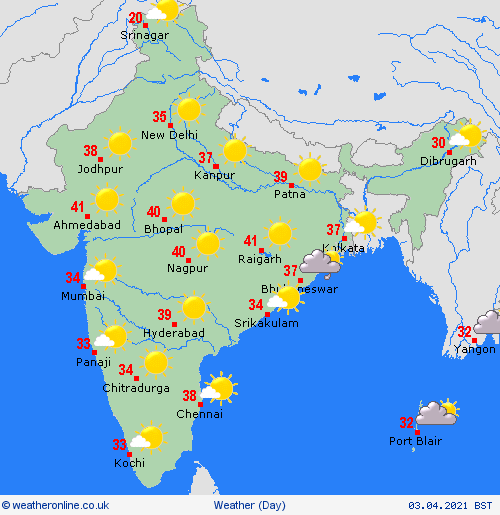 Photo: Weather Online
Regional Forecast
Fairly widespread rain/snow with some heavy spells and thunderstorms are likely across Arunachal Pradesh. Scattered rain and thunderstorms are forecast over Andaman & Nicobar Islands.
Isolated rain and thunderstorms are predicted over Assam, Meghalaya, Nagaland, Manipur, Mizoram, Tripura, West Bengal, Odisha, Andhra Pradesh, Tamil Nadu, and Kerala, while isolated snow/rain and thunderstorms are on the horizon over Ladakh and Sikkim.
Maximum temperatures are likely to be above 40°C in some areas of Northern, Central, Western, Eastern, and Southern India.
India daily weather forecast latest, March 28: Thunderstorms, lightning and hail to cover Jammu, Kashmir, Ladakh, Gilgit, Baltistan & Muzaffarabad

Thunderstorms and lightning are expected over Himachal Pradesh and Uttarakhand, while thunderstorms, lightning and hail are also on the cards over Jammu, Kashmir, Ladakh, Gilgit, ...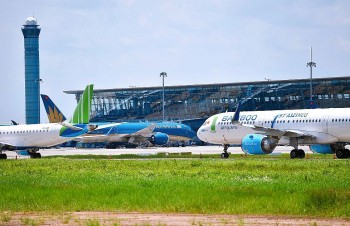 Economy
Vietnam Business & Weather Briefing (August 9): Vietnam's economic growth is expected to reach 7.5% in 2022, new securities accounts hit a near two-year low in July.