India weather forecast latest, December 11: Snowfall to sweep some places with light rain
During the next 24 hours, snowfall accompanied by light rain set to cover some places in Jammu and Kashmir, Gilgit Baltistan, Muzaffarabad and Ladakh.
According to Skymet Weather, a Western Disturbance is over Jammu and Kashmir and adjoining North Himachal Pradesh.
Another Western Disturbance is moving towards North India. The system is currently over northern Afghanistan and adjoining Pakistan. This will impact the hill states of India from December 11.
A cyclonic system is currently active over the southeastern Arabian Sea. A cyclonic circulation lies over the equator in the Indian Ocean and adjoining the Southeast Bay of Bengal.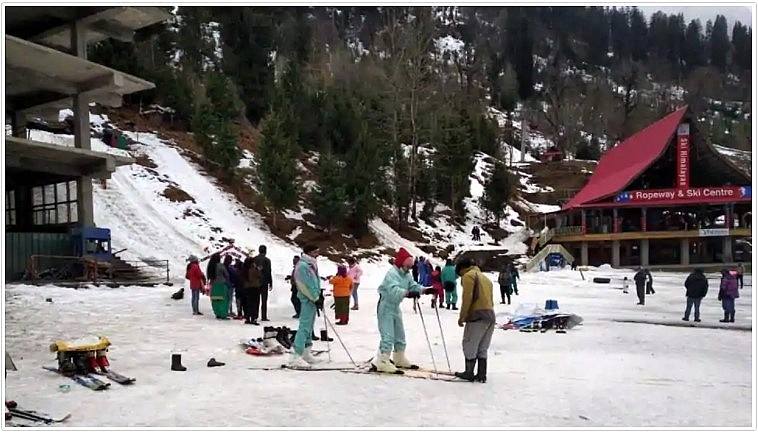 Tourists enjoying winter sports at Solang valley on Wednesday. Traffic between Solang and Atal Tunnel is closed due to fresh snowfall.(HT Photo)
During the next 24 hours, snowfall may occur at some places with light rain in Jammu and Kashmir, Gilgit Baltistan, Muzaffarabad and Ladakh. Some isolated snowfall with light rains in Jammu and Kashmir, Gilgit Baltistan, Muzaffarabad, and Ladakh.
Light to moderate rains and thundershowers are likely over Tamil Nadu, South Interior and Coastal Karnataka, Rayalaseema and parts of South Konkan Goa as well as South Central Maharashtra. In these parts, heavy rain activities can also be seen at some places.
Rain activity will reduce over the Western Himalayas and South Peninsular India. Light rain activities may begin at isolated places over North Konkan and Goa, Gujarat as well as South and South-eastern Rajasthan.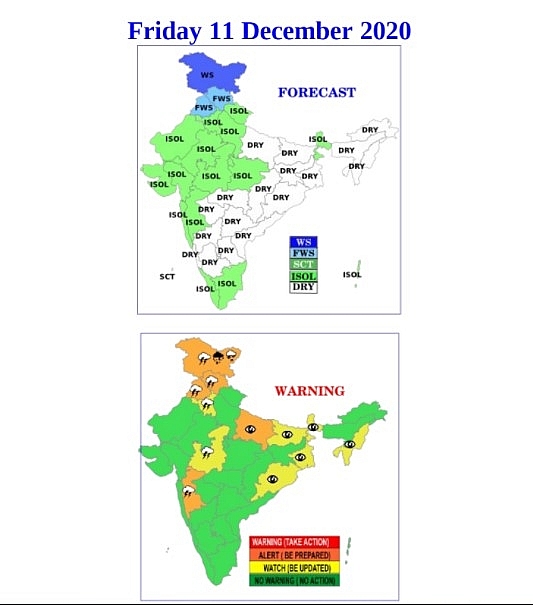 Photo: IMD
The India Meteorological Department (IMD) has forecast light rain in Punjab and Haryana on Friday and Saturday.
"Due to a western disturbance, light rain is expected in the region. The intensity will be more on Friday with chances of moderate rainfall up to 40mm in isolated parts. Light rain of up to 20mm is predicted on Saturday. After the rain, chances of shallow to moderate fog will increase from Sunday. A drop in temperature can also be expected afterwards," an IMD official said in Chandigarh.
The temperature stayed on the higher side in the plains. In Punjab, Ludhiana recorded a minimum of 12.4 degrees, followed by Amritsar at 11.3 degrees and Patiala at 11.2 degrees, Hindustan Times reported.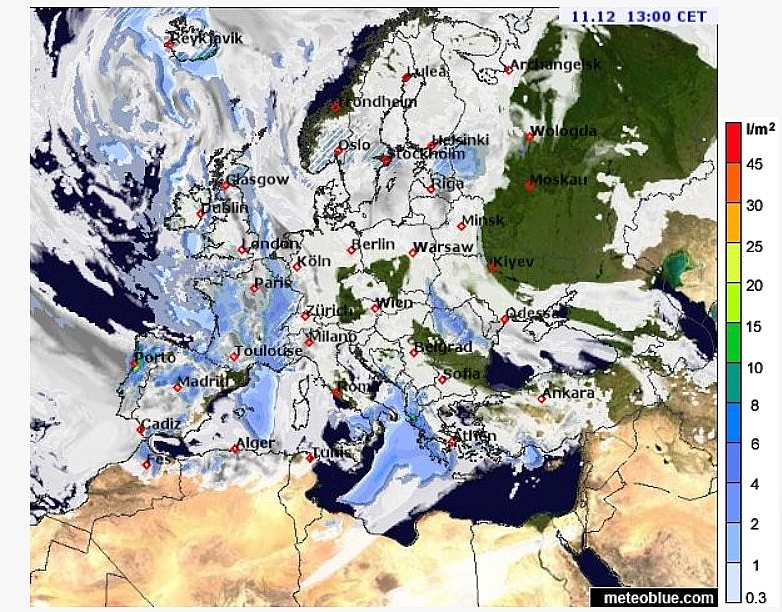 Photo: meteoblue
In Haryana, Narnaul had a minimum temperature of 10 degrees followed by Bhiwani at 9.6 degrees and Ambala at 9.2 degrees. In Chandigarh, the minimum temperature stayed at 10.8 degrees.
Atal Tunnel across Rohtang Pass remained closed for traffic as the higher reaches of Himachal Pradesh received snow and rain for the second consecutive day on Thursday.
Kullu superintendent of police (SP) Gaurav Singh said that the road beyond Solang was closed for traffic due to fresh snowfall and only 4x4 vehicles were allowed to ply on the route. "The road is being cleared and we urge people not to venture these areas until roads are cleared," he said.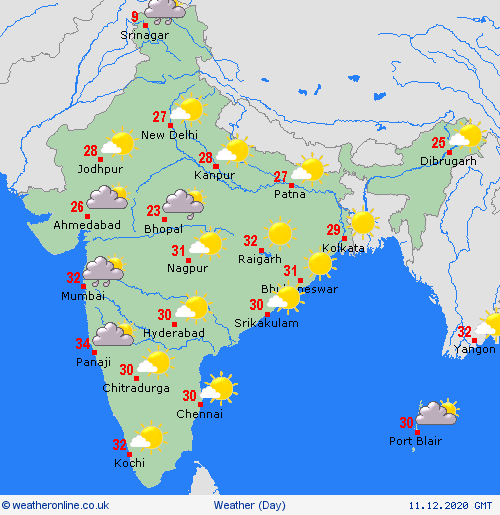 Photo: Weather Online
Keylong, the headquarters of Lahaul-Spiti district, received 15cm of snowfall, while Manali recorded 8mm of rainfall, Dalhousie 7mm, Dharamshala 6.4mm, Kangra 3.1mm and Chamba 2mm of rain.
State meteorological department director Manmohan Singh said that the weather is likely to remain clear at most places in the state on Thursday but heavy snowfall and rainfall is forecast across the state on December 11 and 12. The weather will remain clear from December 14 onwards.