Indian Government sends aid to Vietnamese flood victims
Indian Ambassador Pranay Verma has expressed his sympathy over human and property losses caused by floods in Vietnam's central region.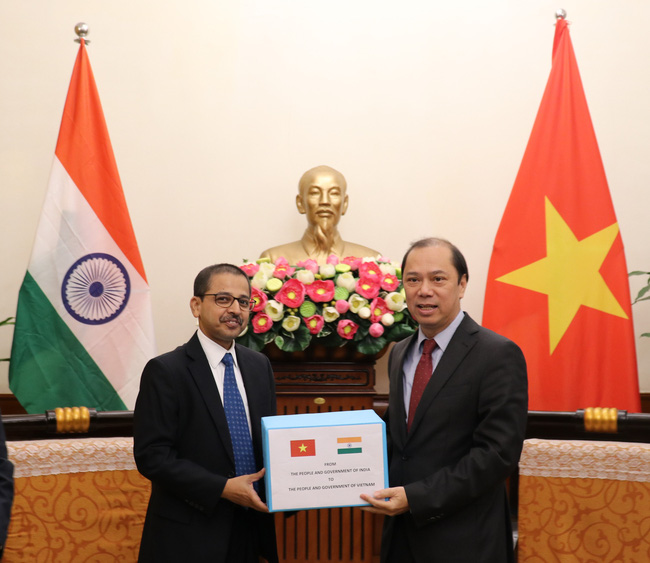 Indian Ambassador Pranay Verma presented symbolically the aid to Deputy Foreign Minister Nguyen Quoc Dung in Hanoi on January 15. Photo: VTV
The ambassador symbolically presented the Indian Government's aid package in support of Vietnamese flood victims to Deputy Minister of Foreign Affairs Nguyen Quoc Dung in Hanoi on January 15.
The gifts, including 3,000 sets of personal goods, are expected to help the flood victims swiftly return to normal activities, he said.
Deputy FM Dung, in reply, thanked the Indian Government and people for the support, saying he believes that that the sharing will further deepen the close relations between the two countries.
At the meeting, the two sides consented to strengthen measures to materialise the outcomes of the virtual talks between the two countries' Prime Ministers on December 21, 2020, while realising the targets and commitments in the Vietnam-India Joint Vision Statement for Peace, Prosperity and People, and the action plan for the implementation of the Vietnam-India comprehensive strategic partnership for 2021-2023.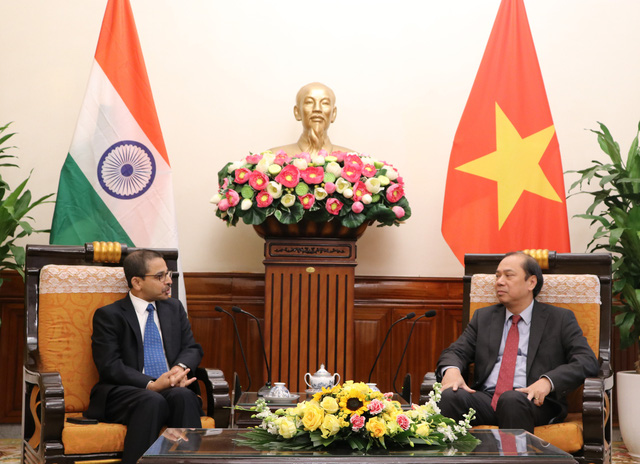 Indian Ambassador Pranay Verma and Deputy Foreign Minister Nguyen Quoc Dung during the January 15 meeting. Photo: VTV
Natural disasters cost Vietnam $1.6 billion in 2020
Natural disasters like storms, floods and drought caused damage worth VND37.4 trillion ($1.6 billion) in 2020, five times last year's losses.
They left 357 people dead or missing compared to 133 last year, according to figures released this week by the Central Steering Committee on Natural Disaster Prevention and Control.
Vietnam was hit by 14 storms and several depressions that triggered heavy flooding and landslides this year.
The central region was hit by historic flooding between late September and mid-November.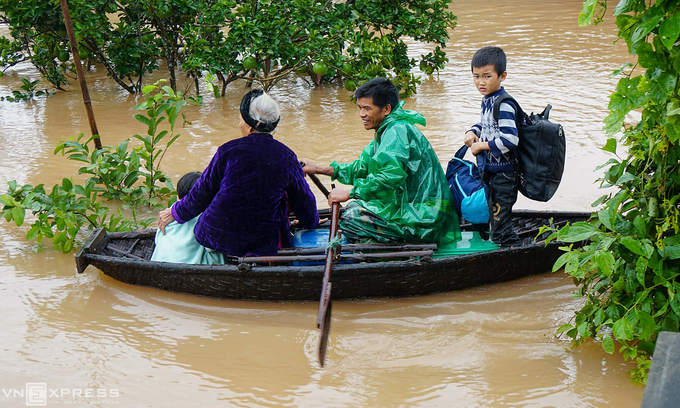 A man rows his boat to evacuate a woman and her grandchildren to safe area in Ha Tinh province amid severe flooding, October 2020. Photo: VnExpress
Its casualties included 35 military officers and men from two different units, who had been on search and rescue missions after landslides hit several districts in the provinces of Thua Thien-Hue and Quang Tri, arguably Vietnam's biggest military loss during peacetime.
Seventeen workers at a hydropower plant in Thua Thien-Hue Province were buried in a landslide on October 12, but only six of their bodies have been found so far.
Later the same month three deadly landslides in mountainous districts in Quang Nam Province killed 18 people.
The government has provided around VND770 billion to the region as emergency relief, VnExpress reported.
International climate scientists plan to study central Vietnam's storm-triggered flooding to determine the role of climate change in the region's extreme weather./.