Indonesia President Joko Widodo: Biography, Personal Profile, Career
Joko Widodo, also known as Jokowi, is an Indonesian politician and businessman who is the 7th and current president of Indonesia.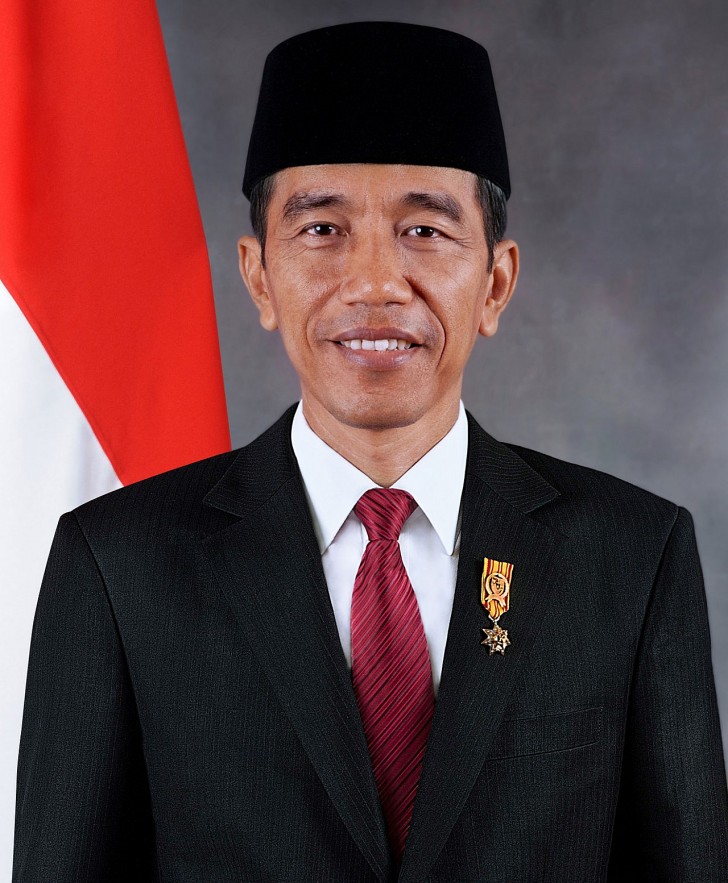 Joko Widodo - president of Indonesia. Photo: Brittanica
Who is Joko Widodo - Biography
Joko Widodo, byname Jokowi, (born June 21, 1961, Surakarta, Central Java, Indonesia), Indonesian businessman, politician, and government official who served as governor of Jakarta (2012–14) and as president of Indonesia (2014– ). Joko Widodo, commonly called Jokowi, who attracted international attention with his populist style of campaigning and his anticorruption platform, became the first Indonesian president who did not have a military background or belong to one of the country's prominent political families. His success at the polls was viewed by many analysts as marking the beginning of a new, more democratic era of Indonesian politics, cited brittanica.
Indonesia President Joko Widodo: Childhood & Early Life
He was born on 21 June 1961 Surakarta, Indonesia, to Noto Mihardjo and Sudjiatmi Notomihardjo. He has three younger sisters. His family lived in illegally built shacks and was often evicted from their dwelling by the government.
He received his primary education from the State Primary School 111, Tirtoyoso, which was a school especially meant for the poorer sections of the society. He also started working in his father's furniture workshop when he was 12 in order to earn money to buy school supplies. In spite of all his difficulties he performed well at school.
After completing his high school he enrolled at the Forestry Faculty of Gadjah Mada University where he studied the structure of wood, its utilization, and its technology. He graduated in 1985, according to thefamouspeople.
For several years he worked for a state-owned pulp mill in the Aceh region of northern Sumatra, and he later established his own furniture factory in Surakarta. By 2002 he had become a highly successful furniture exporter, with showrooms on several continents, as well as chairman of a local branch of the country's influential furniture manufacturers' association.
Indonesia President Joko Widodo: Career
Joko Widodo found a job with BUMN PT Kertas Kraft Aceh and was placed in Pinus merkusii forest plantation at Gayo Highlands. But he was not happy with this job and wanted to start his own business.
He founded his own business under the name of CV Rakabu in 1988. Even though it was initially successful it had to be closed down due to fraud. Not the one to accept defeat so soon, he re-established his business and by 2002 became a very successful furniture exporter. He also served as the chairman of a local branch of the country's influential furniture manufacturers' association.
In 2005, he decided to enter politics and ran for the office of mayor in Surakarta as a member of the Indonesian Democratic Party of Struggle. Initially people viewed him with skepticism as he was primarily a businessman with no political connections.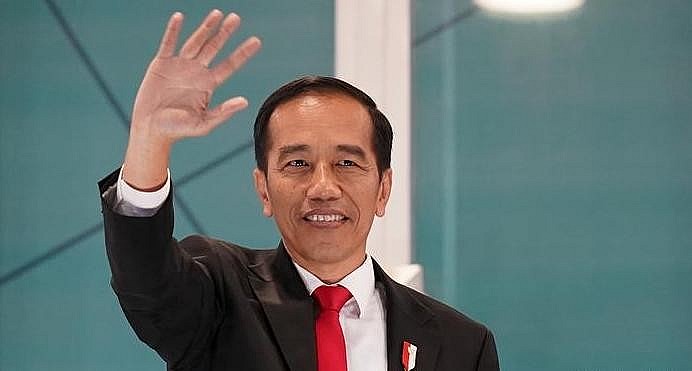 Photo: L.Zhang/Getty Images
He won the elections and soon proved his detractors wrong by initiating many progressive reforms in the city. As the mayor he earned much respect for his progressive reforms and his honesty which distinguished him from other politicians. He developed a rapport with the people as he had risen to this post from an underprivileged background, and thus could connect with people from all sections of the society.
He often visited poor neighborhoods to interact with the people and refused to accept a salary for his public service. This greatly enhanced his reputation as a genuine person who cared about the public. He easily won the re-election in 2010 with over 90 percent of the vote and was made the mayor for a second term.
In 2012 he decided to run for the position of Jakarta's governor. Widodo was contesting the election against the incumbent, Fauzi Bowo, and easily ousted him in the second round of that election. As the governor of Jakarta, he implemented many policies to encourage small industries and focused on improving Jakartans' access to health care and education.
He again proved to be a very efficient leader who empathized with the poor. He regularly visited the poor areas and talked to the people about the problems they faced regarding food prices, access to medical facilities, housing facilities, and infrastructural amenities. He wore simple clothes and followed a simple lifestyle which helped him in connecting with the common man, thefamouspeople reported.
He implemented a universal health care program in Jakarta, based on a Healthy Jakarta Card (Kartu Jakarta Sehat or KJS) which became very popular. He also launched the "Smart Jakarta Card" in order to help poor students by giving them an allowance that can be withdrawn from ATMs in order to buy school supplies.
The leader of the Indonesian Democratic Party of Struggle, Megawati Sukarnoputri chose Joko Widodo to be the presidential candidate of her party in 2014. His mayorship in Surakarta and his governorship in Jakarta had made him highly respected and popular all over Indonesia.
He won the election with more than 53 percent of the popular vote, defeating his opponent Prabowo Subianto. He assumed office on 20 October 2014 as the 7th President of Indonesia.
Widodo is the first Indonesian president who is not from the military or the political elite. As the president, he is focusing on curbing the corruption in Indonesian administration and is taking steps to attract more foreign direct investment to the country. He has also implemented land reforms, improved public services, and initiated healthcare and educational programs.
Indonesia President Joko Widodo: Personal Life
Joko Widodo, or Jokowi married his wife Iriana in 1986. The couple has two sons and one daughter. Their first son, Gibran Rakabuming Raka (born 1 October 1987), studied abroad in Sydney and Singapore (at the Management Development Institute of Singapore, MDIS) and currently runs a catering and wedding-planning business in Surakarta.
Indonesia President Joko Widodo: Interesting Facts
Not many people know that the name Mulyono is Jokowi's first name in the past. Generally, among Javanese families, giving a small name is commonplace.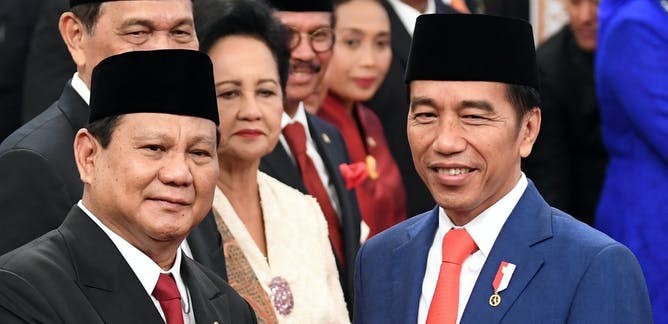 Joko Widodo (right). Photo: theconversation
From a young age, he used to work. At the age of 12, little Jokowi worked at a sawmill. He learned from his father, who was known as a skilled wood craftsman, Noto Mihardjo, cited Voi.
He has never tasted defeat. Jokowi can be said to have had enormous luck, during the five political contestations he had progressed in the regional election or the presidential election, he never even tasted defeat. Two elections for the Mayor of Solo, one in the Pilkada of DKI Jakarta, and twice in the 2014 and 2019 Presidential Elections.
Winning the hearts of the Gorontalo public. Even though Sandiaga Uno who was on the opposing side had Gorontalo blood, in the 2019 presidential election, the Jokowi-Ma'ruf pair managed to win the vote in the Mekaran province of Southeast Sulawesi.
Indonesia President Joko Widodo: Awards & Achievements
Joko Widodo was honored with the Bintang Jalasena Utama, 1st Class ("Navy Meritorious Service Star") in 2011 by the Government of Indonesia.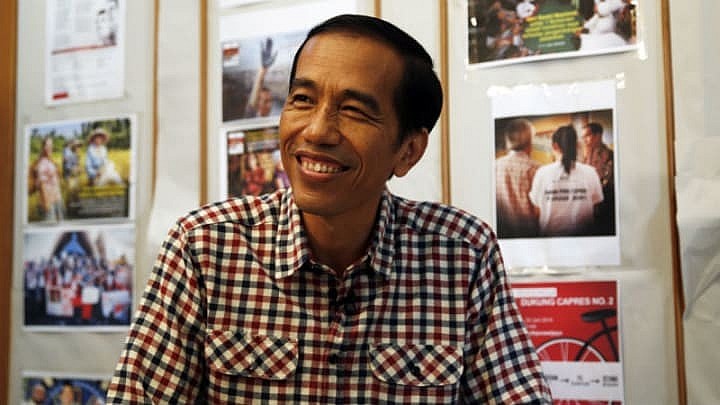 Indonesian President Joko "Jokowi" Widodo. Photo: Reuters
He was honored with the 1st Class "Star of the Republic of Indonesia" (BRI), Bintang Republik Indonesia Adipurna in 2014.
He was once ranked as the third best mayor in the world by the international City Mayors Foundation, cited thefamouspeople.
Indonesia President's role
The president leads the executive branch of the Indonesian government and is the commander-in-chief of the Indonesian National Armed Forces. Since 2004, the president and vice president are directly elected to a five-year term, once renewable, allowing for a maximum of 10 years in office.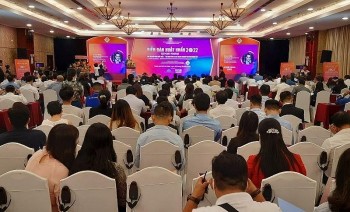 Focus
Vietnam News Today (Dec. 9): Vietnam - Singapore innovation centre helps firms transform production; HCM City among most searched destinations by travelers; Vietnamese digital technology industry's revenue estimated at 148 billion USD in 2022; Two Vietnamese films up for consideration at Oscars.