Indonesian Ambassador honoured with VUFO's peace and friendship insignia
Indonesian Ambassador to Vietnam, Ibnu Hadi received the "For peace and friendship among nations" insignia awarded by the Vietnam Union of Friendship Organization (VUFO). The medal was awarded directly by VUFO President Nguyen Phuong Nga, at the VUFO headquarters in Hanoi on November 24.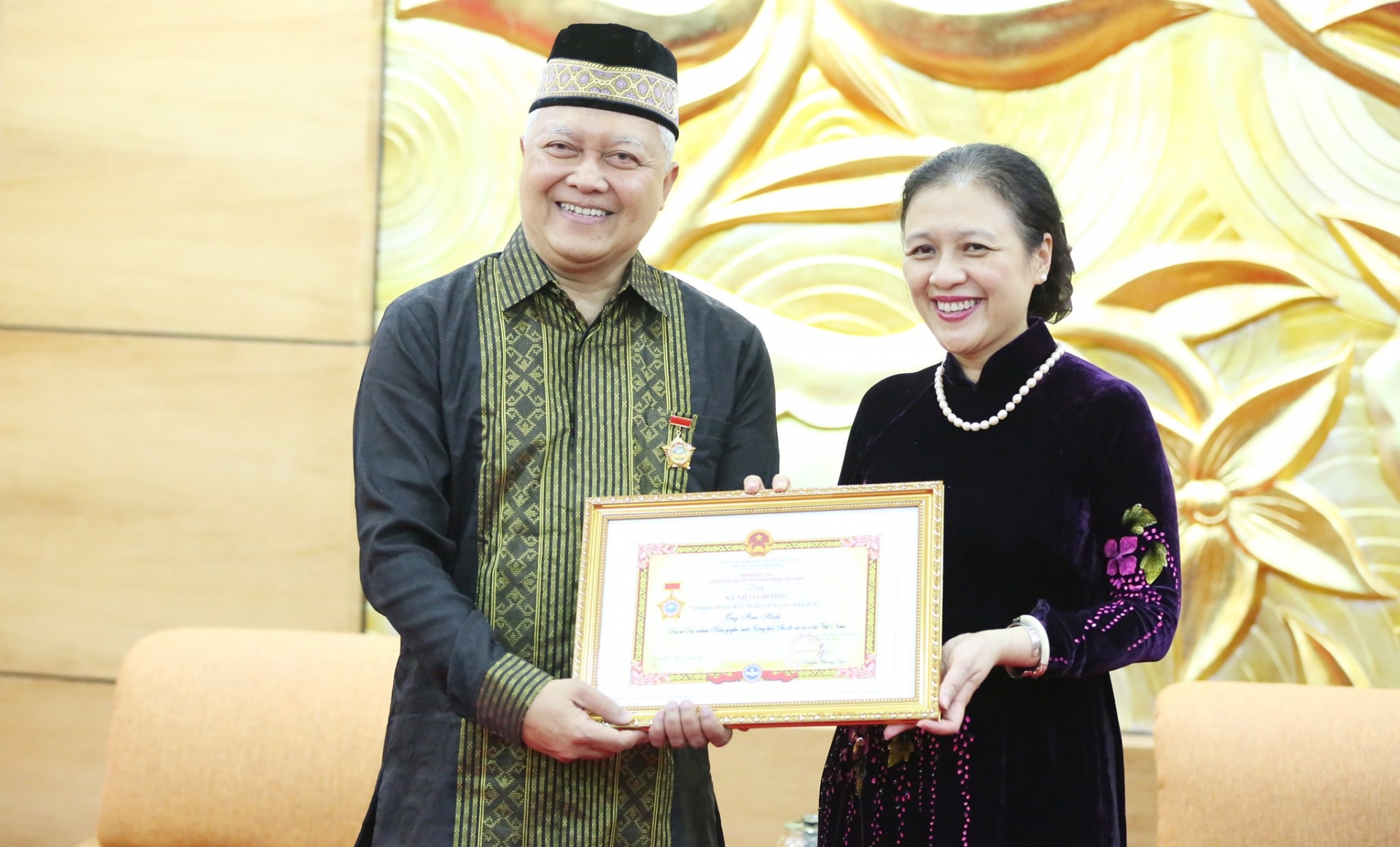 Nguyen Phuong Nga (R), President of the Vietnam Union of Friendship Organizations (VUFO), presents the "For peace and friendship among nations" insignia to outgoing Indonesian Ambassador to Vietnam Ibnu Hadi. Photo: VNT
The insignia was in recognition of the ambassador's contributions to strengthening and strengthening the friendly and cooperative relations between the two countries.
The award ceremony also marked the attendance of Chairman of the Vietnam - Indonesia Friendship Association Nguyen Dang Tien.
Speaking at the ceremony, Nga stated that this award was given for the active and tireless efforts of Ambassador Ibnu Hadi to promote cordial cooperation between Vietnam and Indonesia, including in building and fostering friendly relations between the people of the two countries.
"I am very impressed with various activities carried out by Ambassador Ibnu Hadi and the Indonesian Embassy in Hanoi in multiple fields to promote friendship between the two nations," said Nga in her remarks.
"Ambassador Ibnu Hadi is one of the most active ambassadors in Vietnam who organizes various diplomatic activities and participates in many activities organized by VUFO and other parties in Vietnam," she added.
He was also active in promoting trade and economic relations between Vietnamese firms and their Indonesian peers and in implementing humanitarian projects in many Vietnamese provinces and cities, VUFO President said.
Ambassador Ibnu Hadi expressed his gratitude for the noble award given to him, saying the last year of his assignment in Vietnam was even more special because it coincided with Vietnam's Chairmanship in ASEAN 2020 and the 65th anniversary of diplomatic relations between Indonesia and Vietnam (December 30, 1955 - 2020).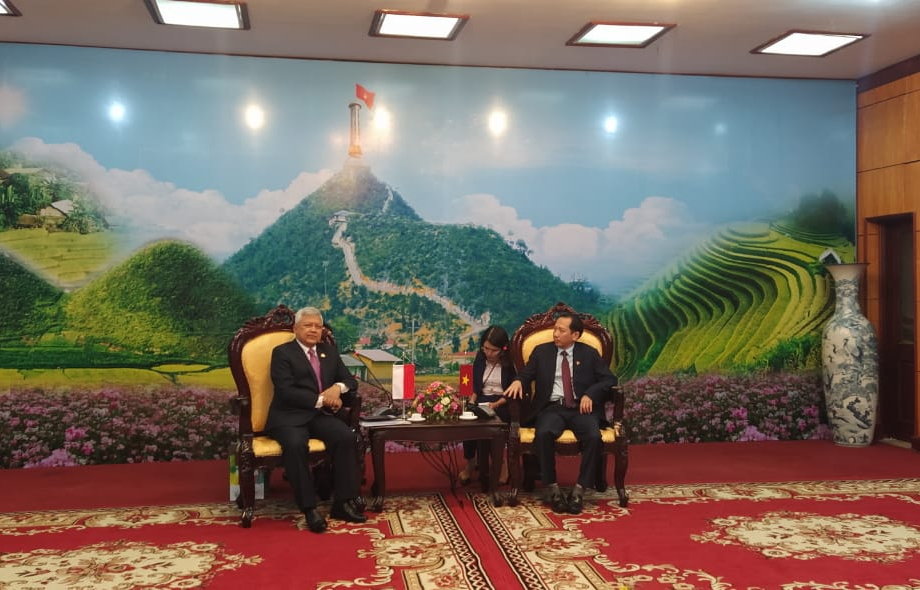 On November 5, Vice Chairman of Ha Giang People's Committee, Mr. Tran Duc Quy, received the courtesy call of Indonesian Ambassador to Vietnam, Ibnu Hadi.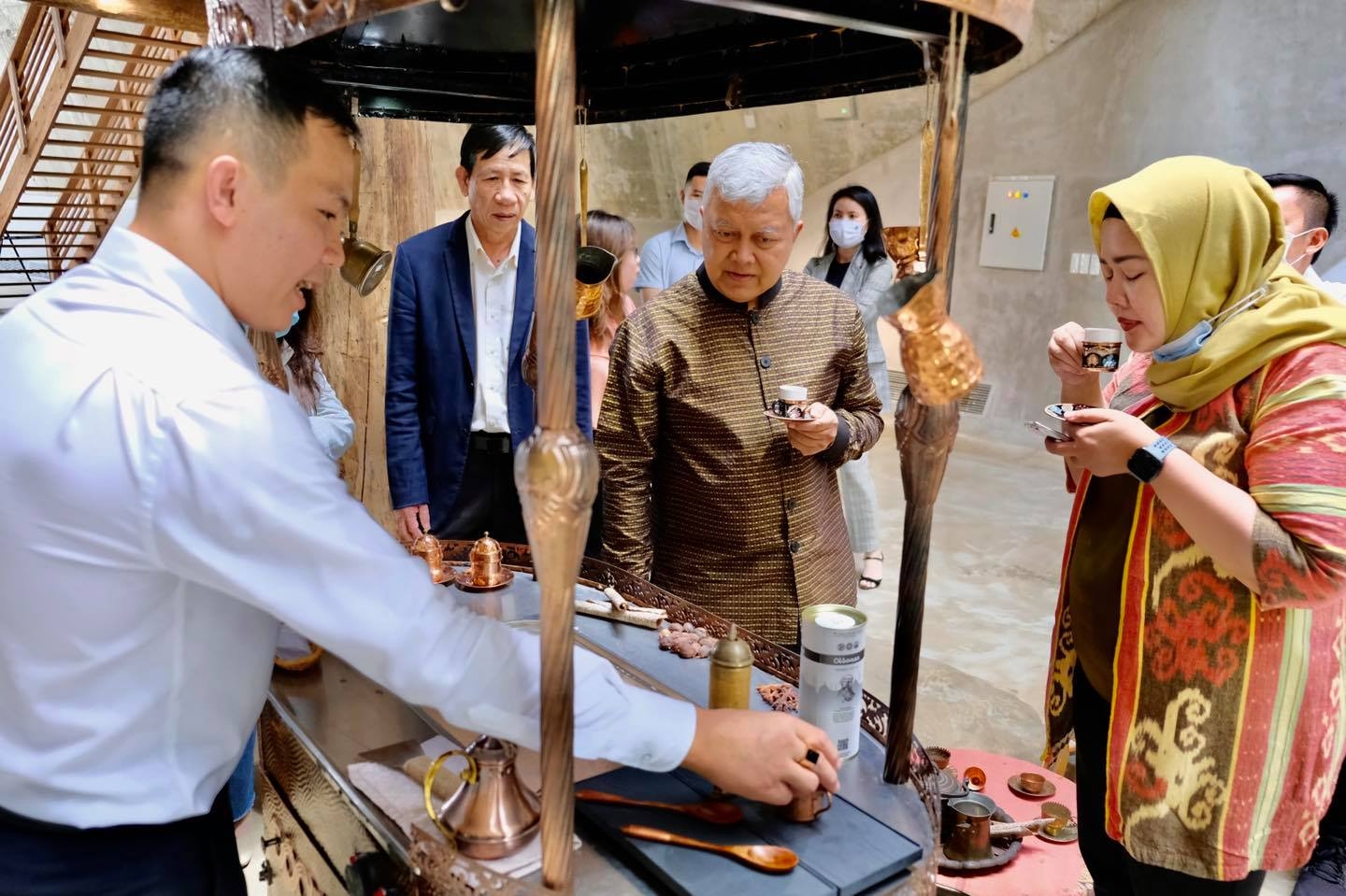 Indonesian Ambassador Ibnu Hadi and delegation visit the World Coffee Museum in the central highlands' city of Buon Ma Thuot, Dak Lak province.
In the last four and a half years, bilateral cooperation between Indonesia and Vietnam in the fields of politics, trade, investment, socio-culture, and people-to-people relations have seen remarkable developments.
He hailed Vietnam's ASEAN chair role despite COVID-19 and expressed his belief in Vietnam – Indonesia economic ties.
"Although this year we could not reach the total trade target of USD 10 billion due to the impact of the pandemic, in the first nine months of 2020, bilateral trade between Indonesia and Vietnam had reached USD 5.73 billion. I am sure that during the economic recovery, the two countries will be able to achieve this target," he said.
Ibnu Hadi pledged to make further contribution to the friendship and collaboration between the two peoples in any posts he is going to take in the future./.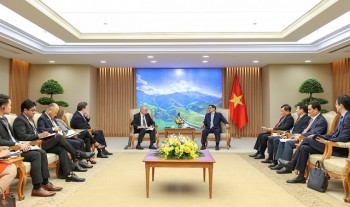 National
Vietnam News Today (Dec. 6): Vietnam records 427 new Covid-19 cases on December 5; PM hosts USABC, US corporation leaders in Hanoi; Proper investment needed to develop night-time economy; Vietnam welcomes New Zealand investors for win-win partnership.