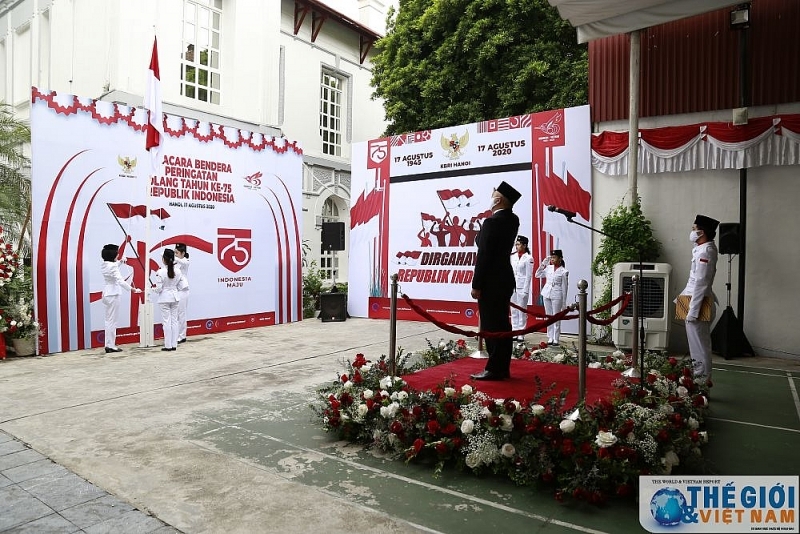 At the event. Photo: TGVN
Speaking at the ceremony, Indonesian Ambassador Ibnu Hadi said 2020 marks the 65th anniversary of the diplomatic ties between the two countries (December 30, 1955 - 2020). As strategic partners, Indonesia and Vietnam have together built the strategic partnership in across fields such as economy, trade, investment, politics and security, as well as cultural and social links and people-to-people exchange.
Vietnam and Indonesia set up diplomatic relations on December 30, 1955, but the year 1990 marked the start of a new period in bilateral ties with the historic visit of President Suharto to Vietnam in November that year.
New milestones in bilateral ties included the signing of the "Framework of Friendly and Comprehensive Partnership Entering the 21st Century" and the Agreement on the Delimitation of Continental Shelf in June 2003 during President Megawati Soekarno's visit and the official establishment of their strategic partnership during the then President Truong Tan Sang's state visit to Indonesia in 2013.
Particularly, the visit to Indonesia by Party General Secretary Nguyen Phu Trong, the first by a General Secretary of the Communist Party of Vietnam to Indonesia, in August 2017 and the first Vietnam visit by Indonesian President Joko Widodo in September 2018 opened new chapter in bilateral relations.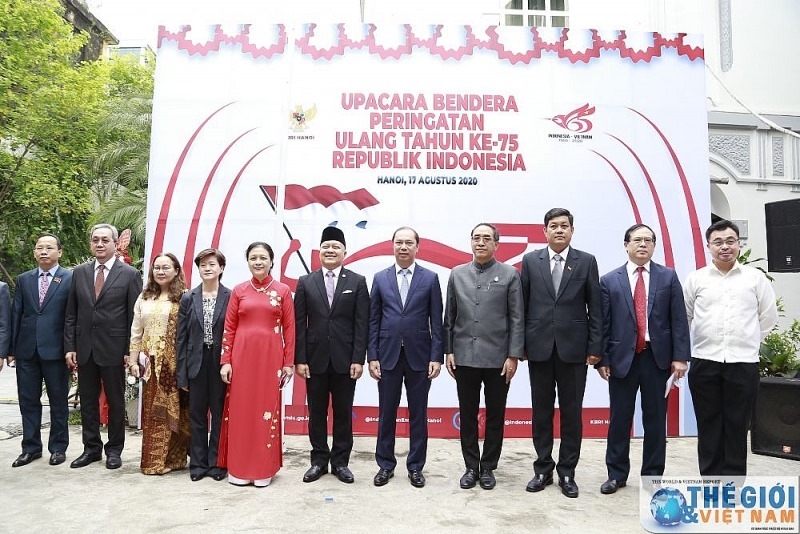 Delegates pose for a group photo. Photo: TGVN
In 2019 alone, the two countries organized 27 military exchanges and held activities to mark the 60th anniversary of President Ho Chi Minh's visit to Indonesia and President Sukarno's trip to Vietnam.
Vietnam and Indonesia have worked to boost economic, trade and investment relations, with two-way trade rising from USD 8.4 billion in 2018 to USD 9.1 billion in 2019. Two countries aim to achieve the target of USD 10 billion in import-export revenue in 2020.
Ambassador Ibnu Hadi expressed his wish that the two countries' ties will be further strengthened, creating benefits for the two peoples.
For his part, Deputy Foreign Minister Nguyen Quoc Dung highlighted the good relations between Vietnam and Indonesia over the past 65 years, while expressing his belief that the two sides will join efforts to deepen the strategic partnership, and together with other ASEAN members, strive for a prosperous and united ASEAN community./.
Hannah Nguyen