Indonesian navy exercises after refusing to negotiate with China over Bien Dong Sea
Indonesian navy is conducting a major naval exercise in the Java Sea and Bien Dong Sea (South China Sea) with the participation of many warships and aircrafts.
According to Youngster (thanhnien), the Indonesian Navy's Western Fleet held an exercise in the Java Sea on Wednesday as part of a series of drills by Southeast Asia's largest nation that began on July 18 and are scheduled to conclude Sunday, naval officials said. These will include an amphibious warfare exercise on the beach at Singkep, an island in Indonesia's Riau chain in the Bien Dong Sea, they said.
The program includes sea battle simulations and 2,000 personnel, 26 warships, 19 aircraft and 18 marine combat vehicles are taking part in the drills, Naval Fleet Command I spokesman Lt. Col. Fajar Tri Rohadi said.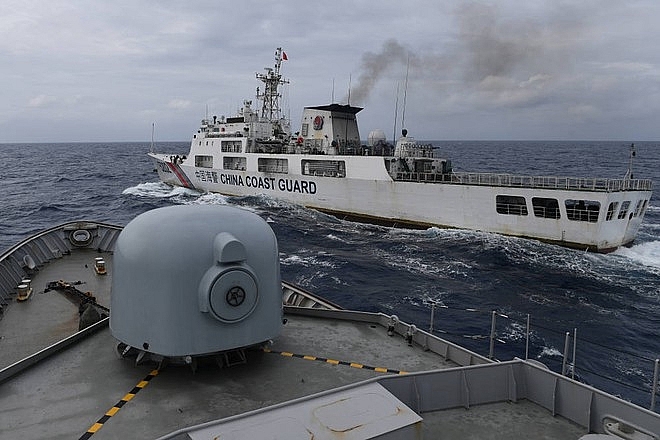 A Chinese coast guard ship is seen from an Indonesian Navy ship during a patrol in waters of Indonesia's exclusive economic zone north of Natuna Island in the South China Sea, Jan. 11, 2020.
"At the fleet level, this is the most complex exercise, because there will be more exercises involving all naval units," Fajar said on July 22. He also said that the day's drills in the Java Sea included damage control activities, communications, simulations of anti-submarine and surface warfare.
"The exercises were designed to be just like real operations," Naval Fleet I chief Rear Adm. Ahmadi Heri Purwono said.
Sending a mesage through naval exercises
Beni Sukadis, a military observer at the Indonesian Institute for Defense and Strategic Studies, said the drills are part of the country's efforts to assert its maritime sovereignty.
"Even though we don't have many warships, we are showing that we have the determination to assert our sovereignty," he said.
"In terms of capacity building and professionalism, routine exercises are necessary. It can be once or twice a year. It sends a message that the Navy is trying to improve its capacity," he added.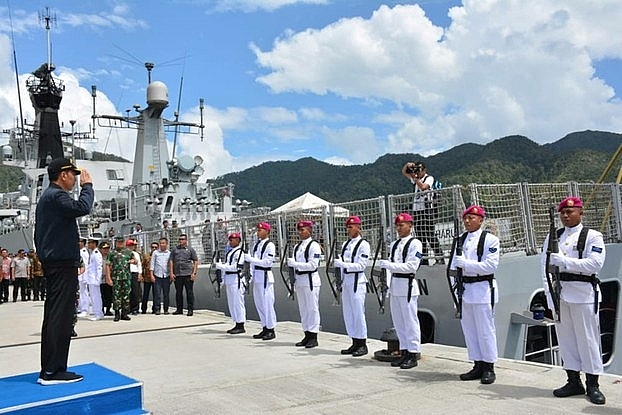 Indonesian President Joko Widodo visits a military base at Natuna, Indonesia, near the South China Sea, Jan. 9, 2020.
According to the Global Power Fire (GFP) 2019 report, Indonesia's navy has 282 ships in its fleet, including seven frigates, 24 corvettes, five submarines and 156 patrol vessels. However, the Indonesian Navy has no aircraft carriers.
In mid-2019, the military branch conducted a month-long exercise involving 8,493 personnel in the Java Sea.
'No reason to negotiate' with China on Bien Dong Sea
The Indonesian foreign minister said on June 18 that there was "no reason to negotiate" as she reaffirmed Jakarta's stance that it has no overlapping claims with Beijing in Bien Dong Sea, days after Indonesia sent the U.N. chief another letter on the topic.
The diplomatic letter to United Nations Secretary-General António Guterres, dated June 12, was in response to one submitted by China to the U.N. chief 10 days earlier. In its letter, Beijing had invited Jakarta to negotiate what it called "overlapping claims of maritime rights and interests" in the contested sea region.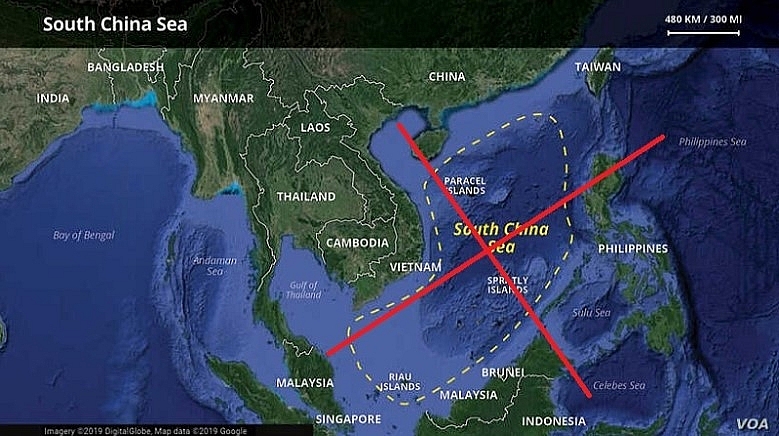 China's claims in the South China Sea trigger protest among regional countries. Image: VOA
"Indonesia's position is very clear that … based on UNCLOS 1982 there are no overlapping claims with China. Therefore, there is no reason to negotiate," Minister of Foreign Affairs Retno Marsudi said during a press conference in Jakarta, referring to the United Nations Convention on the Law of the Sea.
In its latest letter to Guterres, Indonesia stated that features in the Spratly Islands – a chain in Bien Dong Sea – were not entitled to an exclusive economic zone (EEZ) or continental shelf and therefore could not overlap with Indonesia's EEZ or continental shelf.
Indonesian President Joko "Jokowi" Widodo (center) speaks to journalists during his visit to a military base in the Natuna Islands, Jan. 8, 2020. Photo: AFP.
It also rejected China's claim of historic rights in parts of the sea that do overlap Indonesia's EEZ and said that even if any such rights existed, they had been superseded by provisions in UNCLOS 1982.
Indonesia "sees no legal reasoning under international law, particularly UNCLOS 1982, to conduct negotiation on maritime boundaries delimitation with the People's Republic of China or on any other matters pertaining to maritime rights or interests' claims made in contravention to international law," the letter said.
Expressing persistent objection to China's falsehoods
Beijing's letter calling for a negotiation, dated June 2, was responding to a first diplomatic note sent by Indonesia to the U.N. secretary-general on May 26, in which Jakarta rejected China's Nine-Dash Line map or claim of historical rights to nearly all of the strategic waterway, Benarnews reported.
"There is no territorial dispute between China and Indonesia in the South China Sea (Bien Dong Sea). However, China and Indonesia have overlapping claims on maritime rights and interests in some parts of the South China Sea," China's permanent mission to the United Nations said in its letter.
"China is willing to settle the overlapping claims through negotiation and consultation with Indonesia, and work together with Indonesia to maintain peace and stability in Bien Dong Sea," the letter said.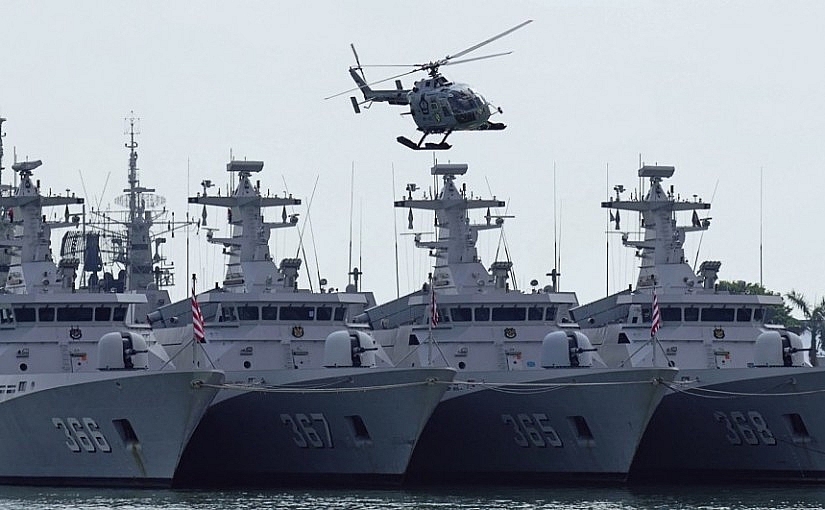 Photo: Global Indonesian Voices / Indonesian Navy Warships
An expert on international relations at Gadjah Mada University, I Made Andi Arsana, said it was important for Indonesia to persist with its objection to China's claims.
"It must be done continuously because that is also what China is doing with their claims," he told BenarNews.
"Falsehoods that are repeated enough times without objections can seem like truth," he said.
Indonesia is not a claimant in the South China Sea dispute, which involves the Philippines, Malaysia, Brunei and Vietnam – all fellow members of the ASEAN – along with China and Taiwan.
But in 2016 and late 2019, tensions flared between Jakarta and Beijing over the presence of Chinese fishing boats swarming in Bien Dong Sea waters near Indonesia's Natuna Islands, which are located in Riau Islands province.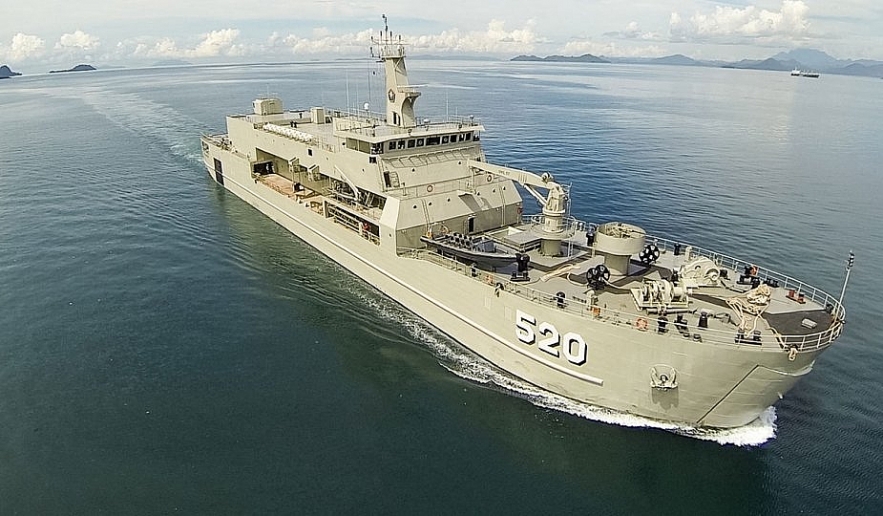 KRI Teluk Bintuni, the first Landing Ship Tank (LST) of the Teluk Bintuni-class during its sea trials (Picture Source: PT Daya Radar Utama)
Indonesia has declined China's invitation to hold talks on what Beijing called "overlapping claims of maritime rights and interests" in waters off the Natunas, which lie in the southern reaches of the Bien Dong Sea.
Beijing claims historic and fishing rights in parts of the sea that overlap Indonesia's exclusive economic zone (EEZ) but Indonesia rejects this.
In recent days, apart from its public denunciation of Beijing's claims and actions in Bien Dong Sea, the US has also carried out a series of actions targeting China, including sanctions over China's imposition of harsh security laws in Hong Kong and over human rights abuses against Muslim Uyghurs in Xinjiang.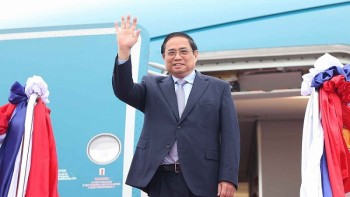 National
Vietnam News Today (Feb. 6): PM Chinh to pay official visits to Singapore, Brunei; Vietnam attends ASEAN+3 Tourism Ministers Meeting; Exports in 2023 and high demands from new generation FTAs; Digital technology to spearhead Vietnam's drive for Industry 4.0.