US Navy destroyer sails near the Truong Sa (Spratly) Islands
The US Department of Defense's news outlet DIVDS on July 14 has posted photos informing that the US destroyer USS Ralph Johnson is sailing near the Truong Sa (Spratly) Island.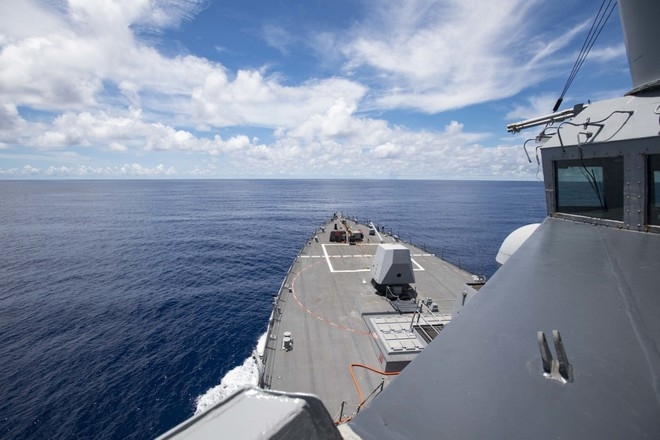 The USS Ralph Johnson sailing near the Spratly Islands (Photo: DVIDS)
The USS Ralph Johnson is deployed to conduct maritime security operations and theater security cooperation fof a free and open Indo-Pacific region. DVIDS does not specify which entity within the Truong Sa (Spratly) Islands the USS Ralph Johnson is operating nearby.
"This freedom of navigation operation upheld the rights, freedoms, and lawful uses of the sea recognized in international law by challenging the restrictions on innocent passage imposed by China, Vietnam and Taiwan," the Navy said in a statement.
"Unlawful and sweeping maritime claims in the South China Sea pose a serious threat to the freedom of the seas," the military branch added.
The information was disclosed after the US Department of State declared "its position on maritime claims in the South China Sea" on July 14.
Accordingly, the US Secretary of State Mike Pompeo announced a formal rejection of "most" of China's "unlawful maritime claims" in the South China Sea, the latest in the escalation between Washington and Beijing.
The top US diplomat asserted that "Beijing's claims to offshore resources across most of the South China Sea are completely unlawful, as is its campaign of bullying to control them", CNN quoted.
"The world will not allow Beijing to treat the South China Sea as its maritime empire. America stands with our Southeast Asian allies and partners in protecting their sovereign rights to offshore resources, consistent with their rights and obligations under international law," Pompeo said in a lengthy statement.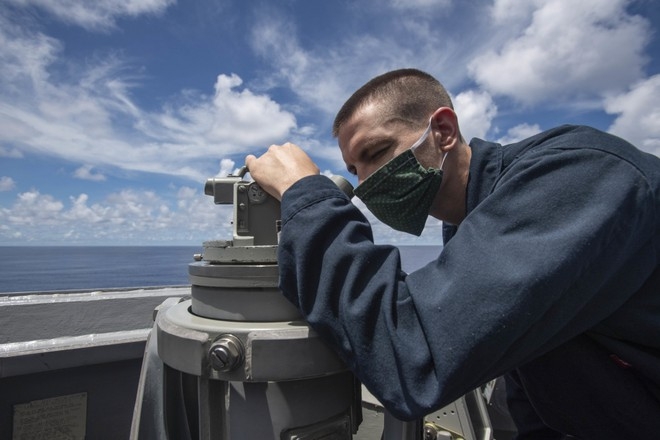 A sailor spotted on the USS Ralph Johnson while sailing near the (Truong Sa) Spratly Islands on July 14 (Photo: DVIDS)
Late Monday, the Chinese Embassy in Washington had harsh words for Pompeo's announcement, calling the accusations "completely unjustified."
The US "distorts the facts and international law, exaggerates the situation in the region and attempts to sow discord between China and other littoral countries," the Chinese Embassy said in a statement, at the same time accused Washington of "stirring up tension and inciting confrontation" in a region where it is not directly involved in the disputes.
Earlier on April 29, the U.S. Navy Ticonderoga-class guided-missile cruiser USS Bunker Hill (CG 52) also sailed near the Spratly Islands. In the statement, the 7th Fleet did not specify which entity the Bunker Hill passed by.