Int'l media: Trump's treatment measures suggests severe COVID-19
Trump's physician Dr. Sean Conley gave an update about his health conditions while many of the measures cited by the president'ss doctors are reserved for patients severely affected by the coronavirus.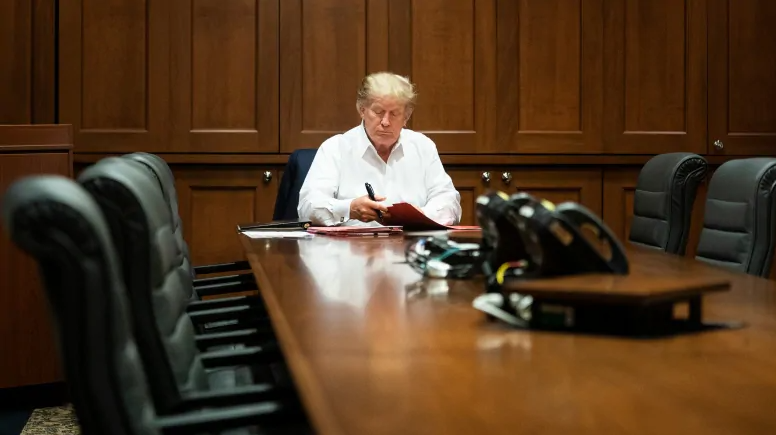 Trump is being treated for COVID-19 at Walter Reed National Military Medical Center in Bethesda. (Photo: White House)
U.S. President Donald Trump went through a "very concerning" period Friday and faces a "critical" next two days in his fight against COVID-19 at a military hospital, his chief of staff said Saturday. While sounding winded, the president said he was beginning to feel better and hoped to "be back soon."
However, according to international press, Trump's health condition reports and information send mixed concerns.
Associated Press: Officials reports underlined concern on Trump's health
According to The Associated Press, Trump is 74 years old and clinically obese, putting him at a higher risk of serious complications from a virus that has infected more than seven million people and killed more than 200,000 people in the U.S.
The press quoted the chief of staff Mark Meadows, who told reporters outside the hospital that "We're still not on a clear path yet to a full recovery." Saturday's briefing by Conley and other doctors raised more questions than it answered as Conley repeatedly refused to say whether the president ever needed supplemental oxygen, despite repeated questioning, and declined to discuss exactly when he fell ill. But according to the person familiar with Trump's condition, the president was administered oxygen at the White House on Friday before he was transported to the military hospital. The person was not authorized to speak publicly and spoke to The Associated Press on condition of anonymity.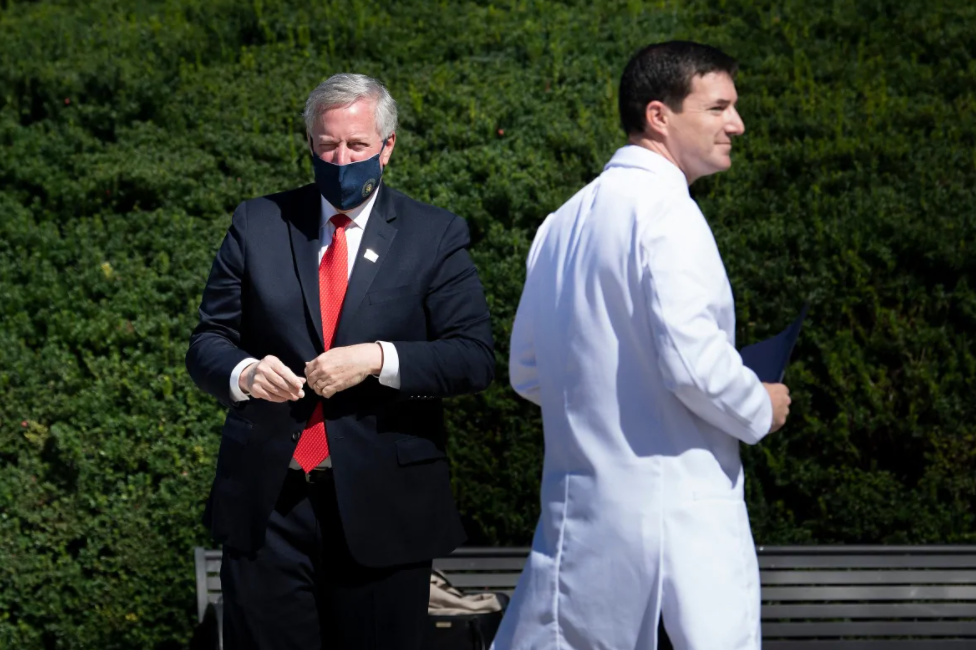 White House Chief of Staff Mark Meadows, left, and Dr. Sean Conley, physician to Trump, are seen after briefing reporters outside the hospital Saturday. (Photo: CBC)
NY Times: Trump's treatment suggests severe Covid-19
In photos and videos released by the White House, there is hardly any sign that Mr. Trump is sick. But at a news conference at the Walter Reed National Military Medical Center in Bethesda, Md., Mr. Trump's doctors said his oxygen levels had dropped to a level that can indicate that a patient's lungs are compromised. The symptom is seen in many patients with severe Covid-19, NY Times cited.
The press quoted several doctors and medical experts, who said that the drug given to Trump is normally not used unless the patient's condition seems to be deteriorating. Mr. Trump had a "high fever" on Friday, and there were two occasions when his blood oxygen levels dropped, his doctors said — on Friday and again on Saturday. The president's oxygen saturation level was 93 percent at one point, his doctors said, below the 95 percent that is considered the lower limit of the normal range.
Uncertainty over the president's condition stemmed at least in part from earlier mixed signals from the president's physicians. The president's physicians also have not described in detail the results of imaging scans of Mr. Trump's lungs, or of blood tests indicating whether he is at risk for blood clots, a common complication in Covid-19 disease.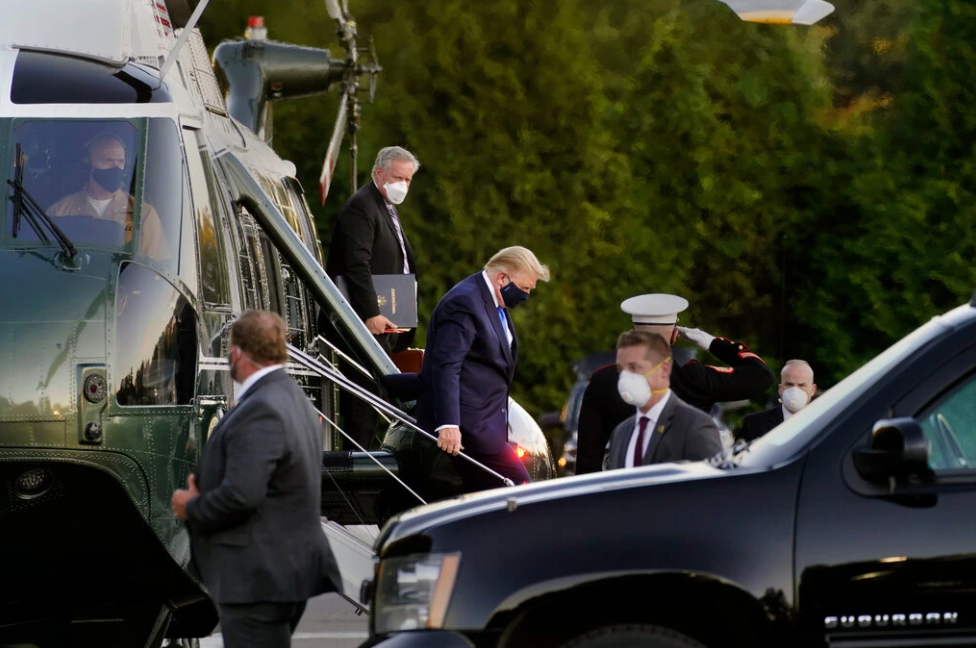 President Trump arrived on Friday at Walter Reed National Military Medical Center in Bethesda, Md., for treatment of Covid-19. (Photo: NYT)
CNN: Trump's photo raises new questions about how seriously he takes the virus
In the midst of an aggressive course of treatment for coronavirus, President Donald Trump left the hospital with his security detail Sunday so he could ride in an SUV past supporters cheering him on outside Walter Reed National Military Medical Center.
In an article commenting on Trump's trip on Sunday, CNN said: "The short trip, where Trump waved to his supporters through the window while wearing a mask in the back of his SUV, was an attempted show of strength that displayed the President's questionable judgment, his willingness to endanger his staff and the fact that he still does not seem to comprehend the seriousness of a highly contagious and deadly disease."
On Saturday evening, Conley followed up with another memo saying Trump "remains fever-free and off supplemental oxygen with a saturation level between 96% and 98% all day," which is within the normal range for blood oxygen levels. That statement now appears to conflict with the information Conley revealed Sunday morning when he described the drop in the President's oxygen level to 93% on Saturday, though Conley did not specify what time that happened.
Photos of Trump's unannounced ride posted by Getty Images show a Secret Service agent in the front row wearing a full medical gown, respirator mask and a clear face shield, CNN cited, stating that Trump's health condition and this COVID policy is "a crisis in leadership".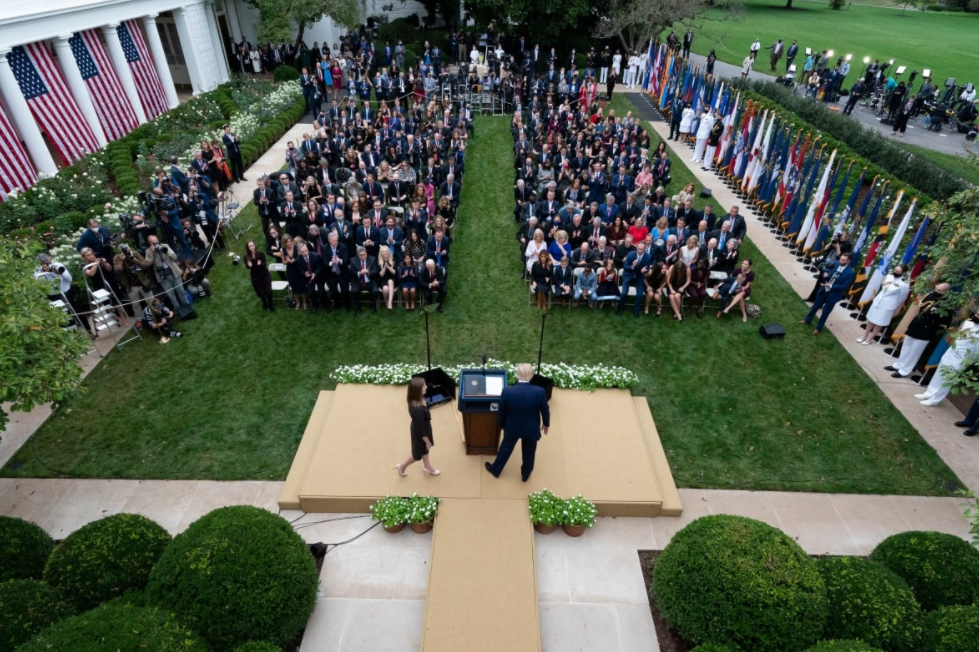 Trump gathered more than 150 people in the Rose Garden on Sept. 26, where they mingled, hugged and shook hands — overwhelmingly without masks. (Photo: AP)
Fox News: Trump could return to White House 'as early as tomorrow' if conditions continue to improve
Despite other press' concerns, Fox News painted a bright scenario about the President's health as it quoted his doctor on Sunday: "If he continues to look and feel as well as he does today, our hope is that we can plan for discharge as early as tomorrow (Monday) to the White House where he can continue his treatment course."
The news quoted a White House official, who said: "He's (President Trump) made unbelievable improvements from yesterday morning." Trump campaign senior adviser Steve Cortes added: "This president is going to recover, we are highly confident of that."
However, Fox News' journalist Chris Wallace said in his Sunday's interview: "We all hope that that's what his condition is and that's what the prognosis is, but forgive us, and I say the public in general, for being a little confused, because there were very mixed messages. That's the message to the doctors delivered, but again, Mark Meadows, on background, said the president is still not on a clear path to a full recovery." In response, the interviewee - Trump campaign senior advisor Steve Cortes said "If the patient and the doctor say things are great and you hear from both of them and see both of them, to me, that is sort of case closed, really."
New coronavirus update of Trump's diagnosis

Some answers emerged Saturday on President Donald Trump's condition as he battles the coronavirus, but Trump's medical team withheld some key information in their first ...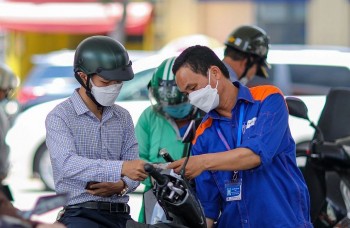 Economy
Vietnam Business & Weather Briefing (Oct 2): Binh Duong lures foreign investors with special care, the North and Central regions continue to have heavy rains, leading to the risk of flooding, flash floods, and landslides.