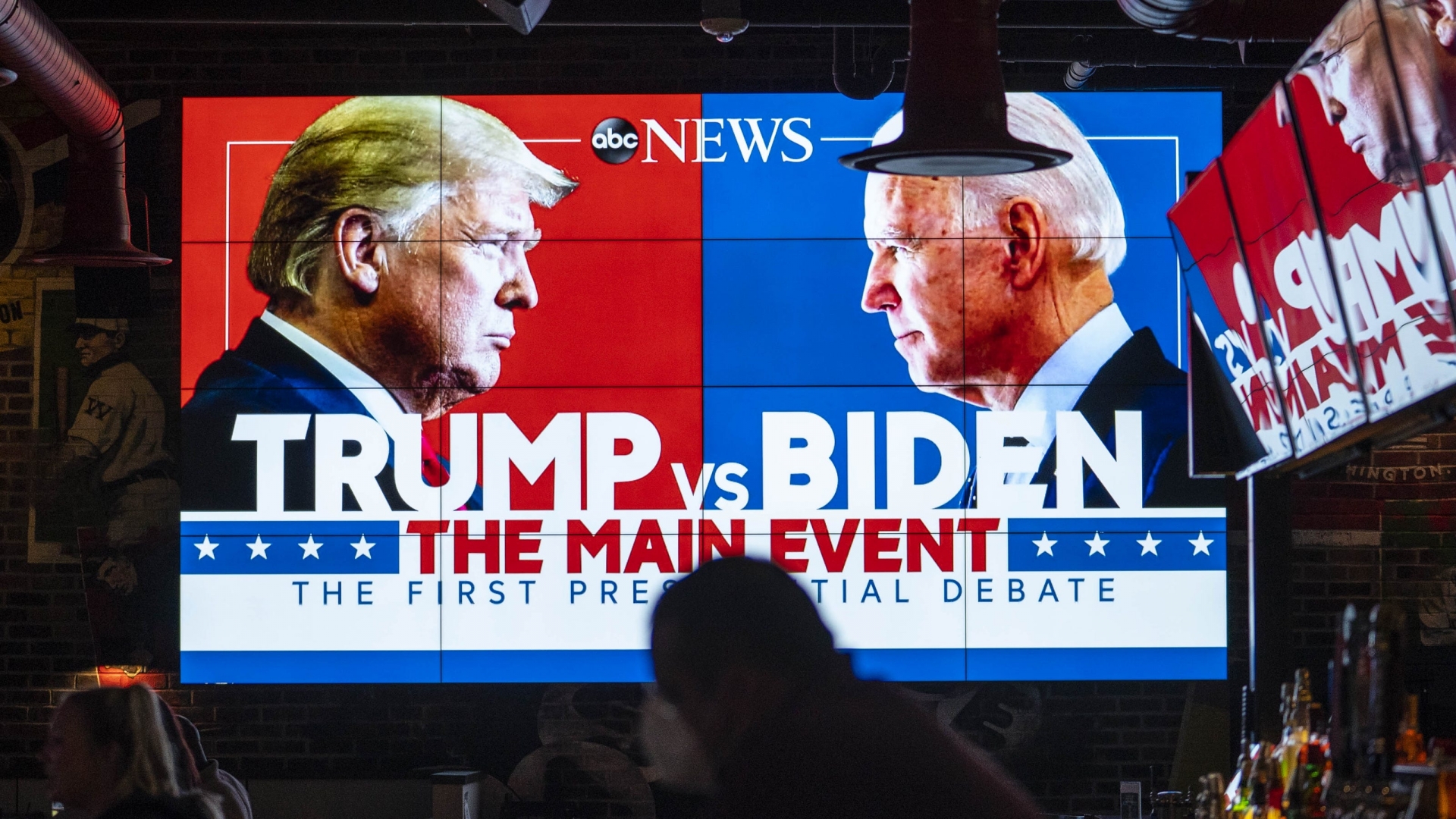 A new poll shows Democratic nominee Joe Biden with a 14 point lead nationally over President Trump, following the first presidential debate last week (Photo: USA Today)
Biden up 14 points on Trump following chaotic debate
A new poll shows Democratic nominee Joe Biden with a 14 point lead nationally over President Trump, following the first presidential debate last week, Fox News reported.
The survey, which was conducted by NBC News and The Wall Street Journal, was taken between Sept. 30 and Oct. 1 and covered 800 registered voters. It had a margin of error of around 3.5 percent.
The results showed 53 percent of respondents said they'd vote for the former vice president, compared to 39 percent for Trump.
The president has maintained, however, that polling and pundit analysis of his White House chances contain overt bias and was part of the reason why he defeated Hillary Clinton, despite most experts' predictions to the contrary.
The poll was also taken before the announcement about Trump testing positive for COVID-19.
Though a senior administration official told Fox News that, "Early indications are for an extremely good prognosis - but the next 48 hours will be critical."
Doctors say Trump on steroid therapy, health improving after brief 'episodes'
President Donald Trump's medical team said Sunday that Trump's condition was improving after multiple "episodes" over the weekend while also disclosing that Trump was placed on a steroid therapy typically used in more severe Covid-19 cases.
As reported by NBC News, Trump's doctors said the president was on dexamethasone, the steroid used for the sickest Covid-19 patients. The medical team said the president took his first dose Saturday and would remain on it for the "time being."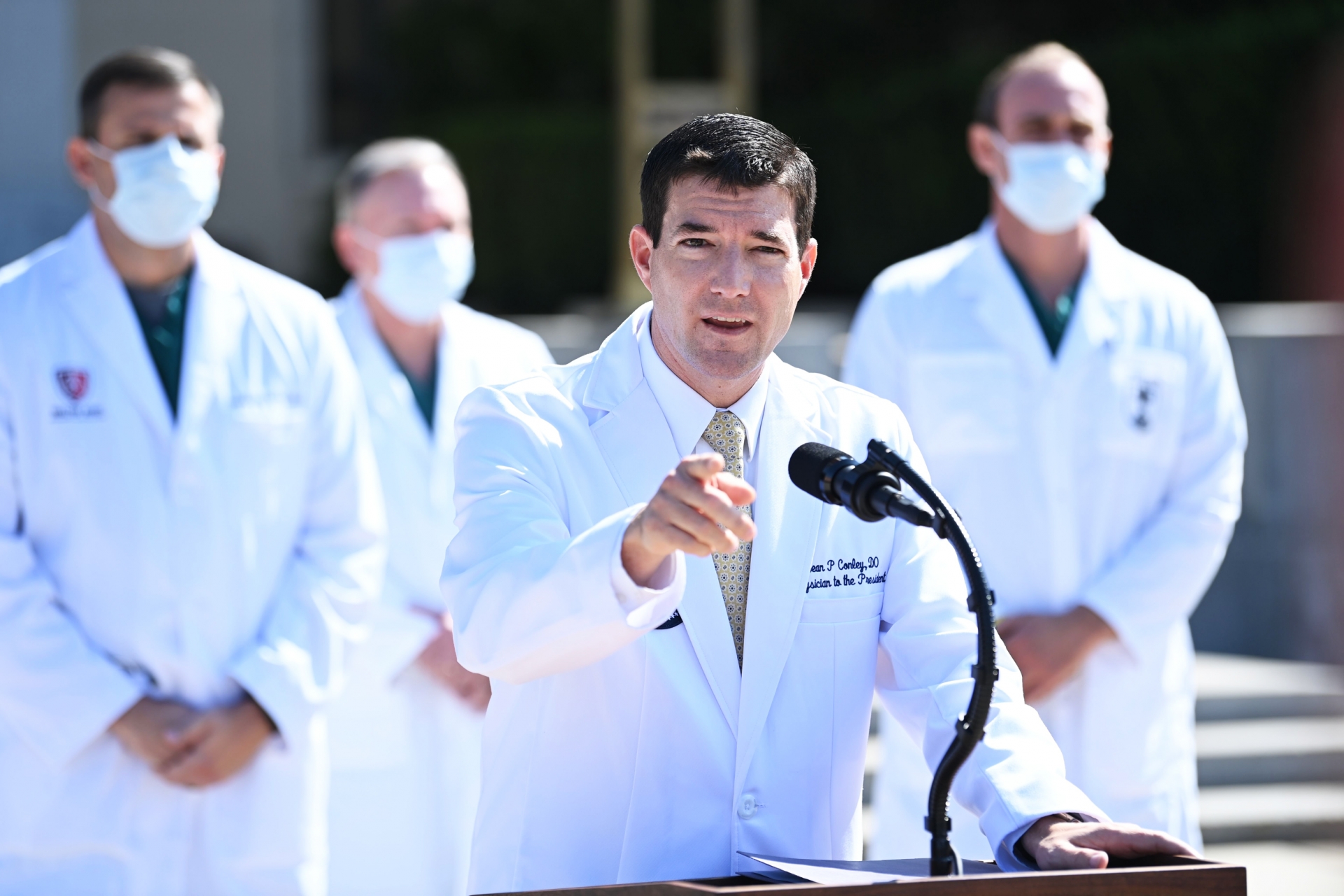 Dr. Sean Conley, a White House physician (Photo: NBC News)
Dr. Sean Conley, a White House physician, said Trump had a high fever late Friday morning and was administered supplemental oxygen for about an hour at the White House. Later in the day, Conley said, Trump appeared to be improving, but doctors still felt that the best course of action was to move him to Walter Reed. Trump has remained without a fever since Friday morning, and his vital signs are stable, according to his doctors.
Conley said Trump's oxygen levels dipped for a second time Saturday, but it was unclear whether he was again administered oxygen. Pressed by reporters, Conley said, "I'd have to check with the nursing staff." Conley and other members of Trump's medical team also dodged questions about his lungs, including whether they had found signs of pneumonia or other abnormalities.
Conley said at briefing Saturday that Trump was not receiving supplemental oxygen, but he refused to answer reporters' questions about whether Trump had ever been on oxygen.
Four dead, dozens missing as France launches rescue mission after floods
At least four people have been killed in flooding in a mountainous border region of France and Italy, with rescue teams searching for others who are missing, Euro News reported.
French authorities deployed around 1,000 firefighters, four military helicopters and troops to help with the search for at least eight missing people, following storms that battered southeastern France before moving into northern Italy.
Italy's Piedmont region saw levels of rain not seen since 1958, while areas of France suffered power outages as winds brought down power lines.
Emergency workers in Italy recovered two corpses Sunday in northern Liguria that they feared may have been washed away as a result of the storms that killed two other people on Saturday.
Floods washed away houses and destroyed roads and bridges surrounding the city of Nice on the French Riviera after almost a year's average rainfall fell in less than 12 hours.
Nice Mayor Christian Estrosi said over 100 homes were destroyed or severely damaged.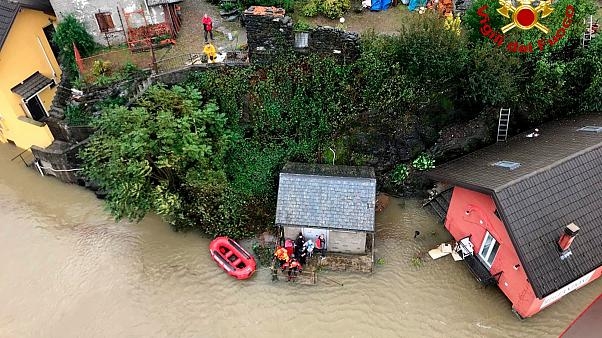 At least four people have been killed in flooding in a mountainous border region of France and Italy (Photo: Euro News)
The missing include two French firefighters whose vehicle was carried away by a torrent when a road collapsed south of the village of Saint-Martin-Vesubie. Authorities fear more victims as many families couldn't reach out to relatives due to mobile services being down.
On Saturday an Italian rescue team used a helicopter to rescue the stranded near the French town of Vievola, which included a woman and her two grandchildren.
A further eight people were rescued after they climbed from the mountain pass to a tunnel which was reached using a bulldozer.
Italian firefighters also rescued 25 people trapped on the French side of a high mountain pass due to the flooding.
About 10,500 homes were left without electricity on Sunday, French energy company Enedis said.
Gold price prediction: XAU/USD downside aims for 1,850
Gold closed the trading this week at 1,897,as reported on Saturday. The rally above 1,900 was mainly attributed to the news that the US President, Donald Trump, had tested positive for COVID-19. Trump's doctor said that he is "doing very well" but must stay in the hospital for a few days.
However, uncertainty continues to mount in the stock market over Trump's illness and the presidential election only a few weeks away. However, many analysts expect that gold will capitalize on this uncertainty to post gains in the coming days.
Looking at the 4-hour chart, XAU/USD is hanging in the balance after rejection from 1,900. The formation of a bear flag pattern adds credence to the downward momentum. If the pattern's support gives in after the markets open on Monday, the precious metal could dive much lower.
Support is envisaged at the 50 Simple Moving Average (SMA) in the 4-hour timeframe. However, danger looms, especially if the moving average support fails to hold the price. Gold can push the bearish leg to levels around 1,850 before a significant recovery comes into the picture. The Relative Strength Index (RSI) in the same 4-hour timeframe emphasizes the downward momentum as it risks sliding under the midline, FX Street reported.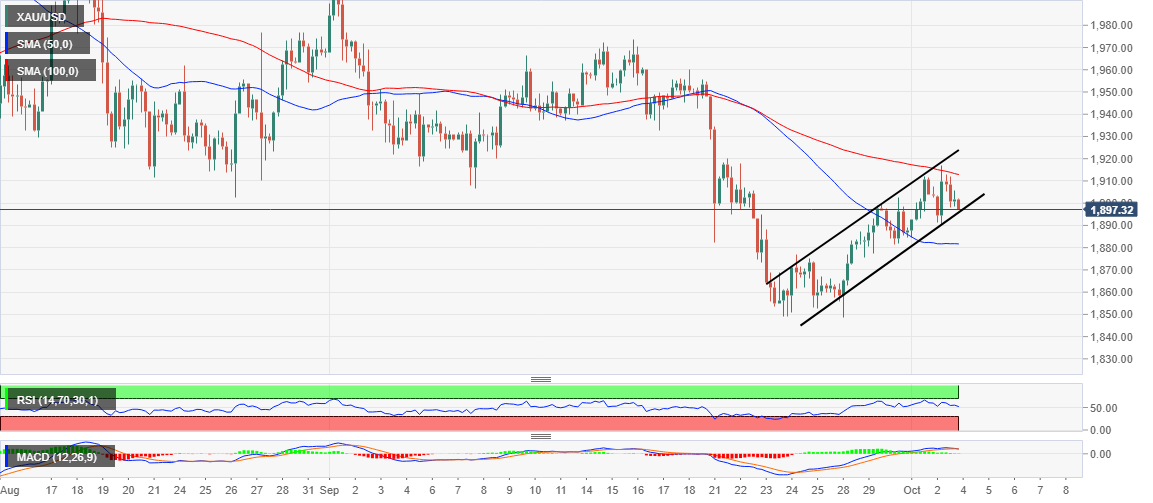 (Photo: FX Street)
Jasmine Le