Int'l Organizations Support Vietnam Strengthen Climate Resilience
International organizations are helping mitigate climate change and boost climate resilience in Vietnam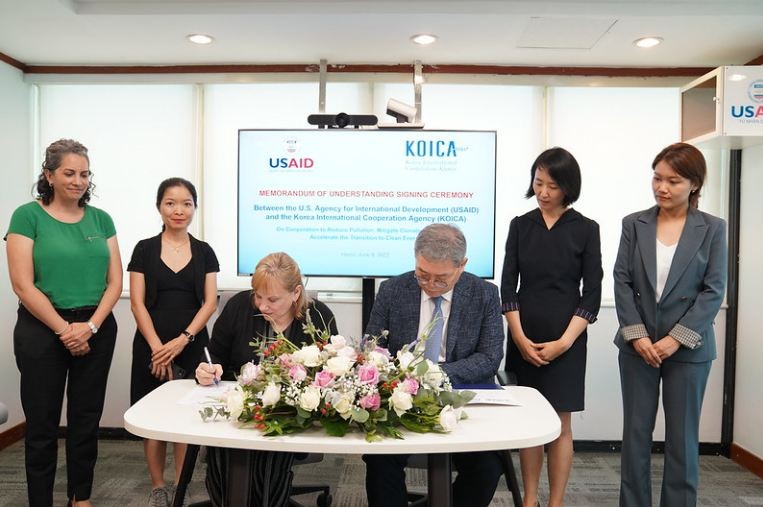 USAID/Vietnam Mission Director Ann Marie Yastishock and KOICA Country Director Cho Han Deog signed the first MoU in Vietnam, on Climate Change and Environmental Protection. Source: USAID Vietnam
Representatives of the U.S. Agency for International Development (USAID) and the Korea International Cooperation Agency (KOICA) signed the first Memorandum of Understanding (MoU) between the two agencies in Vietnam, on cooperation to reduce pollution, mitigate climate change in the Mekong Delta, and accelerate the transition to clean energy in Vietnam.
"The United States is committed to cooperating with our global partners to collectively address the climate crisis," said Mission Director Yastishock. "We are pleased to cooperate with KOICA to deliver on our shared goal with Vietnam of an environmentally resilient future."
"KOICA is putting environment and climate action at the center of its development cooperation. I believe that we could be more effective in our efforts to save our planet by working together rather than by working alone," said KOICA Country Director Cho Han Deog.
By working together at the operational level, USAID and KOICA intend to strengthen the impact and increase the efficiency of their programs and achieve better measurable outcomes for the people of Vietnam.
Through cooperation, the two agencies will pursue shared development goals including, but not limited to reducing plastic and other types of pollution and improving solid waste management; enhancing biodiversity; mitigating emissions from the agricultural sector; increasing adaptation strategies of vulnerable populations in the Mekong Delta; and accelerating renewable energy development and deployment at the central and urban levels.
USAID has a number of initiatives focusing on combating climate change and strengthening environmental security and protection in Vietnam. This includes developing clean energy, reducing greenhouse gas emissions, protecting the natural environment including forests and threatened species, and engaging with local communities on environmental pollution issues, such as air pollution, waste management, and water conservation.
Since 2010, USAID has provided assistance to Vietnam's environment and energy sector. USAID currently implements 11 environment and energy projects in Vietnam, with a total combined value of over US$160 million.
Meanwhile, KOICA is committed to tackling climate change and promoting green growth. It is in the process of increasing its portfolio of related cooperation projects. In Vietnam, particular attention is paid to waste-to-energy, marine plastic pollution, pollution monitoring, and forest conservation and its sustainable management.
KOICA is trying to solve these problems through cooperation with various partners including academia, startups and private businesses where possible.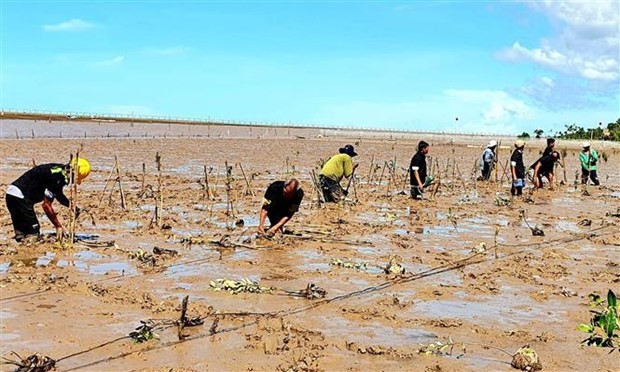 People in Vinh Hai commune, Soc Trang's Vinh Chau town plant new forest. Photo: VNA
According to reports delivered at a conference reviewing 2021's performance of the National Steering Committee for Natural Disaster Prevention and Control and the Vietnam National Committee for Search and Rescue, Vietnam saw 4,061 natural disasters and accidents last year, causing 530 people dead and missing, and over VND 5.2 trillion (US$ 229.58 million) in economic losses.
It is forecast that the global temperature will be on a rise in 2022, heightening the risk of unusual and extreme natural events around the world, particularly in Vietnam.
At the same time, a World Bank-funded Urban Development and Enhanced Climate Resilience Project will be implemented to improve access to infrastructure and connectivity and to reduce flood risk in the urban core of Vinh Long City in the Mekong Delta province of Vinh Long, VNA reported Wednesday.
It has a total investment of US$ 202.2 million, including US$ 126.9 million worth of credit provided by WB and US$ 19.5 million as non-refundable grant from the Dutch Government.
The project will help remove physical constraints to development in the urban core area through the development of flood control systems, drainage, wastewater collection and treatment, and investment in key urban roads.
In the meanwhile, three communes in the Mekong Delta province of Soc Trang will benefit from an Austria-funded project on strengthening climate resilience launched on June 6.
The first phase of the project on strengthening climate resilience of coastal communities in the Mekong Delta will receive funding worth half EURO 1 million (US$ 537,080) from the Austrian Ministry for Climate Action, Environment, Energy, Mobility, Innovation and Technology via Bread for the World (BfdW).
It will be carried out in the coastal communes of Lai Hoa, Vinh Hai and Lac Hoa in Vinh Chau town until November 2024.