Introducing Vietnamese Cuisine in Germany
About 20-30 years ago, overseas Vietnamese in Germany missed the taste of their homeland. Nowadays, they can ease that nostalgia when they can easily find Vietnamese restaurants throughout their second homeland.
Spreading Vietnamese food in Germany
Kambiz Ghawami, president of World University Service (WUS) of Germany is a person with a strong attachment and enthusiasm to Vietnamese education. Every year, he has several flights back and forth between the two countries to implement WUS's university support projects. He is no stranger to his favorite Vietnamese dishes in Germany.
"In my country, there are more Vietnamese families with second and third generations living here. If 20 years ago, there were only a few Vietnamese restaurants here, now, in small provinces, people can also find Asian restaurants owned by Vietnamese people. It shows that Vietnamese cuisine in Germany developed strongly over the years," said Gawami.
Traveling is more convenient, many Germans travel to Vietnam and are fond of local dishes. Therefore, when they return to Germany, most of them want to enjoy it again. Thanks to that, Vietnamese dishes became popular in Germany.
"Germans like Vietnamese food because most of it is not too fatty and greasy like some Chinese dishes, nor is it too hot and spicy like some Thai dishes," said Ghawami.
In Germany, many families have the habit of eating out and taking their children to Vietnamese restaurants. When the child is used to the taste, they often come to eat and order food for the children. Even when they grow up, the taste for Vietnamese food remains the same. Over the past few decades, that's how Vietnamese cuisine spread, becoming familiar to generations of locals.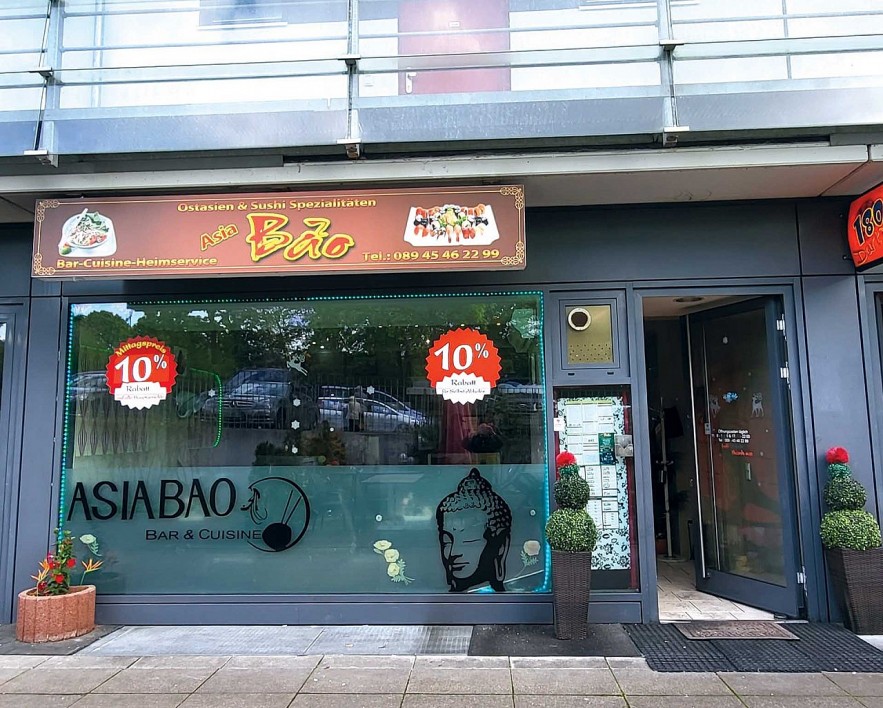 Asia Bao restaurant of overseas businessman Duc Anh Son is located at the foot of a large building. Photo: Minh Hoa
Chef and owner Trinh Thanh Son, an overseas Vietnamese living in Germany since 1990, said that "I have no formal training in cooking, but have lived here and worked for a long time in a restaurant. When I was mature enough with the profession, I opened Asia Bao restaurant in Munich."
He said, "If you want to open a restaurant, you have to take a food safety class. Food safety here is strict. Therefore, opening a restaurant is ensuring food safety and many other regulations".
"In Germany, everything you buy or sell must have an invoice. If you have imported something, you must sell it, so that they can calculate tax. If you do not understand, you will be confused of the taxes of the tariffs," said Son.
"Nowadays, there are Vietnamese restaurants everywhere, a small village has one, a big village has two or three, and a few dozen in the city. When Germans enter the restaurant, they will ask 'Are you Vietnamese?', then, they decide to choose a table and order food".
Creative Vietnamese dishes
Going to Germany since 1990, chef Nguyen Huy Nhu in Berlin used to work as an assistant for Chinese, Japanese and Thai restaurants. Every workplace move is a new hands-on training.
He said that "Vietnamese eateries account for 70% of the market share of Asian restaurants in Berlin today. Vietnamese people know how to create dishes to suit local tastes.
For example, the Chinese like to use MSG (monosodium glutamate), the Vietnamese use sugar. With fish sauce for Bun cha (Kebab rice noodles), the restaurant has to mix dozens of liters every day because Germans eat a lot of sauce. There was a German friend who came to eat, liked the taste of the sauce, but hated the smell of fish. So I thought of a way to make the sauce without the smell of fish".
In Germany, many dipping sauces are created by the owners as a highlight for their restaurant. For example, the combination of German Mayonaise, adding a little Vietnamese spice and mixing it in a Vietnamese way produced a delicious and spicy Hai Dang (name of the restaurant) sauce that makes many Germans fascinated.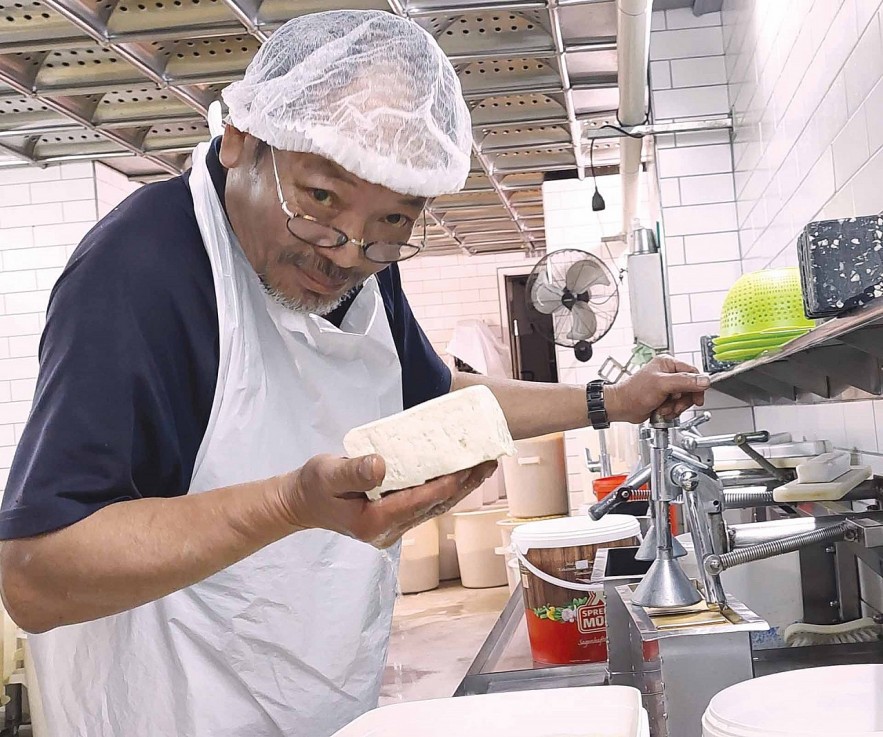 Overseas Vietnamese in Duc Nguyen Quoc Khanh - owner of a tofu factory in Berlin. Photo: Minh Hoa
Speaking of tofu, everyone in Berlin knows Quoc Khanh - coming to Germany to make tofu in 1999 and now supplying tofu to almost all of Eastern Germany.
Recalling the days when he first came to Germany to start a business, not all Germans liked to eat tofu, so he faced many difficulties.
Gradually, the Germans learned to eat tofu and enjoyed it very much. There are more vegetarian restaurants, since then, there are days when the factory processes tons of beans, producing about 3-4 tons of finished tofu.
There will be strict people who believe that culinary creativity causes the loss of traditional flavors. However, perhaps, everything in life will move to adapt - Vietnamese cuisine abroad too.