Introducing Vietnamese family tradition in the Western Czech Republic
The "Vietnam Cultural Day" was recently held at Plzen Secondary School No. 21 of Plzen City, the Czech Republic, to introduce the S-shaped land's family tradition.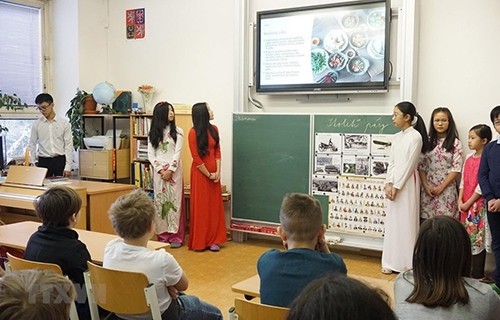 Students introducing Vietnamese family tradition at "Vietnam Cultural Day". (Photo: VOV)
"Small Sun" is an integration support organization for foreigners directly under the Czech Republic's Ministry of the Interior and the Vietnam Association in Plzen city in collaboration with the municipal government and Plzen Secondary School No. 21.
According to Roman Lisy, program manager of the organization, the Vietnam Cultural Day was held for the fifth consecutive year as a designated program, aiming at helping Czech students understand the natural, cultural beauty of Vietnam and its people, at the same time strengthening cultural connection and friendly exchange between children in the Czech Republic and Vietnam.
At the event, Vietnamese students of all ages made presentations through vivid audiovisual products to introduce basic knowledge about Vietnam and local people. Presentation topics varied from history, geography, culture, customs, family, to sports, music, etc. The presentation was live for their classmates at 3rd and 5th grade of the Plzen Secondary School No. 21.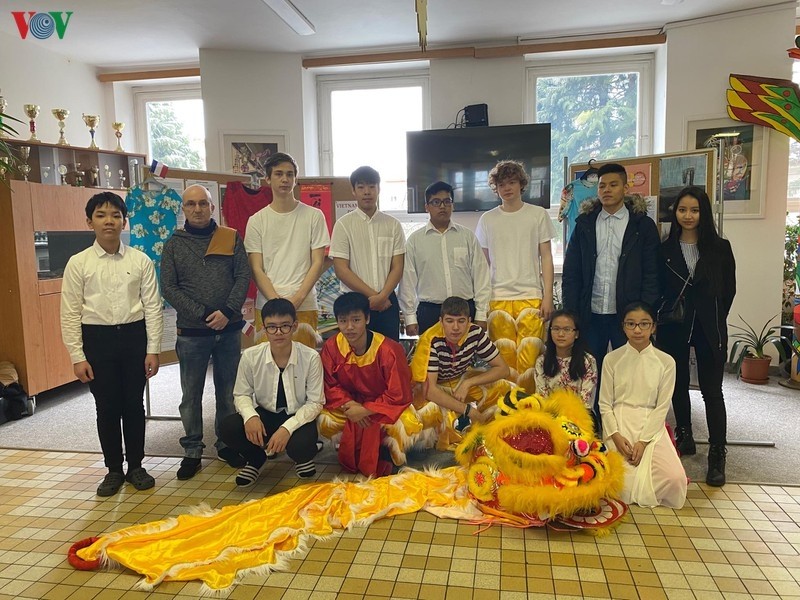 Czech-based students had the opportunity to enjoy Vietnamese traditional dance. (Photo: VOV)
Throughout the lessons, students also had the opportunity to enjoy traditional singing and dancing, have hands-on experience in making spring rolls, with the instruction of parents from the Women's Club under the Overseas Vietnamese Association's chapter in Plzen City. The closeness and friendliness were evident when the students, including Vietnamese, Czechs and other nationalities, all joined in with excited spirit.
"I feel very happy because Czech friends were all eager to visit Vietnam, taking in our country's travel destinations as well as experience traditional Vietnamese cuisine", Nguyen Y Nhi, 7th grader at Plzen Secondary School No. 21, one of the Vietnamese students who presented about Vietnamese family in the event, shared.
Meanwhile, Martej Kubias, a 5th grader said, "I have one Vietnamese classmate who often talks about Vietnam. What I find is that Vietnamese family members have a close-knit relationship. Parents take good care of their children and are respected by them. I really love Vietnamese food and sceneries. I hope I'll have a chance to visit this country one day"'.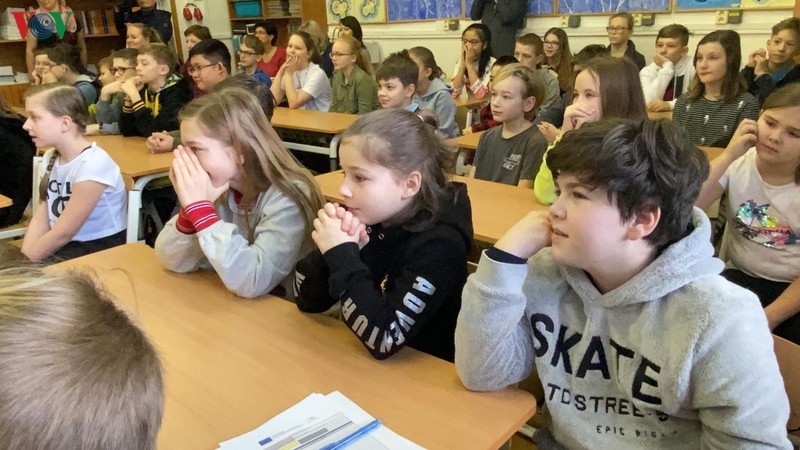 Czech students are eager to learn about Vietnam. (Photo: VOV)
Plzen Secondary School No. 21 is one of the schools in the country with the largest number of Vietnamese students. At the moment, there are 800 students in total, 10 percent of whom are Vietnamese. Generations of Vietnamese students have grown up under this school.
The Vietnam Cultural Day has been held annually in recent years with the support of the Overseas Vietnamese Association's chapter in Plzen City, in hope of the second, third Vietnamese generations will increasingly integrate in their second homeland – the Czech Republic, at the same time preserve and promote the traditional Vietnamese culture.
The event is one of the activities to show the interest and affection of the Czechs in general, Czech students in particular to Vietnam, as well as to Czech-based Vietnamese community, and to strengthen the solidarity, friendship between the two countries.
Through this event, the organizers wish to further promote the cultural connection between Vietnam and the Czech Republic. This is also a practically meaningful activity celebrate the 70th anniversary of establishing diplomatic relations between the two countries (February 2, 1950 – 2020)./.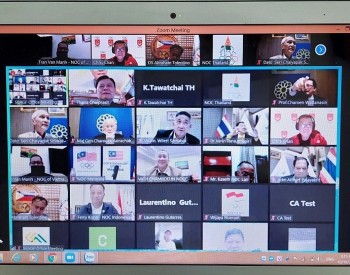 National
Vietnam News Today (October 19): Vietnam records 3,159 new local Covid cases; Vietnam ratifies ASEAN Trade in Services Agreement; SEA Games 31 likely to be held in Vietnam in May 2022; Goethe-Institut's science film festival goes virtual from October 18.
Friendship
PeaceTrees continued UXO-clearing efforts in the central province of Quang Tri in spite of severe storm warnings.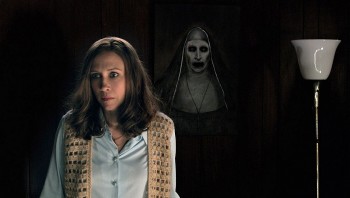 Handbook
Halloween is coming, and nothing is better than some good and spooky horror films. Here is a list of carefully selected 20 horror movies on Netflix that you can stream right now.