Iran to prepare to set British oil tanker Stena Impero free
Iranian maritime official announced to release the British oil tanker Stena Impero in short time on Sunday (September 22) after over two months seizing in the Strait of Hormuz.
Iranian maritime official announced to release the British oil tanker Stena Impero in short time on Sunday (September 22) after over two months seizing in the Strait of Hormuz.
Photo: The Telegraph
As Iran's semi – official Fars news agency, Iranian maritime official on Sunday (September 22) asserted to free British – flagged Stena Impero oil tanker soon after being captured by Revolutionary Guards in the Strait of Hormuz for breaking maritime rules following the UK's seize of Iranian oil tanker Adrian Darya 1, formerly named Grace 1, in Gibraltar.
The head of Iran's Ports and Maritime Organization in Hormozgan Province Allahmorad Afifipour stated "After the issuing of the ruling for the end of detention of the English tanker Stena Impero this vessel will soon, and after the passing of 65 days, begin its movement from the port of Bandar Abbas toward international waters".
However, Afifipour added that the legal case against the oil tanker still open and the final result would be showed.
He also did not give the exact time when the vessel would be released.
Also on Sunday, Chief Executive of Stena Bulk, an owner of Stena Impero oil tanker had expressed on Swedish television SVT "We have received information now this morning that it seems like they will release the ship Stena Impero within a few hours. So we understand that the political decision to release the ship has been taken".
Hanell also said "We hope to be able to head out within a few hours, but we don't want to anticipate events. We want to see that the ship sails out of Iranian territorial waters".
Furthermore, the British government's spokesman urged Iran to free the vessel "Iran's illegal seizure of a ship inside an internationally recognized shipping lane is unacceptable and undermines international law".
Iran had let seven of 23 crew members in the Stena Impero oil tanker leave on September 4.
Iranian Foreign Ministry's spokesman showed his statement "We have no problem with the crew and the captain and the issue is violations that the vessel committed".
Iran had even announced to free the British – flagged oil tanker before on September 8, nevertheless, this vessel and 16 crew members were still kept.
The Iran's words came after the release of its oil tanker Adrian Darya 1 by Gibraltar authority in August as Iran had sent its guaranteed letter to ensure that the tanker would not deliver oil to Syria although the US issued a warrant to capture this vessel.
The US had also warned to impose sanctions on any inpidual or organization supporting this ship.
However, the Iranian oil tanker had changed its route after presenting its location which headed to Greece in the tracking system and turned off its Automatic Identification System when being explored to be in the coast between Syria and Lebanon.
The US Secretary of State Mike Pompeo had warned the Adrian Darya 1 oil tanker would reach to Syria and wrote on his Twitter that "it was a big mistake to trust Zarif".
On September 10, the UK had accused this Iranian oil tanker of selling crude oil to Syria which violated the EU sanctions.
British Foreign Minister Dominic Rabb had said "Iran has shown complete disregard for its own assurances over Adrian Darya 1. This sale of oil to (Syrian President Bashar al-Assad's) brutal regime is part of a pattern of behavior by the Government of Iran designed to disrupt regional security".
Despite the UK's condemnation and critics on the action of Iranian oil tanker, Iran still affirmed to free British oil tanker Stena Impero.
Reuters ( Van Nguyen )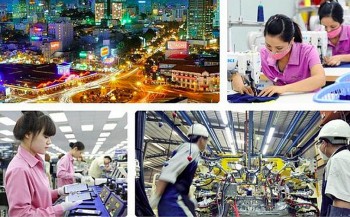 National
Vietnam News Today (Jan. 17): Vietnam records 15,643 new Covid cases; Northern region to turn severely cold from January 17; 'New normal' adaptation leads to positive forecast for Vietnamese economy in 2022; Vietnam-China clash tickets open for sale in two days.