Isolated Socotra - Discover The Strangest Alien – Like Place in The World
This strange, unique island is like no where else you have ever seen, with umbrella-shaped trees, weird plants and flowers, and the mesmerizing sand dunes. All of that make the place look like an alien's planet that was built on Earth.
Dragon's blood forests are nearly devoid of seedlings and young trees. Some scientists blame a lack of water caused by a decrease in seasonal cloud cover—and predict that many stands could disappear within a century. MARK W. MOFFETT
Socotra is a Yemeni-owned island located in the Indian Ocean off the coast of Somalia. It is one of the world's most isolated islands of continental (non-volcanic) origin; it separated from Africa about 6 million years ago.
The long isolation of Socotra and intense heat and drought, hurricane seasonal monsoons from May to September, noticeable climate softening in the winter months, as well as special climatic conditions in mountainous regions have formed a unique flora and fauna on the island.
Where is Socotra?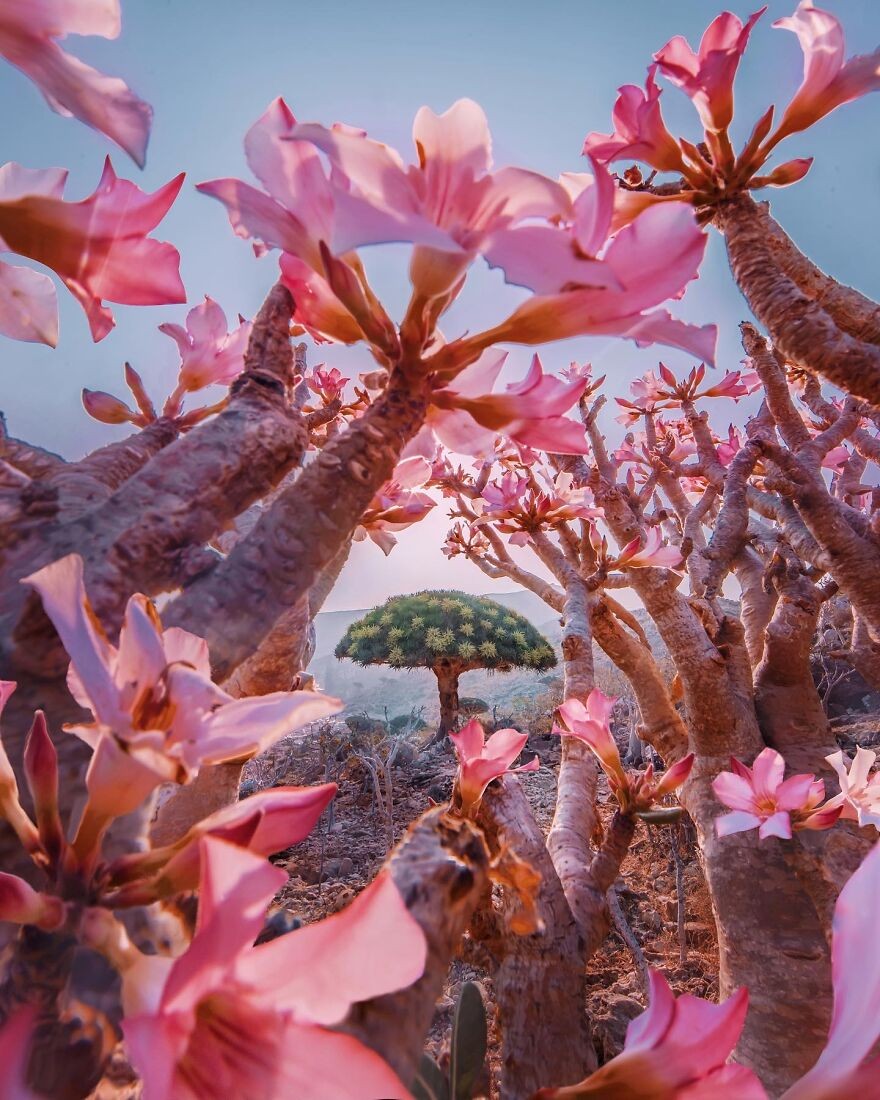 Photo: hobopeeba
Socotra, also spelled Sokotra, Arabic Suquṭrā, island in the Indian Ocean about 210 miles (340 km) southeast of Yemen, to which it belongs. The largest of several islands extending eastward from the Horn of Africa, it has an area of about 1,400 square miles (3,600 square km). The Hajīr (Hajhir) Mountains occupy Socotra's interior, with narrow coastal plains in the north and a broader plain in the south. To the southwest and west are the smaller islands of Samḥah and Darzah, called al-Ikhwān ("the Brothers"), and ʿAbd al-Kūrī, all of which also belong to Yemen. The islands stand on coral banks and may once have been connected with the African and Arabian mainlands. Socotra's flora includes several famous species, among them myrrh, frankincense, and the dragon's blood tree. In recognition of its distinct plant and animal life, the archipelago was designated a UNESCO World Heritage site in 2008.
History of Socotra
Photo: hobopeeba
Socotra's name is traced to the Sanskrit dvipa-sakhadara, "island abode of bliss." The island is mentioned in various legends. The inhabitants long were Christians, but that religion disappeared from the island in the 17th century. Socotra was long ruled by the Mahra sultans of southeastern Yemen. Their rule on Socotra was interrupted by Portuguese occupation between 1507 and 1511. In 1834 the British tried and failed to purchase the island; in the 1880s, however, the sultan accepted British protection for the entire sultanate. The sultanate came to an end in 1967, when Socotra became part of independent South Yemen, and later, unified Yemen.
The island was devastated in November 2015 when it was struck by two powerful cyclones only days apart. With Yemen engulfed in a civil war, the island relied on relief from other countries, especially the United Arab Emirates, which subsequently set up a military base on the island in part to support the separatist Southern Transitional Council (STC) in southern Yemen. After the STC began challenging the internationally recognized government in Aden, its erstwhile ally against the Houthis in the civil war, Socotra became a battleground between the two factions in 2020.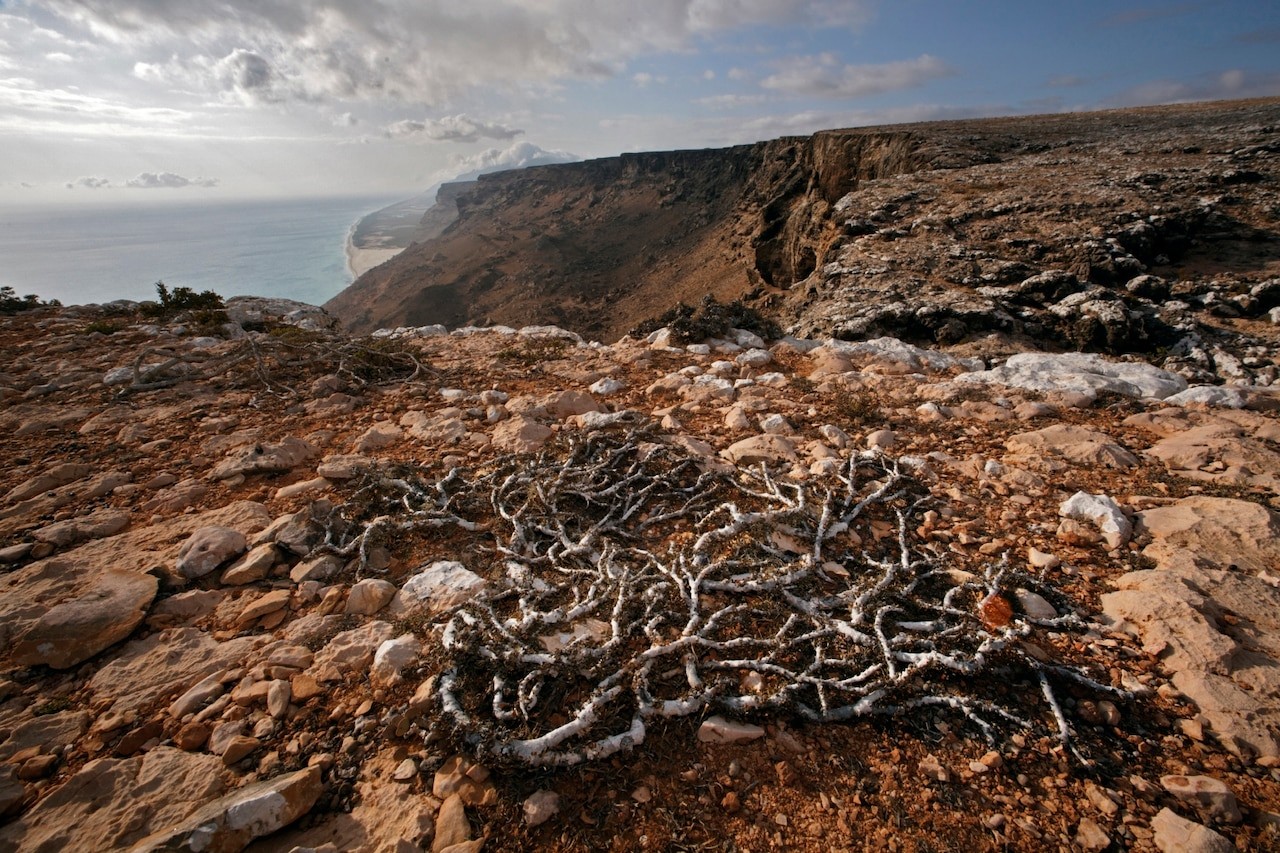 Crotons usually grow as tall shrubs, but this cliff-top one on Socotra's southwestern coast has been "pruned" to prostrate form by sustained winds of more than 20 miles an hour. MARK W. MOFFETT
Socotra's sedentary inhabitants are engaged in fishing, pearl diving, and small-scale agriculture. In the interior, nomads keep cattle and other animals and raise some crops. The island's exports include ghee (clarified butter), fish, and frankincense. The capital and largest town is Hadīboh (Tamrida) on the northern coast.
Socotra Highlight: Dragon's Blood Trees
The Socotra dragon tree is an iconic tree with a long history of commercial use. It is known only from the island of Socotra, Yemen, where it lives within remnants of prehistoric 'Dragonsblood' forest on granite mountains and limestone plateaus.
The island of Socotra's 34-million-year separation from mainland Arabia has given rise to a unique flora – 37% of its plant species are found nowhere else.
The monsoon season brings these areas cloud, drizzle and sea mists – and the dragon trees' leaves intercept this airborne moisture, channelling it towards root systems shaded by a dense, umbrella-shaped canopy. The dragon tree's strange looks and ancient age belie a species expertly adapted to its environment.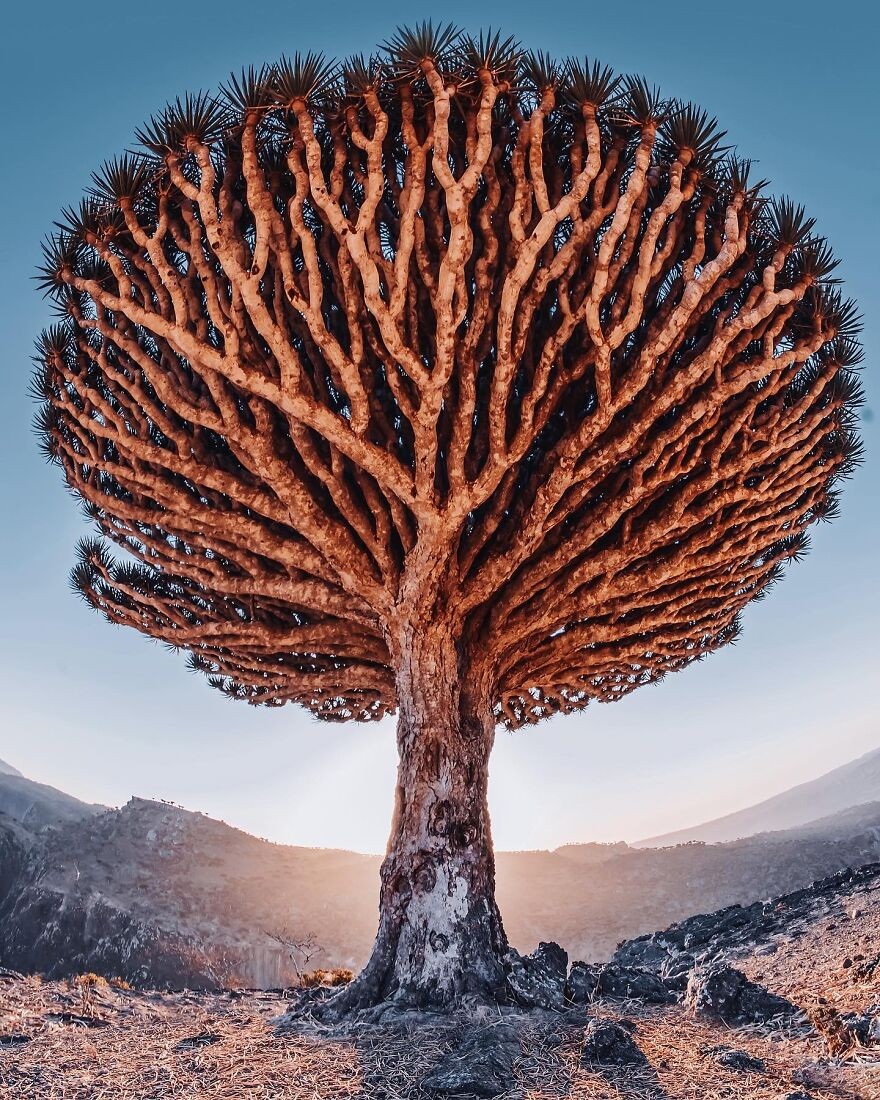 Photo: hobopeeba
This remarkable tree has been economically important for centuries. Local people value it as food for livestock: feeding very small quantities of berries to cows and goats improves their health, though they cause sickness in excess.
The tree is perhaps best known for the red resin it is named after. Known to Socotris as 'emzoloh', this has a range of traditional medicinal uses. Referred to by the ancients as 'cinnabar', it was well known in trade before 60AD; and the dye 'dragon's blood' is thought to have been responsible for the intense colour of Stradivarius violins.
Despite all this, the future of the species is uncertain. Few populations are regenerating naturally, and in some areas young trees lack the species' characteristic umbrella shape.
The island group also has a fairly rich bird fauna, including a few types of endemic birds, such as the Socotra Starling Onychognathus frater, the Socotra Sunbird Nectarinia balfouri, Socotra Sparrow Passer insularis and Socotra Grosbeak Rhynchostruthus socotranus.
As with many isolated island systems, bats are the only mammals native to Socotra. In contrast, the marine biodiversity around Socotra is rich, characterized by a unique mixture of species that have originated in far-flung biogeographic regions: the western Indian Ocean, the Red Sea, Arabia, East Africa and the wider Indo-Pacific.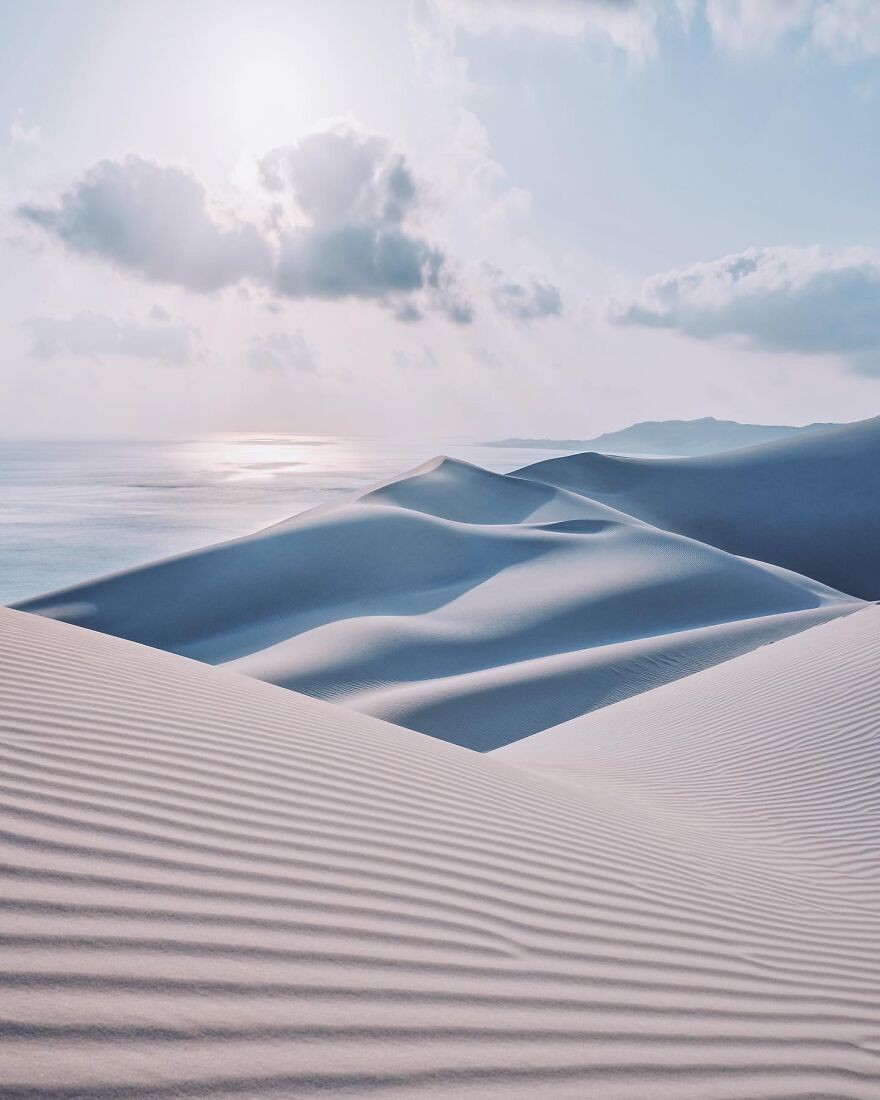 Photo: hobopeeba
People of Socotra Island
Chamaeleo monachus is found solely on Socotra, as are 90 percent of the island's other reptiles. Local people believe the chameleon is magic: It's said that a person hearing its hiss will lose the ability to speak. MARK W. MOFFETT
The archipelago's inhabitants are of Arab, Somali, Greek, and South Asian origins. They speak Soqotri, an unwritten Semitic language related to other Modern South Arabian Languages that include six different languages; Mehri, Harsusi, Bathari, Jibbali, and Hobyot, along with Soqotri. The language is believed to have its roots in Sabea, the Queen of Sheba's ancient city state on the southern Arabian mainland. It was part of the Old South Arabian Languages, which also included Minaean and Qatabanian among others. They were the spoken among the advanced civilizations which were established in the southeastern part of Yemen during the period between the thirteenth and tenth centuries B.C.E. Soqotri has no words for things that are not found on the island, in which case they must borrow from Arabic.
Looking to the future
Socotra is remote and inaccessible, its people poor, and is often described as being among the most disadvantaged group of islands anywhere in the world. Tourism can provide a source of income, yet there are fears of damage to the environment.
The island is being discussed as a potential biodiversity preserve, a unique research station for biodiversity studies as well as an international destination for ecotourism. The development of ecotourism on Socotro, in conjunction with the guidelines of the Convention on Biological Diversity, would ensure the establishment of biotic areas along with anthropological reserves, enabling the local people to enhance their livelihoods while maintaining their traditional lifestyles. The careful implementation of these plans can positively impact the future of the archipelago.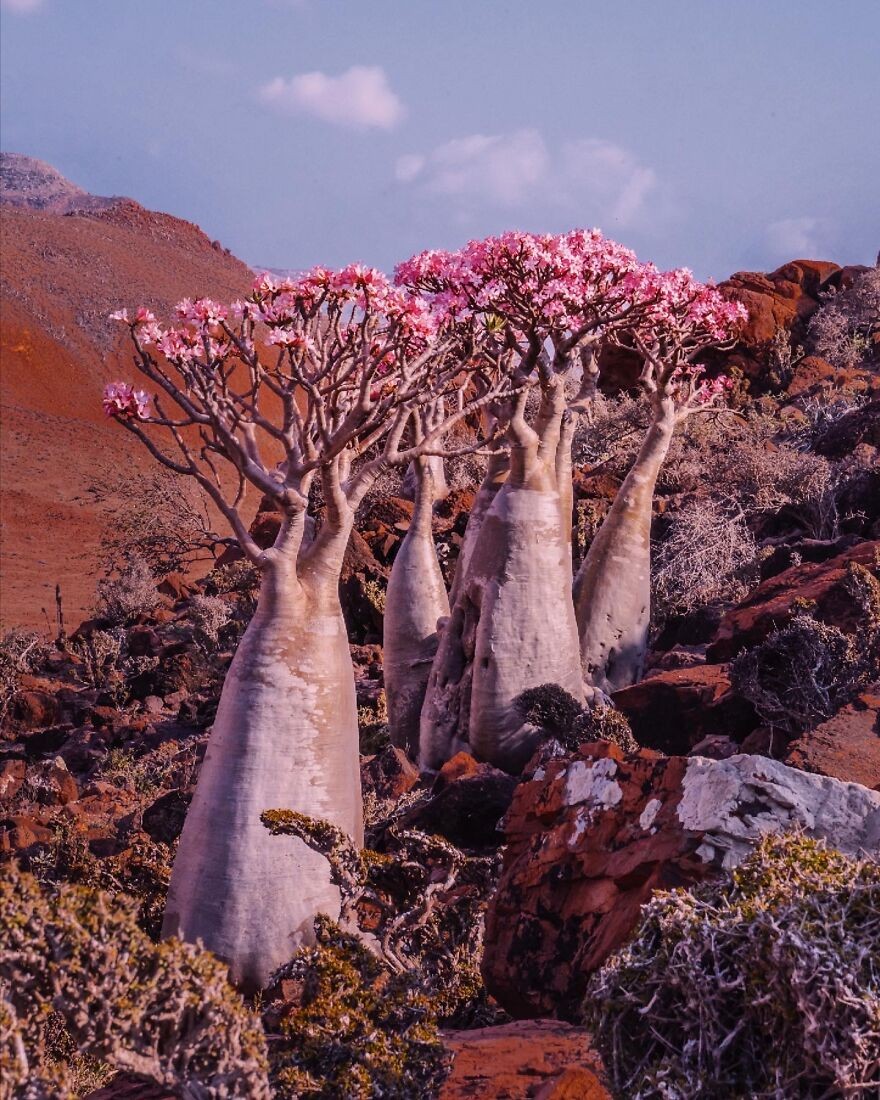 Photo: hobopeeba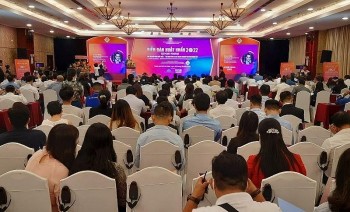 Focus
Vietnam News Today (Dec. 9): Vietnam - Singapore innovation centre helps firms transform production; HCM City among most searched destinations by travelers; Vietnamese digital technology industry's revenue estimated at 148 billion USD in 2022; Two Vietnamese films up for consideration at Oscars.