Autumn in Japan Through a Vietnamese Lens
In Autumn, Kyoto is covered with red and yellow leaves forming part of the slow pace of life in the ancient capital.
Nguyen Cac Tuong, a native of Tien Giang, came to Japan in 2019 to study. Tuong has a passion for photography, travel, painting, and writing. He spends a lot of time visiting different provinces in Japan. The set of photos below were taken by Tuong during his trip to Kyoto in mid-October 2020.
According to Tuong, all provinces of Japan share a common culture, but each area has its own beauty. The ancient capital of Kyoto always impresses visitors with its poetic scenery, especially in the fall.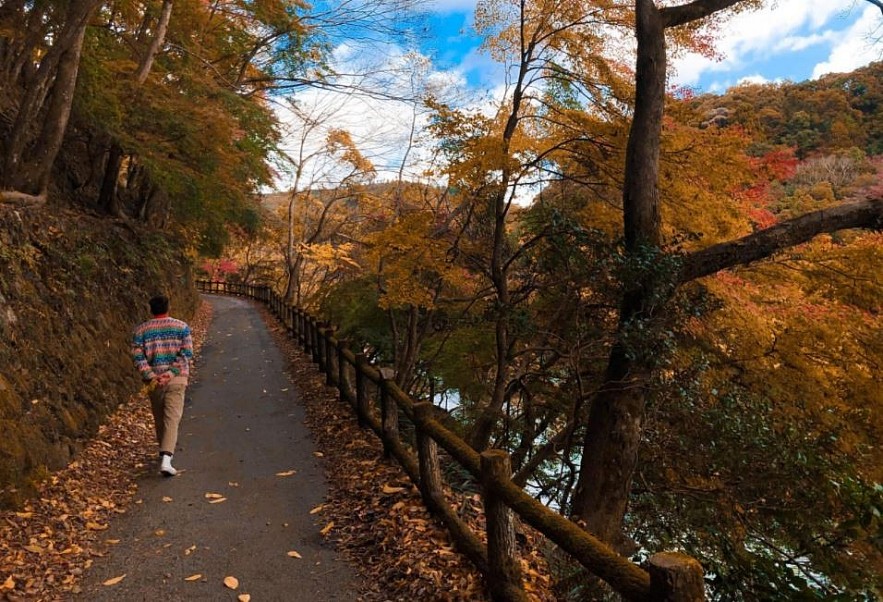 Tuong walking on a small lane, admiring how the city was changed in autumn. The lane lies in a forest along the banks of the Arashiyama River. (Photo: VN Express)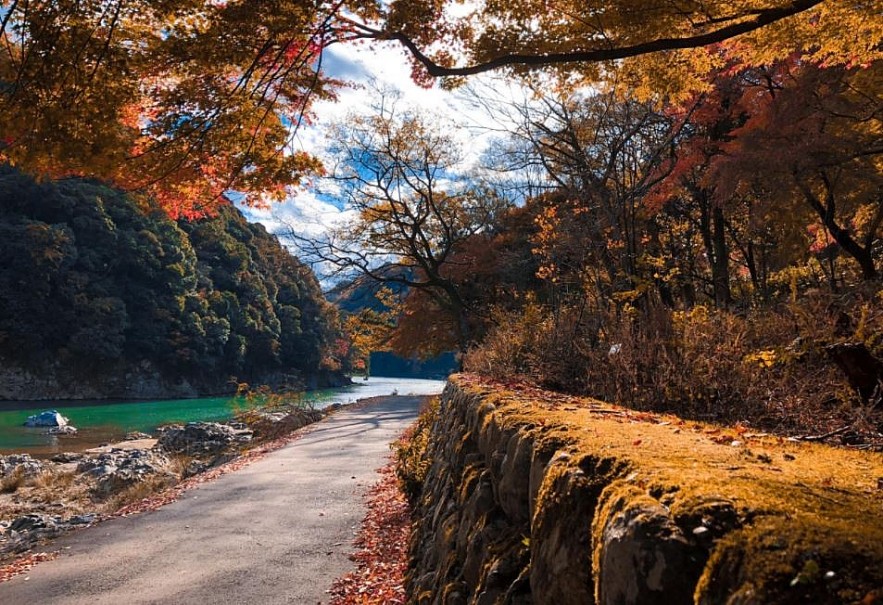 The 155m long Togetsu bridge crossing over the Katsura River is considered a unique symbol of the Arashiyama district. After crossing the bridge, visitors will find a lane of beautiful red and yellow leaves. (Photo: VN Express)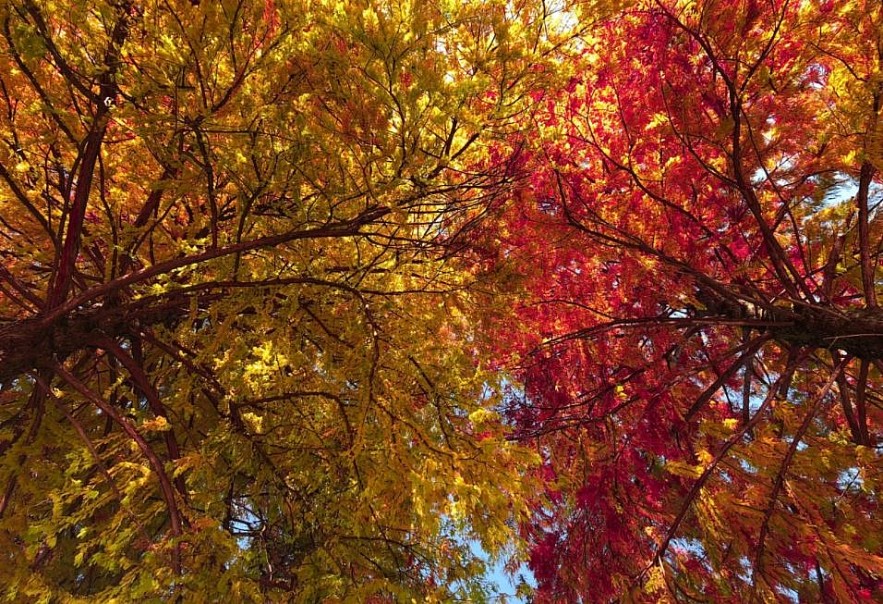 Autumn comes to Japan from October to November, when the weather becomes drier and cooler. The best time to enjoy Kyoto's autumn lasts for only a week. .(Photo: VN Express)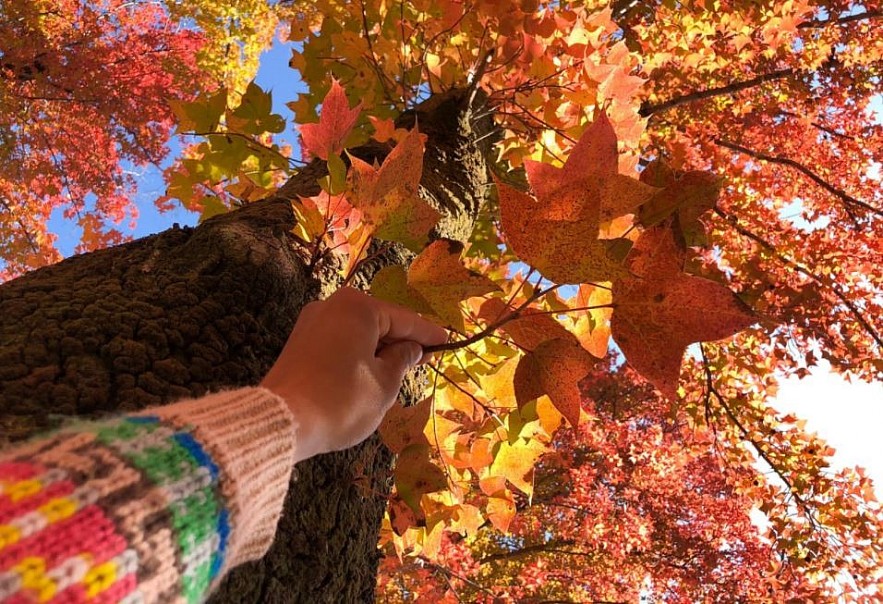 Tuong said no other season could have the charm of autumn. (Photo: VN Express)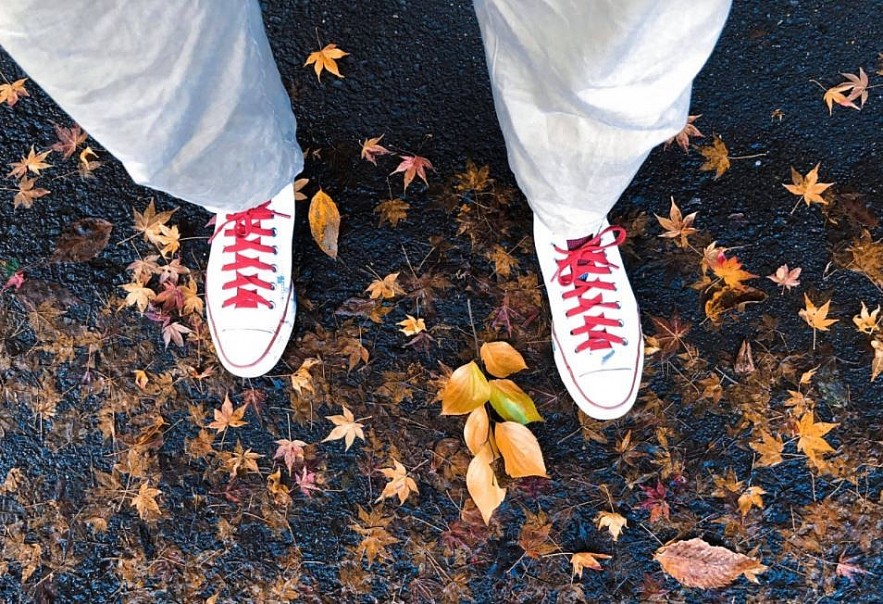 "Watching the autumn rain and the maple leaves falling on the ground makes people forget the chaos of daily life and enjoy the peaceful moments," Tuong said. (Photo: VN Express)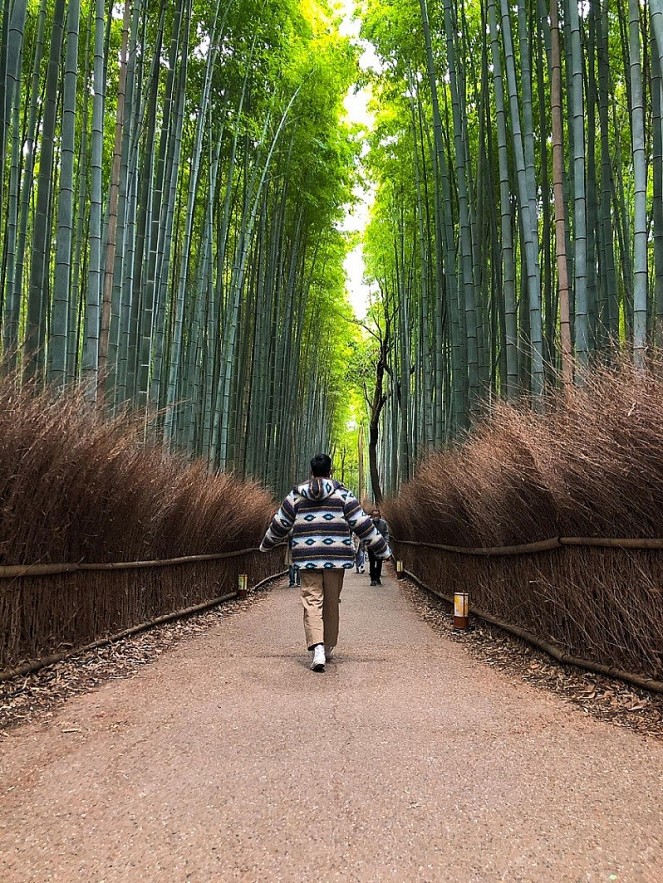 When visiting Kyoto, visitors should definitely wander the bamboo lane in Arashiyama's forest. This 200m long road is always crowded with tourists, who come to enjoy a rustic and idle vibe. (Photo: VN Express)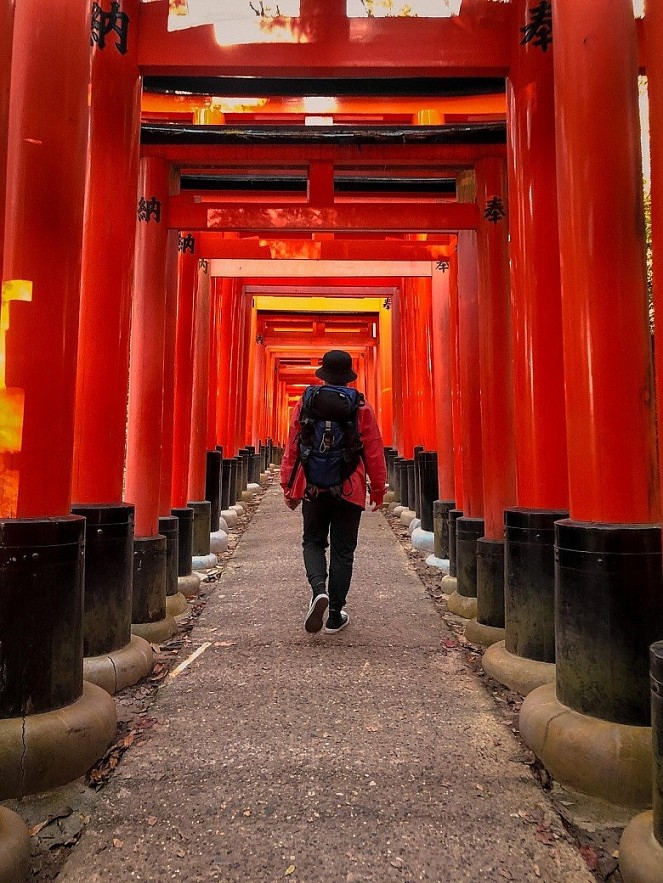 Fushimi Inari Shrine, located at the foot of the sacred 233-meter-high Mount Inari, was the setting for the 2006 Oscar-winning film, Memoirs of a Geisha. (Photo: VN Express)
According to Tuong, Fushimi Inari Shrine covers a very large area. The shrine lies about 20 minutes away from Kyoto Station. Fushimi Inari has more than 1,000 Torii gates painted in red, linked together to form trails behind the main shrine. "When I first entered this shrine, I was impressed not by its beauty but by the large number of tourists. However, the shrine is truly beautiful, too," Tuong said.
During his trip to Kyoto, Tuong was fortunate enough to be lent a bicycle so he could comfortably enjoy the scenery. (Photo: VN Express)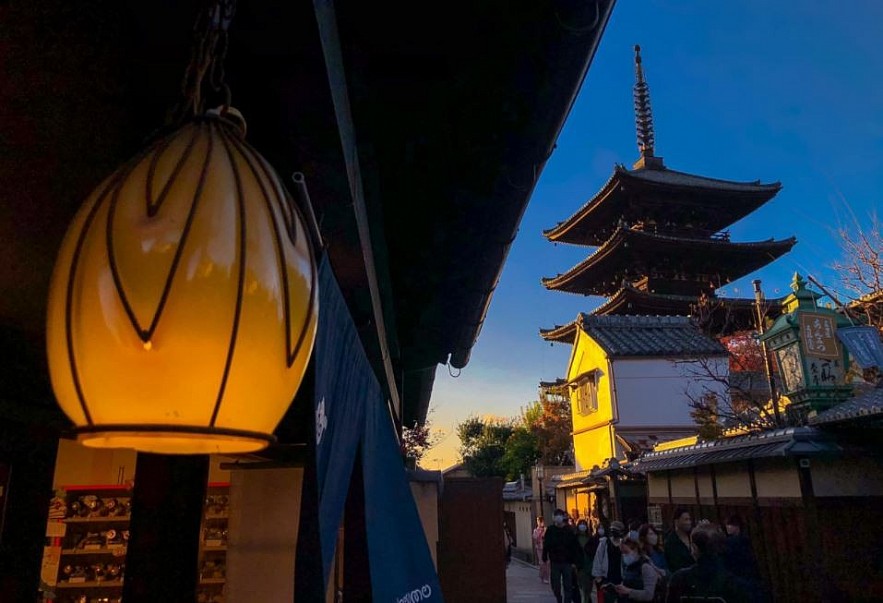 Hōkan-ji Temple (Photo: VN Express)
Yasaka temple, also known as Hokanji temple, is one of the oldest temples in Kyoto. Yasaka is located on a road that runs between the slopes of Ninenzaka and Sannenzaka. The area is filled with old houses up to several hundred years old with unique architecture.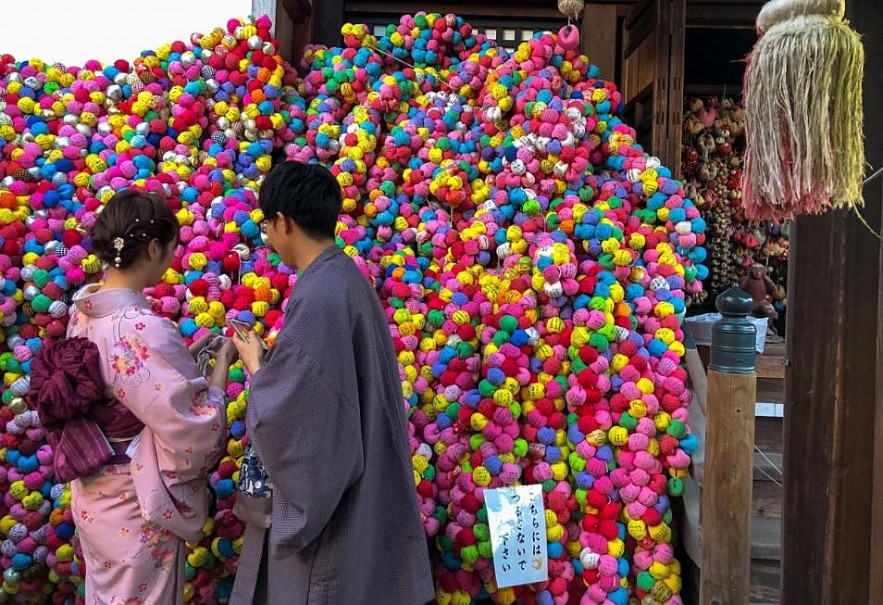 On the Ninenzaka slope leading to the Kiyomizu temple, Japanese couples weari kimonos to declare their love and wish for luck.(Photo: VN Express)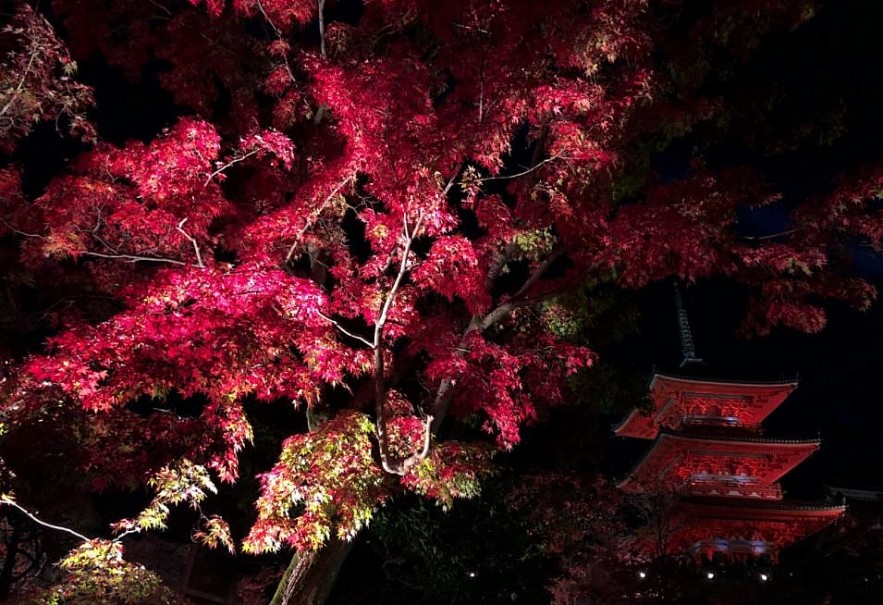 Kiyomizu temple was built on Mount Otowayama. Similar to most other Japanese temples, Kiyomizu is a complex of buildings such as towers, halls and houses for monks. (Photo: VN Express)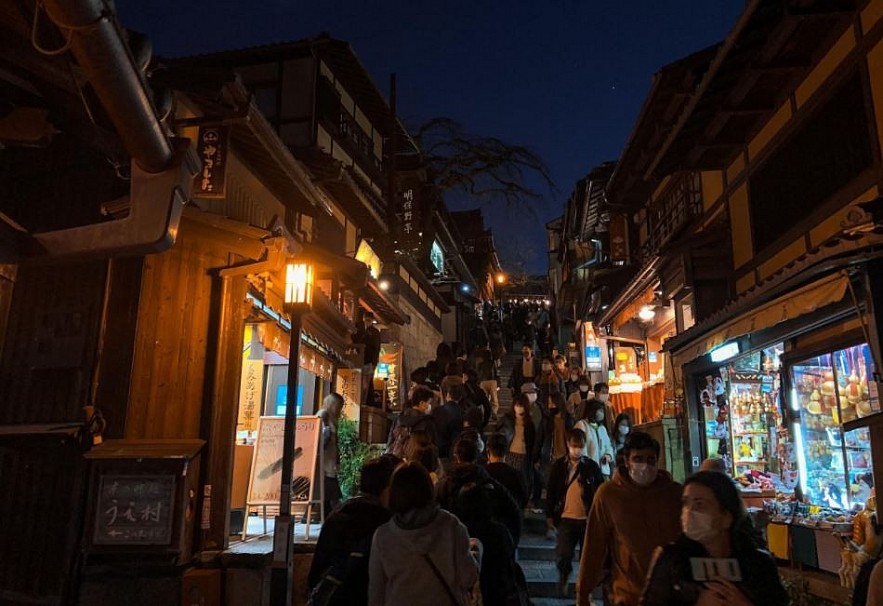 About 15 minutes traveling by bus from Kyoto Station, visitors will find the old town of Gion district, which is famous for its old Japanese-style tea rooms. Tourists can sometimes come across geishas and maikos on the old street. (Photo: VN Express)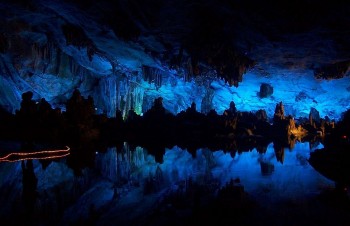 Travel
Caves are the creation of nature, charming any tourists with their mysterious and an air of danger, waiting for humans to explore the deepest secrets inside them. Take a look at these magnificent and beautiful caves around the world that you must visit once in your lifetime.
Viet's Home
According to the AFC official statement, Vietnam striker Nguyen Tien Linh won the AFC International Player of the Week after receiving the most votes out of the remaining nine players.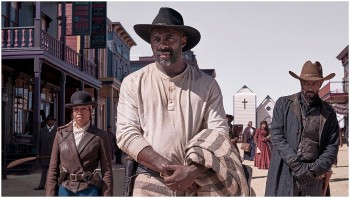 Handbook
November is coming close, and the cold outside makes us want to curl up inside our warm blanket and bing watch our favorite movies or shows. Here is the list of what is coming on Netflix in November, and some of the most expected Netflix originals for you to enjoy.