Israel - Vietnam Friendship Association Established
This is one of the events towards 30 years of establishing diplomatic relations between Vietnam and Israel (1993-2023). Members of the Friendship Association include mainly generations of Israeli ambassadors, deputy ambassadors and diplomats who have worked in Vietnam for the past 20 years.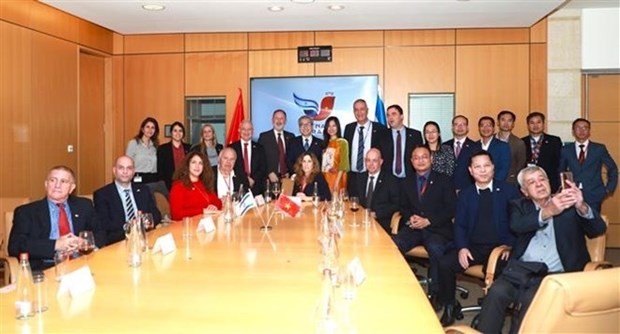 Participants in the establishment ceremony for the Israel - Vietnam Friendship Association pose for a group photo. Photo: VNA
The Israel - Vietnam Friendship Association has been established with a view to increasing people diplomacy between the two countries, VNA reported Monday.
The establishment ceremony was held at the Israeli Foreign Ministry's headquarters on January 22, one of the activities ahead of the 30th anniversary of bilateral diplomatic ties this year.
The association gathers generations of Israeli ambassadors, deputy ambassadors, and diplomats who used to work in Vietnam over the last 20 years. Some of them have retired or moved to the private sector but still maintain their special sentiment towards the Southeast Asian nation.
Appreciating Vietnam's rapid development in all aspects, the delegates hoped that the establishment of the Israel - Vietnam Friendship Association would open another bridge to promote bilateral relations and exchanges in various fields such as culture and tourism.
Association Chairman Amikam Levy, who served as Ambassador to Vietnam from 2001 to 2003, said the organisation hopes to further promote and intensify relations between the two countries, which boast a number of similarities, particularly in culture.
Former Deputy Ambassador Eyal Buvilski said the time he worked in Vietnam was a great experience for not only himself but also his family.
As bilateral ties are flourishing at the governmental level, it's time for the people diplomacy to develop correspondingly, and the founding of the association is to do so, he noted.
"After leaving Vietnam, we, diplomats, said to each other that something had to be done at some point," he said.
"One day we must establish a bridge between the two cultures. The people of the two countries share many similarities, but also many differences, and want to get to know each other," he added, expressing his hope that more Israeli and Vietnamese people will visit each other's countries.
Vietnamese Ambassador Ly Duc Trung said Vietnam attaches importance to the people diplomacy, which has a crucial role to play in creating and maintaining a peaceful and stable environment for developing the country and raising its stature.
He added businesses of the countries have enjoyed thriving partnerships, but more cooperation between the two peoples is necessary for fostering bilateral relations.
Trung expected the association will become a common home for all to contribute to the reinforcement of these ties.
Vietnamese Cuisine Promoted in Israel

On December 12, Hanoi Coffee restaurant in Tel Aviv city (Israel) held a menu launching ceremony to introduce some homeland dishes prepared by Vietnamese chefs.