Vietnamese Cuisine Promoted in Israel
On December 12, Hanoi Coffee restaurant in Tel Aviv city (Israel) held a menu launching ceremony to introduce some homeland dishes prepared by Vietnamese chefs.
The program was organized by the Embassy of Vietnam in Israel, aiming to introduce and promote the typical regional dishes of Vietnam to the people of Israel. Vietnamese Ambassador to Israel Ly Duc Trung said that the program was to introduce the menu of special Vietnamese dishes on the occasion of the 5th anniversary of the establishment of the Hanoi Café restaurant.
The restaurant is owned by a French person, so not many Vietnamese dishes are served here and most of the customers are Israeli. The Embassy has connected, introduced and supported procedures to bring Vietnamese chefs to Israel, thereby contributing to the homeland's culinary culture as a unique and attractive feature of Vietnam. It is believed that more foreigners will know about and visit the S-shaped strip of land through these activities.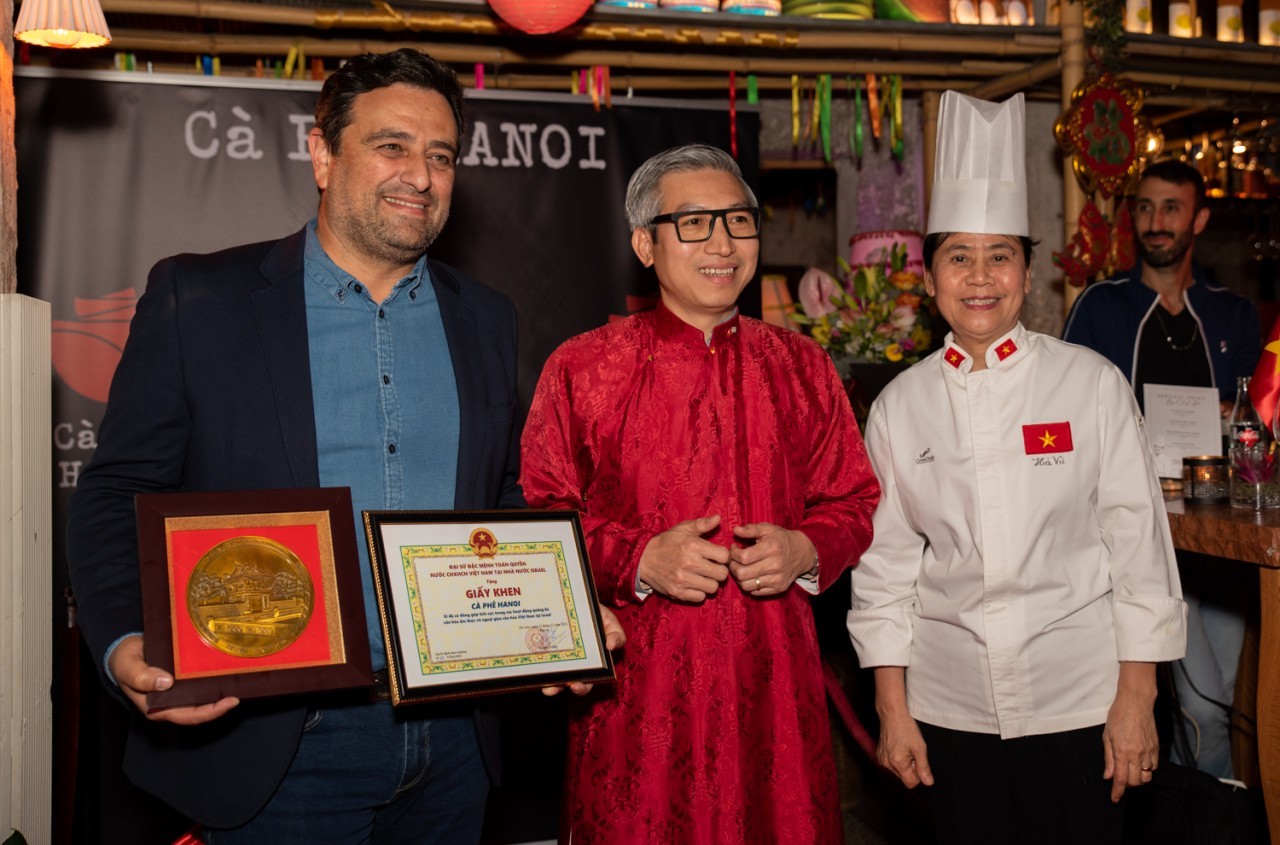 Ambassador Ly Duc Trung (middle) with chef Ha and the owner of Hanoi Coffee restaurant.
Vu Thi Ha has 30 years of experience as a chef and manager for a Vietnamese restaurant at Sofitel Metropol Hanoi Hotel. In the past few days, Chef Ha and her assistant have researched ingredients and Jewish Kosher culinary regulations, thereby creating recipes, processing, and guidelines and transferring them to local chefs. Four dishes include pomelo salad, Vietnamese shaking beef, chicken rice, and stewed eggplant with mushroom. These are all authentic Vietnamese dishes that are adjusted to suit the customs and culinary regulations in Israel.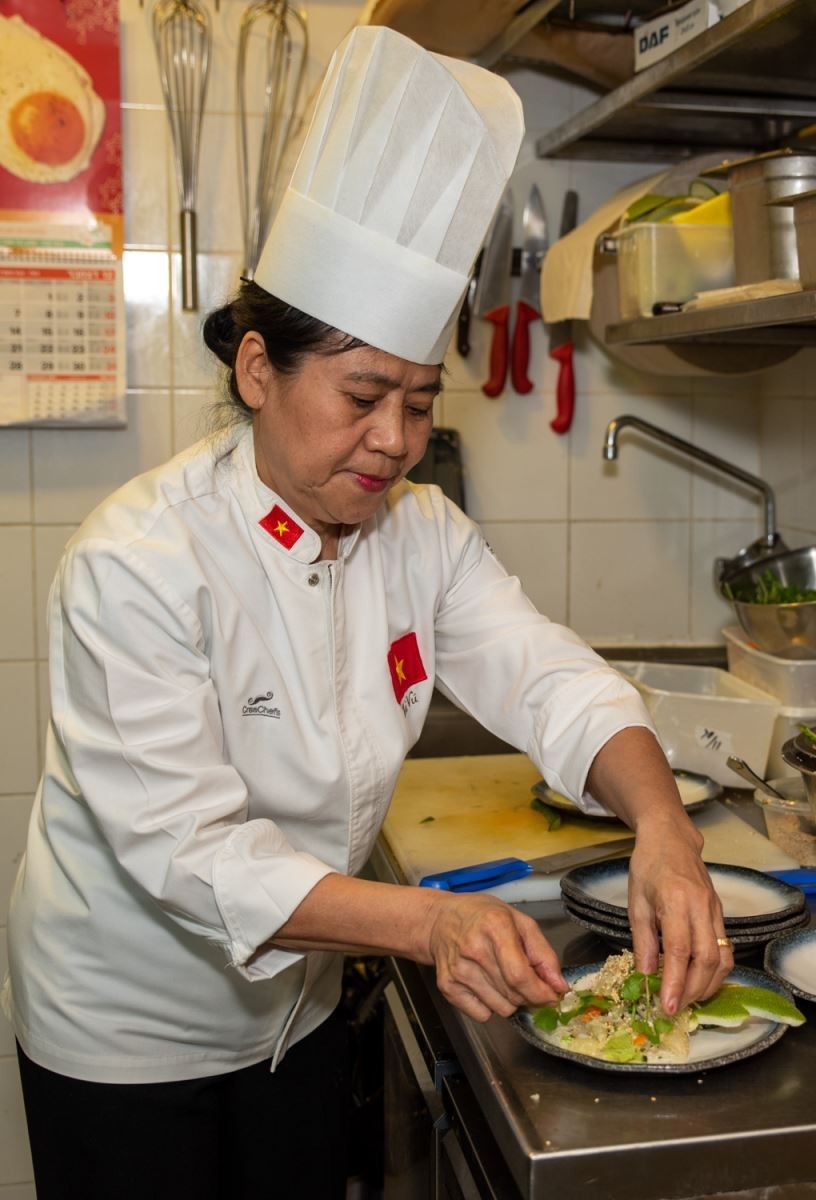 Chef Vu Thi Ha prepares dishes.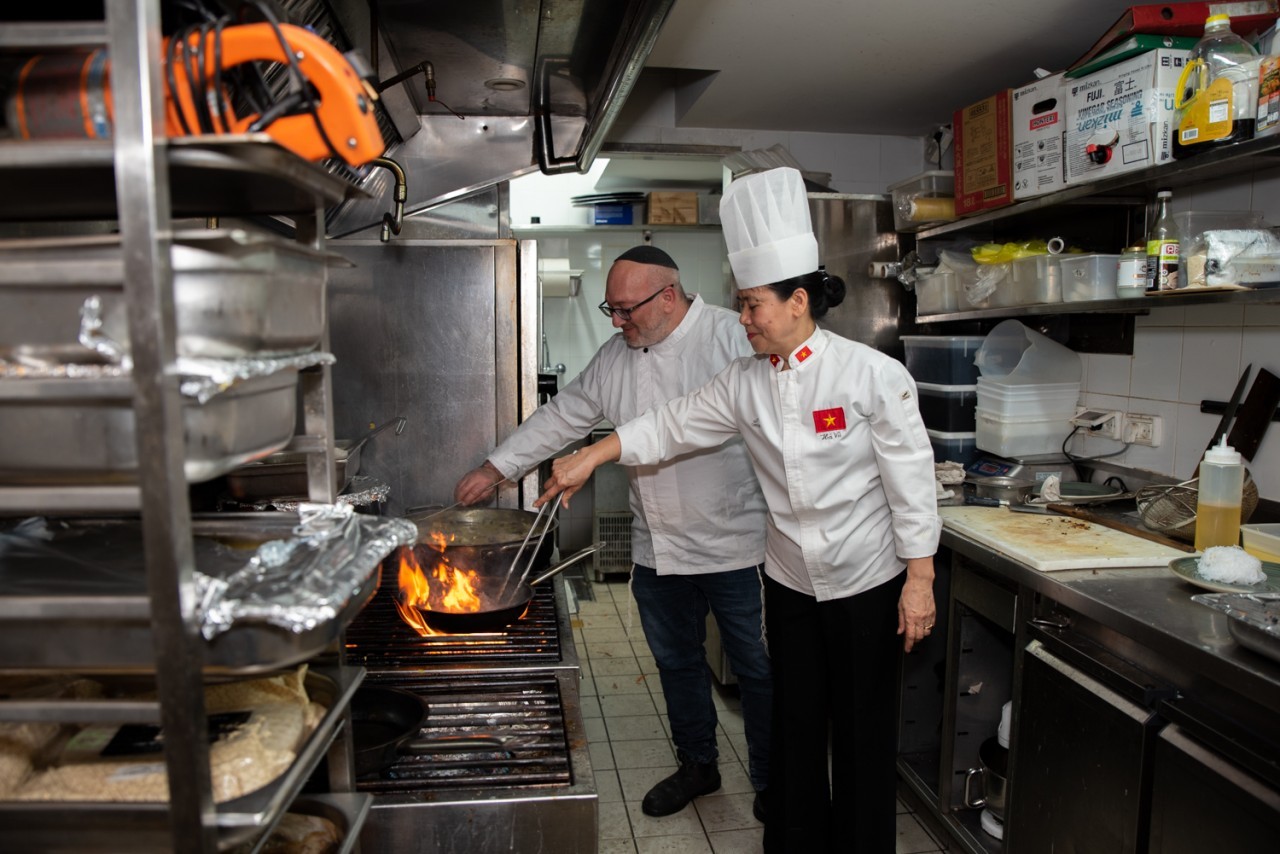 Chef Ha is guiding a Jewish chef to prepare dishes.
Chef Ha explained the reason for choosing pomelo as an ingredient because this kind of fruit is available in Israel. When mixed with chicken, it is also a popular dish in the country. The salad tastes good with a great combination of flavors.
Shaking beef is based on the famous Vietnamese bun cha, but the ingredient changed because Jewish people do not eat pork.
Meanwhile, the chicken rice is inspired by Hoi An chicken rice. Rice mixed with turmeric to create attractive color, beef fillet, served with pickles and vegetables similar to Hoi An chicken rice to show regional diversity.
The last dish is a Vietnamese traditional dish, which is braised eggplant with tofu and green bananas. In this dish, the chef served stewed eggplant with mushrooms, adding a little coconut milk for a more appealing flavor.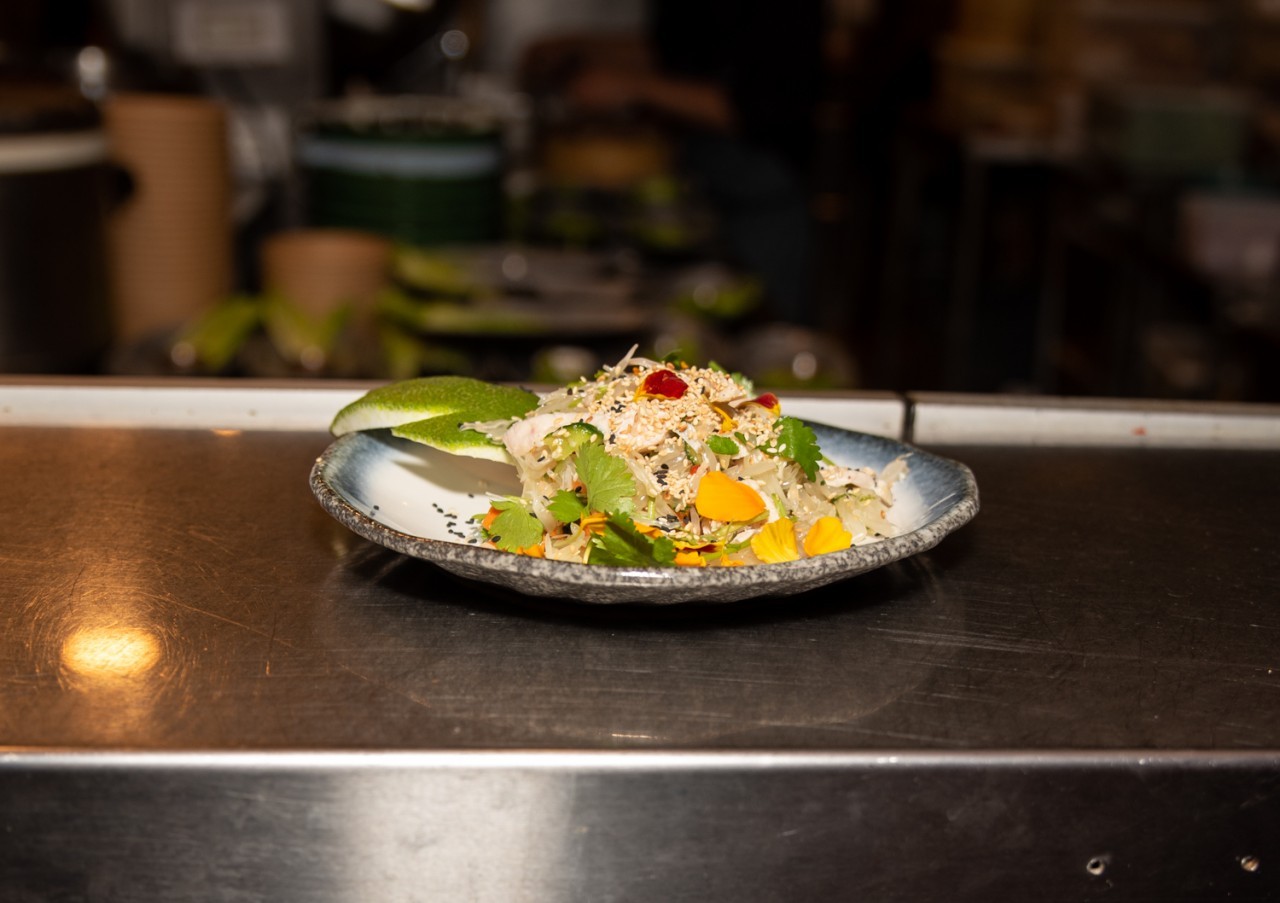 Pomelo salad.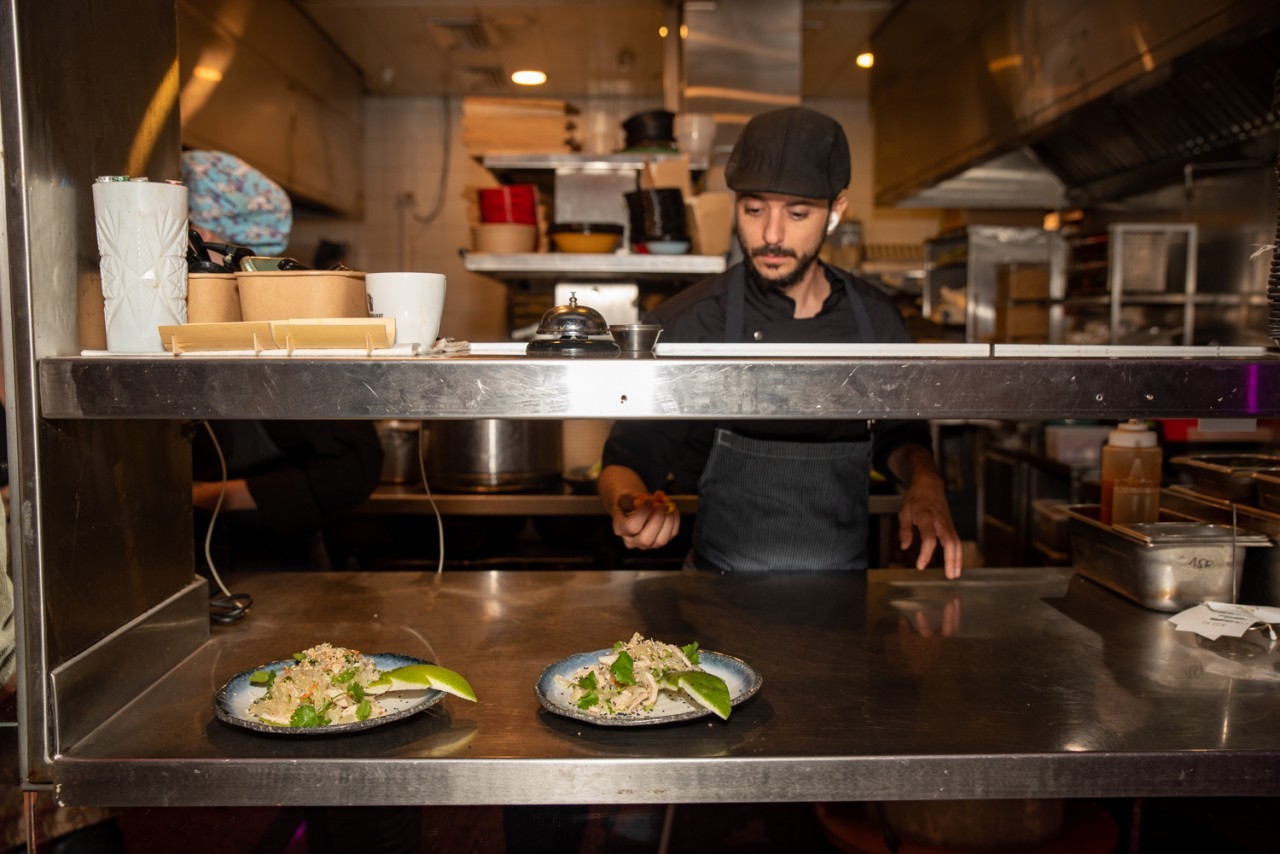 Israeli chef is making his own pomelo salad.
Israel has many strict culinary regulations, especially the Jewish regulations on cooking Kosher food. Accordingly, Jews do not eat many kinds of animals, or only eat part of them. For example, ruminants and only the front parts of the body are consumed, while catfish and crustaceans are not used at all. At the same time, the way of processing and cooking must also comply with very strict rules, such as Kosher standards in kitchen design, cooks, utensils, etc.
Chef Ha and her team said that the Israeli manager and chefs learned the ingredients, recipes, and processing methods very thoroughly to ensure religious regulations. Then, local chefs experimented with cooking recipes. Vietnamese chefs will further refine the dishes to get the finest and closest taste compared to Vietnamese authentic cuisine.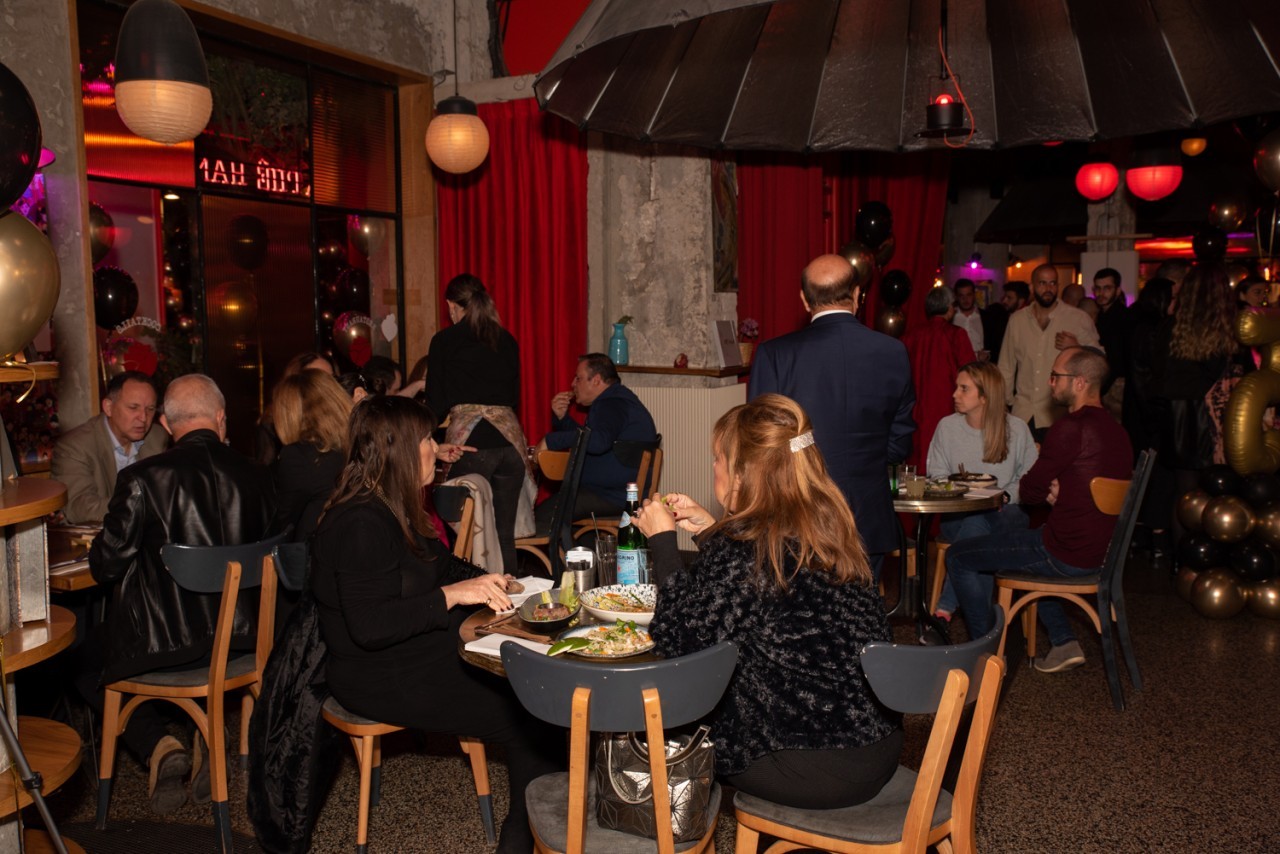 Diners enjoy the menu of many new Vietnamese dishes.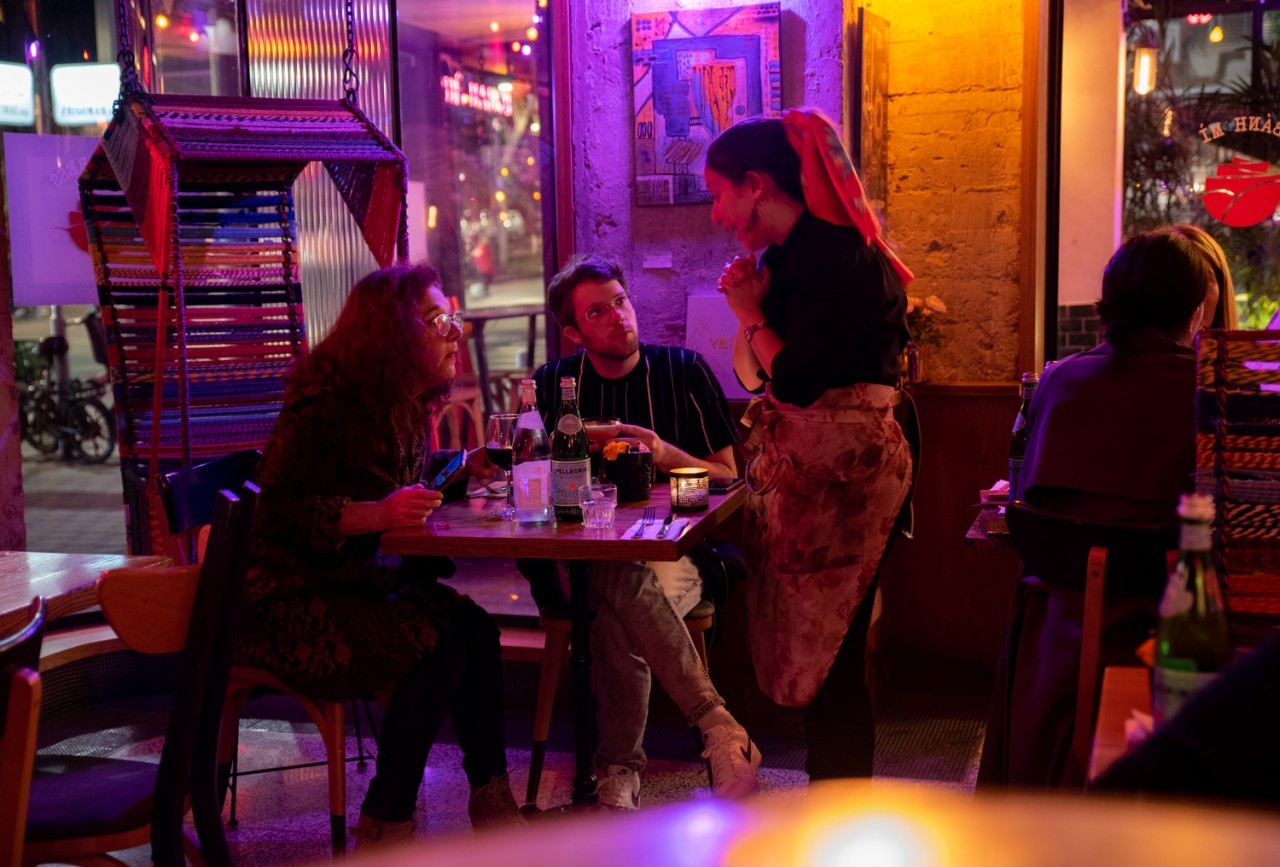 Introducing new dishes to diners.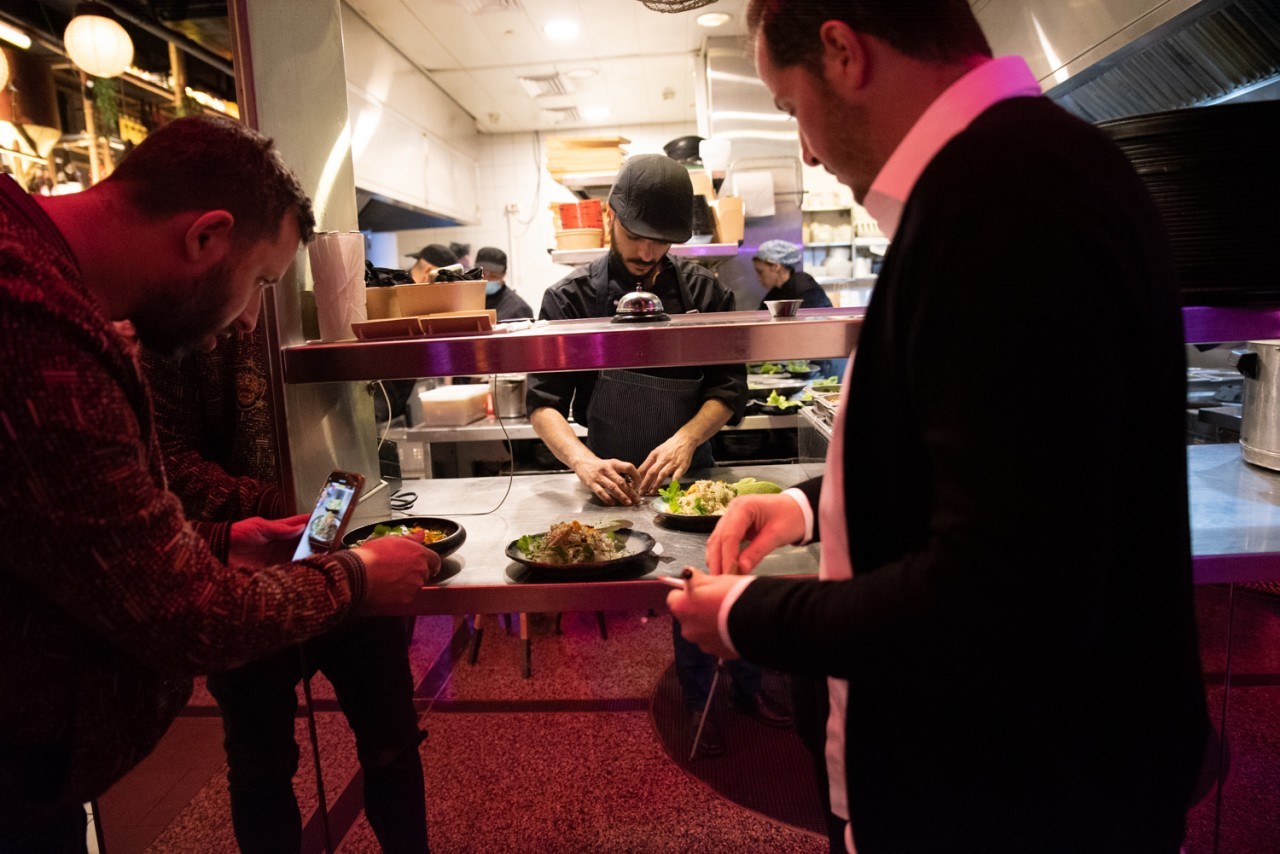 Diners enjoy taking pictures of new dishes.
Ha and her team developed a menu for Hanoi Coffee restaurant to prove that the diversity of Vietnamese cuisine can be suitable for all countries and peoples in the world, even the strictest culinary cultures. Chef Ha has introduced Vietnamese cuisine to many countries such as Australia, Spain, Canada, Qatar, Thailand, Korea, Japan, Singapore, etc. The most frequently recommended dishes are Vietnamese spring rolls and Pho. She believes that thanks to these promotion trips, local people in these countries have a better understanding of the unique dishes and culinary culture of Vietnam.
Ha spoke highly of Vietnamese cuisine.
"Up to this moment, I can say that the kitchen of Vietnam is the kitchen of the world and Vietnamese food is typical of the world because it is very popular with people from many countries. Many tourists who come to Vietnam to attend international food festivals say that Vietnamese food is their favorite".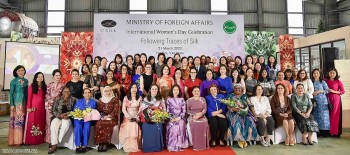 Friendship
Female ambassadors, representatives from diplomatic corps and international organizations, along with spouses of diplomats in Vietnam gathered together to find about more about silk weaving and silk products in Vietnam.