Italian Students Enthusiastic about Vietnamese Language, Culture
The Vietnamese language department at Ca' Foscari University of Venice was established in 2019, providing students with knowledge about Vietnam's history, literature, economics, geopolitics, art, and culture as well as its language.
Le Thi Bich Huong, a lecturer of Vietnamese practice from the university, teaches students to perform folk songs. Photo: VNA
Students who are studying Vietnamese at the Faculty of Asian and Northern African Studies under the Ca' Foscari University of Venice performed Vietnamese folk songs, water puppet shows and recited the Tale of Kieu during a cultural and musical event named "Vietnam Soul" on December 21.
The event saw the presence of teachers in the faculty such as head of Vietnamese Language Department Tran Quang Anh-Richard; Le Thi Bich Huong, a lecturer of Vietnamese practice from the university; and students of the school who love Vietnam, its people and culture.
In this year's "Vietnamese soul" program, the first to third-year students, chose Vietnamese great epic poem "Truyen Kieu" (The Tale of Kieu), water puppetry and "quan ho" (love duet) folk song to report the results of their studies on Vietnamese language and culture, as well as learning about Vietnam.
Through performances of Vietnamese folk songs and literature, these students not only learn Vietnamese from textbooks, but also learn typical Vietnamese traditions through various sources.
The successful performance was the result of both Huong and the students' hard practice despite various difficulties.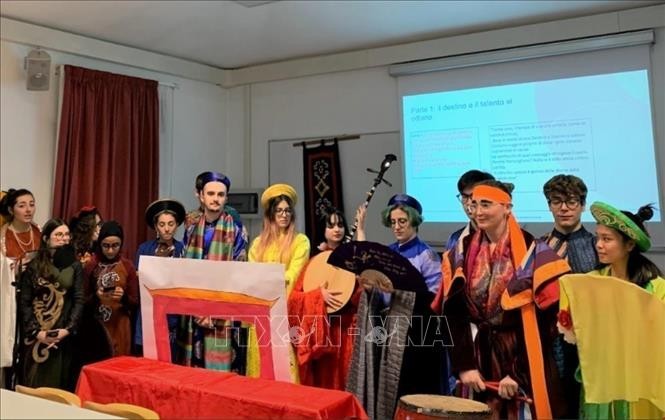 The performances, directed by lecturer Le Thi Bich Huong, were taken to the stage by first to third-year students, who do not want to learn Vietnamese just from books but also from traditional cultures. Photo: VNA
Although first-year students who have only studied Vietnamese for a semester, their passion for Vietnamese in particular and the country's culture in general, has helped them overcome the difficulties, practice hard, and go on stage to perform in Vietnamese language.
Huong said this is an extracurricular project, in addition to the main curriculum required by the subject, but the students have received it enthusiastically, considering it a rare opportunity to approach a masterpiece like The Tale of Kieu by the great poet Nguyen Du. In 2023, the students plan to create excerpts that they feel most interested in. This is also a success of teacher Huong when she introduced more Italian students to new forms of folk art and Vietnamese medieval literature.
The Vietnamese language has been taught in the university in 2019. It is the only place in Italy with the most complete Vietnamese language curricula, providing students with knowledge of history, literature, economy, geopolitics, art and every aspect of Vietnamese culture.
Head of the faculty Prof. Marco Ceresa, who is very fond of Southeast Asia, told the VNA that "the reason why the school decided to open a Vietnamese language teaching and learning class is because Vietnam and Southeast Asia play a very important role in culture and economy." Before opening the Vietnamese language department, Ca'Foscari University taught 14 foreign languages, but no Southeast Asian languages.
Next year, the faculty will launch a master programme in Vietnamese and hold more cultural exchanges between Italian and Vietnamese students in the university.
According to Huong, learning Vietnamese can help Italian students better understand Vietnam. Italian students are very eager to study and research, and read books about the Southeast Asian country. They have learned about Vietnamese language and culture through extensive research on "quan ho" (love duet), "cheo" (Vietnamese traditional opera) and "cai luong" (reformed opera) singing, famous poetries, now Vietnamese 18th-century great poet Nguyen Du's Tale of Kieu along with water puppetry.
Anna Scuccimarra, a second year student, shared her decision to learn Vietnamese because of her short time living in Southeast Asia when she falls in love with the regional culture. She hopes more people will learn Vietnamese, "it is a very interesting language, although quite difficult compared to Italian."
Interesting lessons, coupled with outdoor activities, will help Italian students love the Vietnamese language even more. They will also act as a bridge to connect the two countries, and contribute to elevating bilateral ties.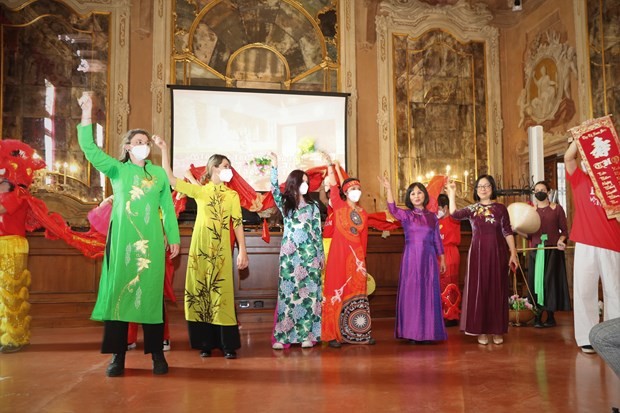 The cultural and musical event named "Vietnam Soul" in February 2022. Photo: VNA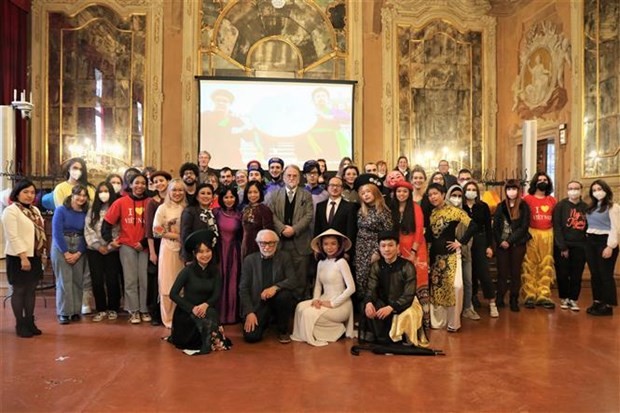 Traditional Vietnamese music and poetry are used in the classes, helping students gain a deeper understanding of the tones in the Vietnamese language. Photo: VNA
Earlier this year, a similar cultural and musical event had been featured quan ho, cheo, cai luong singing, a traditional costume fashion show and Vietnamese poem reading.
The event saw the presence of Vietnamese Ambassador to Italy Nguyen Thi Bich Hue and Italian friends.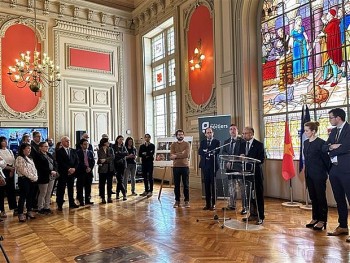 National
Vietnam News Today (Mar. 26): Vietnam and Thailand promote labour cooperation; Vietnamese, French localities look to step up cooperation; Attractive incentives on offer at Hanoi Tourism Festival 2023; E-commerce accounts for 60% of Vietnamese digital economy.