Nurturing, Preserving Vietnamese Language for Children in Korea
With an aim to preserve and nurture Vietnamese language among children from multicultural families in Korea, many people volunteer as teachers in Vietnamese language classes, proud of their meaningful work.
Although miles away from their homeland, Vietnamese expats in Korea are still patriotic about Vietnam. Through organizing Vietnamese language classes, expats can that part in meaningful annual activity to help children of Vietnamese-Korean multicultural families learn their mother tongue and contribute to preserving the culture and traditions of the country.
This class model has been successfully replicated in many cities such as Seoul, Daejeon, Gwangju-Chonnam, and others. Many Vietnamese mothers wish to send their children to these Vietnamese language classes so they know Vietnamese, strengthen the mother-child love, as well as help children understand the culture and country of Vietnam.
Classes are usually run by students at Korean universities at the doctoral and master's levels and Vietnamese who are experienced in teaching the Vietnamese language in Korea.
From a Student to Become a Teacher
Pursuing a master's degree in education in Korea, Phuong Anh works part-time teaching Korean and Vietnamese as a freelance translator.
She considers teaching the Vietnamese language a blessing. At first, she did not intend to follow the path of teaching Vietnamese. However, thanks to the encouragement of the members of the Executive Committee of the Vietnamese Association in Korea, she started teaching Vietnamese to children in multicultural families.
Phuong Anh, a dedicated teacher, understands the importance of her work.
"This is a very meaningful job. In my Vietnamese class, students are very obedient and study very hard. Seeing them, I am more motivated to research, to compose more interesting lectures. Every week, I find happiness in meeting my students and teaching them the Vietnamese language".
Phuong Anh considers teaching joy and pride, helping children to communicate in Vietnamese with family and society. Furthermore, she contributes to the development and bond in the Vietnam – Korea relationship.
According to the talented teacher, most children in multicultural families are too young to realize the importance of protecting and preserving the Vietnamese language. This is the responsibility of adults, to help children have a clear orientation about their native language.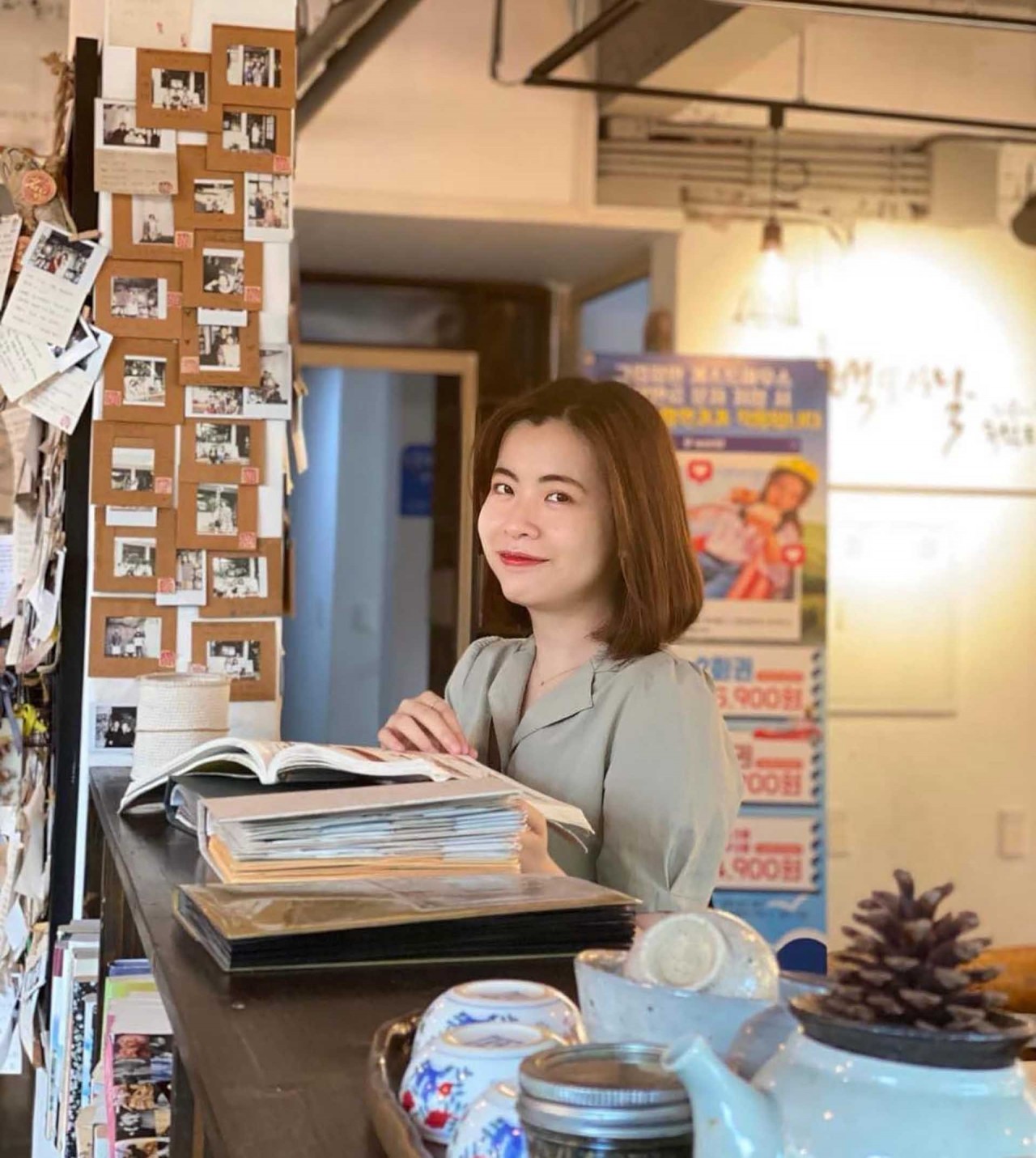 Teacher Phuong Anh and Vietnamese online class. (Photo: Thoi Dai)
From her practical experience in teaching Vietnamese in Korea, she said that although there are Vietnamese classes for children in Korea, it is important for parents to accompany and support them. For example, parents can urge their kids to do their homework, encourage them to have more conversations in Vietnamese…
"We should also organize more Vietnamese language exchange programs so that they can be more excited about learning the language. Finally, learning has to stick with practicing, learning while playing, and playing through learning. We need to always create a comfortable atmosphere for children to love the language actively rather than reluctantly", said Phuong Anh.
Phuong Anh said that the mother tongue is the root, the love that bonds the family and the people of Vietnam. The young teacher believes that Vietnamese can become a useful tool for the future career development of children in multicultural Vietnamese - Korean families.
Vietnamese Bride and Her Teaching Job
Married to her Korean husband when she was 20, Kim Thoa has been living in Korea for 19 years.
During the first 10 years, she revolved around with household chores. When the baby went to kindergarten, she had time to learn Korean and gradually fell in love with the teaching profession.
Up to now, Kim Thoa has been teaching the Vietnamese language to Chungnam National University students and elementary school students outside of formal school hours for eight years. Recently, she taught in a Vietnamese class for children from Korean-Vietnamese multicultural families.
When she first came to the teaching profession, Thoa faced many difficulties such as forgetting Vietnamese words or spelling mistakes because she rarely used them in Korea. She had to prepare carefully before every class. However, the student's hard work became her motivation and joy every day.
Besides, the Vietnamese language is being taught in more educational institutions in Korea. Thoa and other teachers of Vietnamese are equipped with many teaching facilities and paid well by the Government.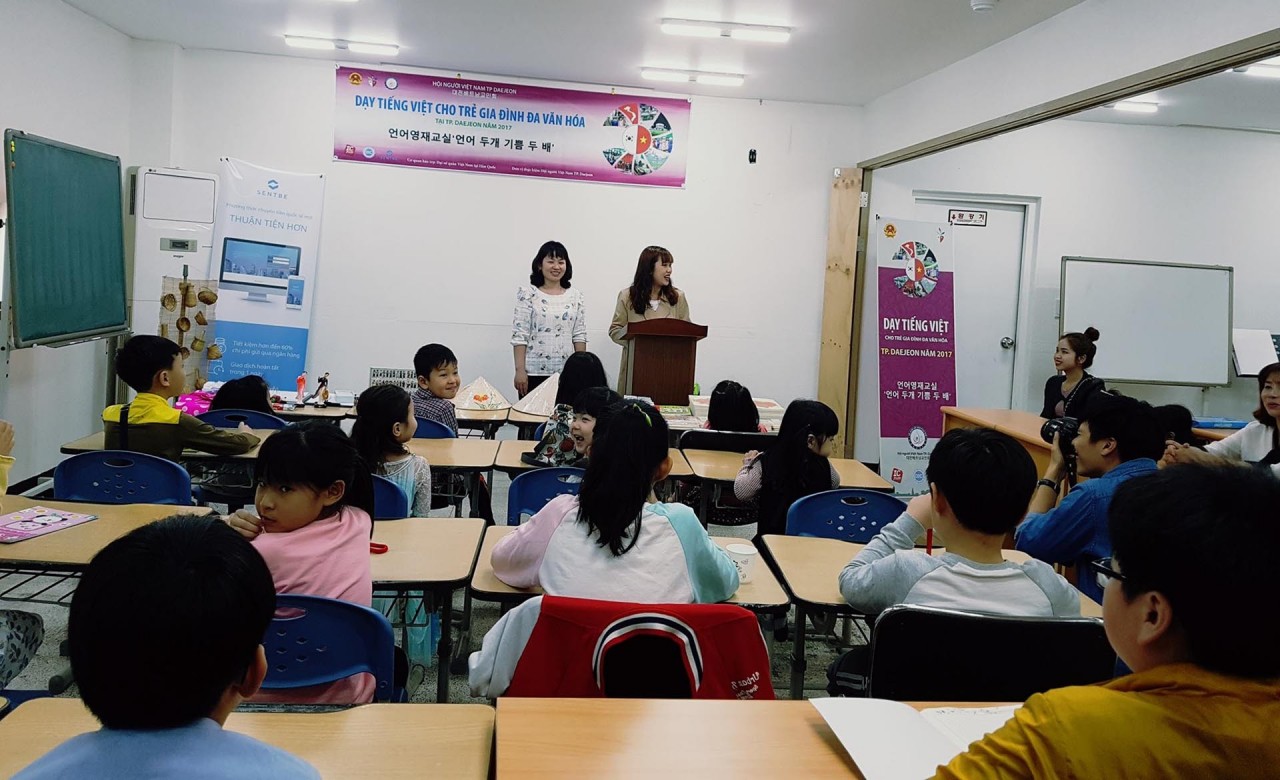 Teacher Kim Thoa (on the left) at a Vietnamese class for children from Vietnamese-Korean multicultural families. (Photo: Thoi Dai)
Belief in the Development of the Mother Tongue
With the success of Vietnamese language classes and the enthusiasm of teachers such as Phuong Anh, Kim Thoa, etc., the second generation of oversea Vietnamese will become a bridge, contributing to promoting Vietnam-Korea relations in the future.
In Korea, learning and mastering English is essential to getting a well-paid job and promotion, but many people are still learning a less common language like Vietnamese.
With more than eight years of experience in teaching at companies, language centers for foreigners, and the children of Vietnamese-Korean families, teacher Vu Thi Thai Linh is pleased to see the growing need to learn Vietnamese in the Vietnamese and Korean communities.
She said that the targeted audience is expanded from leaders and employees of companies investing in Vietnam to Korean students, children of Vietnamese-Korean multicultural families, Korean children, married women…
In Daejeon city, there are many children from multicultural families who do not know, know little, or have no interest in Vietnamese culture, especially the Vietnamese language. One of the reasons is that parents mostly use the Korean language in daily conversations. Besides, they are too busy at work that they don't have time to teach their children.
However, if all children from multicultural families can use both their native and local languages ​​at the same time, they will be easier to integrate and the Vietnamese community will also be strengthened.
As a mother of two Vietnamese-Korean children, Chau Thi Ngoc Mai living in Daejeon city understands that most mothers want their children to be able to speak both languages ​​of both parents.
"Even though they live in Korea, the children still do not forget their grandparents and relatives living in Vietnam. It is the mother's hometown, part of their blood. I hope they can visit and talk to their grandparents and fellow countrymen in their mother tongue," said Vu Thi Thai Linh.
Nurturing Vietnamese for children of Vietnamese-Korean families. (Photo: Thoi Dai)
In the coming months, the Vietnamese Association in Korea is planning to open more Vietnamese classes across the nation.
With the support of the Vietnamese Embassy in Korea and sponsorship of multicultural family centers and companies in Korea, the Association continues to coordinate with the Asian Development Fund to provide scholarships at Vietnamese universities for students who graduate from high school and take training classes in the Vietnamese language.
The Vietnamese community in Korea hopes such a class model to be replicated so that all children of Korean-Vietnamese multicultural families have the opportunity to learn their mother tongue.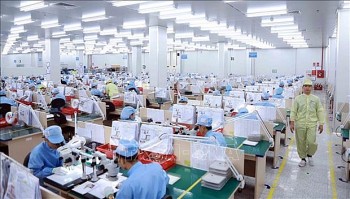 National
Vietnam News Today (Jan. 26): Vietnam - important partner of RoK; HCM City maintains growth momentum, reaps successes in 2022; Vietnam's tourism forecast to strongly rebound in five years; Many localities attract a large number of visitors during Tet.