Japan, Australia agree on security pact amid fears over disputed South China Sea (Bien Dong Sea)
Australian Prime Minister Scott Morrison becomes the first foreign leader to meet with Japan's new Prime Minister Yoshihide Suga on Japanese soil on Tuesday November 17 for an agreement on a breakthrough defence pact allowing reciprocal visits for training and operations, and voiced concern over the disputed South China Sea (Bien Dong Sea), where China is extending its military influence.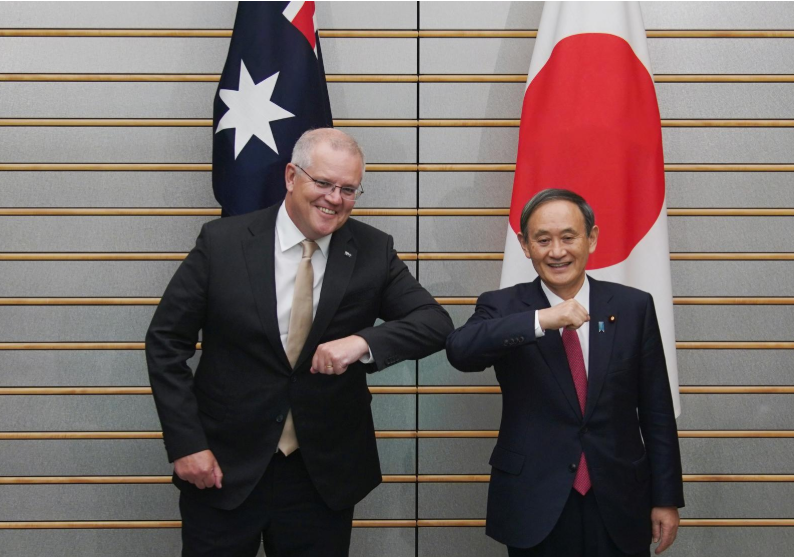 Japanese Prime Minister Yoshihide Suga (right) and Australian Prime Minister Scott Morrison. Getty image
It is Japan's first agreement covering foreign military presence on its soil since a status of forces agreement in 1960 that allowed the United States to base warships, jets and troops in Japan as part of an alliance that Washington describes as the bedrock of regional security.
The Reciprocal Access Agreement strengthens defence ties between the two U.S. allies at a time when China is asserting its role in the region and the United States is going through a messy leadership transition.
The pact allows Japanese and Australian troops to visit each other's countries and conduct training and joint operations and was agreed in principle by Japanese Prime Minister Yoshihide Suga and his Australian counterpart, Scott Morrison, who is visiting Tokyo.
"I hereby announce that we reached agreement in principle on a reciprocal access agreement, which had been negotiated to elevate security and defence cooperation between Japan and Australia to a new level," Suga told a joint news conference.
The two sides also agreed on the need for a framework to allow Japanese military to protect Australian forces if needed, the joint statement said.
Since mid-August, the United States has repeatedly riled China by sending warships to the South China Sea and has blacklisted 24 Chinese entities over their involvement in building and militarising artificial islands there, reported Reuters.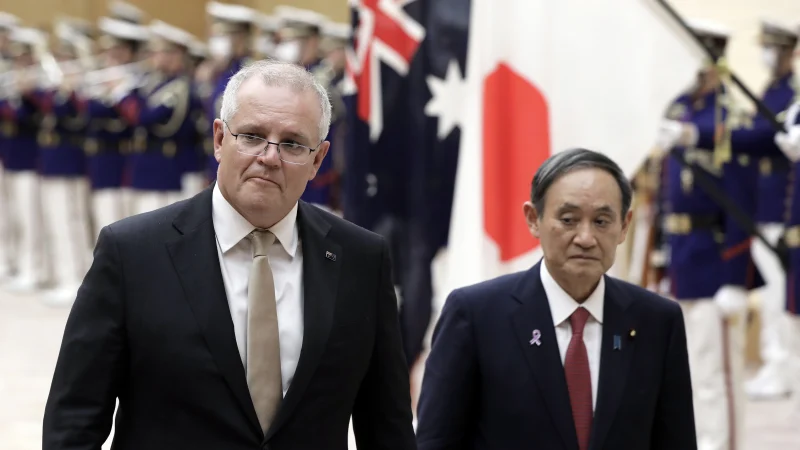 Australia and Japan have signed a new defence pact.Photo:AP
Mr Morrison became the first foreign leader to meet with Japan's new Prime Minister Yoshihide Suga on Japanese soil on Tuesday, clinching the new defence pact which will allow for more maritime war games, military aviation exercises and the stationing of troops in each other's countries.
"This is a significant evolution of this relationship, but there is no reason for that to cause any concern elsewhere in the region," Mr Morrison said. "I think it adds to the stability of the region, which is a good thing."
But Chinese government mouthpiece The Global Times said the agreement was not about defence cooperation because Japan and Australia were "geographically distant from each other".
Australia and Japan will now look to increase their military cooperation in a number of key geostrategic flashpoints in the region, including the disputed South China Sea where Beijing has been steadily militarising by establishing artificial islands.
While Australia and Japan have been engaging in military cooperation in recent years, the Reciprocal Access Agreement will streamline arrangements to support the deployment of troops more quickly and with less red tape, said the smh.com.au.
It is the first agreement covering a foreign military presence in Japanese territory since the 1960 Status of Forces Agreement with the United States.
The in-principle agreement sets out the use of the other country's defence bases, the cost and sharing of refuelling and munitions, claims for accidents and conduct during joint exercises.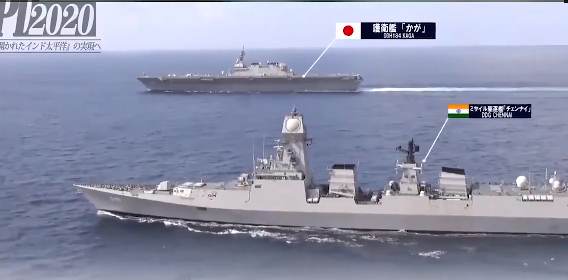 Japanese destroyers carrying helicopters and submarines exercise in the South China Sea
The deal follows Australia's return last month to the Malabar naval exercises involving Japan, India and the United States, in a move that unsettled Beijing.
Australia and Japan have been negotiating the RAA since 2014, but a key point of contention for negotiators was the possibility of ADF personnel facing the death penalty for crimes while serving in Japan.
They also reiterated the importance of enhancing regular bilateral and multilateral cooperative activities in the Indo-Pacific region, including maritime activities in the South China Sea, to maintain a free, open, secure, inclusive and prosperous region.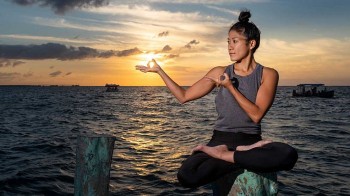 Overseas Vietnamese
With a view to inspire greater compassion, kindness, and empathy in the world, Caroline Vo left her high-paid job and came up with the idea to build an online yoga practice community.