Australia outlet: Europe could look to Vietnam's success in containing COVID-19 pandemic
Australia media outlet the Conversation has recently run an article mentioning the second wave of COVID-19 in Europe and how this continent could learn from the success of countries like Vietnam in stemming the pandemic.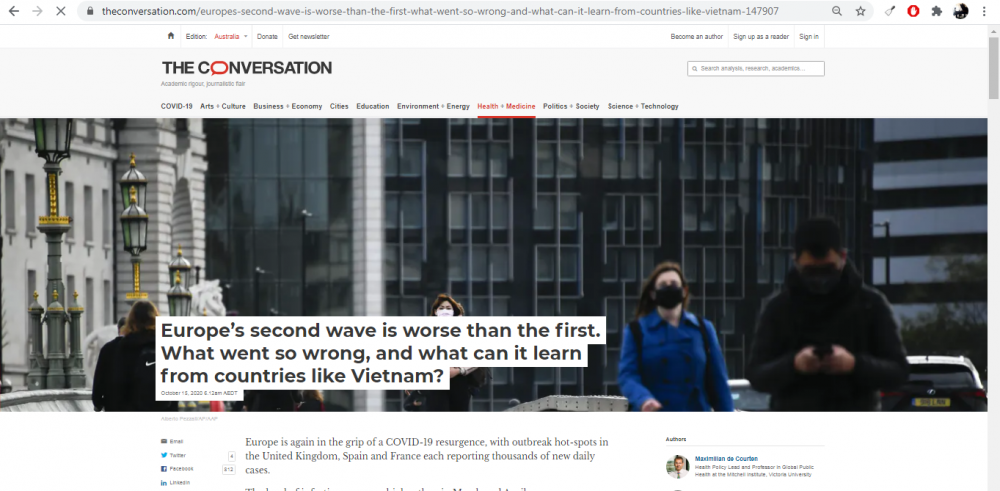 The article titled "Europe's second wave is worse than the first. What went so wrong, and what can it learn from countries like Vietnam?" published on the Conversation. Photo: Captured
Opening the article, the author states how Europe is currently facing a COVID-19 resurgence, with outbreaks occurring in the UK, Spain, and France, with each country reporting thousands of new cases daily.
The level of infections are now higher than in March and April across many countries after restrictions were significantly eased over summer. But now many areas are being forced to re-introduce varying levels of restrictions, though most countries are resisting nationwide lockdowns.
In order to cope with the second wave of COVID-19, the author said that the various Governments of European countries could potential study the success enjoyed by several Southeast Asian countries, such as Vietnam, Thailand, and Cambodia.
Although there may have been an undercounting of cases and deaths, this doesn't detract from the overwhelming success that these nations have enjoyed.
Graffiti in the Vietnamese capital, Hanoi. Despite a population of nearly 100 million, the country has recorded just over 1,100 COVID-19 cases. (Photo: Luong Thai Linh/EPA/AAP)
Vietnam's total number of cases is just 1,113, which is extremely low for a population of nearly 100 million. One tactic used by health authorities has been targeted testing, where they've focused on high-risk individuals and on buildings and neighborhoods where there have been confirmed cases.
The article also notes that the health authorities have implemented extensive contact tracing, and aimed to identify those at risk of exposure regardless of symptoms. The country also set up quarantine facilities for infected people and international travelers, minimizing spread inside households.
The article concludes by saying that having gained experience from the SARS and avian flu epidemics, many Asian countries took the threat of COVID-19 seriously right from the beginning. Moreover, many countries implemented strict measures like wearing face masks and imposing social distancing early. Targeted testing, education and the involvement of the community are critical in responding to COVID-19.