Japan reopening: Begun to ease social distancing measures
The remaining five of Japan's 47 prefectures — Tokyo, Chiba, Kanagawa, Saitama and Hokkaido — were released from the state of emergency following an announcement Monday by Prime Minister Shinzo Abe.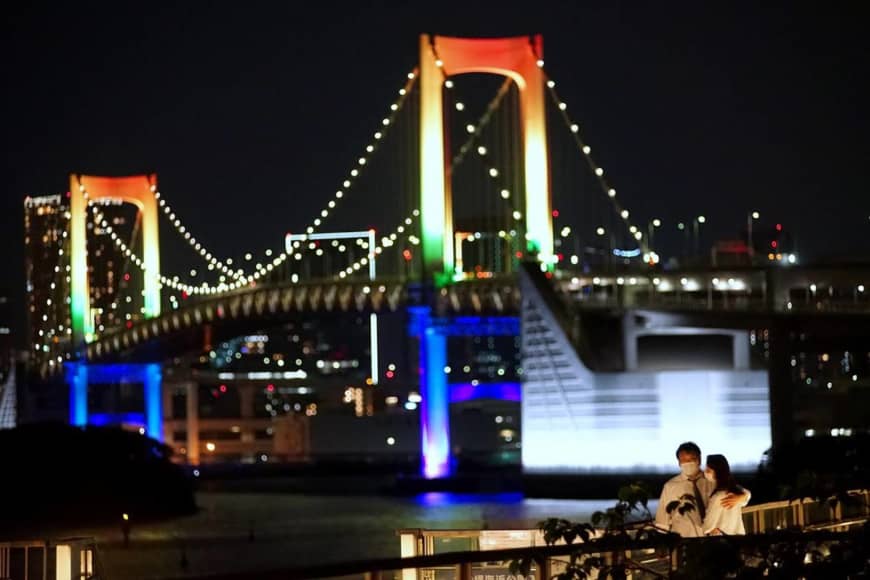 A couple embrace each other in Tokyo on Monday night with the Rainbow Bridge in the background, lit up in seven colors to commemorate the end of the state of emergency in Japan. | RYUSEI TAKAHASHI
Japan entered day one of what will hopefully be the final stretch of the country's initial brush with the novel coronavirus after the state of emergency was lifted Monday night in all remaining prefectures.
Municipalities throughout the nation have begun to ease social distancing measures and business closure requests first announced in early April. Some regions, however, are moving faster than others.
The remaining five of the country's 47 prefectures — Tokyo, Chiba, Kanagawa, Saitama and Hokkaido — were released from the state of emergency following an announcement Monday by Prime Minister Shinzo Abe.
Tokyo put forward its coronavirus road map last week detailing the city's three-stage plan to reopen society. The capital, which is aiming to initiate phase two of its plan by this weekend, will incrementally repeal business closure requests for select facilities over the course of several weeks and months based on infection rates or whether they reported any clusters.
The Tokyo Metropolitan Government has already peeled back voluntary closure requests for libraries, museums and other cultural hubs, and urged restaurants to operate until 10 p.m. instead of 8 p.m. as previously instructed. Public events will be capped at 50 people.
In stage two, select facilities with no history of cluster infections will be urged to reopen and public events will be limited to 100 people. At stage three, all facilities with no cluster history will be asked to reopen, food establishments will be encouraged to operate until midnight and events will be allowed to host up to a thousand people.
Tokyo Gov. Yuriko Koike has said she will decide Friday whether to move to phase two.
"Lifting the state of emergency marks the end of one chapter and the beginning of another," Koike said Tuesday during a meeting of the city's coronavirus task force. "There is still much that needs to be done to truly overcome the novel coronavirus."
Restrictive measures in Tokyo will be lifted based on seven criteria monitored over a two-week basis, including the ratio of new and untraceable cases and how those numbers compare to the previous week. The number of hospitalized patients, the amount of patients with severe symptoms, the infection rate among those tested for COVID-19 and the amount of calls and consultations received by coronavirus hotlines will also be considered.
Restrictive measures in some municipalities are being peeled back more slowly, while in others they've already been lifted completely.
Kanagawa Prefecture is going to lift closure requests for all businesses on Wednesday provided they maintain virus countermeasures after reopening.
Saitama Prefecture urged cinemas and pachinko parlors to resume business Monday, as well as internet and manga cafes for those who work remotely. Closure requests remain in place for most food establishments.
Prefectural schools in Tokyo, Chiba, Kanagawa, Saitama and Hokkaido will begin to welcome students back on June 1.
Abe initially declared a state of emergency in seven prefectures on April 7 and extended it to the rest of the nation nine days later. The declaration was originally set to expire on May 7 but it was extended to May 31 after results from the first months failed to show signs that the coronavirus had been sufficiently contained.
Following his announcement, Abe detailed the central government's three-stage plan to roll back restrictive measures in roughly three-week increments. Until the end of the month, residents throughout the country are urged to avoid travel between municipalities. From June 1, travel to the last five prefectures released from the state of emergency should be avoided. From June 19, the government won't impose any voluntary travel restrictions of any kind on the country's residents.
Your news needs your support
Since the early stages of the COVID-19 crisis, The Japan Times has been providing free access to crucial news on the impact of the novel coronavirus as well as practical information about how to cope with the pandemic. Please consider subscribing today so we can continue offering you up-to-date, in-depth news about Japan.
www.japantimes.co.jp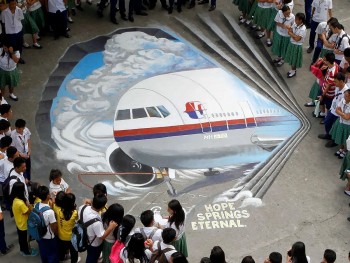 World
The world might never know what really happend when these planes went off the radar. Let's take a look at some of the unsolved mysteries of aircraft disappearances.