Japan-Vietnam Friendship Association in Japan's Chukyo Gifts Hanoi Cherry Blossom Trees
More Japanese cherry trees were planted in Hanoi's park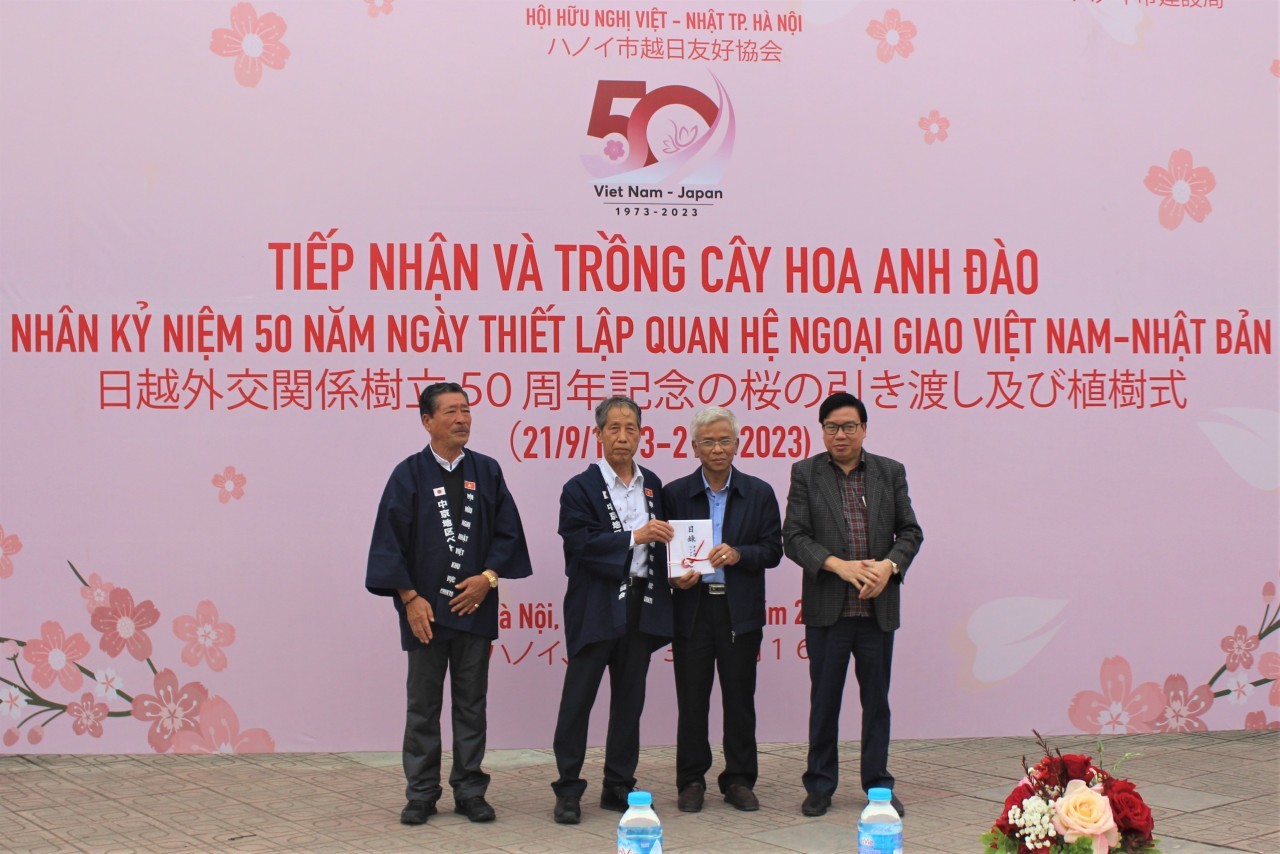 At the reception of 110 cherry blossom trees from the Chukyo Japan – Vietnam Friendship association.
110 cherry blossom trees – a symbol of Japan – were planted at the Hoa Binh (Peace) Park in Hanoi on March 16, marking the 10th anniversary of a project presenting Sakura cherry trees to Vietnam initiated by the Japan-Vietnam Friendship Association in Chukyo region.
The event, held by the Hanoi Union of Friendship Organizations (HUFO), celebrated the 50th anniversary of diplomatic ties between Vietnam and Japan.
In her remarks, Permanent Vice President of the HUFO Tran Thi Phuong noted that over the past 50 years, Vietnam-Japan relations have been developing rapidly across spheres since the establishment of the diplomatic ties, and have been growing more substantive and intensive.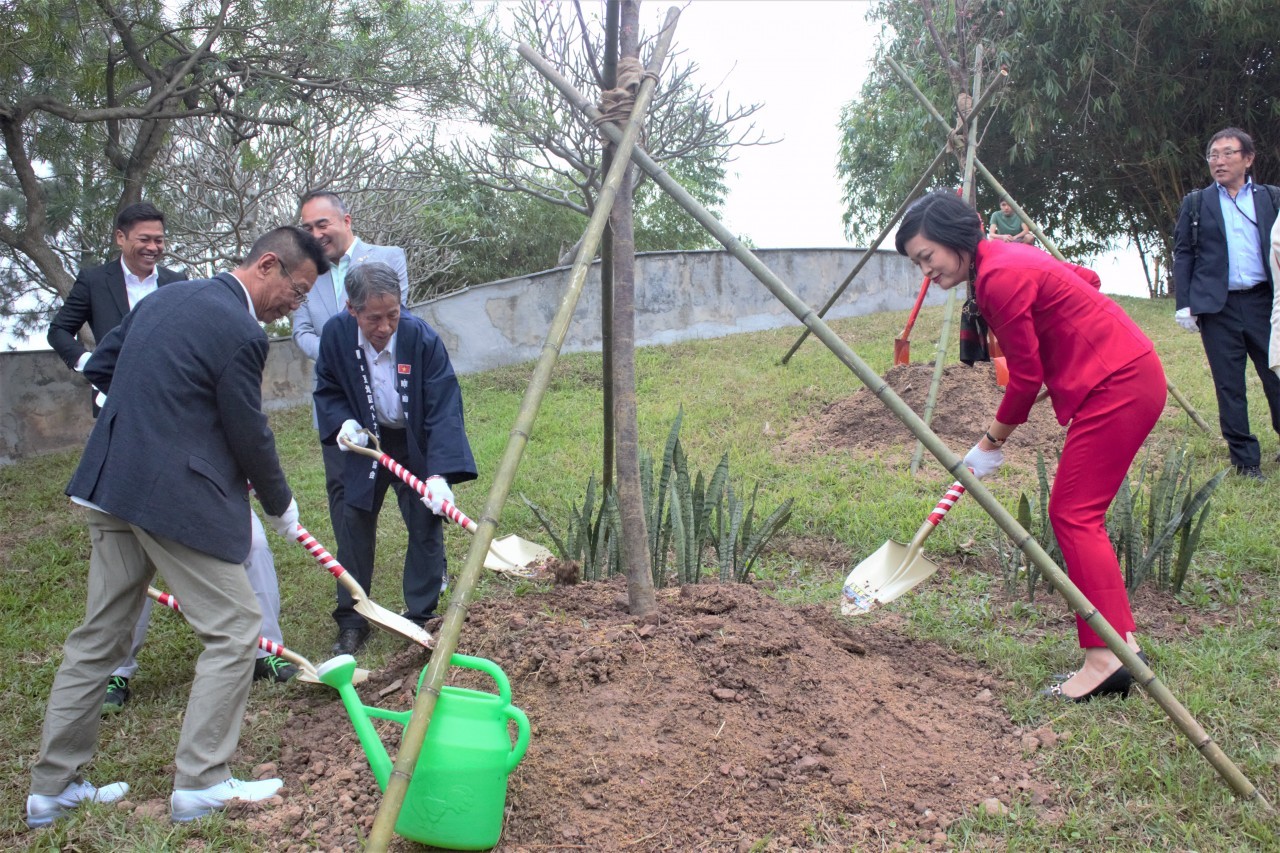 Officials plant cherry blossom trees in Hoa Binh park.
The political, economic and cultural ties as well as people-to-people exchanges have been expanded and advanced, she said, calling the 50th anniversary in 2023 is also an opportunity to look back on the Vietnam-Japan relationship so far and create a foundation for the bilateral relationship to develop rapidly and look forward to the future.
The program contributes to beautifying the landscape, improving the capital's environment, and at the same time celebrates the 10th anniversary of the Sakura cherry trees donation project initiated by Chukyo's Japan - Vietnam Friendship Association.
Kamitani Naoko, First Secretary, Head of the Press and Culture Department of the Japanese Embassy in Vietnam, said that the symbolic flower of Japan donated by the Japan - Vietnam Friendship Association in Chukyo will be a bridge to help connect the hearts of the people of the two countries.
"I hope that the cherry blossom trees today, under the care of the Vietnamese people, will bloom brilliantly. The friendship between Vietnam and Japan will flourish," said Kamitani Naoko.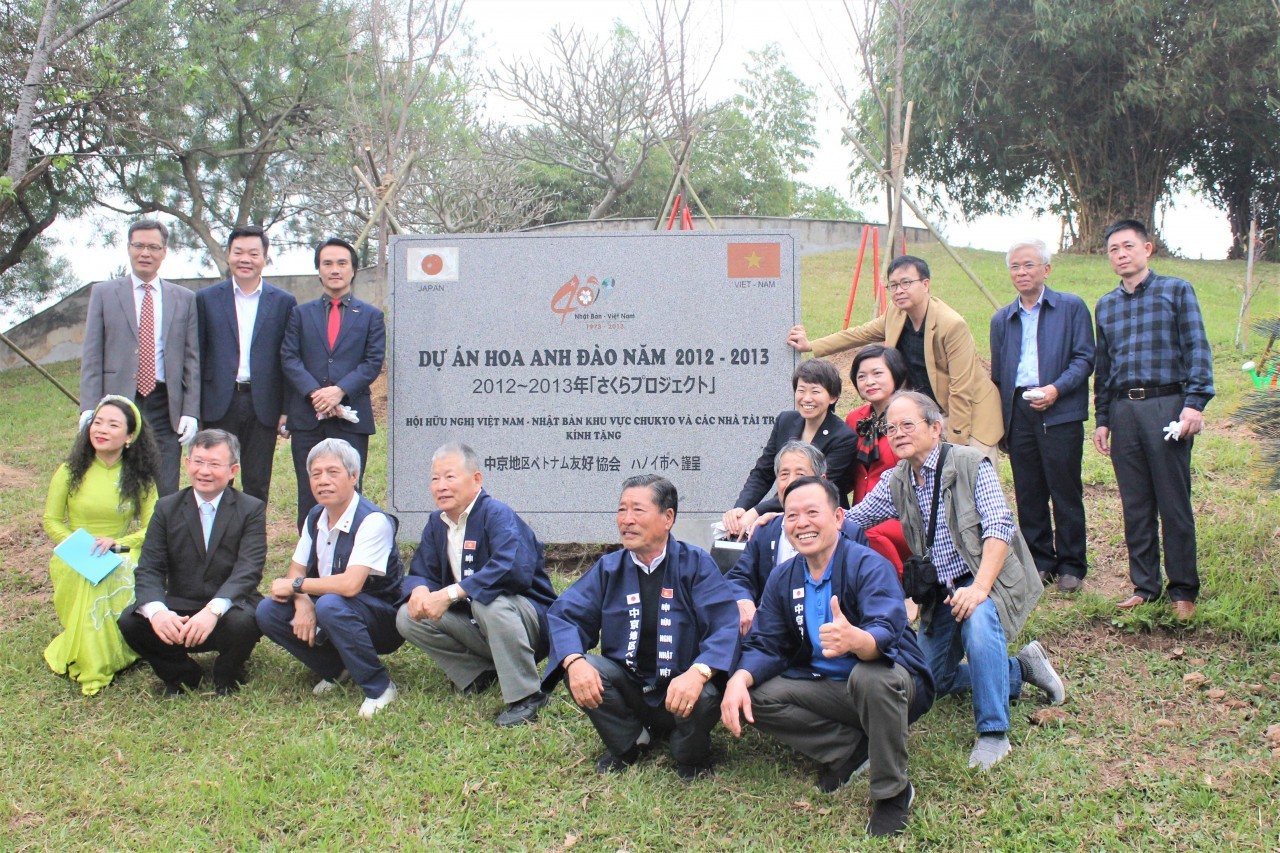 The tree donated project aims to turn Hoa Binh into a well-known cherry blossom park.
Maeda Toshimichi, President of the Japan-Vietnam Friendship Association in the Chukyo region, said during the 10-year implementation of the project, the Japanese side has received a warm response and support from Vietnamese partners.
After Hanoi, the project will be rolled out in the northern provinces of Bac Ninh and Bac Giang, he said.
The Sakura cherry tree planting ceremony in Hoa Binh park was launched in 2017.
In addition, from 2015-2018, the Japan-Vietnam Friendship Association of Chukyo region also has presented 700 Sakura cherry trees to Bac Giang province.