JICA experts in Vietnam receives medals from Ministry of Construction
The experts granted Medals for the Cause of the Construction industry for promoting cooperation between Vietnam and Japan.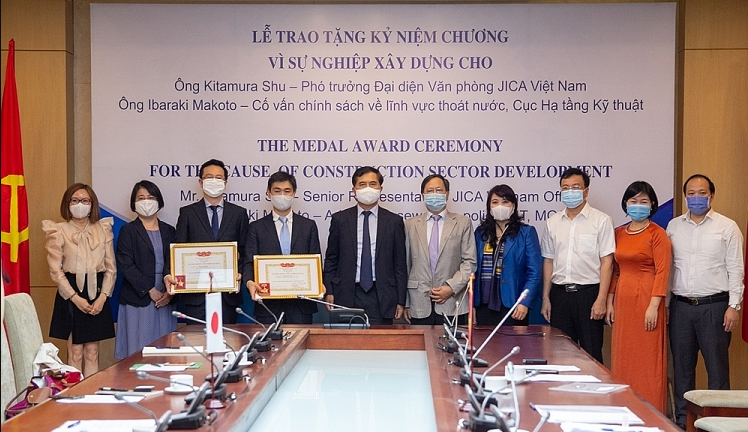 The event was held on May 12.
On May 12, the Ministry of Construction granted the "Medal for the Cause of the Construction industry" to two Japanese experts who work for Japan International Cooperation Agency (JICA) Vietnam Office. They are Vice Chief Representative of JICA Vietnam Office Kitamura Shu and policy advisor in the drainage sector, the agency's expert at the Ministry of Construction, Ibaraki Makoto.
On behalf of the ministry, Deputy Minister Le Quang Hung thanked Japan International Cooperation Agency for its support in many technical projects over the last 20 years.
The deputy minister acknowledged and highly appreciated the significant contribution that Kitamura Shu and Ibaraki Makoto had made in promoting cooperation between the ministry, the agency, and Japan's Ministry of Land, Infrastructure, Transport, and Tourism, especially cooperation on technical infrastructure, water drainage and wastewater treatment, human resources, construction industry's institutions, policies, regulations systems, and standards.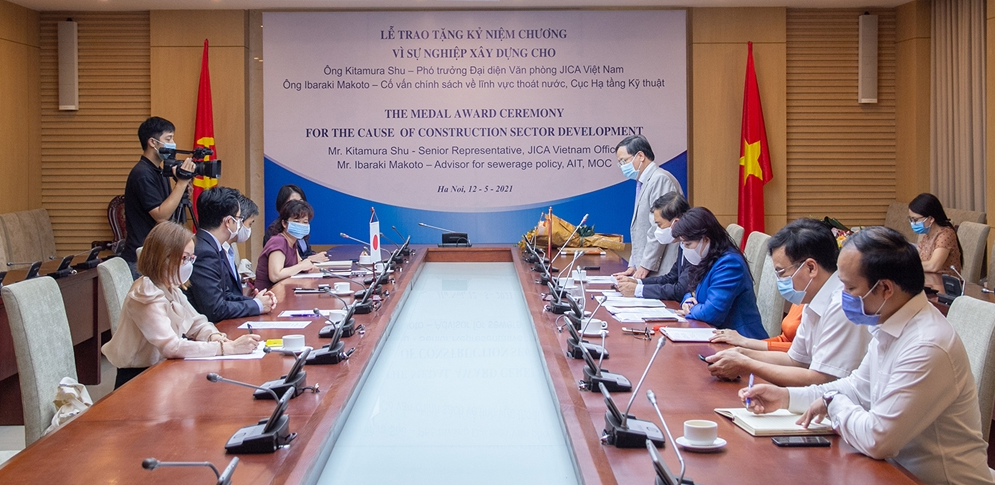 The event's overview. (Photo: Bao Moi)
Hung congratulated Shu and Makoto for excellently finishing their working term in Vietnam. He hoped that the construction ministry would continue to receive the experts' interest and support in the coming time.
Shu and Makoto expressed their joy when receiving the construction ministry's medals. They thanked leaders of the ministry and its functional agencies for having coordinated with and created favorable conditions for them to best accomplished their missions during their working terms in Vietnam.
According to the experts, after returning to Japan, no matter what positions they hold, they still constantly make efforts to nurture and contribute to promoting the cooperation relationship between Vietnam's Ministry of Construction, Japan International Cooperation Agency, Japan's Ministry of Land, Infrastructure, Transport, and Tourism, and Japan's government agencies.