Prime Minister Nguyen Xuan Phuc (right) receives JICA President Kitaoka Shinichi in Hanoi on December 11. Photo: VNA
The Vietnamese Government hopes that the Japan International Cooperation Agency (JICA) will enhance its cooperation and support to Vietnam in national development, Prime Minister Nguyen Xuan Phuc said on December 11.
While receiving JICA President Kitaoka Shinichi in Hanoi, PM Phuc spoke highly of the latter's Vietnam visit amidst COVID, and after the visit by Japanese Prime Minister Yoshihide Suga .
He suggested Japan help Vietnam with the construction of the Vientiane-Hanoi expressway running through the Thanh Thuy border gate in the north-central province of Nghe An.
Hailing the significant contributions of the Japanese official development assistance (ODA) to Vietnam's socio-economic development, poverty reduction, and infrastructure construction over the years, Phuc said the capital has been used publicly, transparently, and effectively.
Vietnam always creates optimal conditions for Japanese investors to operate in the country, the government leader said, and stands ready to welcome shifting Japanese investment.
He says the Vietnam-Japan friendship is developing fruitfully, strongly and practically across spheres, with intensified exchanges and political trust between leaders of the two countries.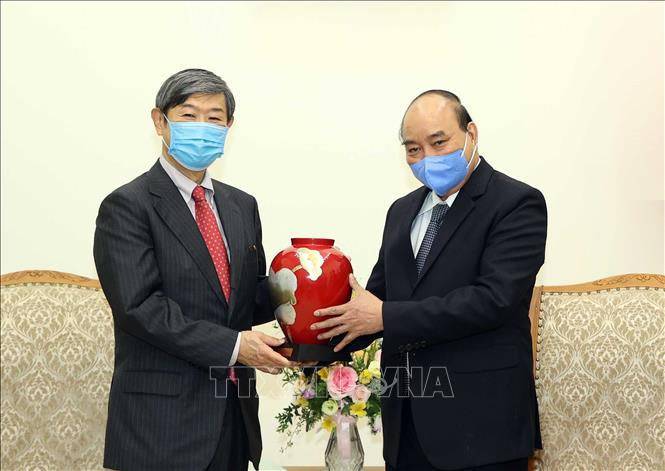 Prime Minister Nguyen Xuan Phuc (right) receives JICA President Kitaoka Shinichi in Hanoi on December 11. Photo: VNA
He rejoiced at the fine bilateral extensive strategic partnership, saying PM Suga's selection of Vietnam for his first overseas trip after taking office has demonstrated the importance Japan attaches to the relations with Vietnam and Southeast Asia, as well as the strong and comprehensive development of the bilateral ties.
The PM says he believes that with their potential, Vietnam and Japan will further boost their relationship after COVID-19, noting that bilateral cooperation has significantly contributed to peace and stability in Asia.
Shinichi, in reply, lauded the Vietnamese Government's efforts in containing the COVID-19 pandemic, and emphasised that Vietnam is the first country where his agency has dispatched volunteers to work.
He said ASEAN member countries and Japan have shared a lot of similarities, especially in natural disaster response. It is therefore necessary to strengthen regional cooperation in this field.
The two have joined hands in personnel training, and JICA hopes to contribute more in this regard, he said./.
Rosy Huong